Perched on a hill at the base of the Pyrenees mountains in southern France, Saint Bertrand de Comminges appears from the ground as a gateway to the heavens. Once at the top, it takes only a few moments after passing through one of the village's three gates to understand why St Bertrand de Comminges is listed amongst the Les Plus Beaux Villages de France ("The Most Beautiful Villages of France 2020").
Importantly, there are two key sights to see here. In addition to the village of Saint Bertrand de Comminges upon the hill, you will want to see the Roman ruins of Lugdunum Convenarum at ground level.
It's so lovely that even on a cloudy day, the area is beautiful.
Roman ruins of Lugdunum Convenarum
At the base of the hill leading to the village, we stopped to examine some of the remains of the ancient Gallo-Roman city of Lugdunum Convenarum which once extended over the territory of several municipalities. This Roman city was founded in 72 BC, however, its ruins were discovered in 1913.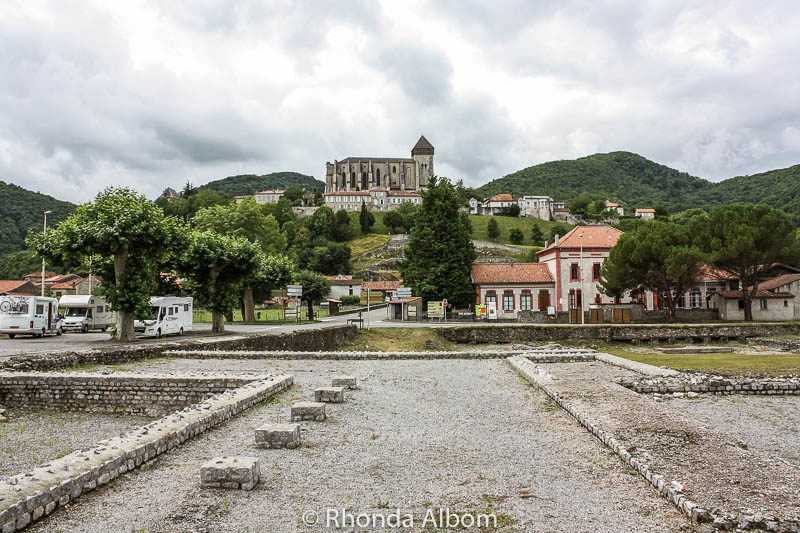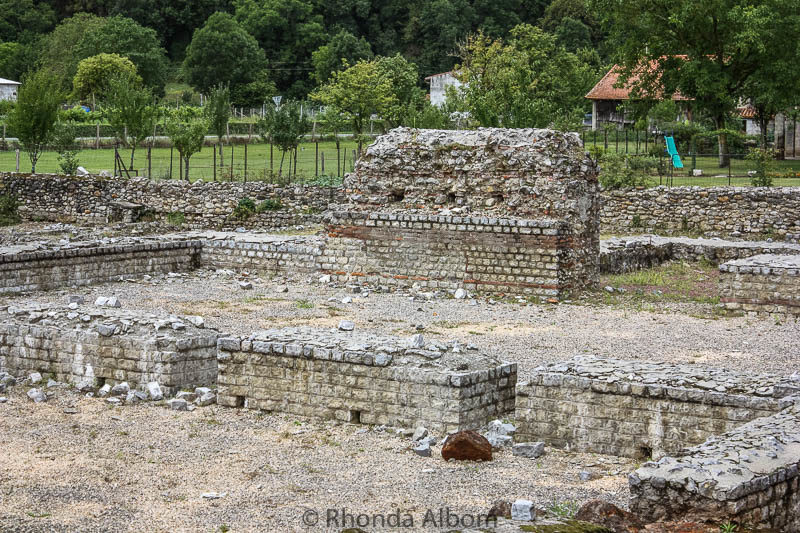 Saint Bertrand de Comminges
A shuttle takes people up and down the hill for a nominal fee. The driver was on his lunch break when we arrived, so we walked. On a cooler day, it would have been a lovely walk with a gentle upward slope. Steps aid in the steeper parts, thus creating a relatively easy walk. We opted to take the tram back down after our visit.
Charming narrow roads greeted us, many paved over the original cobblestones. The medieval and half-timbered 15th and 16th-century houses are a reminder that this was a wealthy town as well as a pilgrimage centre.
Cathedral of Sainte Marie of Saint Bertrand de Comminges
The romanesque-gothic architecture of the 11th – 12th-century Cathedral of Sainte Marie dominates the town's picturesque skyline. The cathedral is the main site to visit. Personally, the entrance door was my favourite feature of this masterpiece, a UNESCO World Heritage Site.
Inside the cathedral, we find renaissance stained glass windows, hand-carved choir stalls, the tomb of Bishop Bertrand de l'Isle who was canonised in 1671, a 16th-century organ, a peaceful Romanesque cloister, and a seemingly out of place taxidermied crocodile hanging on the wall.
The cathedral is home to the former seat of the ancient Diocese of Comminges.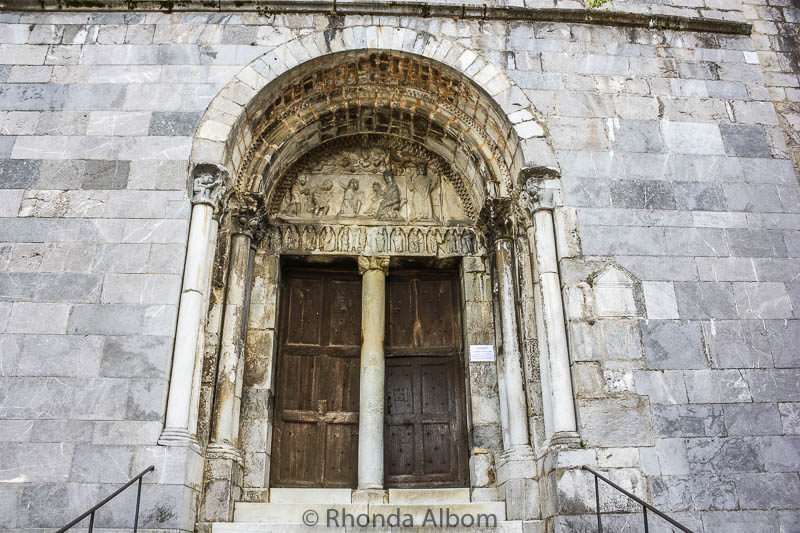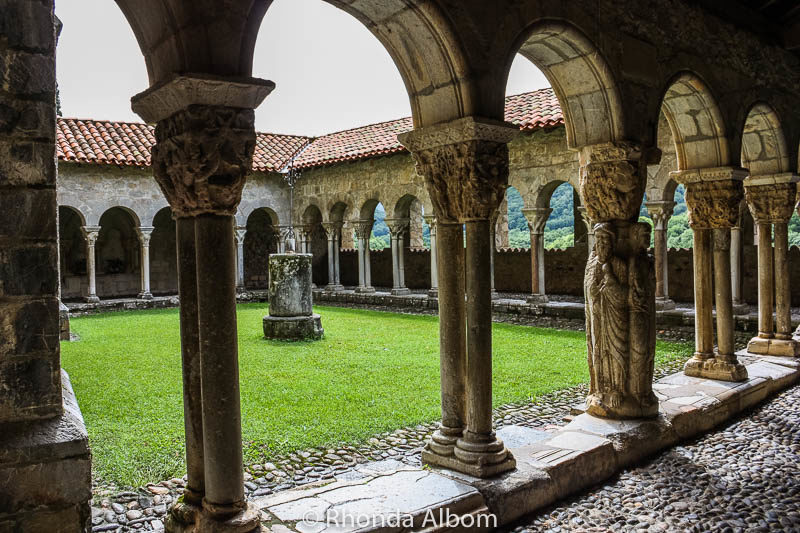 Olivetains (information centre)
The former monastery of Saint Bertrand de Comminges is now the local tourist centre. It provides traveller information, guided tours, a bookshop, and interesting artefacts from the region including a 6th-century stone altar table.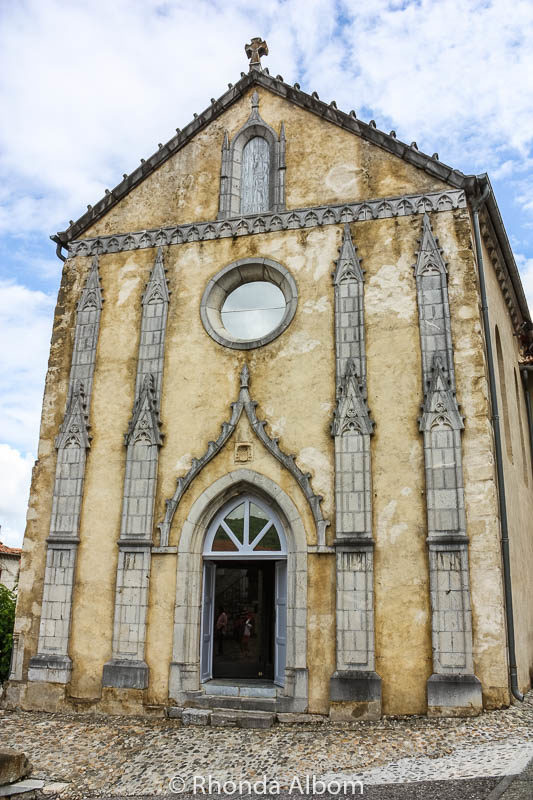 Cultural centre
In a modern contrast to the rest of the town, this artwork sits outside the cultural centre.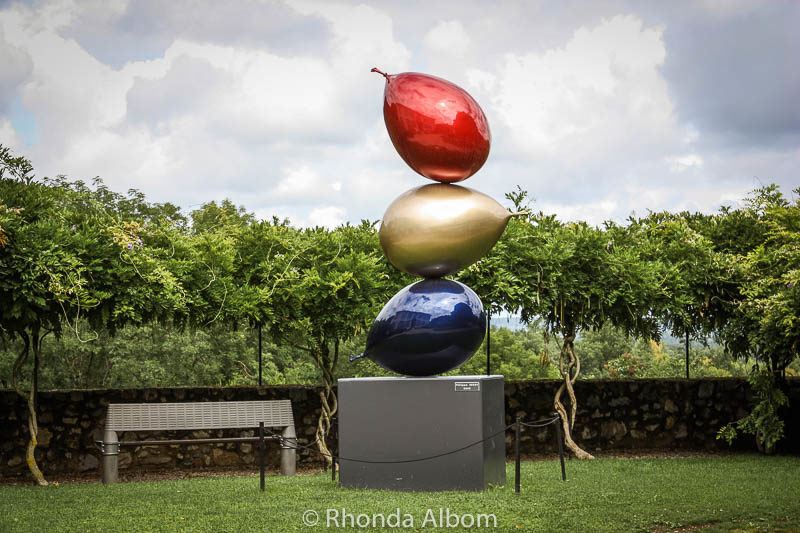 Getting to Saint Bertrand de Comminges
This site contains affiliate links to products and/or services. We may receive a commission for purchases made through these links at no additional cost to you.
For us, the charming medieval village of Saint Bertrand de Comminges was a stop as we drove from Lourdes to Toulouse in France.
Self-driving is definitely the easiest way to get to Saint Bertrand de Comminges.
If you are travelling Europe by Eurail, there is a local train from Toulouse that will get you near Saint Bertrand, and then you will need to take a taxi or walk.
Historically, it was a pilgrim stopover on one of the paths to Santiago de Compostela.
Where to stay
There is no shortage of places to stay in the Midi-Pyrenees region. Booking.com offers over 4000 accommodation options covering the full gambit of hospitality, however, only one is in Saint Bertrand de Comminges. We visited as a half-day trip staying the night before in Lourdes and the night of our visit in Toulouse. We spent only a few hours between the two sites, and that included our walk up the hill.
Travel planning tips
Flights: We use Skyscanner to find all the available flight options at the best prices.

Rental Car: We always use RentalCars.com, a rental car search engine with no hidden costs.

Accommodations: We use Booking.com to find all levels of accommodations when we travel.

Travel Insurance: We purchase insurance that covers medical and travel emergencies when we head overseas. We start with World Nomads.

Packing Tips: Get a free copy of our packing light checklist when you sign up for our mailing list. (We pack light, yet have everything we need.)

**Find more money-saving resources on our Travel Resources page.
Please share on Pinterest:
Have you visited Saint Bertrand de Comminges?
You might also like: