Salzburg, Austria, is a city born of music. Surrounded by mountains offering spectacular scenery, it is best known by its most famous former resident, Wolfgang Amadeus Mozart. Also, home to the Sound of Music, there is a lot to see, making it difficult but not impossible to get the most out of only one day in Salzburg.
Whether we explore the Medieval and Baroque architecture of the old town, or the stunning gardens and interesting artwork in the new town, there is plenty of things to do in Salzburg.
And we did most of it on foot.
Top things to see with one day in Salzburg
Clicking the expand / collapse icon in the upper left corner of the map to get more details.
We created the map to take you from the Hohensalzburg Fortress to Mirabell Palace on foot. The total walking time, if done in the order listed here, is only 32 minutes. While the walk is only 3km, plan to walk a lot more than that as you explore the sites.
Hohensalzburg Fortress
Kapitelplatz, Residenzplatz, and Mozartplatz
Salzburg Cathedral
Pferdeschwemme (horse baths) and Mönchsberg Mountain
Getreidegassesetr (shopping street)
Mozart's residence and or his birthplace
Mirabell Palace & Gardens
You'll want to spend time in both the old town area, a UNESCO World Heritage site, and the newer part of town.
Save money with a Salzburg Card
Before we get into the details of these must-see destinations, we want to be sure you know about the Salzburg Card. It's a simple way to save loads of money in the city, and you can get it for one, two, or three days.
Not only will it give you free entrance to just about everywhere you will want to go in Salzburg, it includes all public transportation, including the funicular up to Hohensalzburg Fortress (the big castle you can't miss that overlooks the city).
It's rare that we recommend things this early in an article, but you do want to know about it before you purchase individual tickets to places that will be free with your card.
Admire the views and stroll the Hohensalzburg Fortress
Look up from just about anywhere in the old town and you are likely to be able to spot Hohensalzburg Fortress (also sometimes called Salzburg Castle, Hohensalzburg Castle, or Salzburg fortress).
It has sat prominently on Festungsberg Hill for about 1000 years, offering a fabulous view of the city, like the one I placed at the very top of this page. It remains the largest fortress in central Europe.
We took the funicular up and back, and the final photo here is from the way back down. The other option was a steep walking path.
We explored the castle rooms the top, as well as the wonderful Marionette Museum (free with Salzburg Card).
Even with only one day in Salzburg, you'll want to ride the funicular, enjoy the views, and have a quick visit inside the castle. You can reserve your entrance ticket with optional funicular here if you are not getting the Salzburg card.
Explore some of the major plazas
There are several large, well-designed plazas in Salzburg. And while each plaza has beautifully architectured historical buildings, if you have time, be sure to explore some of the charming side streets leading to any of the main squares.
Kapitelplatz
The standouts here are the artwork, like the giant orb with a statue man standing on top that is so realistic looking it initially fooled me, and the huge chess board that our girls somehow got a turn to try.
Residenzplatz
Sound of Music fans will recognise the elaborate fountain in the centre of Salzburg's largest and best-known of the squares. It is the forecourt between the archbishop's residences. Home to the Salzburg Cathedral and the Glockenspiel bell tower. If you time it right, you can hear the 35 bells ring (three times daily at 7am, 11am and 6pm)
Motzartplatz
Mozartplatz is adjacent to Residenzplatz. It is where you will find the famous bronze statue of Mozart. The Salzburg Museum, Christmas Museums, and city tourism information office are also here.
Salzburg Cathedral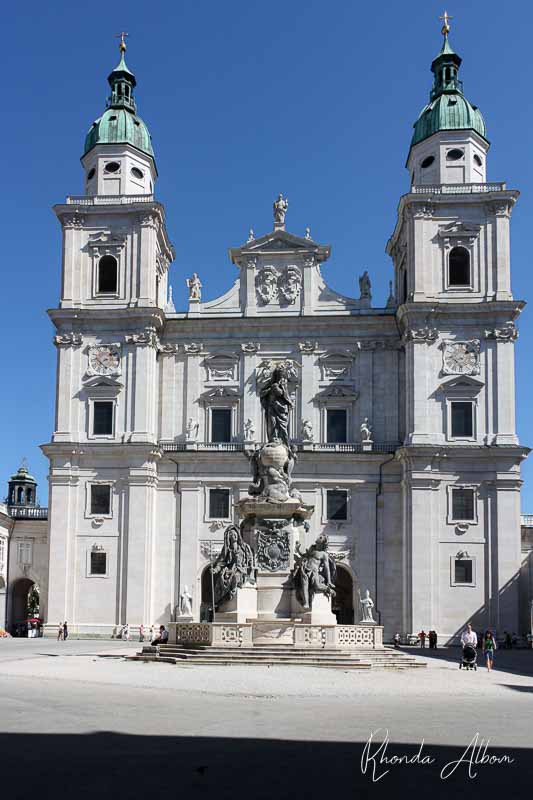 This stunning Baroque cathedral is the very place Mozart was baptised. Located in the centre of the historic old town in Residenzplatz, this must-see is the archbishop's church.
Inside, the white walls and colourful decor create a stunning site. The cathedral has five organs, relics of Saint Rupert, a crypt holding the remains of nearly all of its archbishops since 1619, and the baptismal font used by Mozart and others.
A masterpiece, the Salzburg Cathedral should be on your list, even with only one day in Salzburg.
Pferdeschwemme and Mönchsberg Mountain
If the Horse baths at the base of Mönchsberg seem familiar, it's because they can be spotted in the Sound of Music.
With only one day in Salzburg, you probably won't have time to take the lift up to Mönchsberg. It is one of the five mountains in the city of Salzburg, at an elevation of 540m.
The Mönchsberg lift takes about 30 seconds and takes you right to the entrance of the Museum of Modern art, along with nearby stunning views of the city. Entrances to both are included on the Salzburg Card.
Shop or dine on Getreidegasses
When you are ready for a little break, either right before or after you visit Mozart's birthplace, you won't want to miss this pedestrian street. Getreidegasses is probably the best-known street in the old town area.
A shopper's paradise, the narrow street gives a quaint, almost romantic feel, even with the crowds. From boutique shops to galleries and cafes, Getreidegasses is captivating. For me, it was the wrought iron guild signs that brought the street to life.
Mozart's birthplace is at No 9 Getreidegasses.
Learn about Mozart's life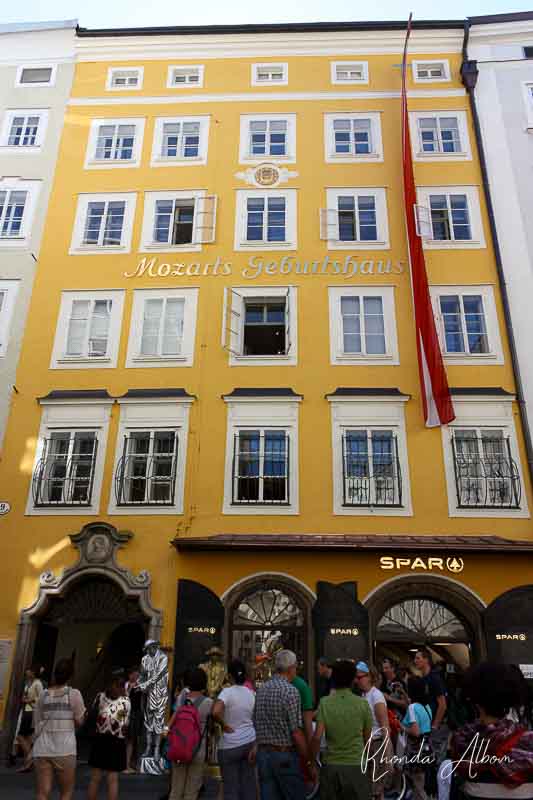 Whether you are living here or spending only one day in Salzburg, part of it will be dedicated to its most famous composer. Wolfgang Amadeus Mozart was born in Salzburg, baptised at the Cathedral, grew up, and even performed here.
With only one day in Salzburg, you might want to choose to either visit here or his residence.
Mozart's birthplace (free with Salzburg card)
Located on the famous Getreidegasses, Mozart's birthplace is now one of the world's most visited museums. Inside his family home are his violin and clavichord. Mozart was born in this house in 1756 and lived here until he was 17. You can easily visit here in under an hour.
Mozart's residence (free with Salzburg card)
Also a museum today, this eight-room apartment was Mozart's home from 1773 until 1781. Here you will find his piano, along with lots of original documents and even a few family portraits.
Mozartkugel
I can still remember the first time I bit into a Mozartkugel. The decedent chocolate gave way to the ring of marzipan and pistachio surrounding the nougat centre. Paul Fürst created these luscious treats back in 1890, and the same 14-step process is used today. If you are not visiting Salzburg, you can get Original Salzburger Mozartkugel from amazon here.
Stroll through Mirabell gardens and palace
If you have more than one day in Salzburg and are a somewhat early riser, have your coffee and breakfast, and be at the Mirabell garden gates when they open at 8am. This way, you can enjoy them before the crowds and have a more leisurely time on the previous day.
Even if trying to do Salzburg in one day, you will want to spend some time wandering around the manicured and lovely gardens at Mirabell Palace in New Town.
Here we instantly recognised the Pegasus fountain and the dwarf garden from the Sound of Music. (If you don't remember them, check it out here starting at about 58 seconds.)
Mirabell Palace is also popular for concerts (mostly Mozart) held in their banquet hall, which some consider the world's most beautiful concert hall. Reserve your concert tickets here.
Take a Sound of Music tour
Salzburg was home to the Trapp family and is the primary filming city for the Sound of Music.
If you want to see the sights, you can either do it yourself or take a tour. The tour is easier, while the self-guided option is more budget-friendly.
We opted to do it on our own, and therefore missed quite a bit and couldn't always identify the scenes from the places, even as we stood in front of them. To assist us, we purchased a self-guided Sound of Music Tour from the Salzburg tourist information site.
Reserve your Sound of Music tour here.
Salzburg is filled with interesting sculpture
Pictured here are four of my favourite:
Trio Making Music by Max Rieder, located in Mirabell Gardens
Pieat by Anna Chromy, located in Kapiteplatz
Sphaera by Stephan Balkenhol, located in Kapiteplatz
One of many dwarfs in the Zwerglgarten, a Dwarf Garden at Mirabell Palace
If you have more than one day in Salzburg, head to Hallstatt and the Salt Mines
As we left Salzburg, we headed south about 30 minutes to the beautiful mountain village of Hallstatt, another UNESCO-listed site. A popular day trip option, we stopped here on our way out of town.
This delightful town is a masterpiece on a clear day. The village's highlights are the Salzbergbahn funicular bringing you to the 360-metre-high Skywalk, which is more of a floating platform above the ground.
Back on the ground, there is the Hallstatt burial site, an archaeological treasure. And the final highlight, the one we came for, is Salzwelten.
If you don't have your own vehicle, a half-day tour from Salzburg is a popular way to enjoy Hallstatt, Reserve your half-day Hallstatt tour from Salzburg here.
Salzwelten
Salzwelten is the oldest salt mine in the world.
Visiting here is a mix of fascinating history and fun. After arriving, we donned the white clothes of miners, mounted a sit-upon tram and headed into the mine. Next, we slid down, heading deeper into the mine, Jeff and I reaching a speed of 20.5 kph.
Now well underground, we learned about earth's changes millions of years ago and how former oceans became land, thus trapping the salt. We crossed an underground border between Austria and Germany.
Equal to its purpose, the fascination here comes from the incredible stories, some of heartbreak and loss and others of stolen artwork hidden from the Nazis. While our tour was incredible, it's important to note that the official Salzwelten page suggests an all-new experience.
Pro tip: It's cold in the mines, so bring a jacket – or freeze as we did.
Tips for visiting Salzburg in one day
If you haven't seen it before, watch the Sound of Music before you go.
Ask at the i-site about self-guided tours.
If you are trying to see Salzburg in one day, prepare for a long one: carry bottled water, bring a light jacket, and wear solid walking shoes.
Don't forget to pick up a Salzburg Card. It's really worth it.
The hop-on, hop-off bus gives a great overview and fun history, and it stops to allow photos at two of the locations. Reserve your hop-on-hop-off bus pass here.
If you are staying for more than a day, and we recommend it, stay close to the old town so you can walk just about everywhere.
Save on your trip with these resources
These are our go-to companies when we travel. We believe this list to be the best in each category. You can't go wrong using them on your trip too.
Flights: we use Expedia for the best and cheapest flight options.
Accommodations: we use Booking.com (hotels), VRBO (self-contained), or Hostelworld (budget).
Cars (gas or electric): we use RentalCars to search for deals and dealer ratings.
Campervans or Motorhomes: we use Campstar where Albom Adventures readers get a 3% discount.
Motorcycles: we have heard good things about BikesBooking.
Private guides: we love the private guides at Tours by Locals.
Travel Insurance: while not required, we always opt for travel insurance and start at InsureMyTrip to compare coverage plans.
Check out our travel resources page for more companies that we use when you travel.
Save for later
If you enjoyed this article, please share it on social media and save it for later on Pinterest.
Will you be able to spend more than one day in Salzburg?
Photo Credits:
All photos on this page are either shot by our team and watermarked as such or stock images from Depositphotos.