Paris is one of those cities that you either love or hate. Either way, you know you are not in Paris alone. There are masses of people everywhere, and there is an art to avoid crowds in Paris.
The city can feel overwhelming even to those who came for the ambience, romance, and excitement of the city.
Visitors who aren't used to so many people often get tired of waiting in endless queues, fighting the masses, and being pushed or jostled. Learning how to avoid crowds in Paris is a challenge, a mystery, and some say a "mission impossible".
Can it be done? Have a read, and then you tell me.
10 Tips to Avoid Crowds in Paris While Enjoying the City Icons
1. Plan ahead and be flexible
This one seems obvious, but a bit of planning can prepare you for the city. Many of the tips below are part of the planning process. Flexibility, however, is often difficult for travellers who like everything pre-scheduled.
If you arrive at an attraction and the entry queue is two hours, perhaps it's time to change the plan and come back tomorrow or later in the day. This is where staying close to an attraction can come in handy, so book one of Paris' finest vacation rentals to stay nearby and skip the queues.
2. Avoid crowds in Paris by visiting sites early in the morning or late at night
Tour buses generally show up at a prescribed time, often starting about 30 minutes after opening. Arriving first lets you beat the rush. And if it's a popular hike or a walk, consider starting at dawn or just after sunset (provided it is deemed to be safe).
In Paris, we did this twice, once early in the morning and the other time after dark. The resulting images are two of my favourite Paris photos, both of Sacré-Coeur.
3. Buy tickets in advance that skip the line
On our last trip to Paris, the queue to get into the Louvre Museum was over two hours. A bit of better planning and we could have had a Skip the Line ticket, and we could have gone straight in and had a guided tour.
⇒ Skip the Line: Paris Louvre Museum Guided Tour
And that's not all. There are skip-the-line tickets to just about every Paris Icon. Check pricing and availability on a few of our favourites:
⇒ Skip-the-Line Paris Catacombs Admission Ticket and Audio Guide
⇒ Eiffel Tower Direct Access Ticket
⇒ Skip the Line: Versailles Palace and Gardens Day Trip from Paris by Train
4. Park far away and walk
Sometimes it's not the people but the traffic that makes an area feel crowded. Parking far away and walking lets you avoid crowds in Paris, at least on the roads.
In a scene reminiscent of the comedy 'European Vacation', we entered the roundabout at the base of the Arc de Triomphe. What a mistake that turned out to be. Eventually, we gave up, drove a mile away, found a place to park the car and walked back.
Similarly, our GPS wouldn't guide us up the hill at Montmartre. Despite it being the highest point in Paris, we eventually opted to park at the base and walk up a massive flight of stairs. While the walk resulted in a bit of grumbling, it did avoid crowds on Paris roads.
Once at the top, we were greeted with the spectacular nighttime view of the Basilica of the Sacred Heart shown at the top of the page. It's a massive cathedral more commonly known as Sacré-Coeur Basilica.
5. Use pedestrian tunnels
I am not sure this is a tip to avoid crowds in Paris, as the tunnels may be the only way to cross the roundabout at the Arc de Triomphe. If not, it should be, as trying to run across the traffic there would be dangerous.
6. Visit attractions outside the city
The two attractions we visited outside of Paris were both stately manors, yet very different in terms of their crowds. First, we visited the Musée Vivant du Cheval, a living horse museum dedicated to equine art and culture. Located in Chantilly, just 40 miles north of Paris, the Musée Vivant du Cheval horse museum is housed in the Great Stables of the Château de Chantilly, considered to be the largest stables in Europe. Built in the mid-1500s, the Château is a site to see in its own right.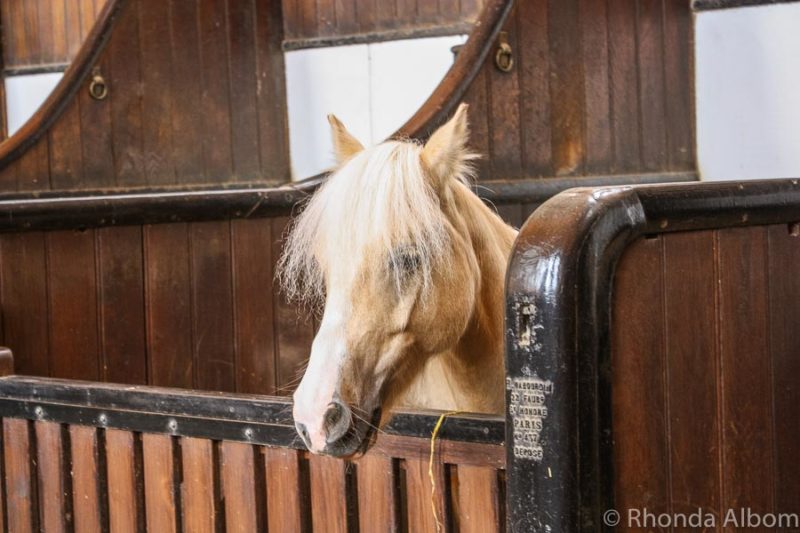 We also visited the Palace of Versailles, a royal palace of Louis XIV. It is a masterpiece inside and out, with massive queues to get in, even with advanced tickets. See our photo review of the Palace of Versailles here. If I were going again, I would take a tour from Paris.
→ Check Pricing on Versailles Palace and Gardens Day Trip from Paris by Train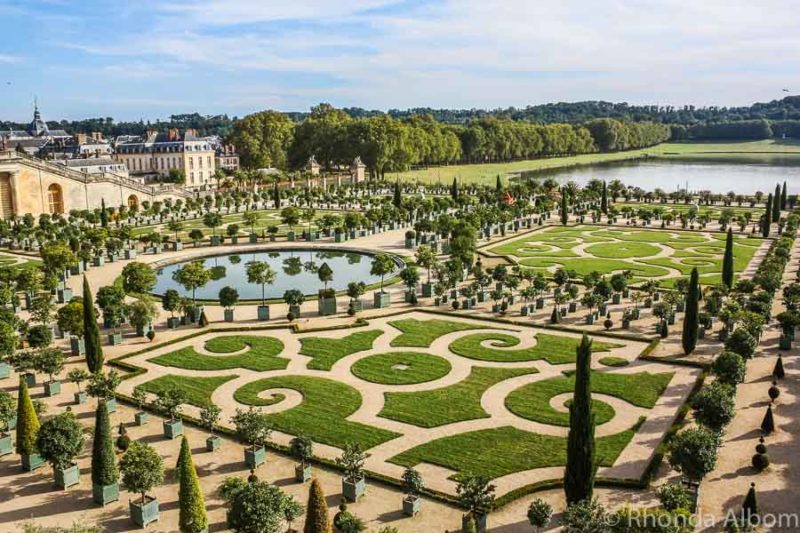 7. Step off the beaten path and go to less frequented streets
We love getting off the tourist path and exploring a city or neighbourhood. Not just because it will often avoid the crowds, but also because it is a better way to learn about the people and the culture.
Cities like Paris that get large numbers of tourists often spend a small fortune to show off the best of their city. Stepping off the tourist path lets you see a different side of a town. More importantly, it is often the fastest way to avoid crowds in Paris.
8. Stay in local neighbourhoods
Similar to stepping off the beaten path, staying in local neighbourhoods rather than in a tourist area often puts you in a less crowded section of town.
If you prefer to stay in hotels, you will find the full spectrum in Paris. We opted to stay in one of the Disneyland Paris hotels, and we never felt like we could avoid the crowds, especially at breakfast. However, the atmosphere was lively and fun. Reserve a hotel near Disneyland Paris
Like in any major city, the more you are willing to pay, the better the service, and therefore shorter wait times and a less crowded feel. Reserve a hotel in Paris
9. Change your photographic perspective
Illusion is everything: Take photos from a distance, close up, or at an angle so that it doesn't appear crowded. Sometimes this is the best I can do.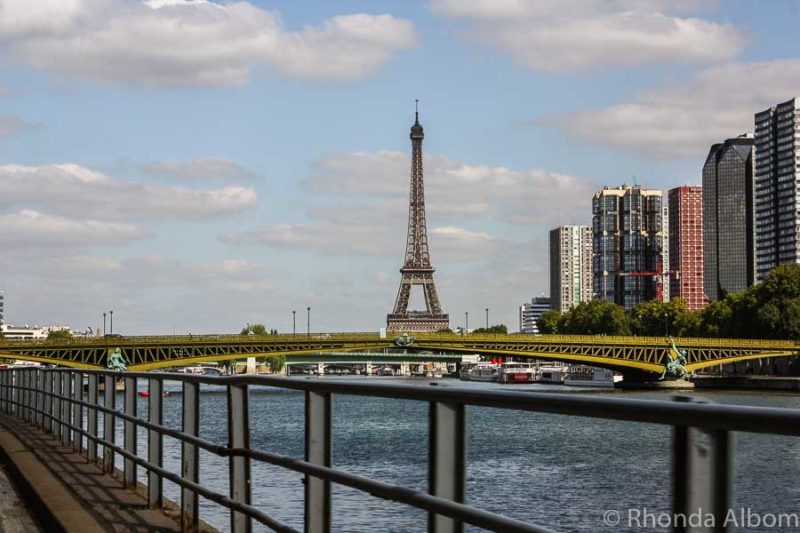 10. Change your emotional perspective . . .
. . .Or as my teenager would say, "suck it up". If you must go to certain places, you will have to deal with the crowds. A prime example is Disneyland Paris. We avoided the crowds by avoiding Disneyland Paris altogether. We had enough Disney at our hotel. However, if it is somewhere you must go, you will have to face the crowds. The same general rules apply to Disneylands around the world. Avoid the high season, which in the case of Disneyland Paris is in July and August. Any other time of year, avoid holidays in both France and nearby countries, avoid the weekends, and avoid Friday or Monday.
Another always crowded Paris destination is the Eiffel Tower. Even with advanced timed tickets to go up in the Eiffel Tower, there was a queue. It was far shorter than for those who didn't have "Skip the line" tickets. Then there was a second queue to get from the lower platform up to the top. However, once there, it was worth it.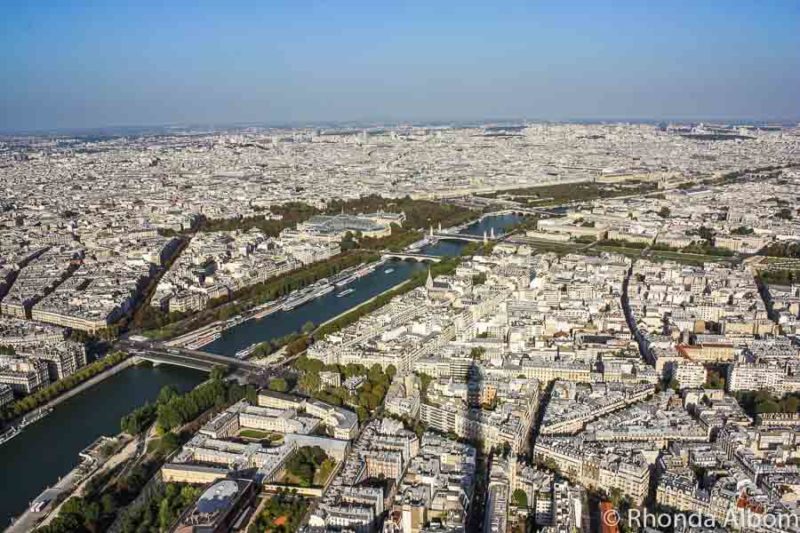 A quick recap of the top 10
Plan ahead and be flexible
Avoid crowds in Paris by visiting sites early in the morning or late at night
Buy tickets in advance that skip the line
Park far away and walk
Use pedestrian tunnels
Visit attractions outside the city
Step off the beaten path and go to less frequented streets
Stay with locals
Change your photographic perspective
Change your emotional perspective
Save for later
If you enjoyed this article, please share it on social media and save it for later on Pinterest.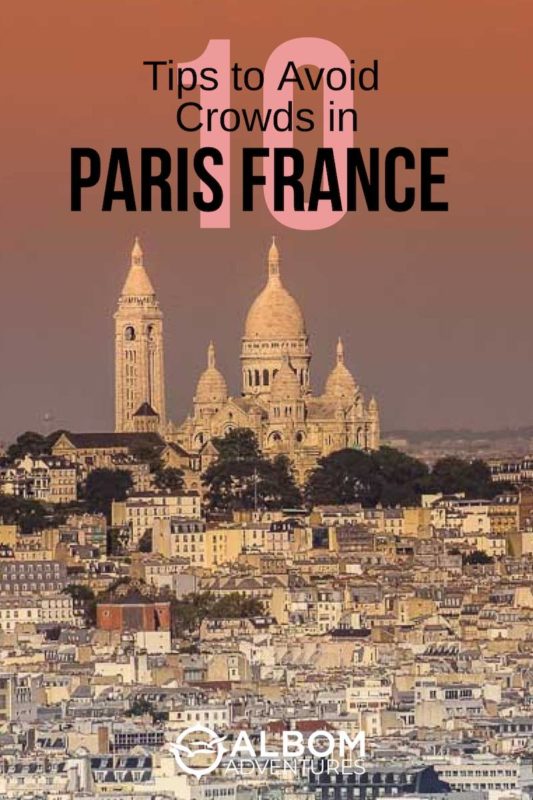 Love it or hate it? Either way, did you discover any tips to avoid crowds in Paris?