A random invitation to visit friends found us suddenly scrambling to rearrange our travel schedule. At first, this left us with only one spare day. Bruges vs Brussels, we had to choose where to go in Belgium.
It was a tough choice, but if you need to make a similar one, we hope the information below will help you.
For us, it took a bit more schedule changes, and we are able to enjoy both cities. The good news is that if you must to choose between Bruges vs Brussels, you can't go wrong.
Each city has its own distinctive charm, plenty of interesting architecture, and is very walkable. However, they are vastly different from each other in many ways.
Importantly, both are fabulous, and neither choice will leave you disappointed. They are close enough that you can stay in one, and a day trip to the other.
Where are Bruges and Brussels?
Bruges vs Brussels
Brussels is the capital of Belgium, and, as the home to NATO headquarters and the seat European Commission, it's sometimes thought of as the European Captial. It's a cosmopolitan city that is home to over 150 different nationalities yet is still compact and easy to get around. It features an architectural mix including Flemish Renaissance, Art Nouveau, Art Deco and Neoclassical, and Gothic.
In contrast, Bruges, with its lovely canals, cobblestone streets, and predominantly Gothic architecture, has a fairytale sense. While it has more tourists, it still maintains a more relaxed atmosphere than Brussels.
Grote Markt in Bruges vs Brussels Grand Place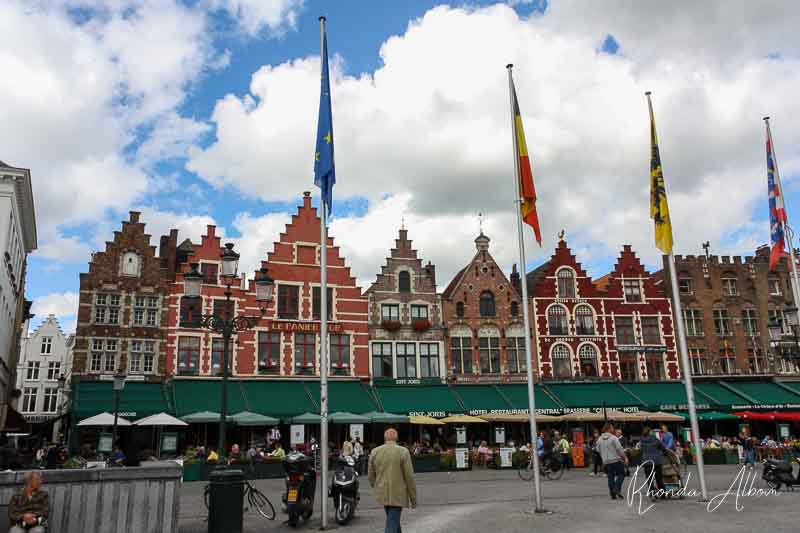 Surrounded by intricately detailed Gothic (Brussels) and Flemish Renaissance (Bruges) architecture, both cities offer must-see large squares or plazas. The Grand Place is a designated UNESCO World Heritage site, while the entire old town and more in Bruges have that status.
Here we find historic buildings, current government buildings, and plenty of shops, kiosks and restaurants competing for the tourist dollar. (note the warning in the tips at the bottom of the page).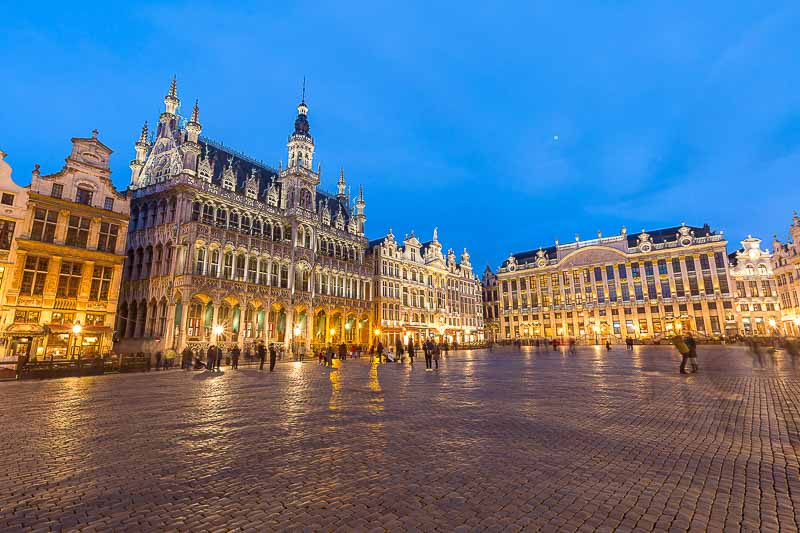 Exceeding their daytime splendour is the opportunity to visit them lit up after dark or even at dusk. My first trip to Europe was way back in the 1980s, and I still remember the Grand Place at night as one of our trip highlights.
Bruges vs Brussels: Food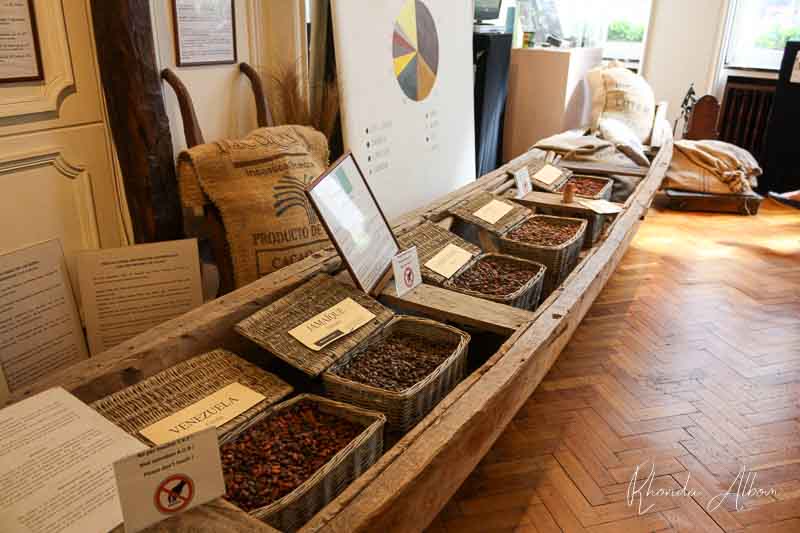 Chocolate, waffles, french fries, and several traditional foods are among Belgium's tasty treats, regardless of the city. In fact, chocolate is so important that we found Chocolate Museums in both cities.
The most famous of the Chocolate Museums is the Choco-Story, with locations in both cities. However, we went to a smaller chocolate museum in Brussels. And, although not a traditional part of a visit, our daughter was allowed to stir the chocolate, making it her personal favourite of the museums. Reserve your visit to Choco Story in Brussels here, or reserve your visit to Choco Story in Bruges here.
Chocolate
What can I say about what many consider the world's best chocolate except YES! Here the expression melts-in-your-mouth is more than just a cliché. Belgian Chocolate is milled to only 18 microns; therefore, there is no grainy taste. With 400 years of history, it is a craft well perfected.
Waffles
I still remember my mum's Belgian Waffle maker. The result was quite authentic. They are taller than traditional waffles, allowing for more toppings. In Brussels, we ate them from an outdoor vendor, topped with Nutella, fruit, and whipped cream.
French Fries
Originally discovered during World War I by American soldiers in Belgium, the name "french fries" is based on the regional French language.
Moules-Frites (Mussels and fries)
This one seemed to be served just about everywhere, although we never opted to give it a try.
Chocolate making workshop
If you know anything at all about me, you know this one caught my eye. It's a chance to understand first-hand why Belgium chocolate is so famous and to work alongside a chocolatier making your own treats, wrapping them, and taking them home. And best of all, workshops are available in either city.
If you are in Brussels: reserve your Belgian chocolate workshop here, or if you are in Bruges, your workshop includes entry to the Choco-Story museum: reserve your Belgian chocolate workshop here
More comparisons Brussels vs Bruges
Both cities are stops along a St James (

Santiago de Compostela

) pilgrimage walk.

Both cities have stunning main religious buildings. Brussels has the Cathedral of St. Michael and St. Gudula, while the Basilica of the Holy Blood is in Bruges.
Despite being the larger of the two cities, Brussels tends to have a less crowded feel to visitors.
Extremely walkable cities, both also attract bicycles.
Shoppers will be happy in either city, and the local souvenir focus will probably include chocolate, local crafts, and lace. However, if you are looking for traditional souvenirs found in any city, like coffee mugs, t-shirts, etc., you will have an easier time finding them in the bigger city of Brussels.
Best things to do in Brussels
An eclectic mix of modern, post-modernism, and gothic charm, Brussels is a fun city to explore. The top things to do in Brussels.
Grand Place (discussed above)
Royal Palace and Park
No longer home to the royal family, the Royal Palace and gardens are open to the public (closed on Mondays).
Atomium
A futuristic cultural centre from the 1950s, the Atomium is just outside of Brussels. Visitors can take an elevator or climb to the top for photo ops. While we opted to skip this and just take exterior photos, it is extremely popular among the things to do in Brussels. Reserve your Atomium and Design Museum entry ticket here.
NATO Headquarters
You can learn more about NATO Headquarters from their official site.
EU Parlimentaruim
From an educational perspective, the self-guided tour of the EU Parlimentaruim offers one of the most complete and easy-to-understand explanations of a working government that I have seen. Entry is free, but bookings are recommended to guarantee your entrance. Reserve your entry here.
Manneken Pis
I was intrigued by how well-known this 55.5 cm (21 inches) statue of a naked boy urinating into the fountain seems to be. Perhaps it is a symbol of rebellion.
Museums
Covering a broad range of themes from art to geographic regions, there are over 70 museums in Brussels. Being that the city is home to Tintin, we had to visit the Comics Art Museum.
More things to do in Bruges
Surrounded by canals on three sides, Bruges is quaint and peaceful and a trip back in time to the 12th-century. Even the hoards of tourists don't seem to spoil the serene atmosphere. It holds UNESCO world heritage status for its old town, Belfry, and Beguinage.
"Everyone should see Bruges before they die." (a line borrowed from the Colin Farrel movie In Bruges)
Here are the top things to do in Bruges; many are already described above.
Grote Market (discussed above)
Belfry Tower
Climb the 366 steps to the top of the 13th-century, 83-metre Belfry Tower. Or just be nearby on a Wednesday, Saturday, or Sunday from 11 am to midday to enjoy the sounds of the 47-bell carillon.
Basilica of the Holy Blood
A 12th-century Roman Catholic masterpiece.
Sint-Janshospitaal Hospital: This 12th-century medieval site is now a museum. Even if you don't take time to go inside, its exterior is worth a photo stop.
Beguinage Ten Wijngaarde convent: Peaceful and serene, it was founded in 1245.
Windmill just outside of town
They are much larger (see the people in the photo for size perspective) and different from the windmills we saw in Mykonos, Greece. We opted to visit De nieuwe Papegaai.
Canal boat tour
Enjoy a canal boat tour, but be prepared to wait in a long queue for it if you don't purchase tickets in advance. Our top recommendation is this highly rated walking tour of Bruges that includes a 35-minute canal cruise, along with a few added bonuses, including a secret garden of an almshouse. Reserve your Boat Cruise and Guided Walking Tour here.
Tips for visiting Belgium
It takes about an hour on the high-speed train to travel from Brussels to Bruges, or about 20 minutes longer if you drive.
Although the official languages are Dutch, German and French, we found that most people in tourism also spoke English.
Don't get confused; Bruges is the English spelling, but also popular is the Flemish spelling of Brugge. It is the same city.
A town a bit overrun by tourists, we weren't really surprised when our hotel proprietor cautioned us that Grote Markt (Bruges) restaurants pay their wait staff 11% of the customer bill; therefore, it is common local knowledge that staff often "supersize" orders of anyone with American or British accents. We saw it with french fries – we ordered a small, and twice he repeated back "medium".
Brussels is centrally located in the country and also between Paris (3.5-hour drive) and Amsterdam (2.5-hour drive).
Save on your trip with these resources
These are our go-to companies when we travel. We believe this list to be the best in each category. You can't go wrong using them on your trip too.
Flights: we use Expedia for the best and cheapest flight options.
Accommodations: we use Booking.com (hotels), VRBO (self-contained), or Hostelworld (budget).
Cars (gas or electric): we use RentalCars to search for deals and dealer ratings.
Campervans or Motorhomes: we use Campstar where Albom Adventures readers get a 3% discount.
Motorcycles: we have heard good things about BikesBooking.
Private guides: we love the private guides at Tours by Locals.
Travel Insurance: while not required, we always opt for travel insurance and start at InsureMyTrip to compare coverage plans.
Check out our travel resources page for more companies that we use when you travel.
Save for later
If you enjoyed this article, please share it on social media and save it for later on Pinterest.
Bruges vs Brussels – Do you still have more questions about where to go in Belgium?
Photo Credits:
All photos on this page are either shot by our team and watermarked as such or stock images from Depositphotos.