Vibrant and alive, Berlin is one of the few cities we have visited multiple times. Each time we add new and often unusual things to do in Berlin. Of course, our Berlin itinerary is much more than just the off-the-beaten-path sites.
The capital of Germany is a city steeped in history, a once-divided city with a sordid past and a bright future. As a result, Berlin is a phoenix rising and a fascinating place to visit.
Unified in 1990, the Berlin we know today is a single city providing an eclectic blend of modern and historical sites intermixed with quirky fun.
Therefore, while we enjoy plenty of unusual things to do in Berlin, we also include the classic sites on our visits.
Below you will find historic monuments, quirky museums, impressive street art, government buildings, and a host of unusual things to do in Berlin.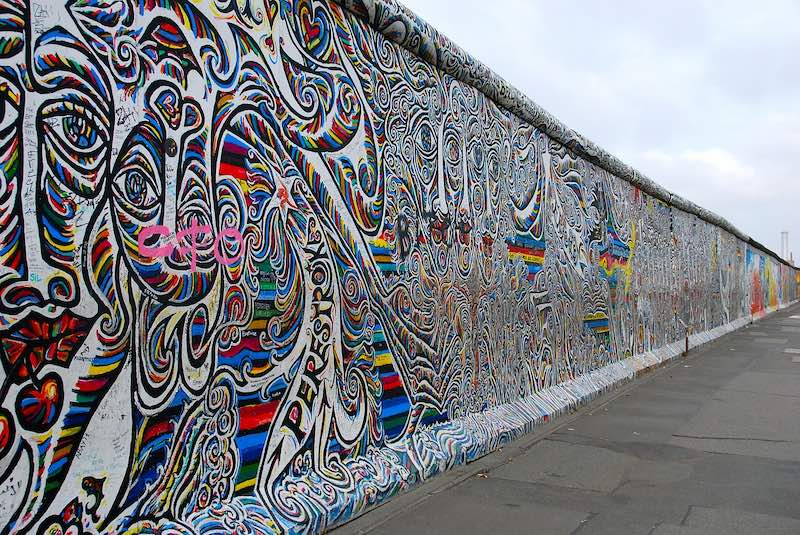 Build your Berlin itinerary with these classic and unusual things to do in Berlin
Contemplate the Berlin Wall
Appreciate Berlin's architecture from the river
Be uplifted by the vibrant street art
Never forget at the Holocaust Memorial
Be in awe of the views from the TV tower
Photograph iconic sights
Have a day of family fun at the Berlin Zoo
Indulge at a food market
Go museum hopping
… and more
Contemplate the Berlin Wall
A highly condensed version of history tells us that on August 13, 1961, the Berlin Wall was quickly erected, instantly dividing the city and leaving only those in the west with their freedom.
It took nearly 30 years, but the wall finally came down on November 9, 1989, and the East and West unified in 1990. Only a section of the wall remains, standing as a memorial and a stark reminder.
The first time I visited Berlin (1978) the wall still stood, and the process of crossing the border into the East was both cumbersome and a bit frightening. The visual contrast between the two sides was quite dramatic.
In West Berlin, our city guide told us her story. While visiting a friend on August 13, 1961, the new wall separated her from her family. Instantly, as a wee girl, she was free, her family was not. A tear formed as she told us that she hadn't seen her own family for 17 years.
In her honour, almost 40 years later, our girls stood at the end of the remaining piece of the Berlin Wall, one girl on each side. They thought about what life would have been like if they had been standing in the same spots on August 13, 1961. They would have been separated for nearly 30 years.
Appreciate Berlin's architecture from the river
Cruising down the River Spree is possibly the best way to see Berlin, it's certainly the most popular. And, as a bonus, we got a glimpse into both the classic and unusual things to do in Berlin. The added value from the english commentary helped us to better understand and enjoy what we were sailing past.
While there are plenty of boats out there, we looked at reviews before making our choice. In the end, it came down to the 1-hour or 2.5-hour option.
1-hour river cruise
Note that the 1-hour cruise option sails from either Friedrichstraße or Nikolaiviertel in only one direction. The highlights included sailing past the Reichstag, Bellevue Palace, Victory Column, Central Station, Berlin Cathedral, Museum Island, and a few unique locations like the building above that was once used to house horses. Reserve your one hour cruise here.
2.5-hour river cruise
The longer cruise returns to its starting point, sailing past the same sights as in the 1-hour cruise plus Charlottenburg Palace, Westhafen Canal, the Berlin-Spandau Ship Canal, the Federal Ministry of Economic Affairs, and Hamburger Bahnhof. Reserve your 2.5-hour river cruise here.
Be uplifted by vibrant street art
Now that the Berlin wall is down, it seems that every available wall in the city is covered in street art.
Be sure to check out thefree-to-visit East Side Gallery, an impressive and quirky collection of street art on a remaining section of the Berlin Wall.
If you are like me, you will want to find the best, so check out this free Berlin street art map.
Never forget at the Holocaust Memorial
Entitled the Memorial to the Murdered Jews of Europe, the Holocaust Memorial in Berlin is a powerful reminder of a history that never should have taken place.
The memorial covers 4.7 acres with 2,711 concrete stelae, arranged in a grid pattern on a sloping field.
The stelae are 2.38m by 0.95m and vary in height from 0.2m to 4.8m. They quite effectively produce an uneasy, confusing atmosphere, as was their aim. The whole sculpture strives to represent a supposedly ordered system that has lost touch with human reason.
Even more powerful was the underground museum, which focused on individuals who perished in the Holocaust, making the Holocaust Memorial a much more personal experience. In retrospect, I would agree with the recommended minimum age of 14 and wish I had listened in the first place.
Be in awe of the views from the TV tower
Germany's tallest tower offers unobstructed 360° views from the top. It's a super popular attraction, often with long queues that can be avoided with advance tickets. Reserve your fast track entrance tickets here.
Photograph iconic sights
When creating our Berlin itinerary, our goal was to intermix theunusual things to do in Berlin with the traditional. While there is plenty to pick from, the four must-see classic sites are:
Check Point Charlie
Taking a photo at the entering or leaving the American sector sign is on nearly everyone's Berlin itinerary, and we are no exception (I just didn't put it here). While the area is now quite touristy, we found the Check Point Charlie museum to be very informative and interesting.
Brandenburg Gate (image at the top of page)
Now a symbol of unity, the Brandenburg Gate was once part of the division between the East and West. A must-see, the Brandenburg Gate is one of the city's most recognizable icons.
Berliner Dom
We saw this intricate protestant cathedral on our river tour (photo above).
Reichstag
The current key German parliament building, the Reichstag is also a place to uncover more of Berlin and of Germany's history.
Have a day of family fun at the Berlin Zoo
As sometimes happens on long term travel, half of our family had some sort of flu on the day we planned to go to the zoo. Therefore I missed it, but one of our girls took a few shots reporting back that she was disappointed to find so many of the animals still in smaller enclosures, rather than the large open spaces simulating their natural environment that we are used to seeing at large zoos.
As we haven't returned after this experience, and the zoo's webpage doesn't make it clear, we are unsure what it's like today. However, it is the oldest and most frequently visited zoo in Germany. More importantly, the Berlin Zoo houses the largest variety of species of any zoo in the world.
Indulge at a food market
While markets are found all over the world, both the HotlzMarket 25 and Markthalle Neun are among the unusual things to do in Berlin.
HolzMarkt 25
Spawned on the location of a 300-year-old timber market, it is a cooperative endeavour bringing food, music, art, and more to the banks of the Spree river.
Markthalle Neun
This 120-year-old historic street food market in Kreuzberg borough features local producers and specialty products from all over the world.
Go museum hopping in Berlin
With over 30 museums in Berlin, there is something for everyone.
Museum Island
A must-see destination on most Berlin itineraries, Museum Island is a Unesco World Heritage Site.
There is a Berlin Welcome Card that includes entrance to all five of the galleries on Museum Island along with city transport and other discounts. It's one of several Berlin pass options listed below.
The five galleries on Museum Island:
Pergamon Museum
This is the city's most visited museum (and one of my two favourites). Amongst other artwork, it is home to three massive and important examples of ancient architecture: the Hellenistic Pergamon Altar, The Babylonian Gate of Ishtar, and the Roman Market Gate of Miletus. Reserve Pergamon Museum entry tickets here
Neues Museum
My other favourite Berlin Museum, Neues, is the home to the famous bust of Nefertiti, with no photos of it allowed. Also there we found many more Egyptian sculptures and papyrus, pre and early history artwork, and classical antiquities.
Bode Museum
Another stunning museum, this one focused on unique sculptures mostly from the middle ages to the 19th century, along with both a Byzantine Art and a Numismatic collection. Reserve Bode Museum entry tickets here.
Alte Nationalgalerie (Old National Gallery)
Standing tall like a Greek temple, the museum houses sculptures and paintings from several periods: Classicism, Romanticism, Biedermeier, Impressionism, and the early Modern Age. The art collection is often referred to as one of the most comprehensive from the time period separating the French Revolution and WWI.
The Altes Museum
This collection of classical antiquities includes sculptures, jewellery, coins, and more, all housed in the oldest building on the island, built in the 1830s. Reserve Altes Museum entry tickets here.
Art museums
Museums that are among the unusual things to do in Berlin
Disgusting Food Museum
Not only will you discover 90 disgusting foods from around the world, but if you head to the museum's Tasting Bar, you can try out some of them. It's certainly one of the more unusual things to do in Berlin. Reserve Disgusting Food Museum entry tickets here.
Jewish Museum
The largest Jewish museum in Europe, it outlines Jewish history in Germany from the Middle Ages to the present day. Entry is free. It is one of the most visited museums in Germany, so popular in fact, it often gives out all of its daily timed-entry tickets, therefore reserve in advance. Reserve your FREE timed-entry ticket to the Jewish Museum here
German Spy Museum
Discover a bit of spy history and test your spy skill at some of the interactive activities like the laser maze. Reserve Germany Spy Museum entry tickets here
The Wall Museum
An emotional journey through the history of the Berlin Wall is displayed through film, documents, and interviews. Reserve Wall Museum entry tickets here
DDR Museum
A hands-on opportunity to see what life was like in East Germany – the former German Democratic Republic (GDR in English or DDR in German). Reserve DDR Museum entry tickets here
More unusual things to do in Berlin
If some of the above didn't satisfy your need to discover some unusual thing to do in Berlin, check out these:
Swim in a pool in the river
Badeschiff translates to bathing ship, which is a great way to describe this public swimming pool in the Spree River. It seems the perfect solution to a non-swimmable river, although it's only open from May to September. The surrounding area is all recreation.
TimeRide
See the contrast of life in both East and West Berlin in the 1980s as you sit on a bus and take a virtual reality tour back to life in 1980. I didn't do this VR adventure, as I saw the dramatic contrast first-hand in the 80s. Reserve your virtual TimeRide here
Watch a jugger match
Oddly, Berlin is not the first place we have encountered the medieval-looking sport of jugger (we watched jugger in La Coruña, Spain). However, it is much more popular in Berlin, even supporting a Jugger Berlin webpage. It seems that the oldTempelhofer Feld airport is one of the best places to observe the seemingly organized madness.
Selfie Museum
An Instagrammer's paradise, this is definitely one of the more unusual things to do in Berlin. With 30 interactive installations, you can create your perfect shot. It's more of an entertainment than a museum. Reserve Selfie Museum entry ticket in advance.
City passes and combinations to save you money in Berlin
We opted for a city pass that no longer exists. If I were to choose today, I would either take the Easy City Pass, or the Welcome pass discussed above, which gets me into all of the galleries on museum island and includes transportation.
Save on your trip with these resources
These are our go-to companies when we travel. We believe this list to be the best in each category. You can't go wrong using them on your trip too.
Flights: we use Expedia for the best and cheapest flight options.
Accommodations: we use Booking.com (hotels), VRBO (self-contained), or Hostelworld (budget).
Cars (gas or electric): we use RentalCars to search for deals and dealer ratings.
Campervans or Motorhomes: we use Campstar where Albom Adventures readers get a 3% discount.
Motorcycles: we have heard good things about BikesBooking.
Private guides: we love the private guides at Tours by Locals.
Travel Insurance: while not required, we always opt for travel insurance and start at InsureMyTrip to compare coverage plans.
Check out our travel resources page for more companies that we use when you travel.
Save for later
If you enjoyed this article, please share it on social media and save it for later on Pinterest.
Do you prefer to add classic or the unusual things to do in Berlin to your Berlin itinerary?
Photo Credits
Photos on this page are either shot by our team and watermarked as such, in the public domain, or some stock photos were supplied by DepositPhotos.