Nestled between France, Germany, and Belgium, we almost overlooked the tiny yet impressive country of Luxembourg. However, an unscheduled change in our plans, and we suddenly found ourselves trying desperately to soak in Luxembourg in one day.
Fortunately, our flexible schedule let us stay a bit longer, but even with that, we only found time to explore the capital, Luxembourg City, and the incredibly beautiful town of Vianden.
Like many European cities, the capital represents an eclectic mix of architectural styles. Founded in 963 AD, the capital city has left a significant mark on European history.
For us, most of our time was spent in the old town, surrounded by medieval, baroque, and gothic structures. The city is an interesting split of two levels.
We spent time on the city wall and the ancient Bock promontory, both overlooking the city. While at other times we found ourselves walking along the riverside.
If you can, plan to stay a while. If not, we share the highlights of what you'll want to see if you are trying to achieve Luxembourg in a day.
Old town Luxembourg in one day
A UNESCO world heritage site, Luxembourg's old quarters and fortifications represent the impressive traces of an ancient city surrounded by an impressive natural environment.
The best thing to do here is just to wander the streets. Cobblestone streets lead to lush gardens and are lined with a mix of medieval buildings, scenic bridges, and tall trees.
Even better, do it with a walking tour.
Grand Ducal Palace
Old Town Luxembourg
Bock Casemates
Chemin de la Corniche
Notre-Dame Cathedral
The Grund
Check out a museum
Grand Ducal Palace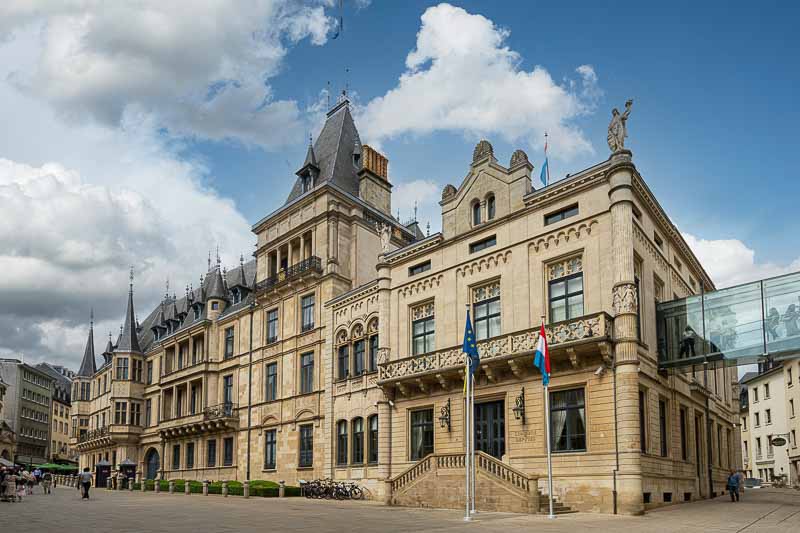 This has been the official residence of the Grand Ducal family of Luxembourg, the royal family, since 1890. The doors were closed tight when we were there, and even the guard towers stood empty.
Visitors can tour the palace for a limited number of weeks each year, usually occurring during the summer. Tours are available in English.
Bock Casemates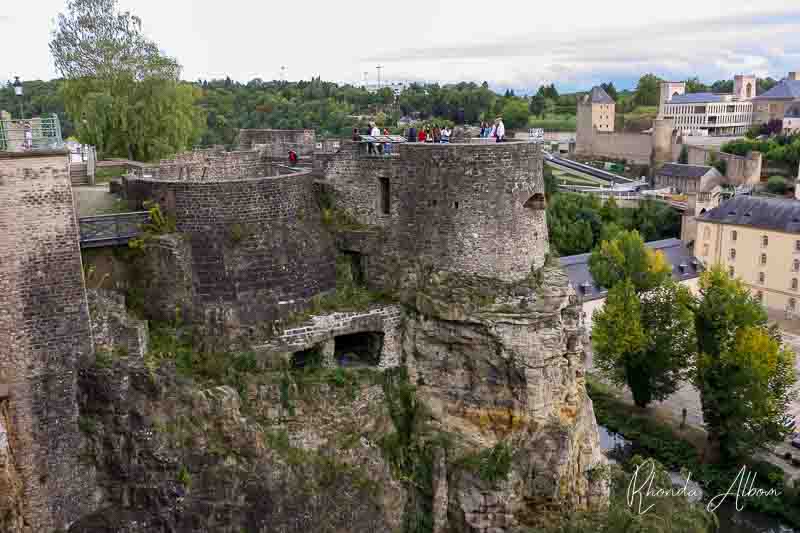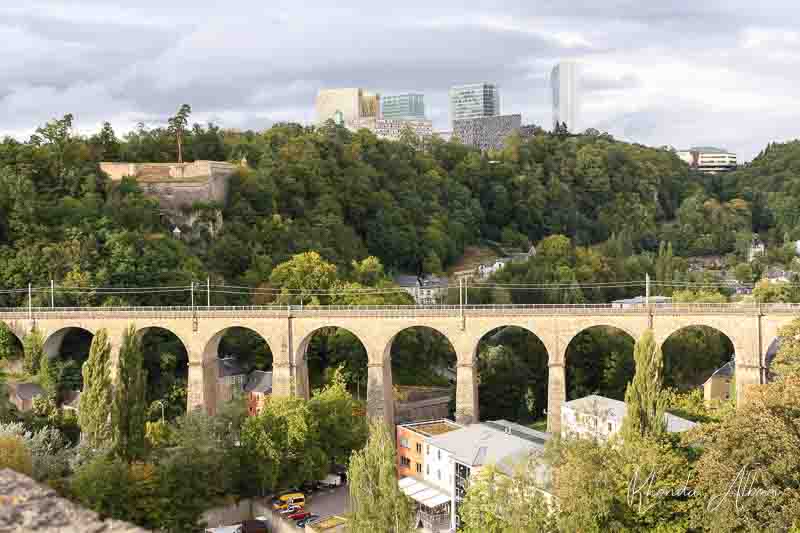 The Bock Promontory is a natural stone wall that was built upon with a castle. Tunnels were also added. It offers a natural fortification, its rocky cliffs tower above the River Alzette, which surrounds it on three sides.
The Treaty of London in 1867 called for its destruction.
Today, it is the ruins of the old castle and tunnels that we visit. We shot the second image from the top of the Bock casement, facing the northeastern corner of Luxembourg City's old historical district.
Chemin de la Corniche
The Chemin de la Corniche is a walking path along the Bock, a scenic route on the old city walls that was one of our highlights of Luxembourg in one day.
Like the ruins just above, it offers impressive views of the old city and also the Grund (a historic neighbourhood filled with cultural and architectural heritage). Above is Neumunster Abbey in The Grund, a former Benedictine Abbey, now a cultural and conference centre.
The path begins near the Church of St Michel.
Notre Dame Cathedral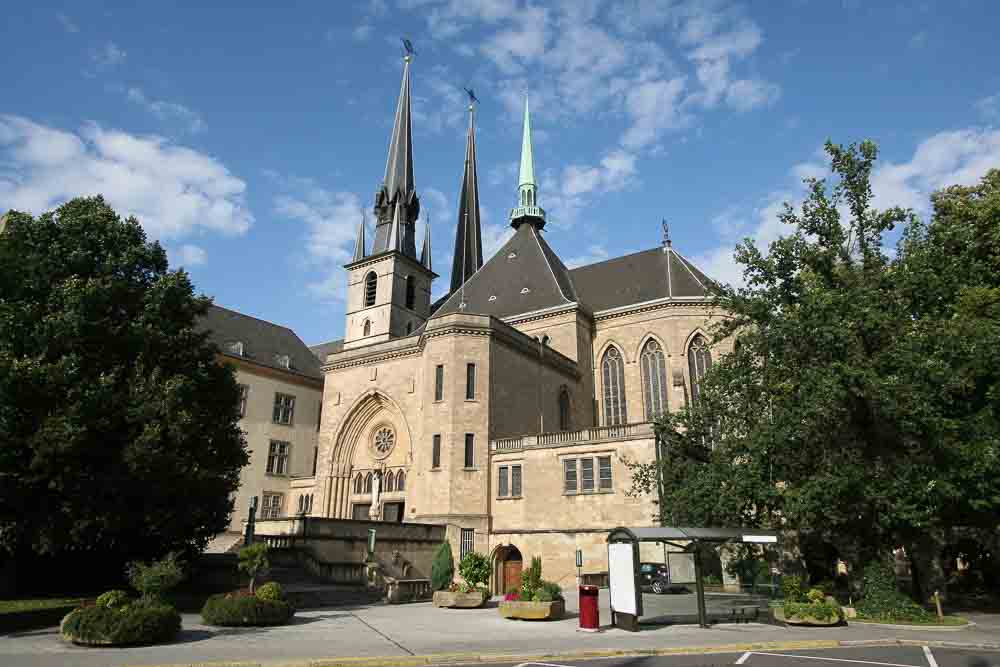 The Notre Dame Cathedral is the only Roman Catholic cathedral in Luxembourg. Although built during the 17th century by Jesuit priests, some of the stained glass is from the 19th and 20th centuries.
Sitting over the altar is a miniature famous statue of Madonna and Jesus. Also located at Notre Dame in the crypt is the graves of former royal family members.
More in Old Town Luxembourg – a blend with the new
One of the things I loved about walking around Luxembourg City was the eclectic mix of new and old in seemingly random placement. It's as if the modern was simply built around the ancient without disturbing it.
For instance, as we passed through the Spanish gate, we followed the same path as the Romans. Today it leads to the fish market.
In stark contrast to this historical trail, there is the hidden face carved into the Town Hall.
Add a museum to your Luxembourg in one day itinerary
With lovely weather, we were happy outdoors. Therefore we didn't include any of the museums in our one day in Luxembourg. However, we did consider any of these three:
Touring Luxembourg
We opted to go it alone, mostly because we arrived unplanned but with a list similar to the one on this page, highlighting everything we had time to see. However, what we gave up was the knowledge, stories, legends, and hidden secrets that are the inherent benefit of having a guide.
The best way to be guided through Luxembourg is either the hop-on-hop-off bus or a walking or eBike tour. Any of these would fit with attempting to see Luxembourg in one day possible.
Stay in Vianden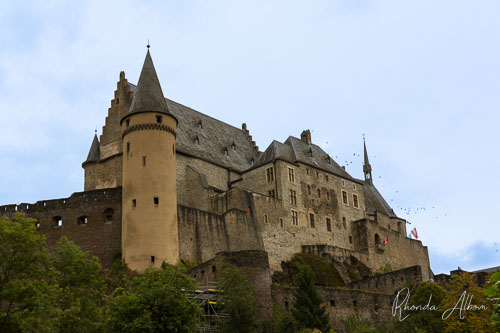 The only difficulty we encountered in our last-minute attempt to see Luxembourg in one day was that there was nowhere affordable to sleep in town that still had vacancies, as we were so last minute.
With the help of the Luxembourg Visitor's Centre, we found a hostel in Vianden.
The solution brought us to the picturesque town of Vianden, which hugs the banks of the River Our, and is home to one of Europe's fairytale castles. Only about an hour's drive from Luxembourg City, it's a paradise that shouldn't be missed and a great place to wake up in the morning and explore.
And, if you reserve a skip-the-line Vianden Castle entry ticket, you can start the next day with a 2-hour self-guided audio tour of one of Europe's largest feudal residences. Impressive, it is a stunning example of the Romanesque and Gothic periods.
While not our typical accommodation, the hostel offered us a bunk room just for our family, although we still had shared bathrooms down the hall. The price was great, the breakfast fine, and best of all, our room had a view of Vianden castle lit up at night. Reserve your hostel stay here.
Save on your trip with these resources
These are our go-to companies when we travel. We believe this list to be the best in each category. You can't go wrong using them on your trip too.
Flights: we use Expedia for the best and cheapest flight options.
Accommodations: we use Booking.com (hotels) or VRBO (self-contained).
Cars (gas or electric): we use RentalCars to search for deals and dealer ratings.
Campervans or Motorhomes: we use Campstar where Albom Adventures readers get a 3% discount
Private guides: we love the private guides at Tours by Locals
Travel Insurance: we start at InsureMyTrip as they are the best option to compare plans and find the right coverage for you.
Check out our travel resources page for more companies that we use when you travel.
Save for later
If you enjoyed this article, please share it on social media and save it for later on Pinterest.
How will you spend your time in Luxembourg in a day?
Photo Credits:
All photos on this page are either shot by our team and watermarked as such or stock images from Depositphotos.