The Arc de Triomphe towering at the end of the Champs Elysees fought for my attention as we strolled along Paris's famous street. As we approached, it was evident to me that Napoleon accomplished his objective of demonstrating his power. At the same time, it seemed unreachable, guarded by a crocodile-like moat, a famous roundabout in Paris of several layers of cars dodging, weaving, and encircling in an endless stream. Fortunately, there is an underpass to bring pedestrians to the Arc de Triomphe.
Commissioned by French Emperor Napoleon in 1806, the Arc de Triomphe was designed to honour his Grande Armee. After his 1805 victory in the Battle of Austerlitz Napoleon said to his soldiers, "You will return home through arches of triumph". Napoleon never saw it finished as he died in 1821 and it was completed in 1836.
Take a look at the Arc de Triomphe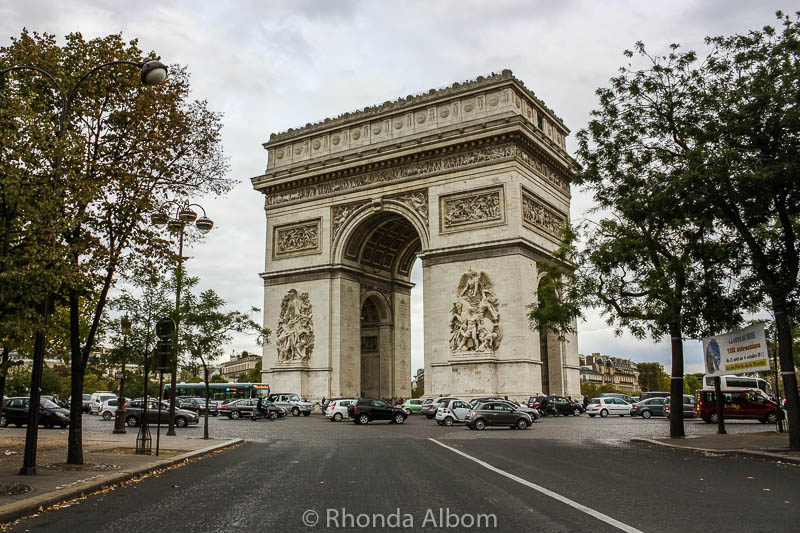 Arc de Triomphe roundabout nightmare
No discussion of the monument would be complete without mentioning the Arc de Triomphe roundabout. It is the type of road that fosters nightmares. We were a bit unprepared when we entered the first and only time. Living in New Zealand, we thought we understood roundabouts. We quickly found out differently.
First, there are 12 straight avenues lead into it (including Champs-Élysées). Each has multiple lanes turning onto a roundabout that can be up to 10 lanes of traffic thick. I say "up to" as there are no road markings, so it is quite a bit of a free-for-all. And insurance companies know it, that's why it has been agreed to be no-fault. In other words, responsibility and payments for all monument accidents are split evenly by the insurance companies.
Then there is the typical Paris driver. To be fair, they are probably no more aggressive than locals in any major city, but we were not locals. Therefore, it was terrifying. Here are a few tips if you are going to drive it:
Check your insurance policy before you drive in Paris. Many have clauses and restrictions about this roundabout.
Unlike roundabouts in most of the rest of the world where cars on the circle have the right away, at the Arc de Triomphe roundabout, cars entering have right of way. Therefore, you need to give way to the right.
Don't panic, don't yell, don't let car horns throw you, and whatever you do – don't freak out and just stop the car.
If you are on foot, DO NOT try to run across the road. Use the pedestrian underpass.
My best tip: Simply don't do it.
Are you still thinking, it can't be that bad? If so, check out this video:
More images of the Arc de Triomphe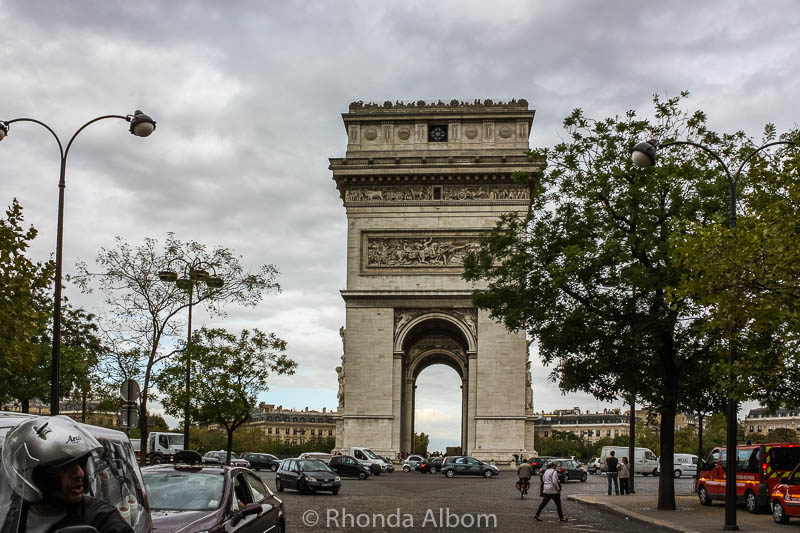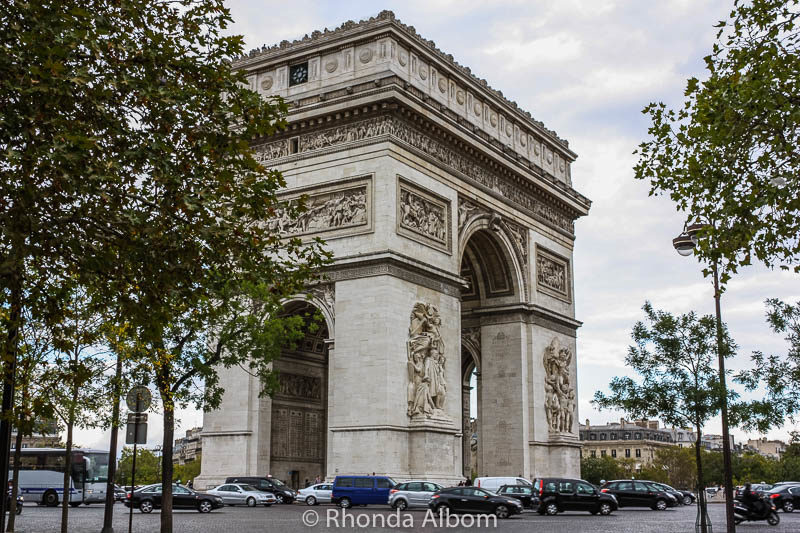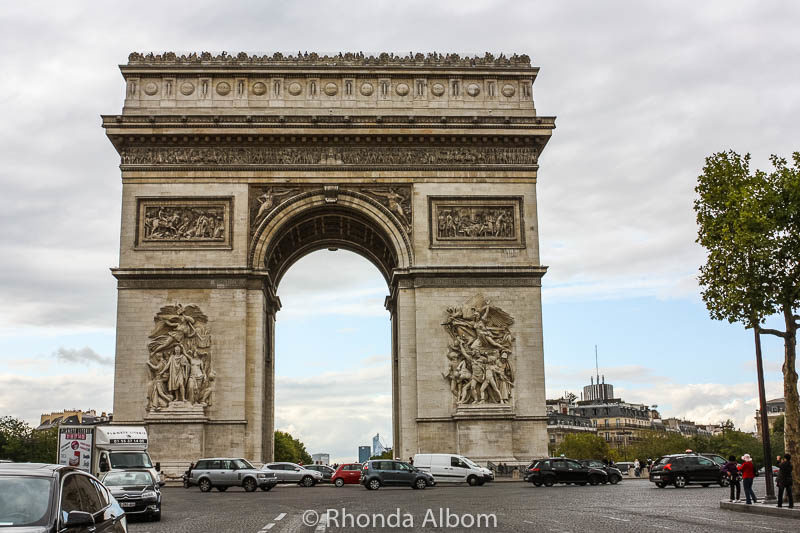 A closer look at some of the Arc de Triomphe details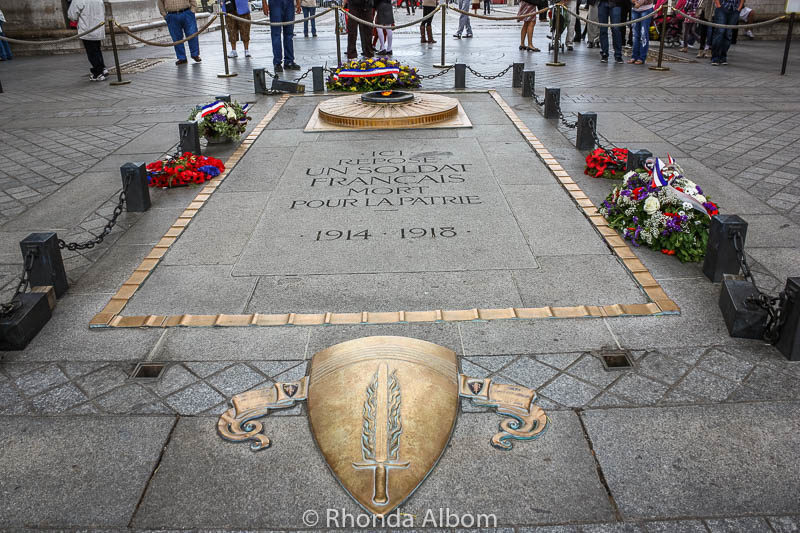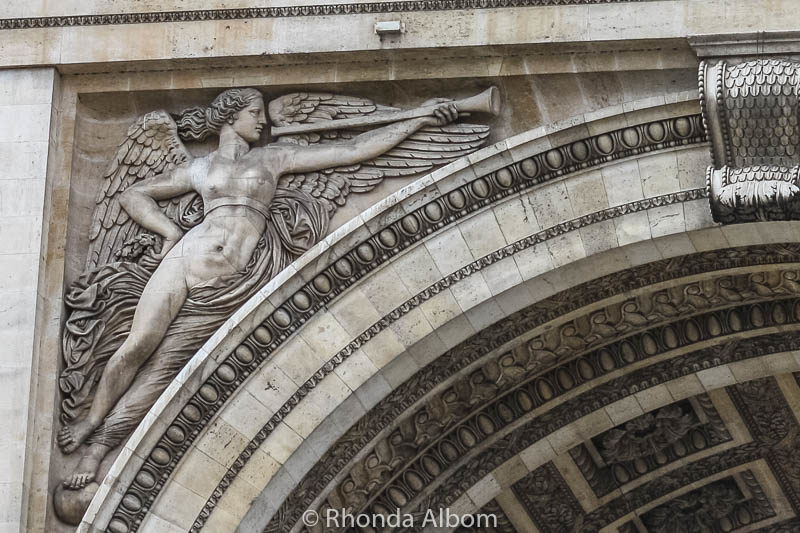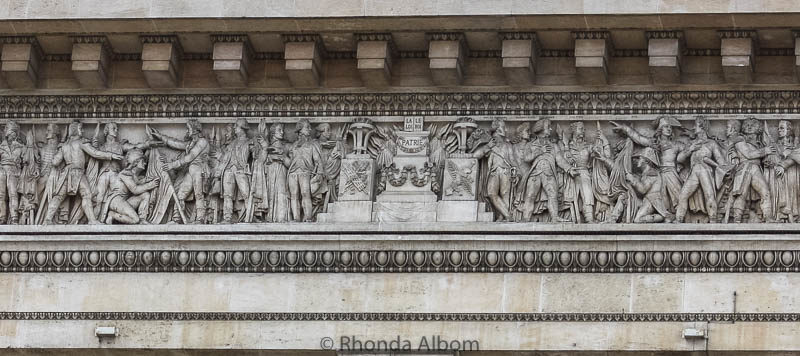 A parade on the day we visited: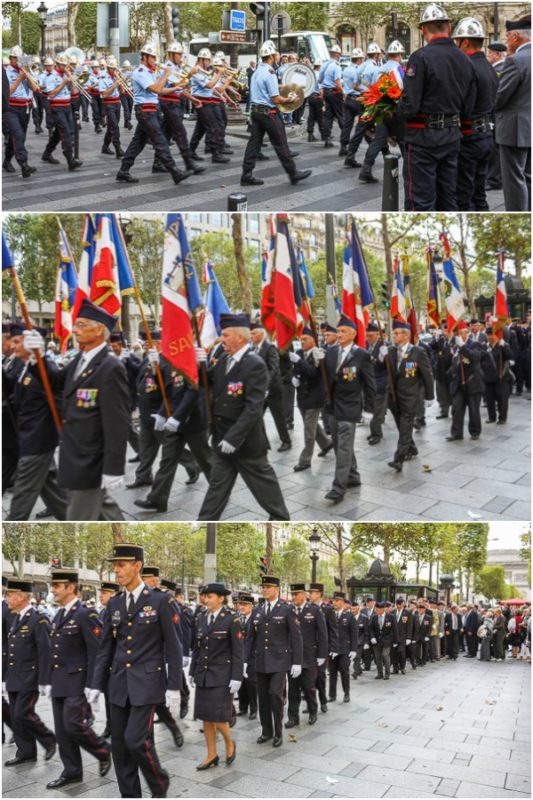 Practical information on visiting the Arc de Triomphe
The Arc de Triomphe is located at one end of the Champs Elysees and 11 other streets.
More specifically, it is in the northwest sector of Paris at the Place Charles de Gaulle, previously called the Place de l'Étoile (Square of the Star).
Pedestrian access to the underground tunnel is on the Avenue de la Grande Armee side of the circle. You can also access this tunnel from the Wagram exit of the Metro. You do not want to try to cross the Arc de Triomphe roundabout traffic on foot. See above if you are questioning this.
The Arc de Triomphe is 50m tall (164 ft). In comparison, the Eiffel Tower is 300m (984 ft).
City views can be enjoyed only by climbing the stairs, which are open daily at 10 am. While there is an entry cost for adults, children up to age 17 are free. We opted not to go up as we had been up to the top of the Eiffel Tower a few days earlier.
It is possible to avoid some of the crowds in Paris.
See more of Paris
Have you driven on the Arc de Triomphe roundabout, or visited the monument?
If you enjoyed these photos, please share this article on social media including Pinterest: