Travelling in Europe, we discovered a treasure trove of majestic cathedrals. The Basilica of St Sernin in the city of Toulouse France was no exception. It is the largest Romanesque church in Europe, filled with antiquities, relics, and museum quality frescoes. Also famous for its Romanesque sculpture, the Basilica of St Sernin is a UNESCO World Heritage Site on the list of Routes to Santiago de Compostela.
Historically, the early 5th-century church built on this location encapsulated the remains of Saint Sernin. As the first Bishop of Toulouse, he was martyred violently for refusing to pray to pagan gods. His relics attracted many pilgrims, and the church was rebuilt and updated. The 11th-century Basilica of Saint Sernin we see today is a masterpiece.
Our free (with donation) private tour of the church, resulted in a better understanding of everything we saw. I recommend taking this tour first, before exploring on your own. Here are some of the highlights: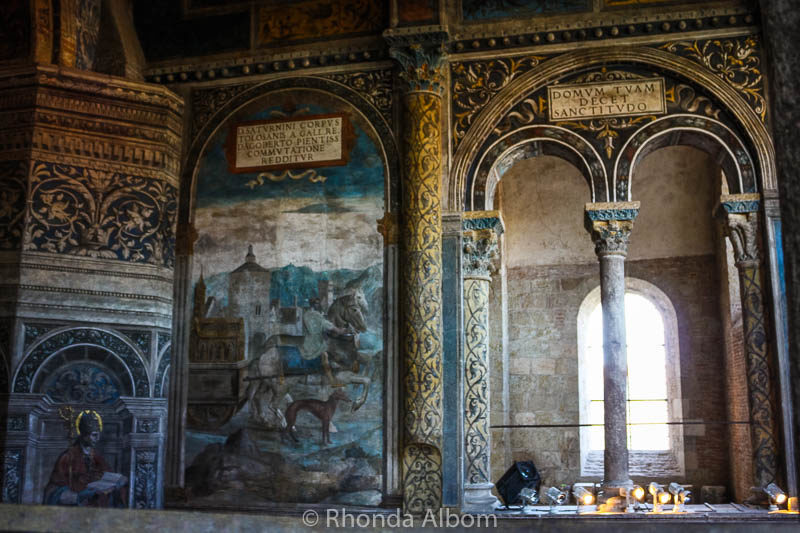 More Information on Basilica of St Sernin and Toulouse France:
The main church of the Basilica of Saint-Sernin is open daily from 8.30 am. Closing times vary by day and season. Check times on their official website.
There is a small fee to enter the crypt and ambulatory; both have varied opening hours.
You can visit the Basilica of Saint-Sernin on its own, or as part of a city tour from Viator.
We first discovered the Basilica of St Sernin in Lonely Planet's Western Europe Travel Guide.
Located in the Midi-Pyrenees region of France, Toulouse is one of my favourite cities in France. We discovered plenty of things to do in Toulouse. One of our favourite other stops was the Cite de l'Espace. We visited as part of a Loop from Barcelona with primary stops in Madrid, Segovia, Cordoba, and Granada, in Spain; Evora and Sintra in Portugal; back through northern Spain, then into the French Pyrenees first to Lourdes, then to Toulouse.
If you enjoyed this visual tour inside the Basilica of Saint-Sernin, please pin it on Pinterest:
*We visited the Basilica of Saint Sernin and the city of Toulouse in 2012.  I recently moved all my photos to Lightroom, thus rediscovering these not previously shared images. 
What is it about the Basilica of St Sernin that you like best? Is it the architecture, Romanesque sculpture or the frescoes?
Seven ridiculously simple tips that WILL improve your photos
Whether you shoot with a phone or a DSLR, let me share my secrets.
Subscribe to Albom Adventure's Travel Tips newsletter and download our free ebook: Take Better Travel Photos By Rhonda Albom