Our northern Spain road trip took us from La Coruna on the Atlantic coast to Barcelona on the Mediterranean Sea through a variety of landscapes, architecture, and gastronomic adventures.
We explored the regions of Galicia, Asturias, Cantabria, Basque, and Aragon, ending our travels in Catalonia. Our highlights ranged from an eclectic mix of coastal fun and relaxation to cave exploration.
Often heading off the beaten path, we saw 40,000-year-old cave drawings, ancient palaces, half-hidden underground ruins, Roman baths, torture chambers, unusual cemeteries, and stunning beaches. We even saw replica ships from Christopher Columbus' fleet.
In addition, we visited world-class museums, major pilgrimage destinations, and several stunning cathedrals.
While a northern Spain road trip may not be one of the most popular ones in the country, it certainly was an impressive eye-opener and one which we recommend.
Read on for details of our adventures.
Northern Spain road trip map
Key stops on our northern Spain road trip
La Coruna
Santiago de Compestela
Lugo
Cudillero
Gijon
Comillas
Santillana del Mar
Santander
Bilbao
San Sebastian
Zaragoza
Barcelona
Our northern Spain road trip started in Galacia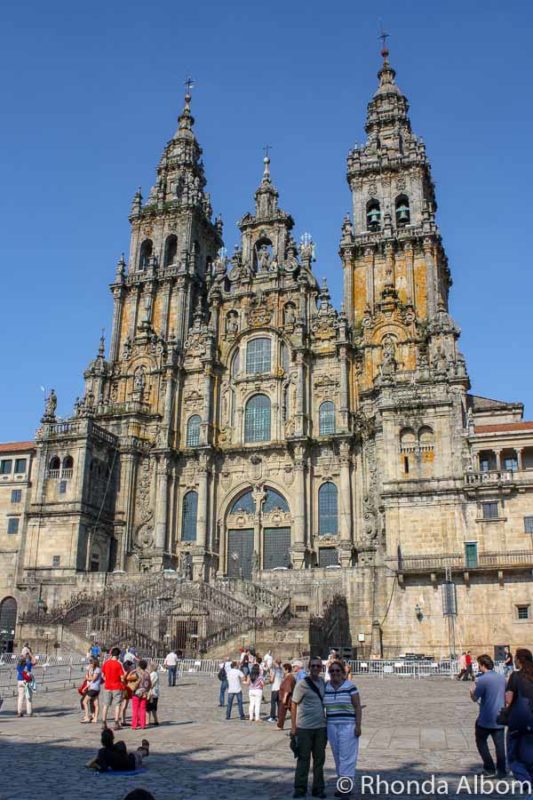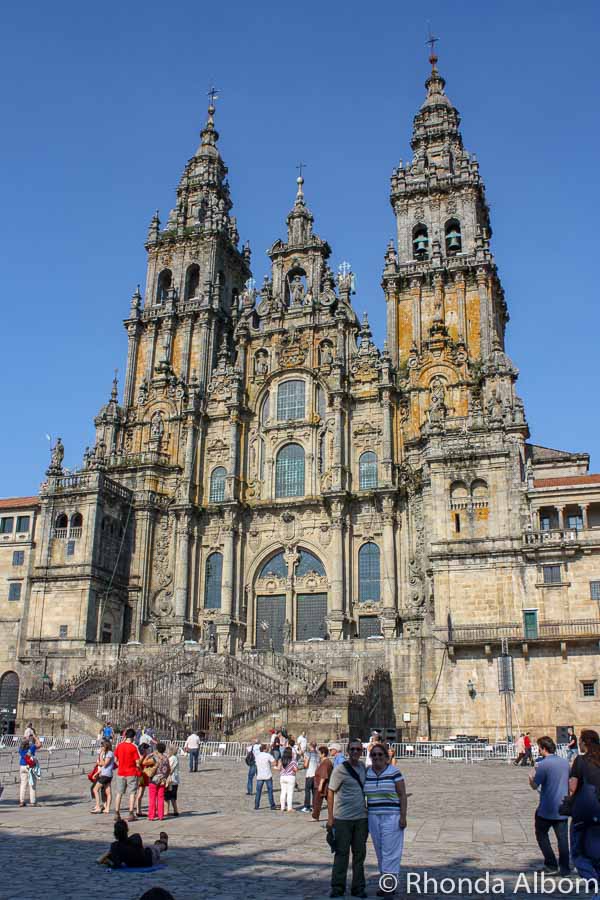 We were based in La Coruna at a two-week home exchange house. From here, we explored Santiago de Compostela and Lugo as our first stops across the top of Spain, returning to our other home exchange property in Catalonia.
La Coruna
Living in La Coruna for two weeks was just about enough time to really fall in love with this coastal city. Aside from spending our time on the beach, we also explored several fascinating museums and historic sites.
The city boasts the world's oldest working lighthouse. From the top of Hercules Tower, it's easy to enjoy the beautiful coastline, provided you can tolerate the wind. We also enjoyed fabulous views from San Pedro Hill.
Suggested activities: We have detailed all our favourite things to do in La Coruna here. But if you have limited time or want to start off with an overview, we recommend this top-rated 2-hour walking tour. Also, quite popular, but not my thing, is a tour of Mundo Estrella Galicia brewery, complete with beer tasting. Reserve your beer museum tour here.
Santiago de Compostela
Santiago de Compostela is the world's third most important Christian pilgrimage destination after Vatican City and Jerusalem. The cathedral is the final resting place of St James the Great, an apostle of Jesus Christ.
We visited on July 24, the eve of St. James Day, one of the most important days of the year, so the crowds were pretty intense. On the plus side, we enjoyed a mass by the archbishop and saw the swinging of the Botafumeiro that takes place only a few days each year.
Suggested activities:
Lugo
Lugo is home to the last remaining fully intact Roman Wall. We walked on the path on top of the wall for much of the perimeter. However, we spent the majority of our time within the walled city, discovering some of the highlights of Galicia's oldest town.
Areas of Lugo grew up over ancient ruins, leaving the ruins visible yet well protected. And this is not just inside the city wall, there are ancient Roman baths under a modern hotel and a nearby Roman bridge.
Suggested activities: We have detailed all our favourite things to do in Lugo here, but the three that top our list are: walking along the wall; visiting the Cathedral de Santa Maria in the old town; and experiencing the Provincial Museum.
Northern Spain road trip stops in Asturias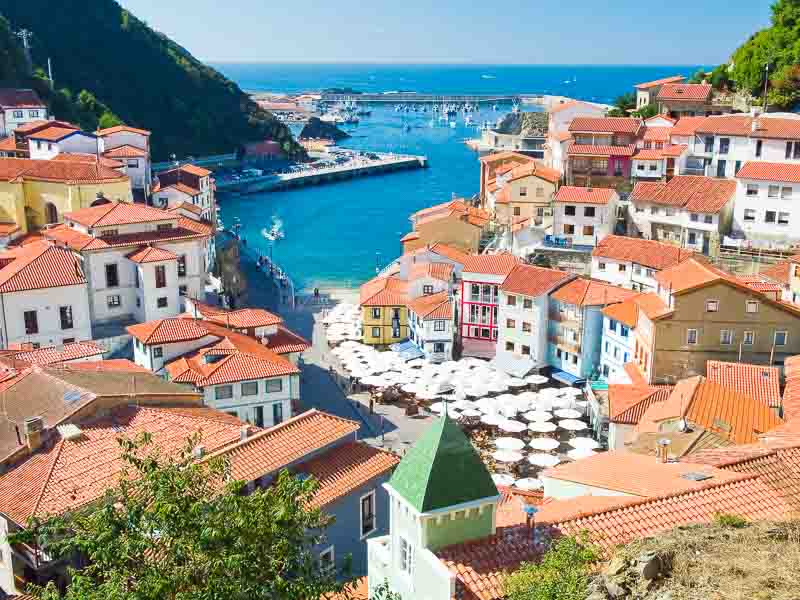 We definitely drove through Asturias too fast. Our two key coast stops were Cudillero and Gijon, where we mostly just enjoyed the quaint villages, cafes, and beautiful beaches.
Cudillero
Cudillero is a small fishing town along the St. James pilgrimage route that is best known for its taverns. We stopped for the coastal views at one of its beaches and then saw the fishermen's taverns in the cobbled square.
Gijon
Gijon is a city that has transformed from an industrial and fishing port to a modern tourist destination. Great seafood restaurants (some Michelin star rated) make it an ideal place to stop for lunch. There is no shortage of activities and sites in Gijon, including a beach (Playa de San Lorenzo), botanic gardens, an aquarium, museums, and ancient Roman baths.
Cantabrian coast road trip stops in northern Spain
The small towns along the Cantabrian coastline were my favourite portion of our northern Spain road trip.
To explore Cantabria, we stayed in the colourful village of Santillana Del Mar. From here, we made day trips to Comillas, Santander, and El Castillo in Puente Viesgo.
Comillas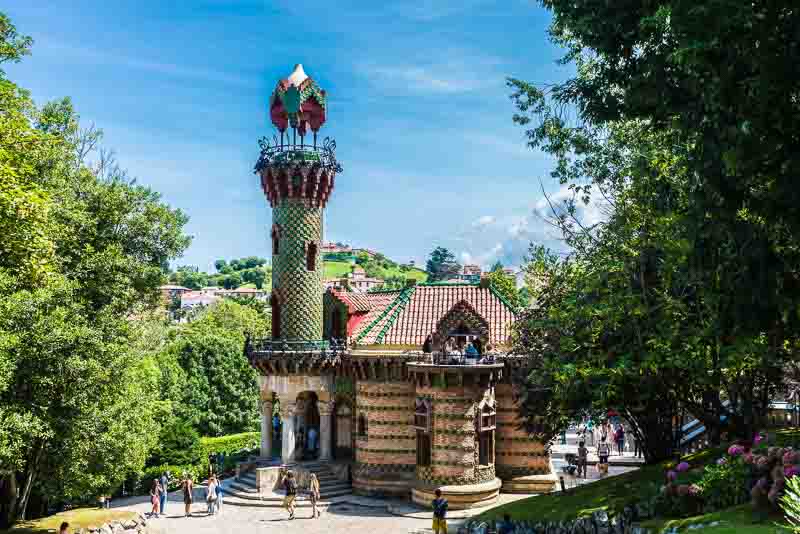 Comillas is a charming town most noted for its old university, palace, monuments, cemetery, and its main drawing card, Gaudí's summer home.
El Capricho, the modernist-style summer home, was designed by world-famous architect Antoni Gaudi and is one of only three of Gaudi's works found outside of Barcelona.
We also walked through the cemetery of Comillas, where we saw covered recesses that contained the coffins. Interestingly, these spaces are rented for a pre-determined number of years. Later, the coffins are moved to a common burial ground. An angel by Llimona (1895) towers above the cemetery.
Suggested activities: Plan your day around your timed entry to El Capricho. You can reserve your skip-the-line timed entry ticket here. Spend the rest of your time walking around town and exploring the cemetery.
Santillana del Mar
The picturesque medieval town of Santillana del Mar is a well-preserved historical masterpiece. A village handed down through the generations, it is still governed by town-planning laws created in 1575. The cobblestone streets and flower-filled balconies make it a photographer's paradise (see photo at top of page).
The Church of the Colegiata, a Romanesque church and former Benedictine monastery, is the most famous building in town. Located inside are the remains of Santa Juliana (or Santa Illana), the town's namesake. Pilgrims carved crosses into the stone wall around the church.
We also visited a torture museum that we do NOT recommend for kids, and the family-friendly Altamira Museum, where we learned about the ancient pre-humans that lived in the caves and hunted for food. Here we signed up for and participated in a free workshop on buffalo hunting, and while we couldn't understand all of the Spanish, we had fun learning to throw spears.
Suggested activities: We enjoyed walking around this town and taking photos, visiting the church, and we highly recommend the Altamira Museum. Our girls also enjoyed horseback riding.
Caves of Altamira and El Castillo in Puente Viesgo
There are about a dozen caves in the area that you can visit, although many, like Altamira (and Lascaux in France), are no longer open to the public. In their place, visitors enter caves created as exact replicas.
We recommend visiting Museo del Altamira in Santinalla del Mar before entering any of the caves, as the background is helpful. Following our visit, we had timed tickets to enter the Altamira cave. Despite it being an exact replica of the original cave that sits right next to it, we still wanted more.
We chose and recommend Cuevo de la Castello in Puente Viesgo. Inside, cave drawings and handprints lined the walls. In 2012, new technology determined some of these to be 40,000 years old, suggesting they may have been put there by Neanderthals. (Photos were not permitted.)
Tips for visiting El Castillo
Possibly the highlight of our northern Spain road trip, our tour of El Castillo was captivating. We highly recommend booking in advance. The online form requires a DNI number, which only Spanish residents will have. We entered 00000000-A, and had no issues.
Bring a jacket if you go into El Castillo. It is about 12ºC (54ºF) inside the cave.
The tours are in Spanish, but the cave artwork is visual.
Santander
Another interesting city along the Cantabrian coast, Santander, is the capital of the region. It was once the summer home of the royal family.
We walked out to the palace, Palacio de la Magdelena, near the end of the Magdelena peninsula. Along the way, we passed seals and penguins in large enclosures. Next, a historic boat exhibit featured several replica ships from Christopher Columbus' fleet.
Locals at our home exchange city referred to Santander as a hidden gem with beaches equivalent to San Sebastian, without the high price tag, stating they are great for surfing.
Suggested activities: Aside from walking along the peninsula, we recommend getting out on the water with a one-hour city cruise around the bay or surfing. Reserve your 2-hour surf lesson here.
Our stops in the Basque region
Geographically, the Basque region is smaller than others we drove through but still unique, as evidenced by the Basque language spoken here.
The region is well known for pinchos, a Basque tapas that is typically eaten well before dinner. In fact, we were told (and found it to be true) arriving between 6.30-7pm is the best time to get the full selection.
(Note both spellings are correct: Pintxos in Basque; pinchos in Spanish.)
Bilbao
If you are a modern art fan, you wouldn't want to miss Bilbao. It is home to one of the Guggenheim Museums, which has its main museum in New York and branches in Bilbao, Berlin, and Venice. The free English language audio guide made it much more interesting, especially to me, a person who doesn't fully understand modern art.
Public transportation in the city is easy to use, but don't miss the attractive mix of architecture while walking along the riverfront.
Suggested activities: Even if you are not a fan of modern art, visit the Guggenheim museum with this skip-the-line entry ticket and guided tour (in English) and afterwards, enjoy some pintxos before heading out for dinner. Or, if you're a total food enthusiast, enjoy this top-rated premier Bilbao gourmet food tour.
San Sebastian
Identified as the cultural capital of Europe back in 2016, San Sebastian is a playground for the rich and famous in the heart of the Basque region.
It's best known for its surfing beach and culinary excellence. In fact, there are a number of San Sebastian restaurants holding Michelin star ratings.
Although much smaller than the one in Rio, there is a large statue of Jesus overlooking and protecting the city.
Suggested activities: It's a beautiful city best explored by walking. We enjoyed a free walking tour of San Sebastian or, foodies will love this gourmet pinchos tour.
Road trip in northern Spain through Aragon
As we drove through Aragon, we stopped in Zaragoza to see El Pilar.
Zaragoza
Zaragoza (Saragossa in English) holds significant religious importance. It's the capital of Spain's Aragon region and our only stop as we passed through.
Local legend tells us that Saint James the Apostle came to Zaragoza to spread Christianity. As he prayed one day in 40 AD, an apparition of the Virgin Mary appeared to him. She gave him a 39 cm tall statue of herself and a pillar made of jasper.
Following her instructions, he built a small chapel on the spot, thus creating the first church dedicated to the Virgin Mary. The church has been rebuilt many times, each time increasing in grandeur.
The current Basilica of Our Lady of the Pillar (or just El Pilar) was designed in 1681 and remodelled in the 18th century, although construction on the towers finished in the early 20th century. It's one of three UNESCO World Heritage Sites in Zaragoza.
Thousands of pilgrims make their way here every year to kiss the small stature. For many, it is a stop on their pilgrimage to Santiago de Compostela. In fact, El Pilar is the second-most visited pilgrimage destination in Spain.
Barcelona ends our northern Spain road trip in Catalonia
Barcelona certainly deserves more than the three days we gave it. And, as the final city, or starting city, if you follow this northern Spain road trip in the opposite direction, it should be easier to schedule the extra time.
For good reason, everyone's top pick seems to be Barcelona's most famous and still unfinished landmark, the cathedral La Sagrada Familia. Construction began in 1882, and the current estimate is for completion in 2026. Above is one of my favourite shots to date, captured in 2012.
We toured La Sagrada Familia with an audio guide and highly recommend doing it this way. Reserve your tour and audio guide here.
It, along with 13 additional buildings in Barcelona, was designed by the famous architect Antoni Gaudi. Plus, there is the not to be missed Park Güell, also designed by Gaudi. Reserve your Park Güell entrance here.
Barcelona is more than just Gaudi. There are even loads of free things to do in Barcelona. Regardless, we enjoyed museums, an evening stroll and dinner on La Rambla, uncovering history as you discover the old town, relaxing at the beach, or heading out and exploring one of the nearby medieval towns or enjoying any of several interesting Barcelona day trips.
Save on your trip with these resources
These are our go-to companies when we travel. We believe this list to be the best in each category. You can't go wrong using them on your trip too.
Flights: we use Expedia for the best and cheapest flight options.
Accommodations: we use Booking.com (hotels) or VRBO (self-contained).
Cars (gas or electric): we use RentalCars to search for deals and dealer ratings.
Campervans or Motorhomes: we use Campstar where Albom Adventures readers get a 3% discount
Private guides: we love the private guides at Tours by Locals
Travel Insurance: we start at InsureMyTrip as they are the best option to compare plans and find the right coverage for you.
Check out our travel resources page for more companies that we use when you travel.
Save for later
If you enjoyed this article, please share it on social media and save it for later on Pinterest.
Where will you stop on your northern Spain road trip?
Continue your discovery of Spain
Photo Credits
Photos on this page are either shot by our team and watermarked as such, in the public domain, or some stock photos were supplied by DepositPhotos.