Famous for its Mediterranean coastal cities, there is also a treasure trove of medieval towns in Catalonia Spain. Driving from one small medieval village to the next, you can choose various combinations to make exciting Barcelona day trips.
Each of these small towns in Spain holds something special and unique. Often, it feels as if time stood still. If you have more than one day, we recommend a multi-night adventure that lets you explore these medieval towns in Catalonia in more detail.
Catalonia covers the northeast corner of Spain. Costa Brava includes only four of the coastal comarques (regions) in Catalonia. A long inhabited area dating back to palaeolithic times, most of the villages we visited were built in the 11th to 14th centuries. They are charming and some of the most beautiful places in Spain.
Our exploration of the medieval towns in Catalonia actually started about 120 km northeast of Barcelona in Palamós where we had a long-term home exchange complete with a vehicle swap. It gave us a perfect base to discover so many beautiful villages in Spain, both beach and medieval towns. We spread our visits out over several days.
Itineraries to Medieval towns in Catalonia
We visited nine charming medieval towns in Catalonia Spain, most built in the 11 – 14th centuries. We did this over a few days. For us, we were living in the region so our days were non-sequential, but one could easily make this a day or overnight trip. The towns include:
Pals
Palafrugell
Torrent
Sant Julià De Boada
Fontclara
Palau Sator
Peratallada
La Bisbal d'Emporda
Figueres
Pals
The village of Pals is a maze of quaint, narrow cobblestone streets and alleys surrounding a well-preserved medieval church, stone buildings, detailed archways, and flowering vines. Located on a hillside, it offers beautiful views of the surrounding countryside.
Pals is the third stop on our map (below), yet it is my personal favourite of the medieval towns and villages we visited. Restored after a revolution in the 14th and 15th centuries, walking through the arch-covered streets, it's as if time stopped.
Some consider Pals to be one of the best restored Gothic sites in this region of Spain. The images include:
The 11th Century Torre de les Hores (Romanesque castle tower) is 15-meters tall
Sant Pere Church appears to have withstood the test of time. The reality is that it was badly damaged in the revolution and restored in 1478 using stones taken from the castle.
On a portion of the drive inland from Palamós to Pals, sunflowers are everywhere.
The archways on the narrow cobbled streets are my favourite feature of this Gothic town.
From the hillside looking out over the surrounding Empordà (comarque) countryside.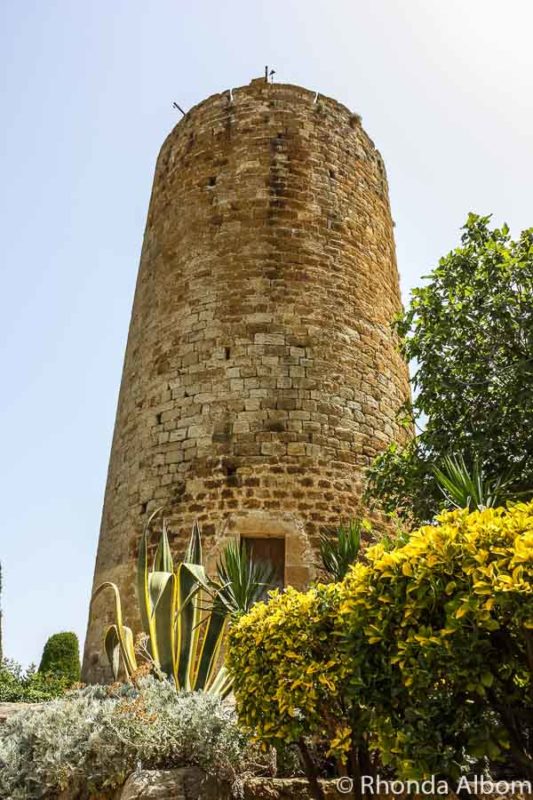 Palafrugell
Palafrugell is actually the first stop for many optional Barcelona day trips to the medieval towns of Catalonia.
For us, it was close to home and easy to visit. It's the only coastal community in this itinerary. It's a modern community, and there is a mix of the old and new as you walk down some of the streets.
For us, the three highlights were the main cathedral (Iglesias de Sant Marti), Museo del Corcho (Cork Museum), and the ruins of the old village Sant Sebastia de las Guarda.
The Cork Museum is housed in a former cork factory. Here we discovered the process from tree to fully processed and ready to use.
In Sant Sebastia de las Guarda, according to the signage, the oldest houses were attached to one another. The village had silos and kilns.
Torrent
The second stop on the map below is the small village of Torrent with its narrow streets, archways, and a sprinkling of the modern. It's a town with a population of under 200 people.
Sant Julià De Boada
Next, we visited the Sant Julià De Boada hamlet, made up of six farmhouses and a Pre-Romanesque Church.
Fontclara
The Romanesque church in Fonclara dates from the 11th century. The monastery that once lived here is long gone.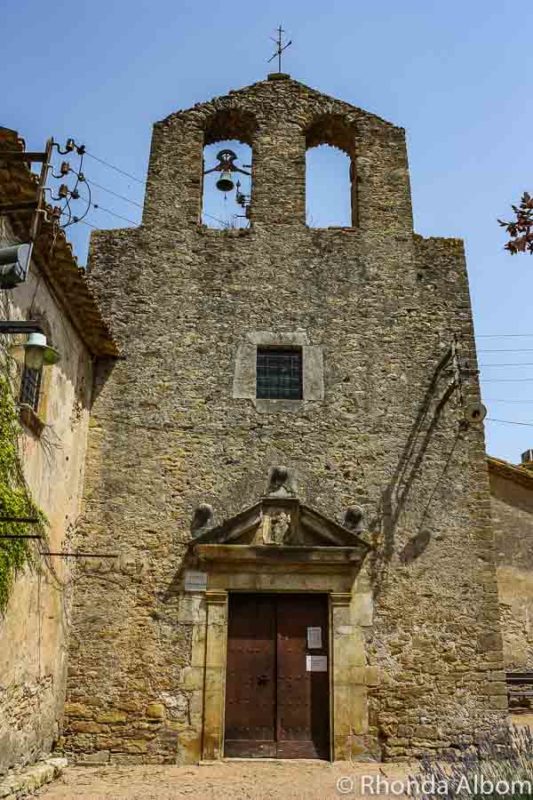 Palau Sator
Palau Sator was another medieval town in Catalonia that stole my heart. A town with a population of fewer than 300, it is well maintained with hints of modern life. It's a walled medieval city with a stereotypical appearing flag flying from one of its castle turrets. Narrow cobbled roads complete fantasy feel.
Peratallada
Finally, the stunning church in Peratallada: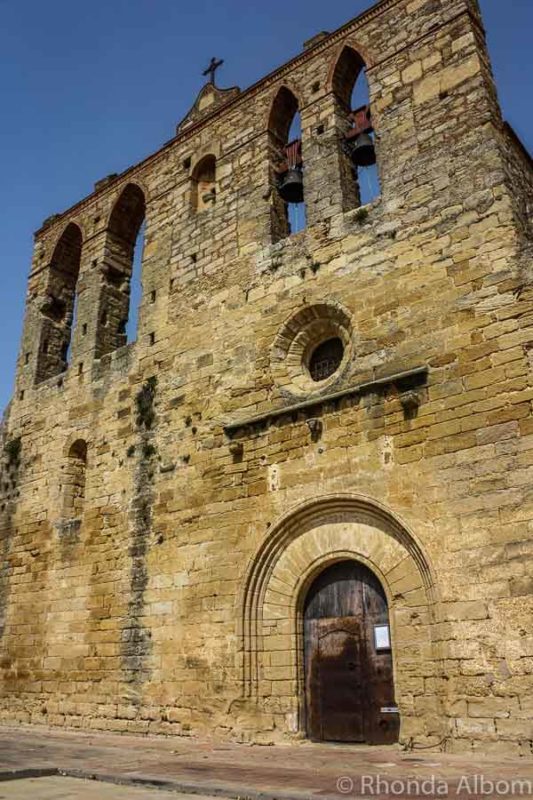 La Bisbal d'Emporda
The medieval section of La Bisbal d'Emporda is similar to those shown above with stone buildings, narrow streets and cobblestone roads. We arrived on market day, and the town market takes place inside the old town. Afterwards, we headed to the castle.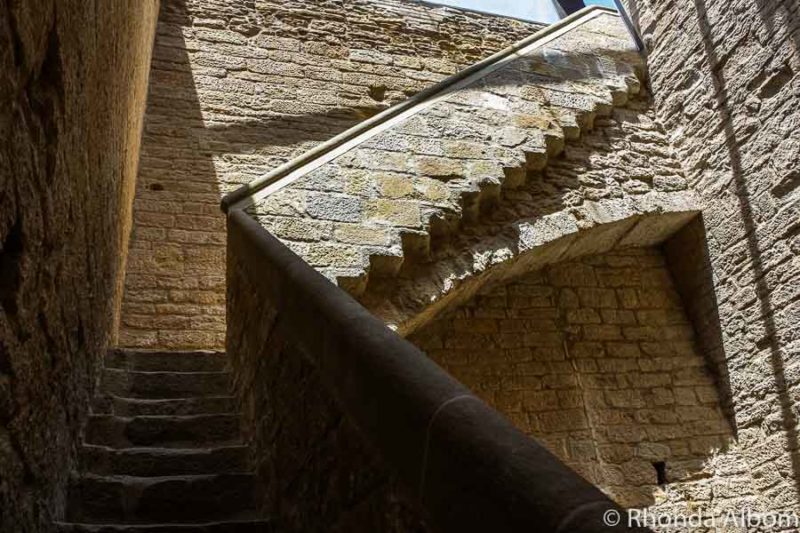 Figueres
As a destination on Barcelona day trips, Figueres is a must-see. This town is as eclectic as its most famous former resident, Salvador Dali. No wonder he wanted to build the Dali Theatre and Museum here.
The town square is filled with charming outdoor restaurants, and throughout the town, we found interesting building decor. However, if you are looking only for medieval architecture, you will have to work a bit harder to find it in this town. It exists, but there is overwhelming modernism.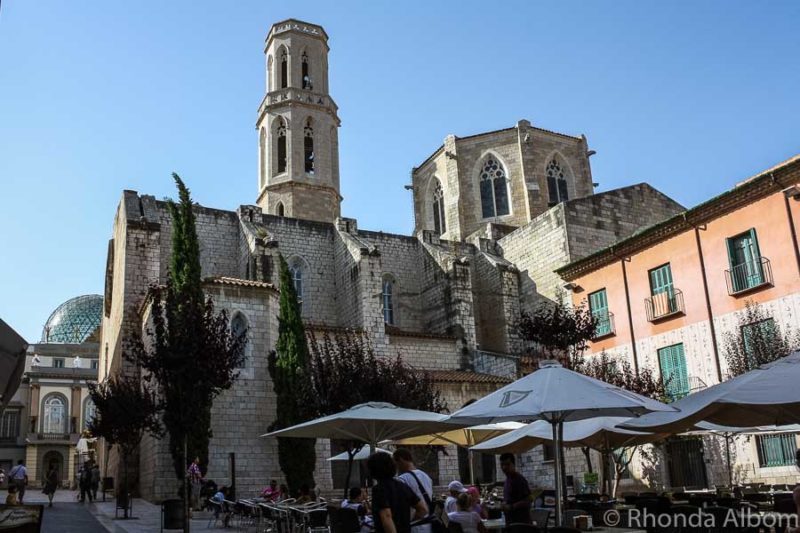 Medieval towns of Catalonia map from Barcelona
We headed north of Barcelona to a series of small villages in Spain. If the map doesn't show on this page, click here to see it on Google maps.
Practical information on Barcelona day trips to these medieval towns of Catalonia
The primary language of the region is Catalan, although we found most people also spoke Castillian (Spanish).
If you are basing yourself in the city, check out these backpacker hostels in Barcelona.
Plan for at least two days to explore Catalonia rather than attempting the entire itinerary listed above as one of your day trips from Barcelona. To do it in a day, you will spend nearly 4.5 hours in the car, thus leaving only limited time in these beautiful Spanish towns. Aside from the medieval villages listed here, other Catalonia points of interest include stunning Mediterranean beaches, unusual dive and snorkel destinations, ruins, old Jewish quarters, and ceramic creations. There are so many interesting places to stay along the way.
Better still, with limited time, I would let someone else do the driving and take one of these tours that pick up and drop off at Barcelona hotels:
→ Check prices and details on a Girona and Costa Brava Tour
OR ( ↓↓ smaller groups ↓↓ )
→ Check prices and details on a Girona and Costa Brava Small Group Tour
Save on your trip with these resources
These are our go-to companies when we travel. We believe this list to be the best in each category. You can't go wrong using them on your trip too.
Flights: we use Expedia for the best and cheapest flight options.
Accommodations: we use Booking.com (hotels) or VRBO (self-contained).
Cars (gas or electric): we use RentalCars to search for deals and dealer ratings.
Campervans or Motorhomes: we use Campstar where Albom Adventures readers get a 3% discount
Private guides: we love the private guides at Tours by Locals
Travel Insurance: we start at InsureMyTrip as they are the best option to compare plans and find the right coverage for you.
Check out our travel resources page for more companies that we use when you travel.
Save for later
If you enjoyed this article, please share it on social media and save it for later on Pinterest.
Which of the medieval towns of Catalonia appeal to you?