Once the home of Christopher Columbus, today Cordoba is an alluring city filled with impressive historical sites. The most important of these is La Mezquita (Mosque-Cathedral of Córdoba); however, the reality is there are several fascinating things to do in Cordoba Spain.
Intrigued by Moorish history and impressed by Mudéjar-style decor, I was instantly in love with the Cathedral. It charms the imagination and brings hordes of tourists to this Andalusian town annually.
Cordoba was the capital of the Muslim-ruled Caliphate of Cordoba (from 929 to 1031), the ruling body over almost all of the Iberian Peninsula. During a portion of this time, it was considered to be the world's largest city.
Then there was the Reconquista, and later the Inquisition and expulsion of the Jews leading to Christian rule. As a result, we find a town full of historical sites that have blended and transformed over history.
La Mezquita tops just about every list of things to do in Cordoba Spain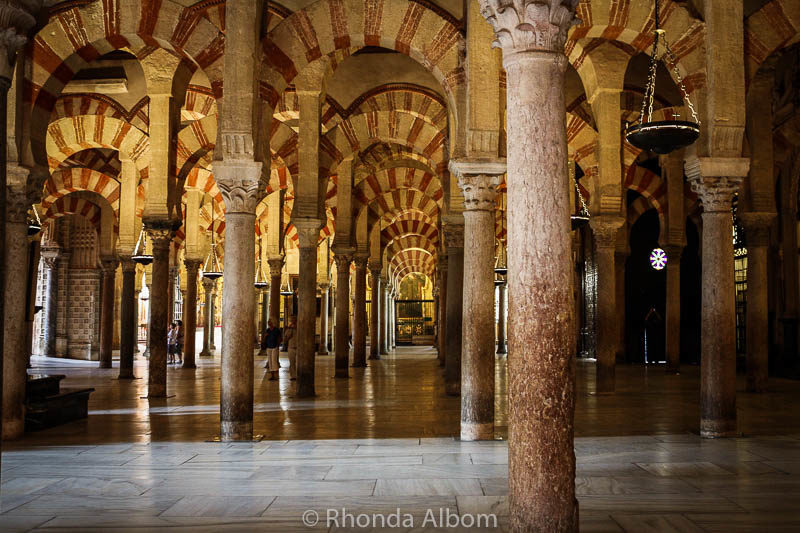 La Mezquita (Mosque-Cathedral of Córdoba) is one of the most memorable places I have ever stood.
Its red and white archways captivated my attention from the moment we entered. The contrast between the Moorish architecture and Catholic artefacts blends seamlessly. As a result, the structure feels endless. It is a visual treat around every corner.
It remains the largest structure of its kind in the western Muslim world and is a UNESCO World Heritage Site.
A brief history of La Mezquita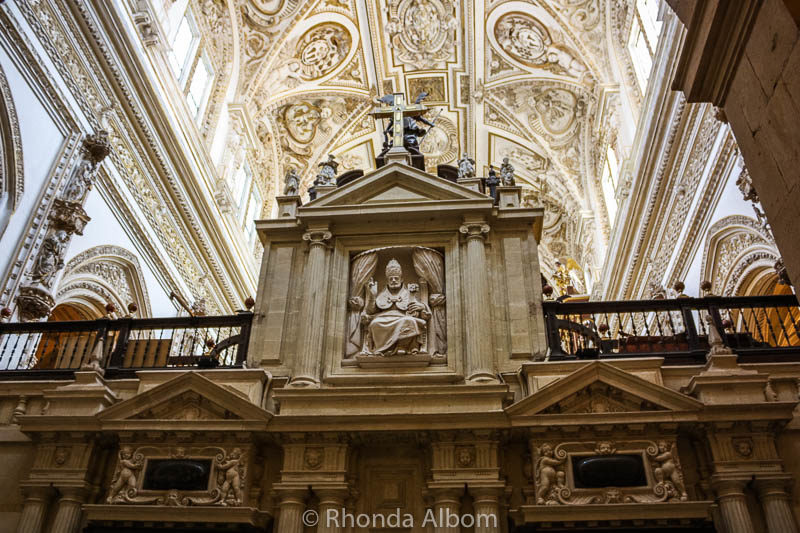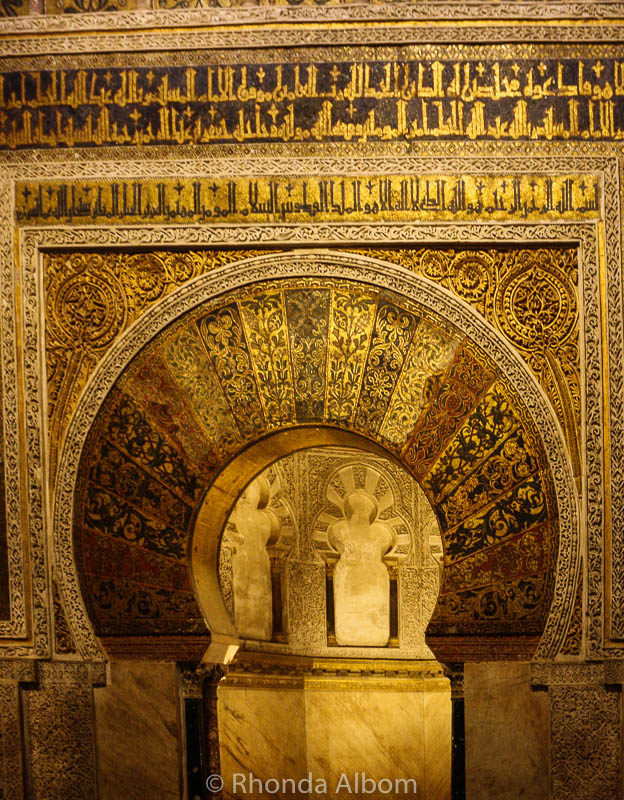 Originally, the Catholic Basilica of Saint Vincent of Lérins stood on the site. However, in 711 AD, the Muslims conquered Spain, and for a period of time, the Christians and Muslims shared the church, each occupying half of the building.
Construction of the Grand Mosque of Córdoba began in 784 after the Christian half was purchased and demolished. Córdoba returned to Christian rule in 1236 during the Reconquista, and the building converted to Roman Catholic.
Visiting La Mezquita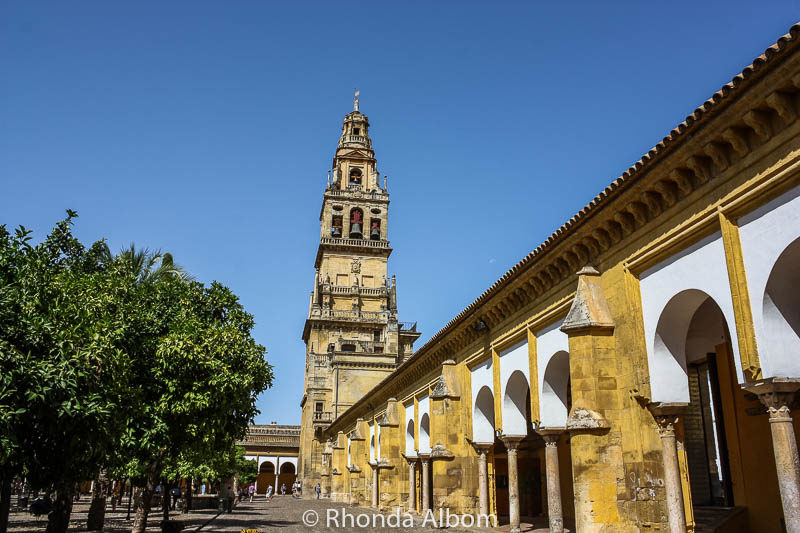 La Mezquita opens daily at 10am, but if you arrive between 8.30 and 9.30am, entry is free. While we have read that early birds are asked to leave by 9.30, it was never mentioned when we visited, and we entered at the last minute. In fact, we were advised by our hotel to hurry over if want to be in free for the day.
However, while free is great on the budget, what we missed was the knowledge of a guided tour. We believe this was a mistake. The art historian guide in this skip-the-line tour brings history alive and highlights some of the more intricate features we just simply missed.
It's the small things like learning at the time that the double arches were ground-breaking and used to give the building height. Reserve your Cordoba Mosque-Cathedral tour with skip-the-line tickets or one of these tours:
Cordoba Synagogue in the Jewish Quarter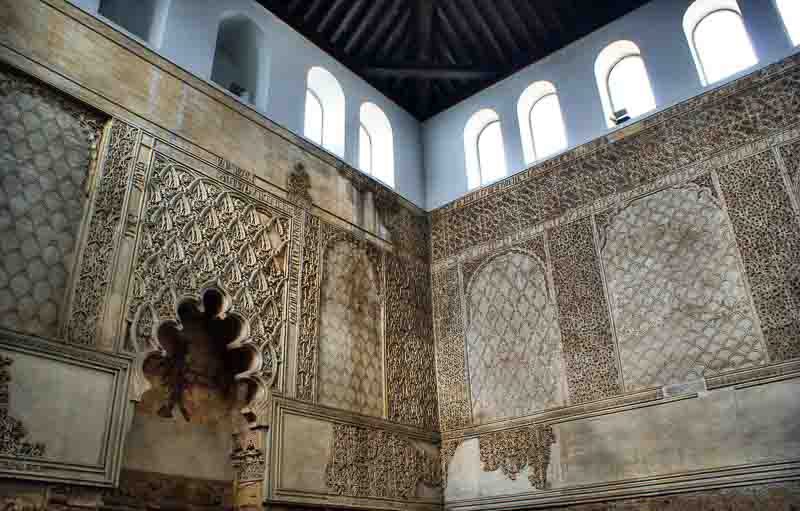 Visiting Córdoba Synagogue should be high on your list of things to do in Cordoba Spain. It is one of only three synagogues in Spain remaining after the expulsion of the Jews in 1492.
Built beginning in 1315, the Mudéjar-style ornamentation of the Cordoba Synagogue is a highlight of Cordoba's medieval Jewish quarter, one of the largest Jewish ghettos in Europe.
In it are an upper-level women's gallery, a breathtaking prayer room with balconies, arches, and an ark for holding the Torah.
Historically, Córdoba Synagogue was taken and transformed into a church in the 16th century, only to be later rediscovered in the 19th century.
Roman bridge
The Puente Romano (Roman bridge) is a 331-m long, 16-arch bridge spanning the Río Guadalquivir.
Originally built after Caesar's victory over Pompey the Great, it's undergone so many renovations and reconstructions over time that it barely resembles its Roman roots.
However, if it looks familiar, perhaps you recognise it as the Long Bridge of Volantis from Game of Thrones: Season 5.
At the southern end of the bridge
Torre de la Calahorra (tower) at the south end is a fortified gate built during the late 12th century to protect the bridge. Today, the tower is Museo Vivo de Al-Andalus, a museum highlighting the cultural achievements of Al-Andalus. (first image)
At the northern end of the bridge
In the second image, we are looking to the north towards the city gate and the pedestal topped with The Triumph of San Rafael de Glorieta of the Count of Guadalhorce dedicated to the archangel San Rafael, angel guardian of the city.
Walk around Cordoba at night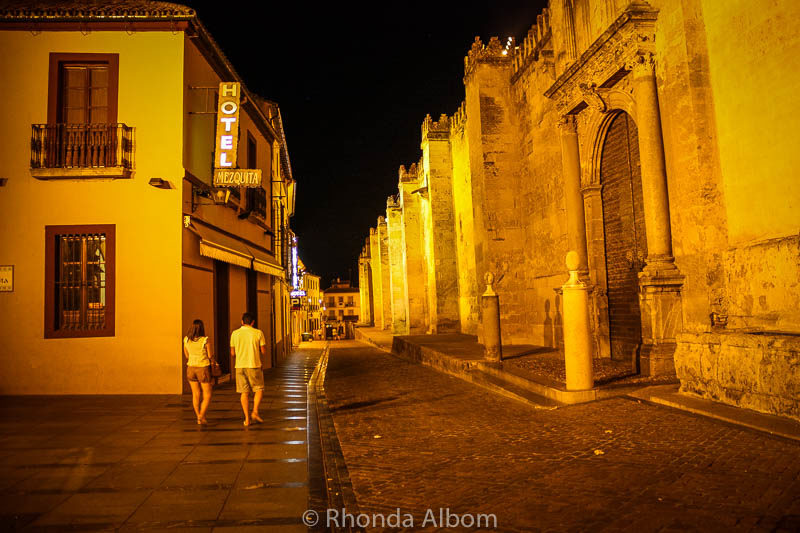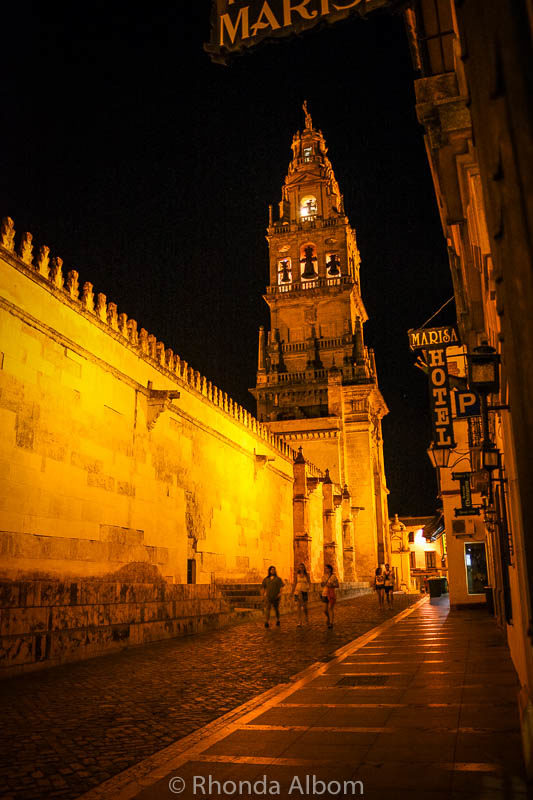 Although lit up and golden, we were surprised by the quiet of the night streets.
If we had arrived earlier or planned better, we would have joined an old town evening walking tour to discover the city's World Heritage-listed landmarks as well as interesting places like Cordoba's narrowest street, the most photographed street (Calle de Las Flores, just below), and more. Reserve your Cordoba old town evening walking tour here.
More things to do in Cordoba, Spain
Flamenco
If you haven't figured it out by now, I am completely enchanted by the dancer's feet at a flamenco show and see one in just about every city. If Cordoba is your pick, get tickets for the famous Cordoba flamenco show at Tablao el Cardenal here.
The Alcázar of the Christian Monarchs
Visit the Alcázar de los Reyes Cristianos, a former Caliphal Palace. It later became the residence of Queen Isabella I of Castile and King Ferdinand II of Aragon and the location where they met Christopher Columbus as he prepared to take his first voyage to the Americas.
Botanical Garden
Let the lush nature and fountains relax you at Jardín Botánico de Córdoba.
Hammam bath
Unwind with a hammam bath (a different and much more relaxing experience than the hammam bath we had in Morocco).
Bullfighting Museum
Increase your understanding of Spain's controversial sport at the Bullfighting Museum.
Palacio de los Marqueses de Viana
Explore the 12 patios and fountains of Palacio de los Marqueses de Viana.
Medina Azahara
Well preserved ruins of the former palace of Caliph Abd al-Rahman III, including an elaborate hall, large portico, the house of Yafar, and a mosque.

Where to stay in Cordoba
Note that if you stay in the old town, you will either need to park your car outside the walls and walk in, as we did or stay in a hotel with parking provided. We simply packed a tiny overnight bag for the stay, so we had little to carry.
Hotel Mezquita
We stayed at Hotel Mezquita, an affordable Andalusian house-style accommodation directly across the street from La Mezquita. Surrounded by historic buildings, our hotel was clean, colourful, and had a larger-than-average room for our family. While not the 4 or 5-star accommodation we usually stay at, this place was actually quite lovely and we would stay here again. Check availability and reserve your stay at Hotel Mezquita
Hospes Palacio del Bailio (5-stars)
If you are looking for elegance, then Hospes Palacio del Bailio is your spot, where you will discover a seamless mix of past and present in the heart of ancient Cordoba. The flower garden or orange tree line sun terrace are easy spots to unwind or head to the spa for some pampering. Check availability and reserve your stay at Hospes Palacio del Bailio
Final thoughts on visiting Cordoba
We loved this town and found many more interesting things to do in Cordoba Spain than we had anticipated.
If you are short on time, you will want to allocate at least 2-3 hours inside La Mezquita. You could spend the night, see the cathedral in the morning, and then move on. Or, make it a stop as you travel through.
While we definitely recommend staying in Cordoba if you are driving through central Spain, at minimum, we encourage you to visit the Cathedral.
Save on your trip with these resources
These are our go-to companies when we travel. We believe this list to be the best in each category. You can't go wrong using them on your trip too.
Flights: we use Expedia for the best and cheapest flight options.
Accommodations: we use Booking.com (hotels) or VRBO (self-contained).
Cars (gas or electric): we use RentalCars to search for deals and dealer ratings.
Campervans or Motorhomes: we use Campstar where Albom Adventures readers get a 3% discount
Private guides: we love the private guides at Tours by Locals
Travel Insurance: we start at InsureMyTrip as they are the best option to compare plans and find the right coverage for you.
Check out our travel resources page for more companies that we use when you travel.
Save for later
If you enjoyed this article, please share it on social media and save it for later on Pinterest.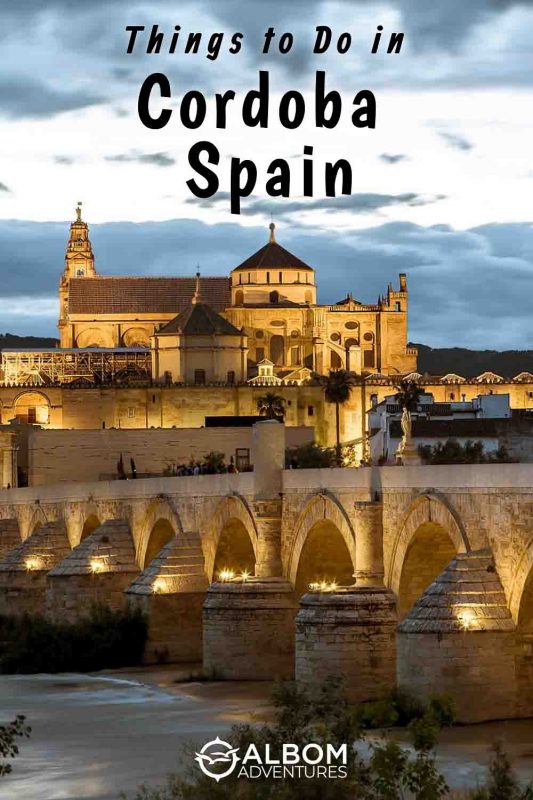 Which of these things to do in Cordoba, Spain top your list?
More from Spain you might like …
Photo Credits:
All photos on this page are either shot by our team and watermarked as such or stock images from Depositphotos.