Vibrant and exciting, the capital of Spain is a whirlwind of colours, flavours, and sensations. From the vast range of architectural styles and public artwork to the fast pace of the nightlife, the Madrid highlights are abundant.
From the moment we arrived in the city, it tugged at my heart. Honestly, we came for the art museums, and while they exceeded our high expectations, we quickly discovered that their visit was only one of many impressive things to do in Madrid.
If you are planning a visit to Madrid, our first recommendation is to add more days. If you are like us, whatever you allocate won't be enough.
It's a city with a heartbeat, pounding out through dance and street performers. But it's also a place to enjoy, where meals are savoured, often lasting for hours. Add in late-night dining resulting in either a morning sleep-in or the need for siesta, and you somehow have fewer daytime hours to explore.
And with Madrid highlights ranging from history to culture, nature to architecture, and shopping to dining, there is no shortage of things to do in Madrid.
10 Madrid highlights
The royal palace
Museums in the Golden Triangle of Art
National Archaeological Museum of Spain
Retiro park
Temple of Debod
Cibeles Palace (Madrid City Hall)
Exciting nightlife, including flamenco
Impressive fountains
Gastronomic excellence
Markets
Royal Palace – tops most Madrid highlights lists
Western Europe's largest Royal Palace, you'll want to get inside and see the main staircase, the private royal apartments, throne room, the banquet hall, and the historic gardens to really appreciate this masterpiece.
Another of the Madrid highlights for art fans: inside the palace, find artworks by Goya, Caravaggio and Velázquez. Along with them are tapestries, weapons, sculptures, and silverware.
Of course, if you are a musician, your highlight will be the only string quartet of Stradivarius instruments in the world.
Reserve your skip-the-line guided tour here OR if you don't want the tour, reserve your royal palace fast-access ticket here
Art museums top our Madrid highlights list
Two of the world's top-rated art museums are in Madrid, the Prado and the Reina Sophia. Art fans will make time to see both. And while each is free to enter during very specific times, note that taking advantage of this requires patience, a long wait, and a shortened visit. The queues for free entry get quite long.
Prado
The Museo Nacional del Prado is filled with brilliant Spanish artwork from the 14th to the 19th centuries from the likes of Velázquez, Goya and El Greco, as well as other famous artwork from Ruebens and so many others.
We absolutely loved our time here, regretting only that photos were not allowed inside. The Prado offers free entry from Mon to Sat 6-8pm and on Sundays and holidays from 5-7pm. If you want more time, or hate crowds, reserve a skip-the-line entrance to the Prado here.
Reina Sophia
The Museo Nacional Centro de Arte Reina Sofía (from the 19th century to today) is the other world class art museum in Madrid. It's equally as impressive, and I could not possibly choose a favourite art museum in Madrid.
Like the Prado the Reina Sophia offers free entry on Mon and on Wed to Sat from 7-9pm and on Sundays 12:30-2:30 pm. It's also free on three specific holidays: April 18, May 18, and October 12. If none of those free times work, you want more time, or you hate crowds, reserve a skip-the-line entrance to the Reina Sofía here.
Other significant (or silly) museums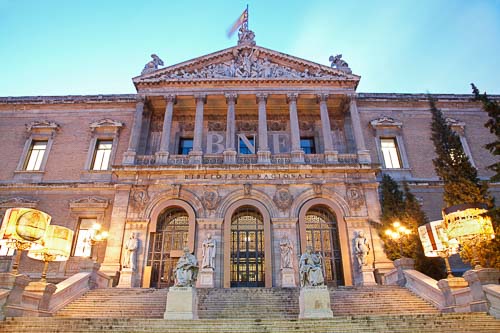 National Archaeological Museum of Spain
Sharing this impressive Neoclassical building (built from 1866 to 1892) with the National Library of Spain, the museum itself was easy to explore on our own but better with the English audio tour downloaded to our own phones. Reserve your audio tour and skip-the-line entry here. Don't forget to check out the library, as it's one of the largest in the world.
Thyssen-Bornemisza Museum of Art
With limited time, we opted to skip the third major art museum making up the city's Golden Triangle of Art. The Thyssen, as it's most often called, covers the 13th to the 20th centuries, with a focus on Italian, German, and American artists among the over 1000 artworks in their collection. Reserve your skip-the-line entry here.
Crystal Palace in Retiro park
El Retiro park is a lush, green, family-friendly opportunity to slow down and relax among over 15,000 trees. Part of a UNESCO world heritage site, its oldest tree, a Montezuma Cypress, was planted in 1633. The Crystal Palace was built in 1887 as a greenhouse, although it is now owned by the Reina Sofia Museum and used to host temporary exhibitions.
Museum of Ham
Marketing itself as Spain's tastiest museum, the "Museo del Jamon" is actually a restaurant, delicatessen, bakery, and bar. While it seemed quite popular with locals, we only gave it a try in the late afternoon and found it a lovely place for tapas.
Madrid highlights: Follow history through architecture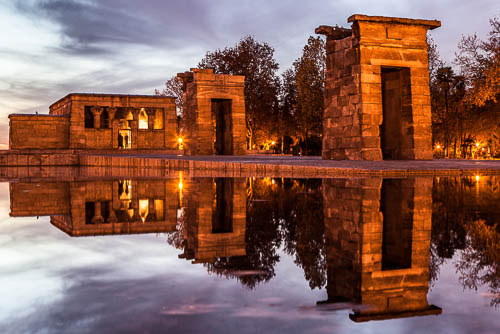 Temple of Debod
This ancient Egyptian temple, originally built in the 2nd century BC for King Adikhalamani and dedicated to Amun and Isis (Egyptian God and Goddess), was gifted to Spain from Egypt. Carefully dismantled and reconstructed in Madrid, it is now the only Egyptian temple in Spain.
Old city wall
As seen in the foreground of the cathedral image above, this section of the old city wall was part of the Muslim Walls of Madrid. Built during the 9th century AD, this might be the oldest original construction in the city.
Cibeles Palace
Built in 1909, and standing proud at Plaza de Cibeles, this impressive structure is now the Madrid City Hall. Initially built as the headquarters for the Spanish post office, it was the Palacio de Telecomunicaciones.
Almudena Cathedral
La Almudena is the seat of the Roman Catholic Archdiocese of Madrid and the main cathedral in the city. It opened in 1993.
Financial District
Stroll through the financial district for a reminder that Madrid is a modern city.
Enjoy the Nightlife
A fire dancer in the Plaza de Santa Ana, a mime in Puerta del Sol, and a stage featuring flamenco topped my list of things to do at night in Madrid.
Madrid, like other parts of Spain, has plazas that are popular meeting places for friends and visitors. We spent time watching street performers at Puerta del Sol, eating at outdoor restaurants in Plaza de Santa Ana (and also watching fire dancers). Similarly, we enjoyed people-watching over lunch (menú del día) at an outdoor restaurant in the large renaissance style Plaza Mayor.
Traditionally, dinner is late, and at 10pm we would find ourselves having to wait for a table.
Actually, there are two busy times, as many foreigners arrive for dinner when restaurants open around 8pm. We even overheard some complaining about such a late meal time. For us, we always try to live like the locals, so 10pm or later dinner was our new normal (we were on a long-term home exchange in Costa Brava and had been in Spain for months by the time we visited Madrid).
Flamenco
The passion and hypnotic energy of flamenco made it one of my Madrid highlights. From the first click of the castanets until the last dance step, I was captivated. While I highly recommend seeing flamenco in Spain, if you are travelling the county and only want to see it once (we saw flamenco in multiple cities), then we recommend waiting until you are in Seville. If you are going to a tablaos in Madrid, it's best to book in advance.
More Madrid highlights
Arrive hungry and taste your way through the 1916 art nouveau San Miguel Market.
Stroll along Gran Vía, the city's most popular shopping street.
Dine at Restaurante Botín. Founded in 1725, it holds the Guinness World Record as the world's oldest restaurant.
Treat yourself to churros dipped in chocolate at San Ginés, arguably the best in Madrid, a tradition since 1894.
Sports fans, visit the home of Real Madrid, at Estadio Santiago Bernabéu, their stadium.
And, don't miss these impressive fountains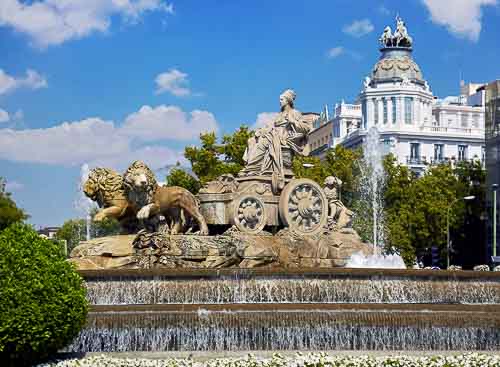 Stand in awe of one of three impressive fountains, Cibeles, Neptune, and Apollo, who were initially intended to represent the elements earth, sea and fire, respectively. Cibeles fountain was created in 1728 and features the Roman Goddess Cibeles riding a chariot pulled by lions.

The neoclassical Neptune fountain, located on Paseo del Prado, was commissioned by King Carlos III in 1780 and depicts Neptune, god of the sea, riding a conch-shell chariot accompanied by dolphins and seals.

Apollo is the least dramatic of the three.
How to see the Madrid highlights
With an excellent public transit system, Madrid is easy to explore on your own and even easier if you have at least a basic knowledge of Spanish. However, nothing can replace the added value of a guided tour. Therefore, our top recommendations:
Madrid highlights: add a day trip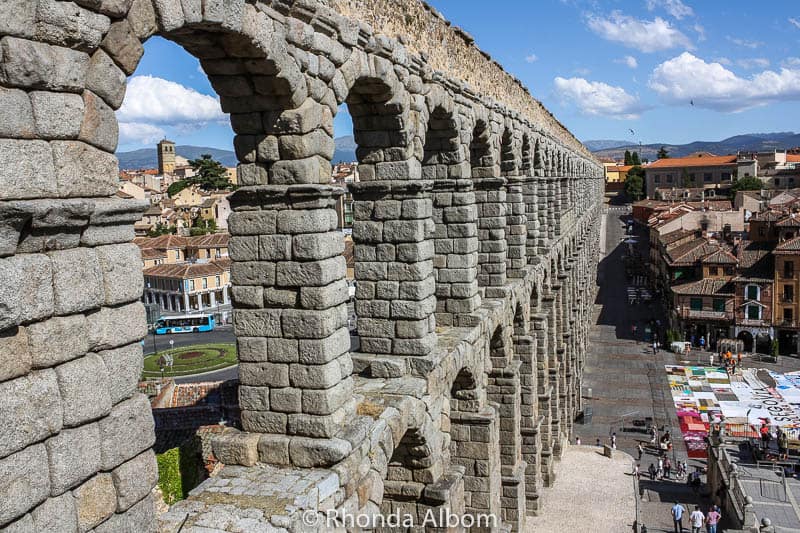 The four popular day trips are Segovia, Toledo, Avila or Zaragoza, or better still turn it into a road trip thru central Spain and head down to Seville or Granada.
Segovia
Segovia Spain is a perfect day trip option from Madrid. Here you will find impressive late Gothic architecture at Segovia Cathedral, a massive intact Roman aqueduct, a fairytale-style castle and much more. The old town is a UNESCO site.
Toledo
Toledo, the former capital of Spain, is best known as a city where Christians, Jews and Muslims coexisted peacefully. Toledo is also an UNESCO site.
Avila
A town best known for its perfectly preserved medieval walls and their 88 turrets, as well as the stunning Cathedral of Avila, built into the city walls.
Zaragoza
Legend tells us that the Virgin Mary handed the small statue (El Pilar) of herself to St. James, and he built the church on the spot. Today, Zaragoza is Spain's second most popular pilgrimage destination, leading people to the Basilica of our Lady of El Pilar.
Save on your trip with these resources
These are our go-to companies when we travel. We believe this list to be the best in each category. You can't go wrong using them on your trip too.
Flights: we use Expedia for the best and cheapest flight options.
Accommodations: we use Booking.com (hotels) or VRBO (self-contained).
Cars (gas or electric): we use RentalCars to search for deals and dealer ratings.
Campervans or Motorhomes: we use Campstar where Albom Adventures readers get a 3% discount
Private guides: we love the private guides at Tours by Locals
Travel Insurance: we start at InsureMyTrip as they are the best option to compare plans and find the right coverage for you.
Check out our travel resources page for more companies that we use when you travel.
Save for later
If you enjoyed this article, please share it on social media and save it for later on Pinterest.
What are your Madrid highlights?
Photo Credits:
All photos on this page are either shot by our team and watermarked as such or stock images from Depositphotos.