From the historical marvels to the natural wonders, there are plenty of options for day trips from Lisbon. Each of these destinations provided us with a profound appreciation for the diversity of experiences Portugal has to offer. With each stop, a new chapter of Portugal's rich history and culture unfolded before us.
From the picturesque town of Sintra to the charming fishing village of Sesimbra, we share some of our favourite destinations that are just a short drive or train ride away from the Portuguese capital.
The unique aspect of our adventure? We managed to visit the key sites surrounding Lisbon without basing ourselves in the capital. That's why we spent the night in so many of the locations more traditionally thought of as Lisbon day trips.
So if you're looking to mix up your Lisbon itinerary, or if you're a local looking for some weekend inspiration, read on for our top picks for day trips from Lisbon.
Best day trips from Lisbon
Sintra
Cascais
Óbidos
Évora
Sesimbra and Arrábida Natural Park
Fátima
Setúbal
Tomar
Nazaré
Alcobaça
Map of Lisbon day trips
Click the expand / collapse icon in the upper left corner of the map for the details and interactive options.
Sintra
Distance from Lisbon: 35 minutes drive
Enchanted and whimsical, Sintra captured my heart instantly. Whether you choose to stay here or make it a day trip from Lisbon, we believe Sintra is a must-see in Portugal.
The town's fairytale-like architecture and lush greenery are truly breathtaking. With one castle after the next, intermixed with several other must-sees, we opted to write a separate article highlighting our visit to Sintra.
Topping our list are the colourful Palace of Pena, the Moorish Castle, and the initiation well at Quinta da Regaleira estate (see image at top of page).
Despite this article focusing on Lisbon day trips, we recommend staying overnight in Sintra to fully appreciate its beauty and history, and while there are plenty of options, we plan to stay at the Sintra Boutique Hotel on our next visit.
If you do want to take a day trip from Lisbon but don't want to drive yourself (as car parking can be a challenge), you might want to consider this tour.
Cascais
Distance from Lisbon: 35 minutes drive
Cascais is a charming seaside town that's perfect for a day trip from Lisbon. It's an easy place to spend a lazy day lounging on the beach, strolling along the promenade, and indulging in fresh seafood at one of the town's many seafood restaurants.
Cyclists will enjoy Casais' stunning bike path that runs along the coast all the way to Guincho Beach. It's a great way to get some exercise while taking in the beautiful views. Reserve your bike rental in advance here.
Óbidos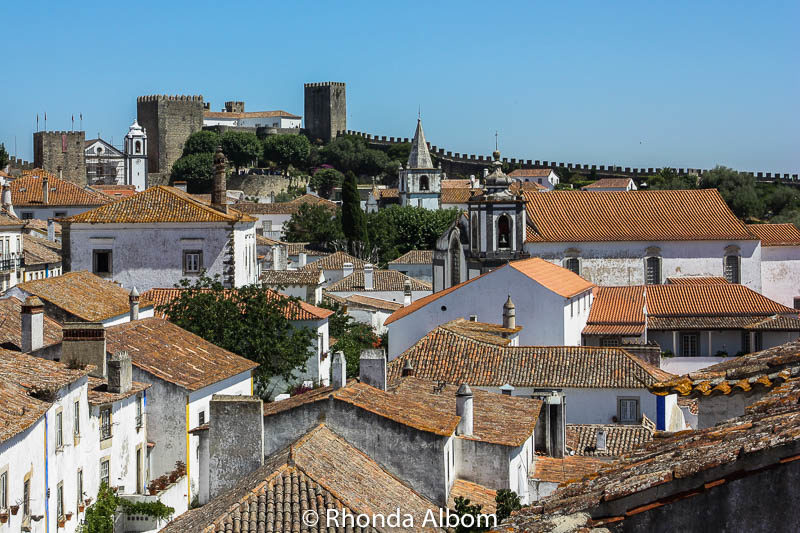 Distance from Lisbon: 1 hour drive
Jeff and I also spent a night in the medieval town of Óbidos, and it was one of the highlights of our trip to Portugal. The town's cobblestone streets, colourful houses, and castle walls made us feel like we stepped back in time.
We wandered through the town's charming alleys, walked the perimeter along the top of the city wall, and sampled the local ginja (a sour cherry liqueur). We didn't get into the castle, as it was closed to prepare for the annual medieval fair.
While we had plenty of time to relax, we believe Obidos could easily be enjoyed as a day trip from Lisbon or even in a combination trip that visits multiple cities.
Évora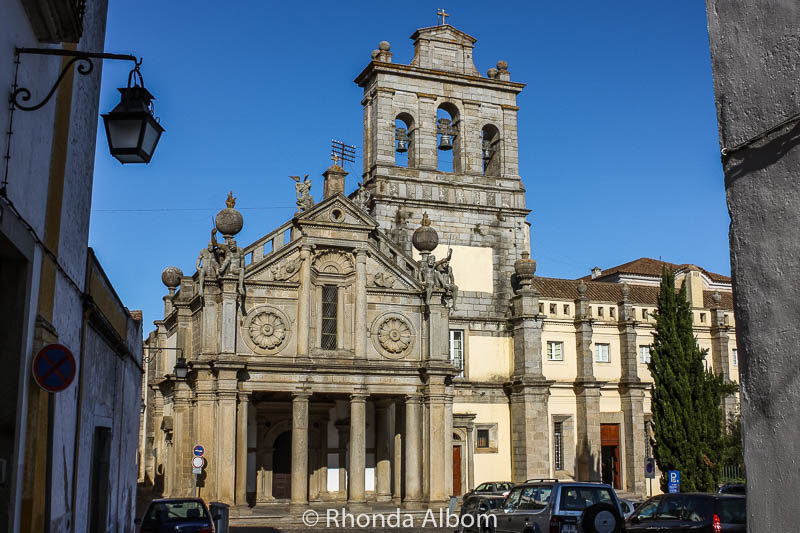 Distance from Lisbon: 1 hour and 30 minutes
Jeff and I decided to spend several nights in Évora, although many people include it among their day trips from Lisbon. This beautiful town in the heart of the Alentejo region is a UNESCO World Heritage site and is full of stunning architecture and history.
Some of our favourite highlights included the Roman Temple, the Cathedral of Évora, and the Capela dos Ossos (Chapel of Bones). This was our first time in an ossuary, making it a very memorable experience. More of our Evora adventure is found here.
We also took a drive to see the nearby megalithic sites that are even older than Stonehenge in the surrounding countryside.
Sesimbra and nearby Arrábida Natural Park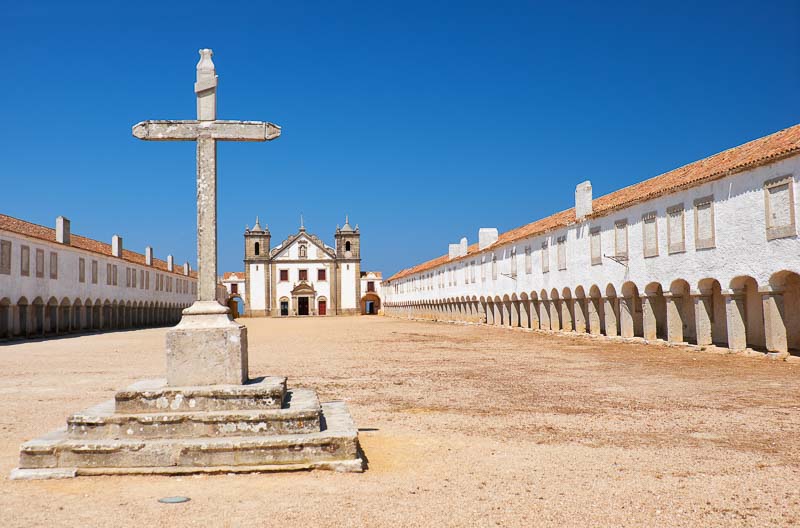 Distance from Lisbon: 40 minutes drive from Lisbon
Sesimbra is a picturesque fishing village that's perfect for a day trip from Lisbon. Spend the day at any of the town's beautiful beaches, either relaxing or swimming, climbing, rappelling and jumping into the water on a coasteering adventure.
And don't forget to sample the fresh local seafood and visit the impressive Castelo de Sesimbra (Castle of the Moors) perched high on a hilltop.
Sesimbra sits on the edge of the Arrábida Natural Park, a hidden gem that tourists often overlook. The park offers many hiking trails winding through the lush vegetation and offering stunning views of the coast or another chance to get out on the water with a kayak and snorkel tour.
One popular walk leads to the castle, while another leads down to Praia do Ribeiro do Cavalo, nestled between two cliffs and accessible only by foot. The beach is a secluded paradise with turquoise waters and fine white sand. Once a well-kept secret, Instagrammers have brought it fame.
Setúbal (at the eastern edge of Arrábida Natural Park)
Distance from Lisbon: 40 minutes drive
Also situated along the coast, but on the other end of the park is Setúbal, a busy working and fishing port. Like Sesimbra, it lures visitors with its lovely beaches and delicious fresh seafood.
Day trips from Lisbon also focus on exploring the town's historic centre and visiting the Castelo de São Filipe.
And, of course, there are plenty of opportunities for hiking and enjoying the stunning coastal scenery in Arrábida Natural Park.
Fátima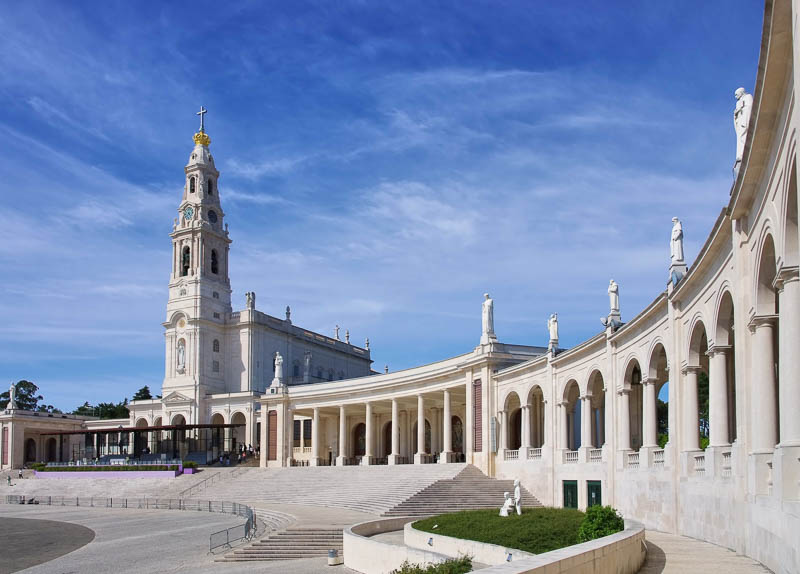 Distance from Lisbon: 1 hour and 20 minutes
Fátima is a pilgrimage site that's famous for its apparitions of the Virgin Mary in the early part of the 20th century. Highlights here include exploring the town's many religious sites, including the Basilica of Our Lady of Fátima and the Chapel of the Apparitions.
Even if you're not religious, the town's history and architecture are worth a visit. One unique feature of Fátima is its large outdoor space that can accommodate thousands of visitors for religious ceremonies and events. It's a popular day trip from Lisbon with several tour options if you don't have a car. Our top pick would either be this half-day tour to Fátima or this highly-rated full-day trip.
Tomar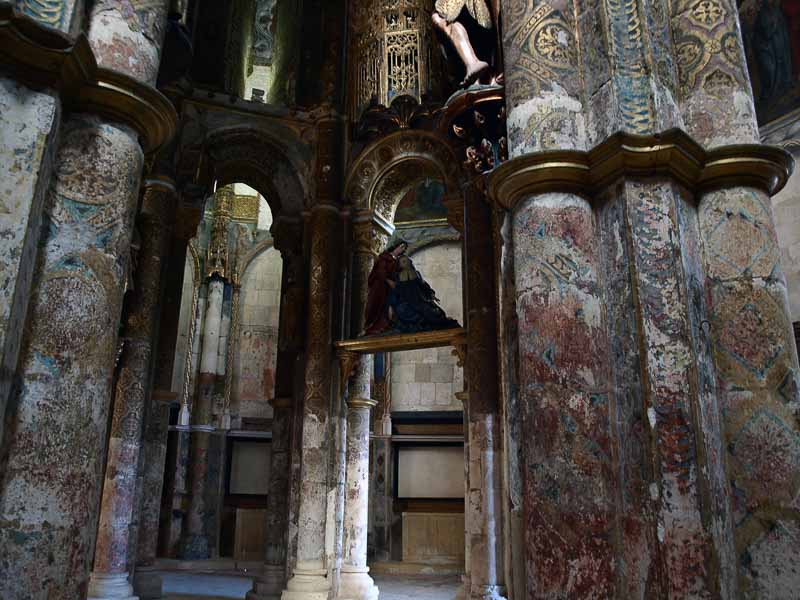 Distance from Lisbon: 1 hour and 30 minutes drive
Tomar is a historic town located on the banks of the Nabão River. It's home to the Convent of Christ, a UNESCO World Heritage, and the former seat of the Order of the Knights Templar. The site dates back to the 12th century.
Narrow streets with traditionally painted houses dominate the town's historic centre. The layout of the old town follows a strict grid system in the shape of a four-armed cross, each arm pointing to one of 4 convents.
If you don't have a car, this Tomar and Almourol Knights Templar Tour looks amazing. Reserve your Tomar tour here.
Nazaré
Distance from Lisbon: 1 hour and 20 minutes
Experienced surfers know Nazaré and the Praia do Norte (beach) as it is home to the biggest wave ever surfed. However, for people like us, it's a place to watch in wonder as surfers take on the huge waves (big wave season is October to March).
Once off the surf beaches, discover the charming streets in this fishing village and visit the Sanctuary of Our Lady of Nazaré.
Nazaré is situated on the edge of the Sítio promontory, a huge cliff edge that offers stunning views of the town and the Atlantic Ocean. If you're feeling super energetic, you could walk up, or, take the funicular.
While surfers will probably want to stay for days, for us, it's one of many optional day trips from Lisbon.
Alcobaça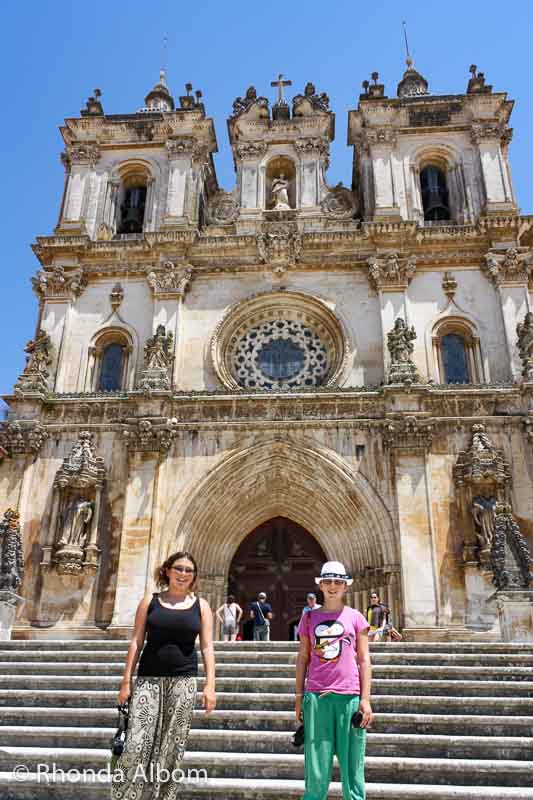 Distance from Lisbon: 1 hour and 20 minutes
Once in Alcobaça, we headed to the Alcobaça Monastery, a UNESCO World Heritage Site, where we were awestruck by the sheer scale and grandeur of the building. The monastery was founded in the 12th century by Portugal's first king, Afonso Henriques, and is one of the most impressive examples of Cistercian Gothic architecture in the world.
Inside the Gothic cathedral, we discovered the burial site of King Pedro I and his lover Inês de Castro. The cathedral is renowned for its intricate stone carvings and beautiful stained glass windows, which flood the interior with vibrant colours. See more of our visit here.
After exploring the cathedral, we wandered through the monastery's cloisters, which are beautifully landscaped and offer a peaceful respite from the hustle and bustle of the town. While often a Lisbon day trip, for us, it was the first stop as we headed north towards our next home exchange house in La Coruna, Spain.
Save on your trip with these resources
These are our go-to companies when we travel. We believe this list to be the best in each category. You can't go wrong using them on your trip too.
Flights: we use Expedia for the best and cheapest flight options.
Accommodations: we use Booking.com (hotels), VRBO (self-contained), or Hostelworld (budget).
Cars (gas or electric): we use RentalCars to search for deals and dealer ratings.
Campervans or Motorhomes: we use Campstar where Albom Adventures readers get a 3% discount.
Motorcycles: we have heard good things about BikesBooking.
Private guides: we love the private guides at Tours by Locals.
Travel Insurance: while not required, we always opt for travel insurance and start at InsureMyTrip to compare coverage plans.
Check out our travel resources page for more companies that we use when you travel.
Save for later
If you enjoyed this article on Lisbon day trips, please share it on social media and save it for later on Pinterest.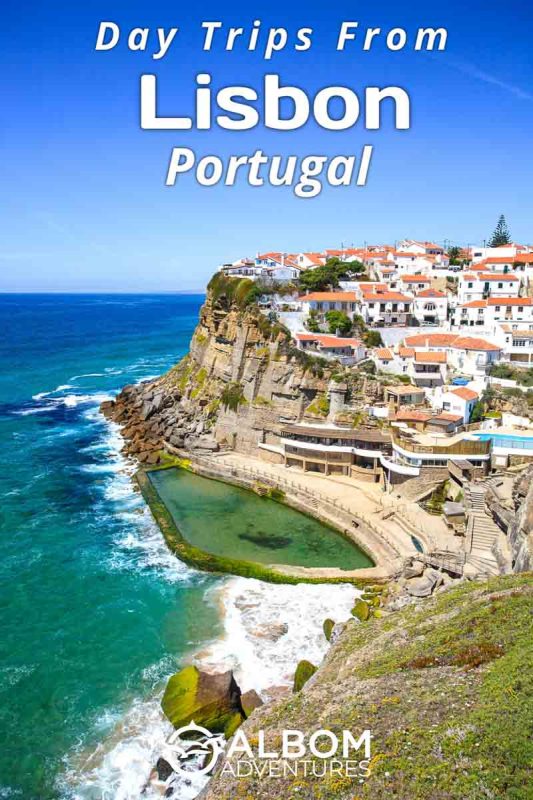 What's your favourite day trip from Lisbon?
Photo Credits:
All photos on this page are either shot by our team and watermarked as such or stock images from Depositphotos.