While the intrigue of a chapel of bones lures many to Evora, this old city has plenty to offer. We found 30 fascinating things to do in Evora, and most of them are free or nearly free. It's a town designated as a UNESCO World Heritage site and filled with medieval architecture and ancient Roman history.
Things to do in Evora: Giraldo Square
1. Begin in Giraldo Square, at the centre of the old historic town, overlooked by Saint Anton's Church. From here, you can walk to just about everywhere featured on this page.
2. Stop by the office of tourism and pick up a map, get ideas, book one of the Evora hotels (if you didn't come prepared), or fill your water bottle (for free).
3. Take an English (or other) speaking self-guided audio tour of the main city sites. The headsets are available at the tourism office for only 2 Euros each.
⇒ If you prefer a guided tour, there are several great options from GetYourGuide
⇒ Or check out this full-day tour from Lisbon with Isango!
4. Hang out with the men who seem to enjoy this corner of Giraldo Square.
5. Enjoy an outdoor coffee, lunch, or afternoon snack. There are several restaurants to choose in the square.
6. Share a sangria with a friend. Drink it through long straws from a carafe that sits on the ground. It's a tradition that was started by local university students.
Things to do just off of Giraldo Square
7. Wander off down a side road.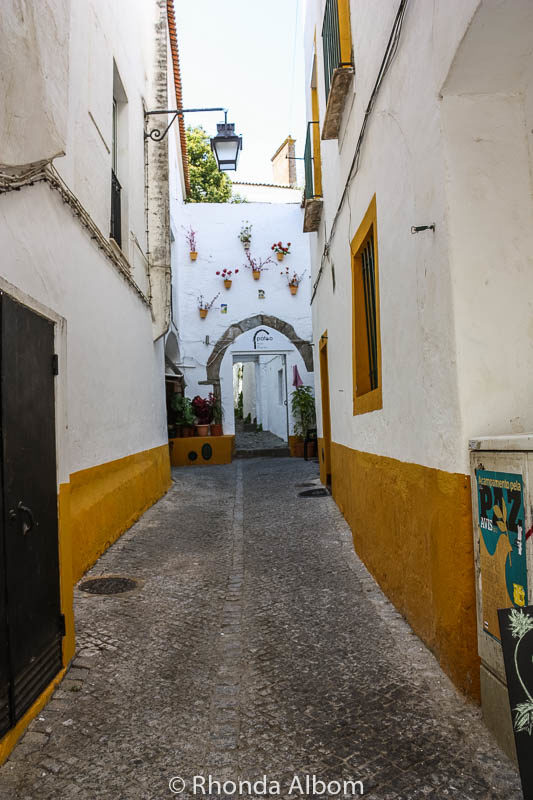 8. Make a reservation and enjoy a culinary sensation at one of two Michelin Star restaurants in Evora; Dom Joaquim or BL Lounge.
9. Sample some of the nugget candy made in Evora, and if like it, buy a bag from a street vendor.
10. Shop for hats, handbags, or postcards made from local cork.
11. Pick up local souvenirs and other things you might need. In New Zealand, we call this type of store $2 Shops, in Evora, it is called "Chinese Shop."
12. Stay at The Albergaria Solar de Monfalim, a former 16th-century Renaissance palace, or at least stop by for a glass of wine. If this isn't your style, stay at one of the other 84 accommodations in Evora, ranging from 5-star spas to economy accommodations.
⇒ Check pricing and availability at The Albergaria Solar de Monfalim
13. Stare in awe at the golden walls and traditional Portuguese blue on white tiles of the 15th-century Igreja da Misericórdia. It is a significant religious monument in the city and is located across the street from the Solar de Monfalim hotel.
Northeast of Giraldo Square
14. Be impressed by the workmanship of the 2nd-century Roman Temple Diana. It is well preserved with fourteen of the original eighteen Corinthian columns still intact.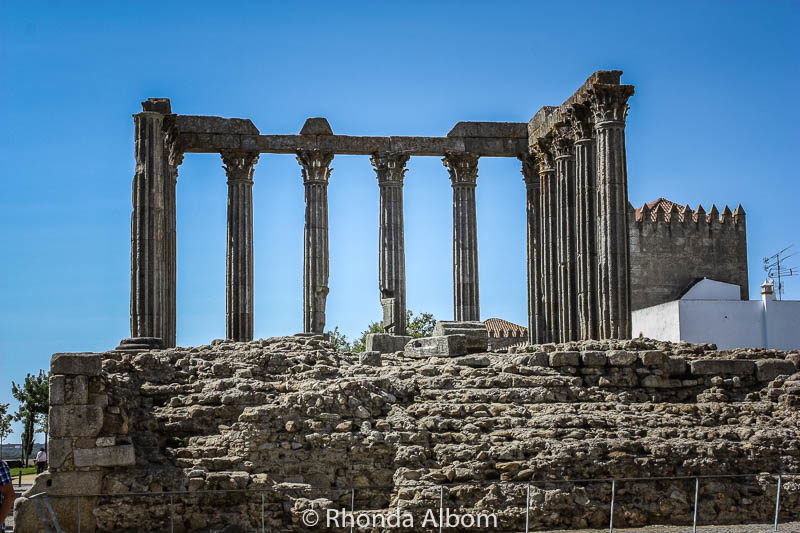 15. Enjoy the vivid interior, detailed architecture, and stunning views from the terrace of the largest medieval cathedral in Portugal.
16. Walk through the artistic hallways of the Museum of Evora, home to several important religious paintings from renowned artists.
17. Imagine yourself studying in one of the great halls, distinctive classrooms, or Renaissance cloisters of the University of Evora. Established in 1559, it is the second oldest university in Portugal.
18. Return at night to see the Temple of Diana lit up.
Southwest of Giraldo Square
19. Stand quietly absorbing the stunning interior of in the 15th-Century Church of St. Francis (Igreja de São Francisco).
20. Laugh, cry, or just stare at the bones and skulls of over 5000 humans that make up the walls of the Capela dos Ossos (the Chapel of Bones). This small chapel is located next to the Church of St. Francis. See more of photos of this and other ossuaries from around the world.


21. Enter and walk the halls of the Royal Palace (Palacio de Dom Manuel).
22. Analyse the out of the ordinary art in the gallery of the palace. This is four of many creepy paintings in the gallery. (There was a small entrance fee to see the artwork.)
23. Photograph the ornate ruins of the old city wall.
24. Take a closer look at the statues that sit along the roofline of the Church of Nossa Senhora da Graça. It is an old church and convent that is currently being used by the Portuguese Armed Forces.
Things to do just outside the city
25 Admire the ancient Roman aqueduct. While impressive, it didn't compare to the aqueduct in Segovia Spain.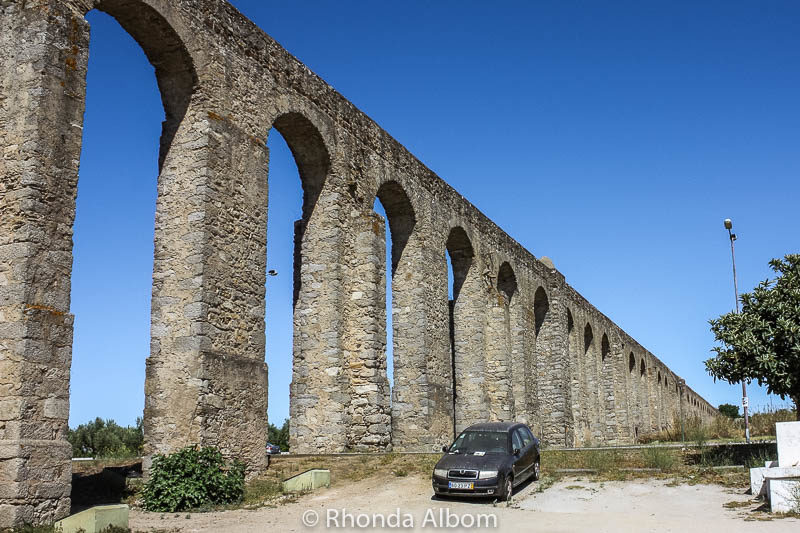 26. Touch a cork tree.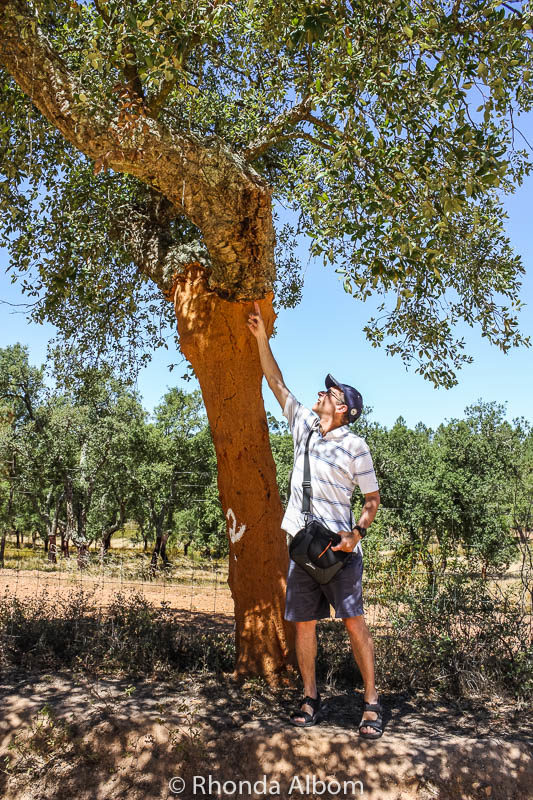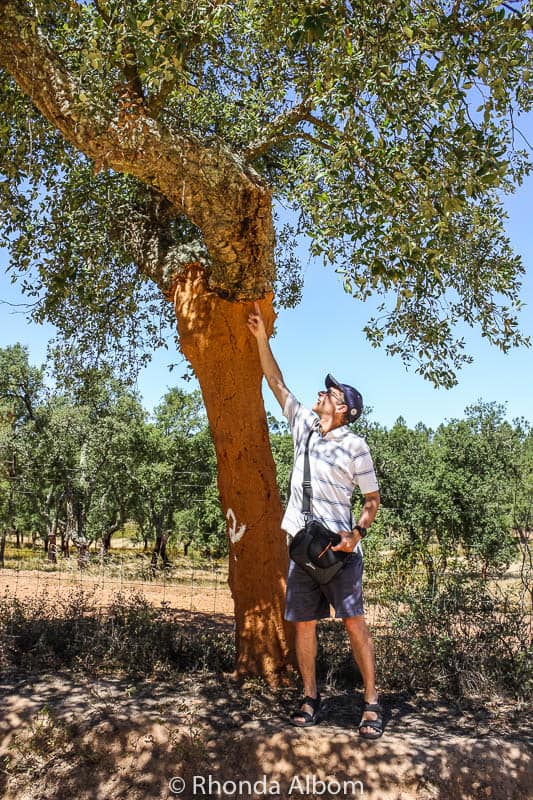 27. Visit a cork factory. We didn't do this, but we did visit a cork museum in Northern Spain.
28. Sip on award-winning local wines, or take a wine tasting tour of the region.
⇒ Check pricing on a Cork and Wine Tour around the region of Evora
29. Wonder about the origin of Menir dos Almendres, a lone monolith that stands 4-metres tall.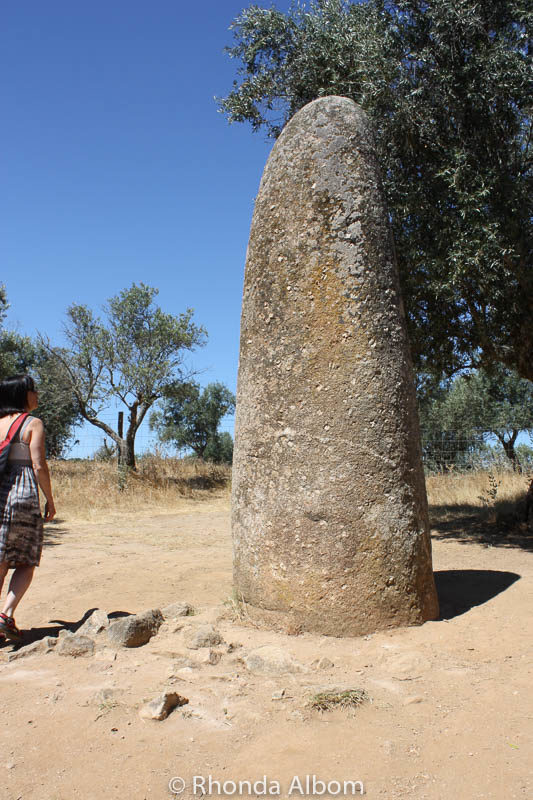 30. Make sense of the Cromlech of the Almendres Megalithic, a circle of 93 huge stones strategically placed from 4000-5000BC, making them about 2000 years older than Stonehenge.
Practical Information on Visiting Evora:
Getting to Evora is easy if you have your own vehicle.
Evora is often thought of as a day trip from Lisbon. The drive time is about 90 minutes each way. It can be done with your own vehicle, or with a private guide, small group, or bus tour.
Eurail lets you take the train to Evora and most other major cities in Europe. Check prices and find the Eurail Pass that is right for you.
We were glad we spend a night here, as otherwise, we would have missed the Temple of Diana lit up. There are many Evora Hotels on Booking.com to choose from covering the full range from backpacker to luxury. We stayed at a former Renaissance palace called Hotel Solar de Monfalim. While breakfast was nothing to write home about, the hallways and sitting rooms had stories to tell.
We drove in from Seville Spain. We visited the Portuguese cities of Evora, Sintra, Obidos, and Alcobaca as we travelled through the country.
Which are your favourite things to do in Evora?
If you enjoyed this post, please pin it on Pinterest: