The aqueduct of Segovia is an engineering feat of the Roman Empire, built about 50 A.D. Exploring its impressive architecture is one of many fascinating things to do in Segovia.
The famous aqueduct is 28 meters tall and stretches 16,220 meters. It is held together solely by natural forces, with the unmortared granite bricks held in place by gravity. A symbol of Segovia, it features prominently on the city's crest.
Local folklore nicknamed the aqueduct Puente de Diablo, meaning "Devil's Bridge". According to legend, the devil built the bridge overnight in a bet to win a serving girl's soul. The tale says that the devil lost the gamble because he was one brick short of completing the aqueduct when the rooster crowed, signalling morning. The marks from the devil's fingers appear as holes dotting the surface of the granite blocks.
Things to do in Segovia Spain
Aqueduct of Segovia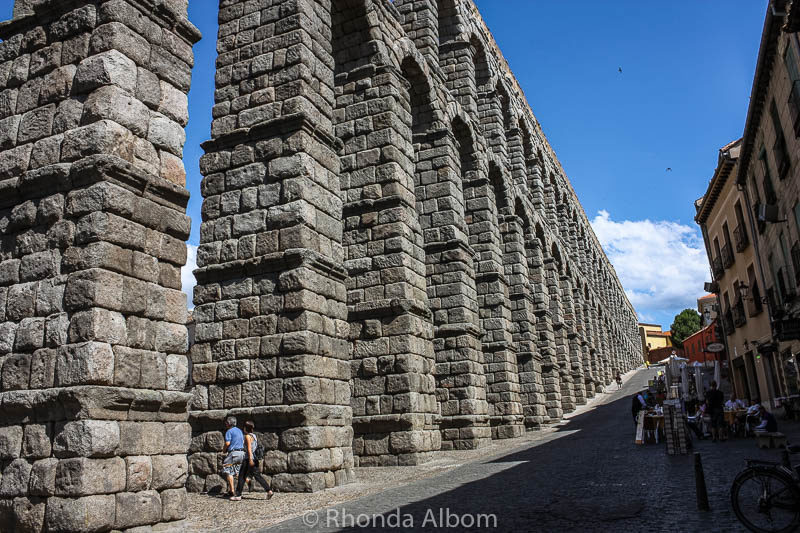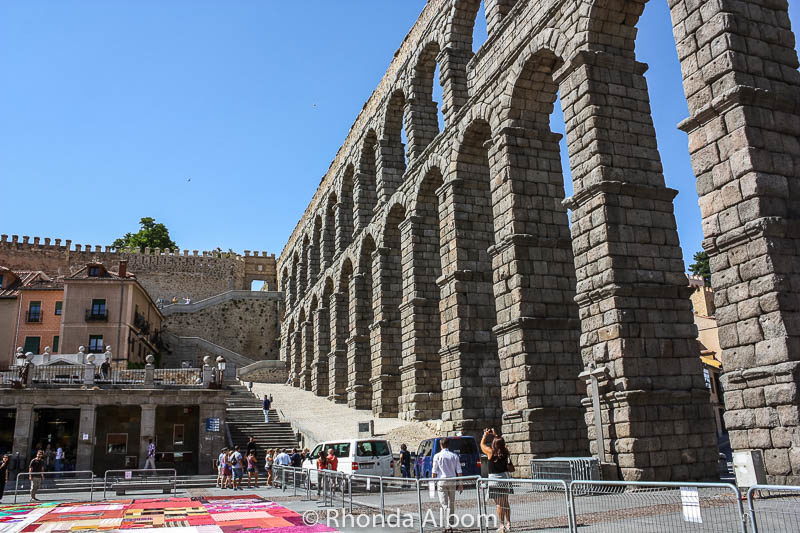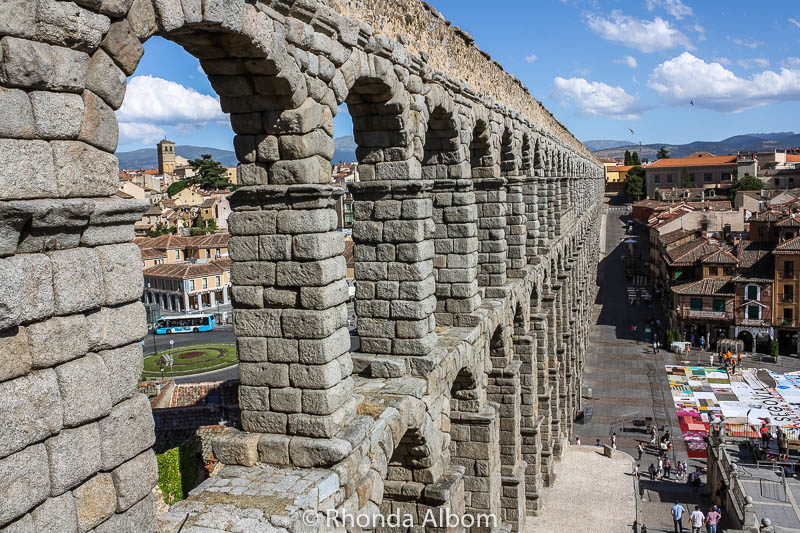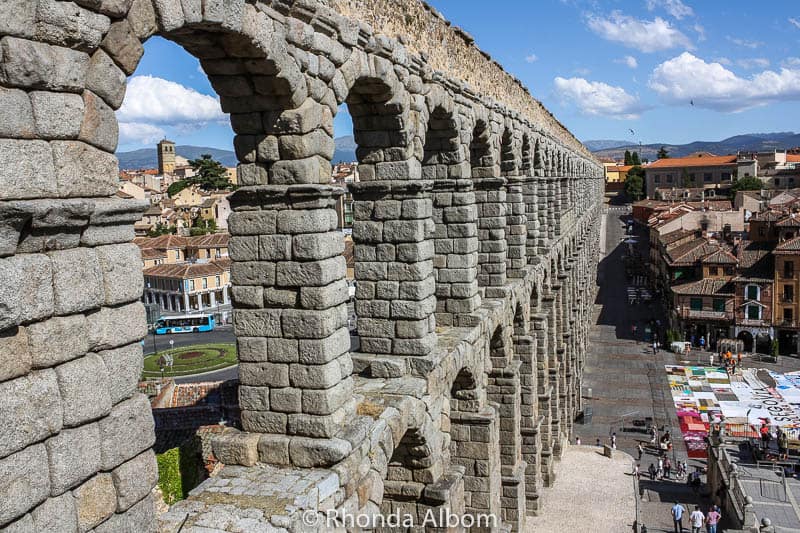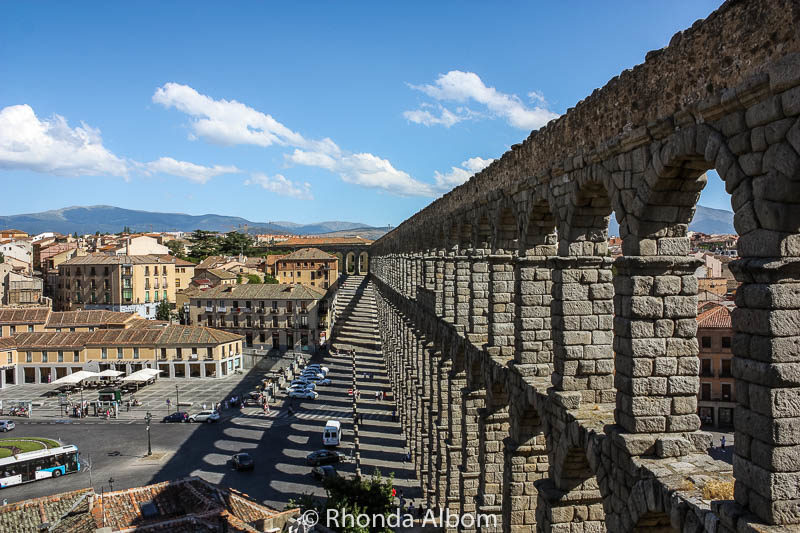 Segovia Cathedral
The city is also known for its cathedral that is considered to be one of the world's most beautiful examples of late Gothic architecture.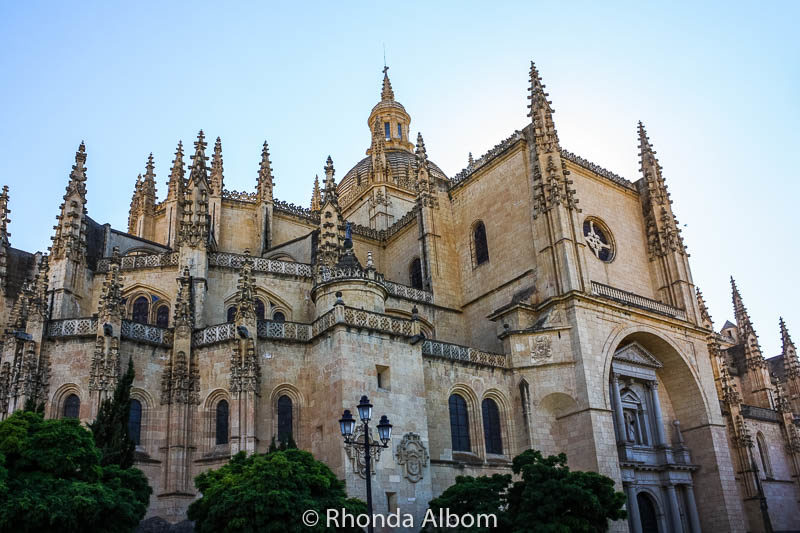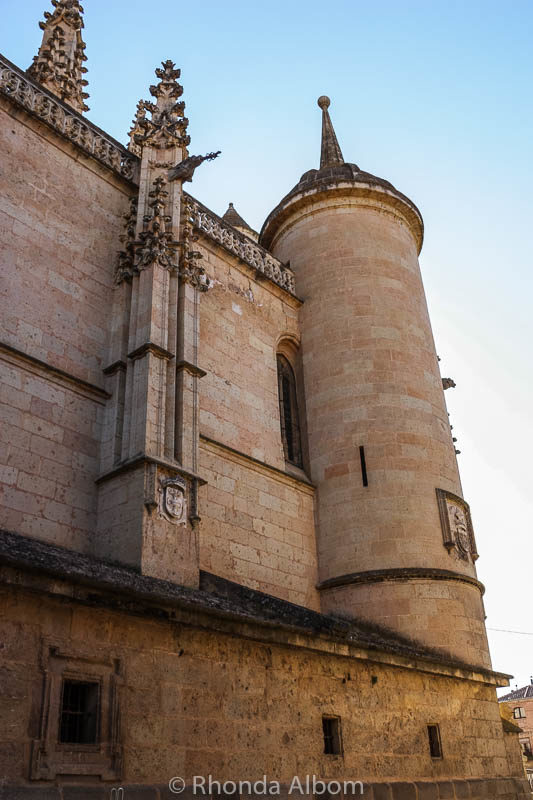 Alcazar (Castle) of Segovia
This castle wasn't a "fairytale" in medieval days. Apparently, it burned to the ground in the 16th century and was rebuilt in the 19th century to look like the fantasy. With limited time, we opted not to tour it, but just to walk the grounds and enjoy a coffee in Alcazar's cafe.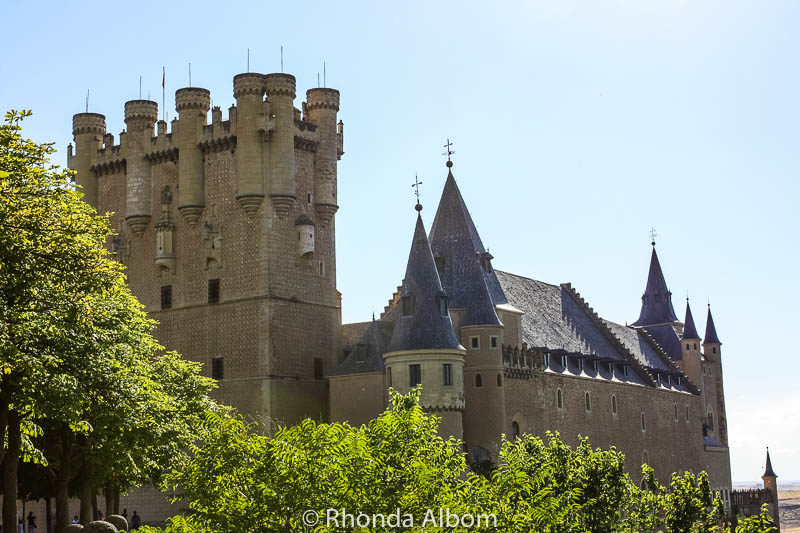 Jewish Quarter of Segovia
Jews first arrived in Segovia in the 13th century and lived in the district now called the Jewish Quarter. The self-governing community thrived until the Inquisition, after which only those Jews who converted to Catholicism were allowed to remain.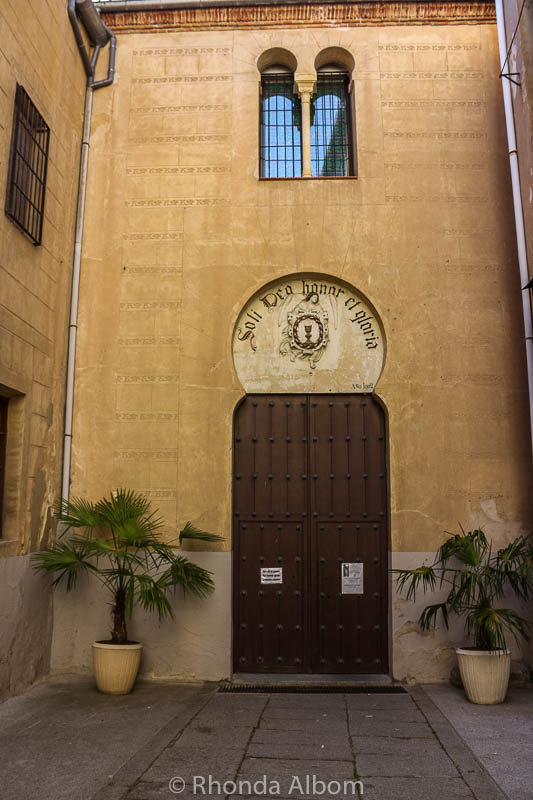 Other Segovia Attractions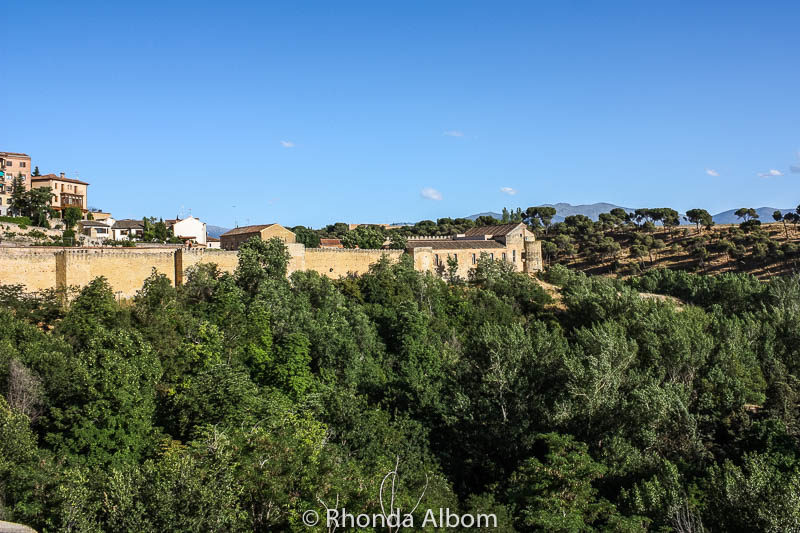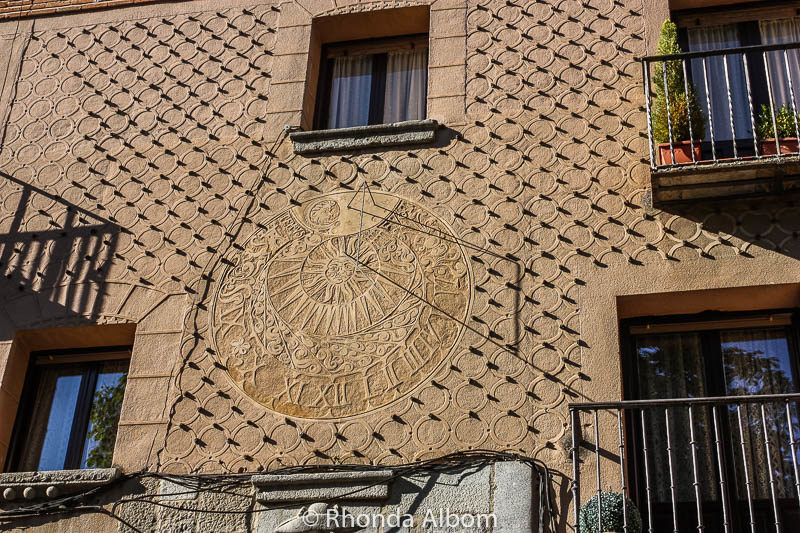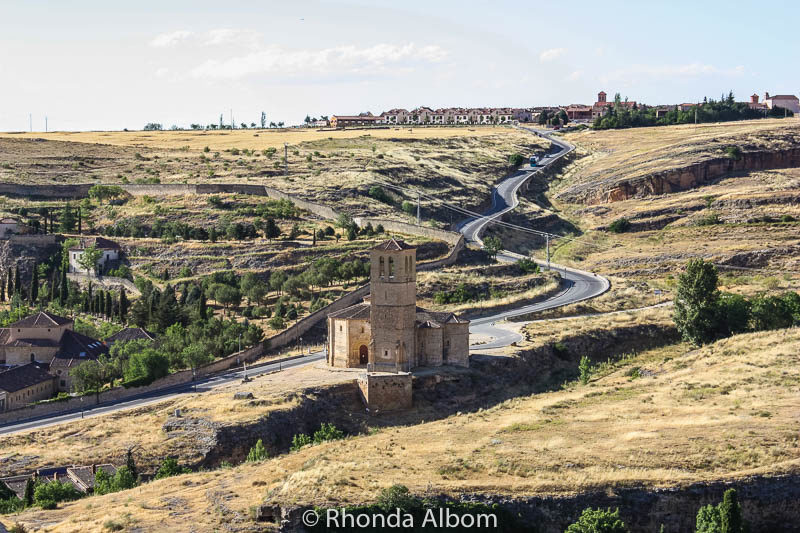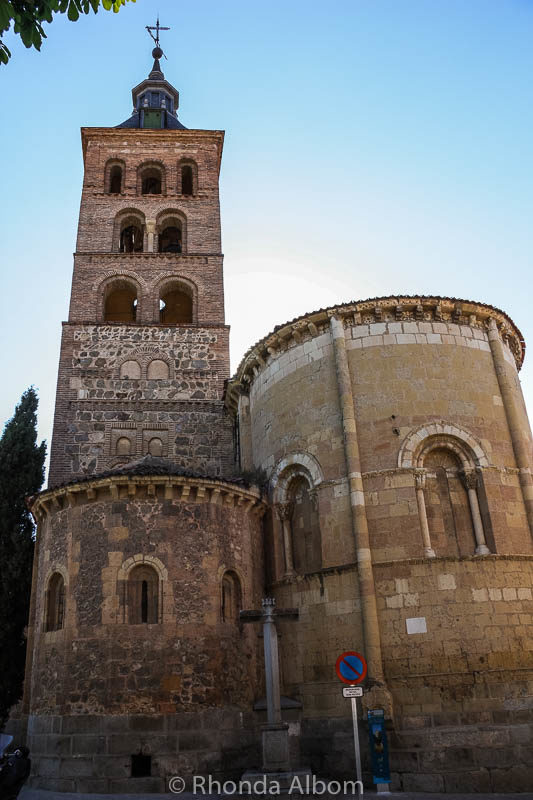 Segovia Travel Tips:
Segovia is famous for its pork roasts and desserts, so be sure to plan for a big meal in town.
We ignored the directional signage to the Aqueduct and followed our GPS instead. Don't make this mistake; GPS will take you there, but you can't cross under it to get to the parking. Follow the well-marked roads if you have a car.
Segovia is only an hour's drive north-west of Madrid, thus making it an easy day trip. However, we wish we had spent the night. There appeared to be plenty of overnight options. Check prices and availability at Booking.com.
We travel on our own and find Lonely Planet Western Europe Travel Guide to be useful when in Europe. If you prefer a tour, both Viator and Isango! offer several in Segovia ranging from hot air balloons to day trips from Madrid.
If you don't have a car, Eurail is one of the easiest ways to get around Europe. Check Prices and find the Eurail Pass that is right for you.
Which captivated you more, the Aqueduct of Segovia, the Gothic Cathedral, or the Fairytale Castle?
If you enjoyed this article, please pin it on Pinterest: