Captivated by the impressive aqueduct of Segovia Spain, we could barely peel ourselves away. Thankfully we did, as staring up at the aqueduct is only one of several fascinating things to do in Segovia. We also visited fairytale castle, a classic gothic church, and more. It is a city that deserves its UNESCO World Heritage status. We visited as a day trip from Madrid to Segovia. However, it is somewhere that I could have easily stayed much longer.
The aqueduct of Segovia is an engineering feat of the Roman Empire built about 50 A.D. While it's the main drawing card for the city, there are plenty of other fascinating things to do in Segovia, and multiple ways to travel from Madrid to Segovia. Read on for details.
We earn from qualifying purchases through partnerships or affiliate programs.
Note: Based on world conditions, we advise checking official channels including cancellation policies prior to booking. Also, with often reduced capacity, booking ahead becomes more important.
Top 3 things to do in Segovia Spain (aqueduct, cathedral, castle)
Aqueduct of Segovia
The famous aqueduct is 28 meters tall and stretches 16,220 meters. Even more impressive, it is gravity that holds the unmortared granite bricks in place. It's a symbol that features prominently on the city's crest.
Local folklore nicknamed the aqueduct Puente de Diablo, meaning "Devil's Bridge". According to legend, the devil built the bridge overnight in a bet to win a serving girl's soul. The tale says that the devil lost the gamble because he was one brick short of completing the aqueduct when the rooster crowed, signalling morning. The marks from the devil's fingers appear as holes dotting the surface of the granite blocks.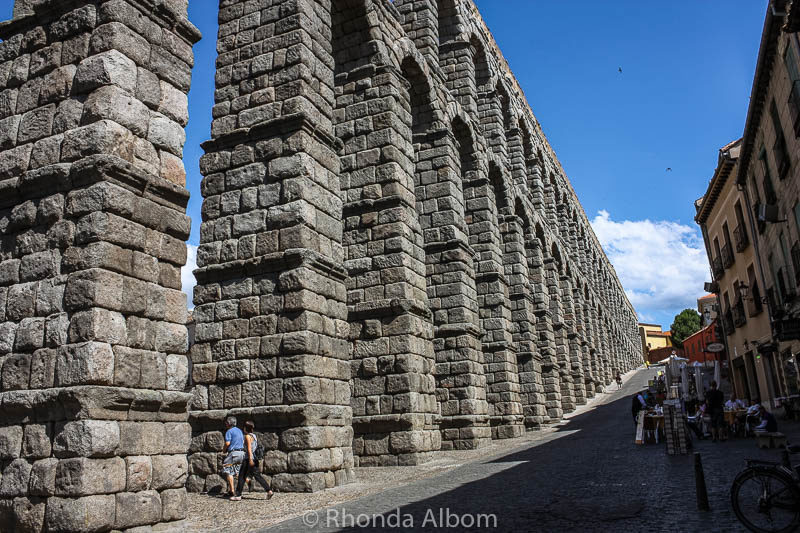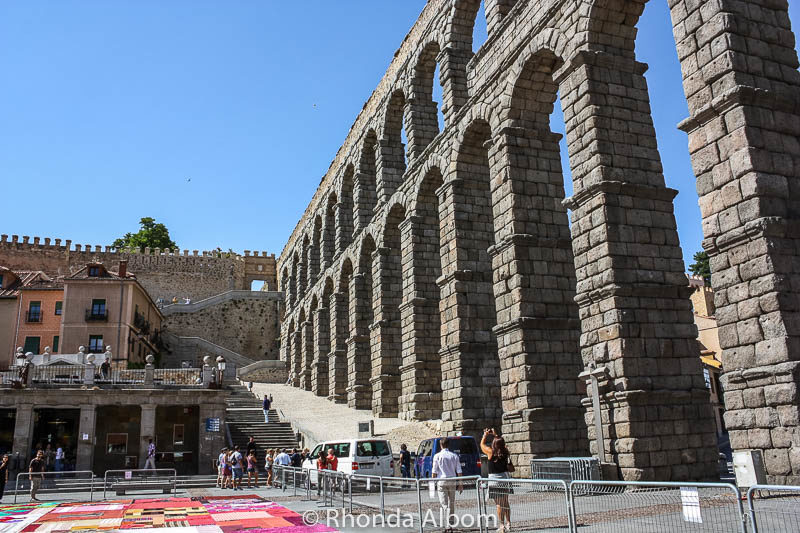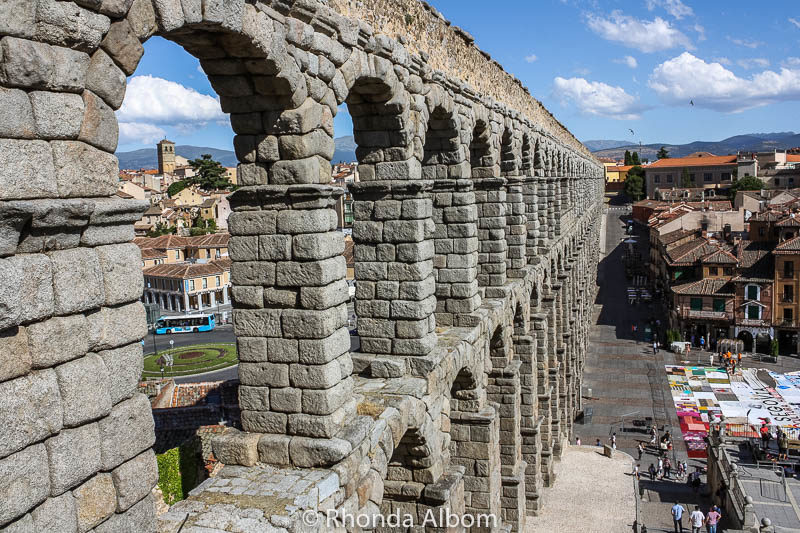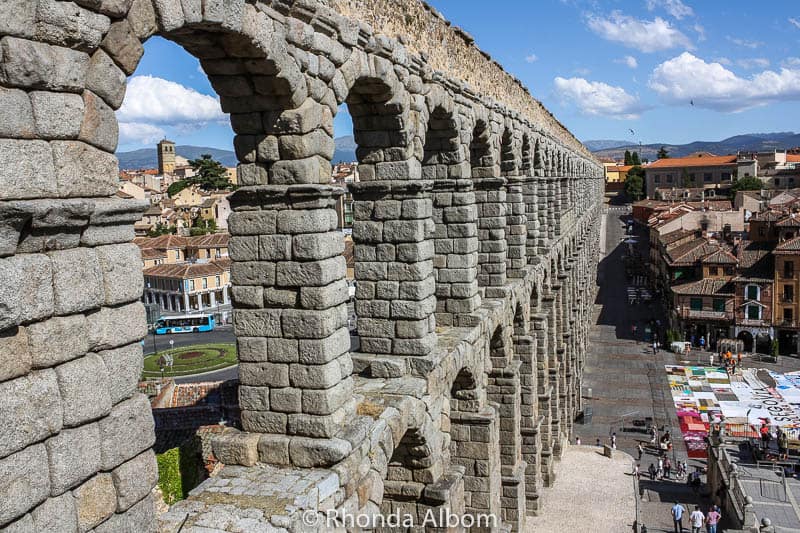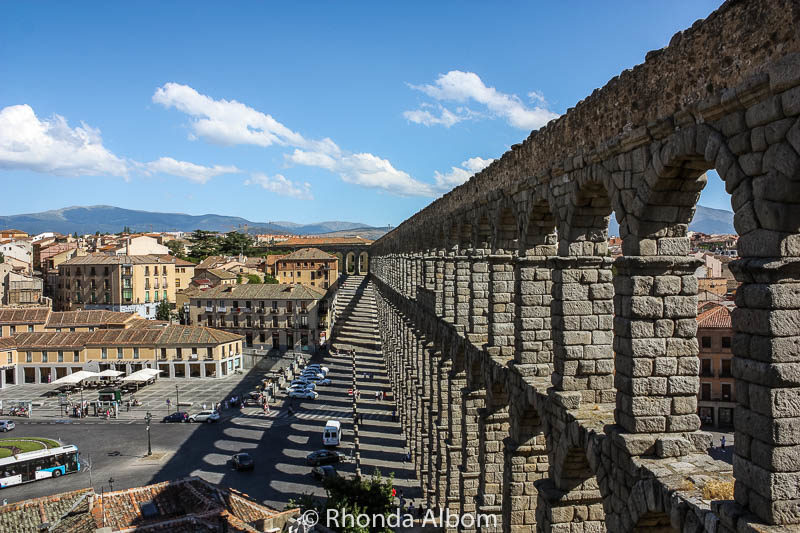 Cathedral of Segovia Spain
The city is also known as home to the first gothic cathedral in Spain, which is considered to be one of the world's most beautiful examples of late Gothic architecture.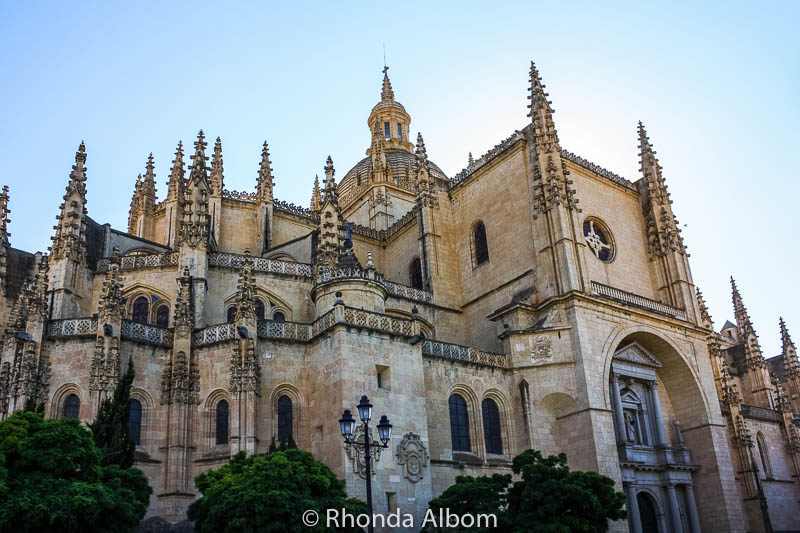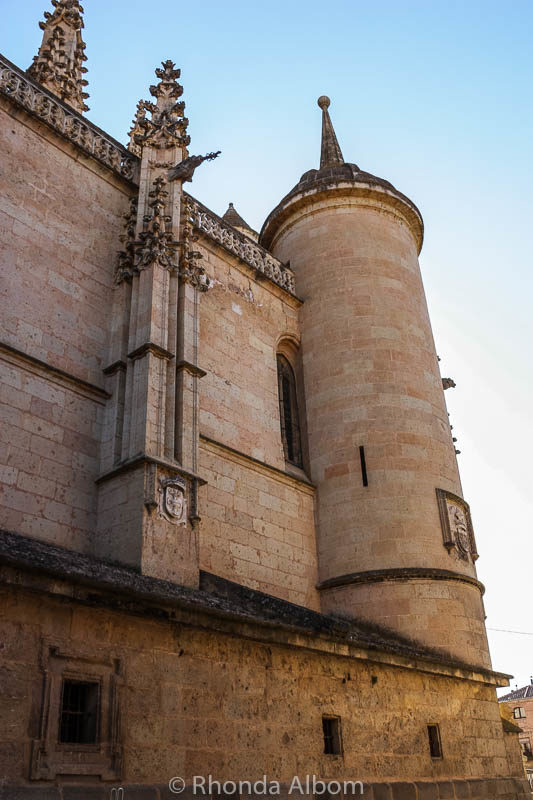 Alcazar of Segovia (a fairytale castle)
Think back to your childhood and visualize a medieval fairytale castle. This is the Segovia castle. However, it wasn't a "fairytale" in medieval days. In the story we were told, the original castle burnt to the ground in the 16th century.
The 19th-century rebuild created the fantasy, rather than recreating the original. Many say this is the castle that inspired Walt Disney.
With limited time, we opted not to tour it, but just to walk the grounds and enjoy a coffee in Alcazar's cafe. Either way, a visit to the alcazar should be on everyone's list of things to do in Segovia.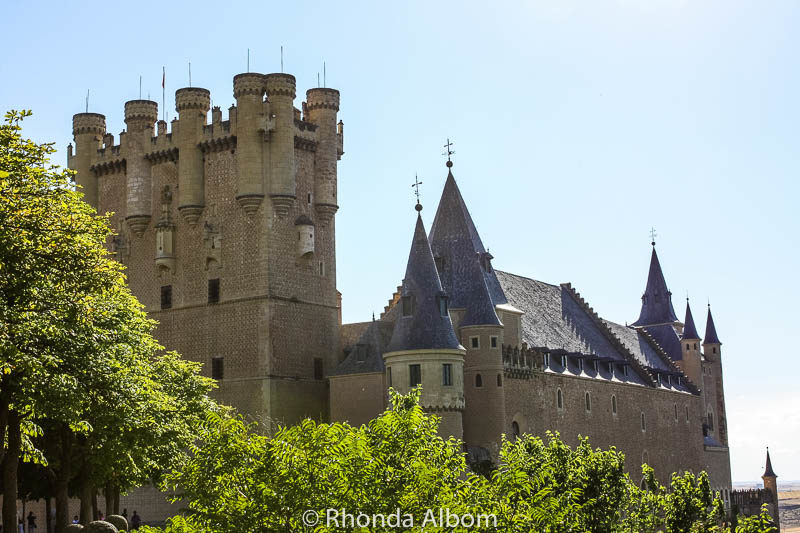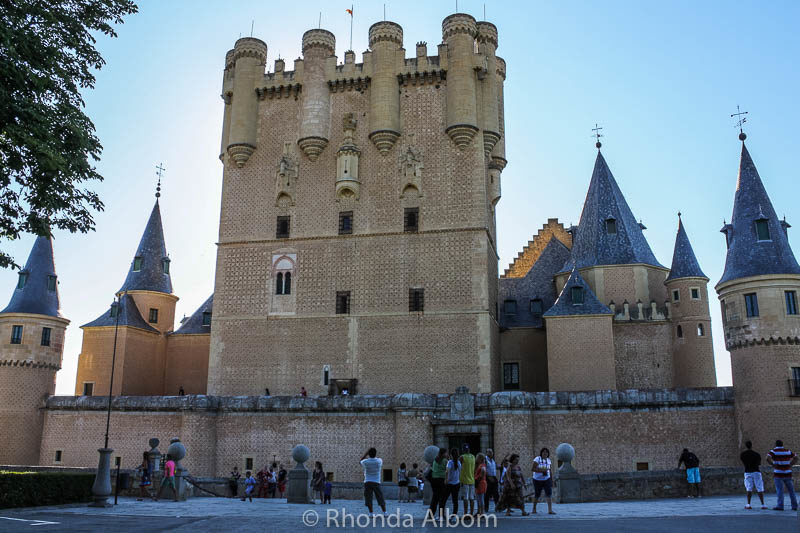 More things to do in Segovia Spain
Jewish Quarter
Jews first arrived in Segovia in the 13th century and lived in the district now referred to as the Jewish Quarter. The self-governing community thrived until the Spanish Inquisition after which time, only those Jews who converted to Catholicism were allowed to remain.
Many more churches in Segovia Spain
According to reader Kitat, the city maintains an important collection of Romanesque churches of both stone and brick, which include the churches of San Esteban, San Millán, San Martín, La Santísima Trinidad, San Andrés, San Clemente, Santos Justo y Pastor, La Vera Cruz, and San Salvador.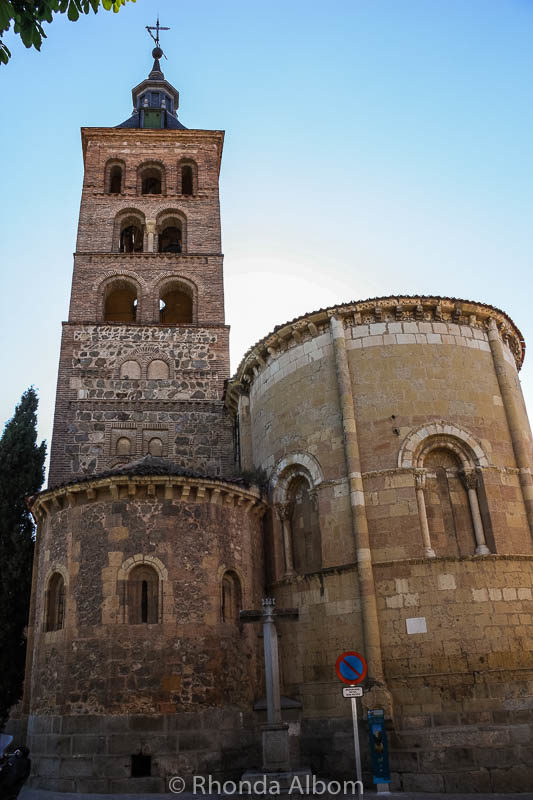 Don't miss the detail in the building decor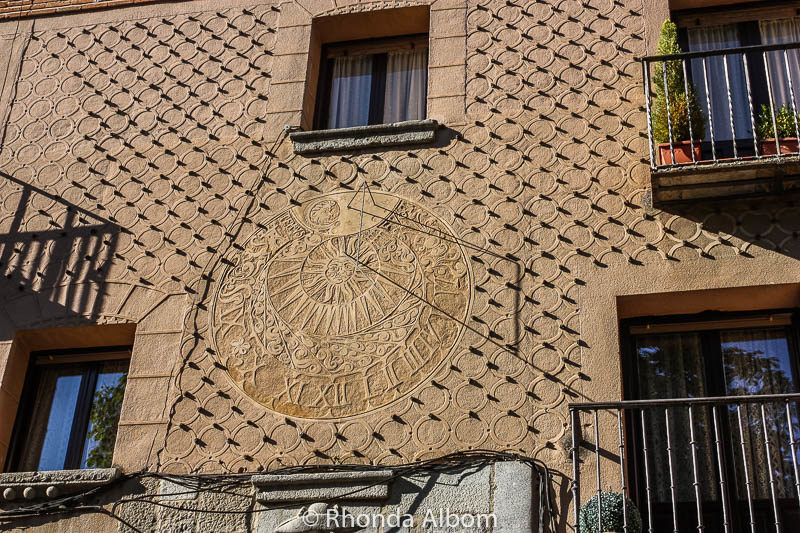 City wall and city gate of Old Segovia Spain
The city gate leads to old Segovia, the walled portion of the city, now a UNESCO site. The cathedral, Alcazar, and aqueduct are all encased within the old city.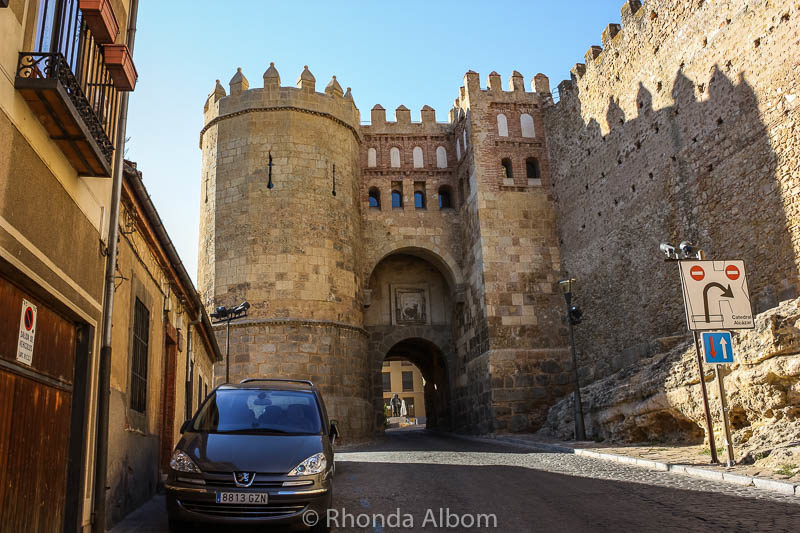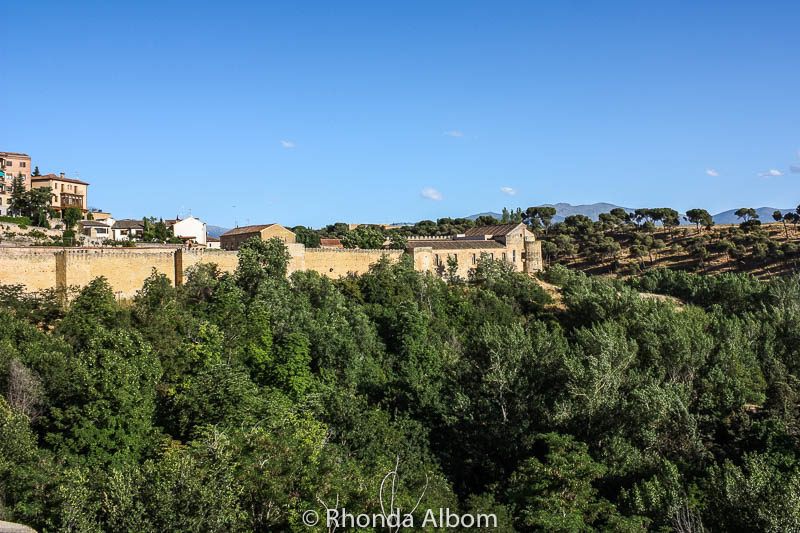 How to get from Madrid to Segovia
Segovia is only an hour's drive north-west of Madrid, thus making it an easy day trip. We had a car included in our home exchange in Spain; therefore, we opted to self-drive. Other options include a train, a bus, or a tour.
Self-drive Madrid to Segovia
If we hadn't swapped both car and home, we probably would have rented a car, as we prefer self-driving in countries where we speak enough of the language to get around successfully.
Ever since we discovered RentalCars.com, we have been using them exclusively. Easy to book online, we simply enter our pick up and drop off cities. Then, we are presented with a list of local rental outlets including their ratings, reviews, and cars available that meet our needs.
To date, every booking has been exactly as expected, and when we had minor problems, we simply contacted the English-speaking customer service agents for assistance. Check price and availability at RentalCars.com
Tips for self-drivers from Madrid to Segovia
If you are self-driving, follow the directional road signs to find the aqueduct. We ignored them, choosing to follow our GPS instead. Don't make this mistake; GPS took us to the side of the aqueduct without parking.
Arrive feeling hungry. This city is famous for pork roasts and desserts. Allocate time for a big meal at any of the restaurants in town.
Tour Segovia Spain
There are many tour options in town, some starting in town, others including round trip transportation from Madrid to Segovia
Free walking tour Segovia
Once in town, there are several free tour Segovia options: GuruWalk, AiroTour, and Free Tour all seem to be rated highly.
Segovia tour from Madrid
Each of the four tours below includes round trip transportation from Madrid.
Segovia Tour with Guided Walking Tour: This highly rated 11-hour tour travels from Madrid to Segovia via bus. You will enjoy a 90-minute walking tour, visit the aqueduct, the cathedral, the castle, and have some free time before returning to Madrid.
Check price and reviews
Segovia: Hot Air Balloon Experience & Guided City Tour: This 7.5-hour once-in-a-lifetime experience includes a one-hour balloon ride over Segovia, a countryside breakfast, a walking tour of the old town, entry to the cathedral, the Alcazar, and much more.
Check price and reviews
Toledo & Segovia Tour from Madrid with Alcazar: This super popular top-rated tour crams a lot into a full-day, as you will capture the highlights with walking tours in both Segovia and Toledo. It includes skip-the-line tickets making it possible to do it all in a day.
Check price and reviews
Best deals and discounts for your travel planning needs
We earn from qualifying purchases through partnerships or affiliate programs.
Accommodations: We use Booking.com to compare and book accommodations. Don't miss Booking.com's Getaway 2022 Deals that save 15% or more on selected accommodations. (T&Cs apply)

Vehicle hire: RentalCars is like a rental car search engine with no hidden costs, that lets us find the best deals on car rentals worldwide.

Private Tours: We are big fans of ToursByLocals, and use them for nearly all cities where we want a private guide.

Packing Tips: Get a free copy of our packing light checklist when you sign up for our mailing list. (We pack light, yet have everything we need.)
Find more money-saving resources and T&Cs on some of the above, check our Travel Resources page.
Save for later
If you enjoyed this article, save it for later on Pinterest.
Which captivated you more, the aqueduct of Segovia, the gothic cathedral, or the fairytale castle?