There is no better way to understand daily life in Spain than to immerse oneself in it. We did this through a long-term home exchange in the coastal community of Palamos. Simply put, we swapped our home and car with a family in Spain.
We joined into neighbourhood life, made friends, and slowly adapted to the local culture, struggling a bit more with the language than we had anticipated.
This comes from a lack of research, a mistake we don't make too often. You see, Palamos is a moderately sized city (population 18,000+) located in Costa Brava, the Mediterranean coastal region of Catalonia in Northern Spain.
The primary regional language is Catalan, not Castillian (Spanish), the language I speak ("speak" being a gross exaggeration for my ability to muddle through a conversation).
On the bright side, we were ready for adventure. This was a cultural learning opportunity, and we dove in both feet first. We embraced the language and our new daily life in Spain with enthusiasm.
Highlights and stand-out moments of our daily life in Spain
Narrow cobblestone streets of our medieval neighbourhood
The unexpected quirks of our 17th-century stone exchange house
Finding a youth group for our girls at the nearby Church of Sant Joan
Being woken up nightly for the rubbish collection
Topless beaches
The warm and welcoming Mediterranean Sea
Spanish and Catalan flavours, tapas, and other culinary treats
Shopping daily for fresh bread and produce
The fish auction
Participating at community events
Meeting neighbours, making friends
Dancing in the streets
How our home exchange came about
We signed up with a home swap service, and we were approached by someone wanting a long-term 9-month exchange.
To our surprise, it took us only a week from the first contact to come to a mutual agreement.
We swapped our New Zealand home for a 17th-century stone house in Palamós. We traded the Hauraki Gulf for the Mediterranean Sea and a glimpse into daily life in Spain.
Cars were included, and we could use theirs to tour around Spain, Portugal, and France.
We probably didn't ask enough questions, but we were looking for an adventure. Check out Home Exchange, and look for your first exchange without obligation.
Daily life in Spain: our medieval neighbourhood
We knew the moment we entered the medieval section of town. The busy roads, traffic lights, and wide spaces were replaced with a maze of roads so narrow there was barely enough space for a single car to pass.
Old stone homes line the cobblestone streets, mostly narrow and two-three stories tall. And while the original stone exterior was present on a few, most were plastered over in a range of colours, the brighter ones often had strings of bougainvillea draping down.
The narrow roads all led to the old church, the centre of medieval life and still important today.
More than just homes and a church, the neighbourhood featured a large sports field, a playground, a bakery, a small plaza, and an even smaller grocery store.
For everything else, we left our medieval section and went into the more modern areas of Palamos.
Our home exchange house
I can assure you that our 17th-century home wasn't the romantic vision in my head. The plaster hiding the stone walls was drab, and some basic things were missing.
A good lesson in asking questions; we were really surprised to find our home didn't have an oven. We were not about to cook over the open fireplace (not normal for daily life in Spain). We have included asking questions that seem obvious among our home exchange tips.
Our exchange included a car, but the narrow streets of our new neighbourhood didn't allow for parking, so we had to find street parking at least three blocks from the house.
Not really a problem, but often enough of an inconvenience that we walked almost anywhere we could rather than moving the car.
On the flip side, the house was adorable, the neighbours were lovely, the nearby youth group was fabulous for our girls, and we felt welcomed and like we really belonged by the time we left.
Church of Sant Joan
Once the centre of medieval life, the 13th-century Church of Sant Joan stood tall only two doors away from our long-term home exchange house.
Sunday is for mass, but there are various community activities on different days.
Our girls joined in with a youth group that met daily after school in a side room. Promoted as "study" time, our girls assured us it was very social. Here, they got more comfortable with the language and culture. Along with their new friends, they stayed until about 7pm and then the group moved to the park to hang out until they went home for dinner around 9pm.
On a few occasions, the church bells tolled, and it seemed as though all our neighbours dropped what they were doing and headed to the church. We followed once, only to find a funeral being guarded by police. Without knowing what was happening, we opted to leave.
Rubbish collection
Adjusting to our daily life in Spain had its challenges, but who would have thought that taking out the rubbish would involve so much drama?
The process seemed simple: use the four bins along the street labelled for rubbish, paper, and glass recycling. Unfortunately, our expectations and our reality clashed as the bin labels were in Catalan, and we didn't know what went where.
The solution seemed simple, but looking into the bins was like staring into the abyss. We could not see the bottom, and we didn't know why.
At about 1am, we found out. This is when the nightly rubbish collection truck noisily lifts the rubbish platform and then empties two of the huge skip bins underneath.
If that wasn't enough to disrupt our sleep, the recycle truck came by at about 2 am to empty the other two bins. We finally understood the noise when we eventually went outside to make sense of the commotion.
Daily life in Spain: daily routine
Like many of our neighbours in Palamos, we follow a typically Spanish summertime daily routine on the days we have nothing special planned.
We started our day the same as just about anywhere, breakfast and coffee.
Six days per week, we walk (or drive if we are feeling lazy) to the farmers' market for our day's fruit and vegetables. However, Tuesday is big market day in Palamos, and we spend our entire morning here. Market stalls include clothes, shoes, towels, kitchen supplies, toys, music, and more.
Visit the bakery for fresh bread and either go to the docks for fresh fish or the butcher for meat.
Back home for a substantial lunch, siesta, study, and then off to the beach in Palamos.
In the late afternoon, our girls head off to their youth group and then hang out at the park with their friends. By the end of our time here, they spoke an odd mix of traditional Spanish and Catalan.
We typically have dinner around 9 pm.
Daily life in Spain: watersport
Like so many Mediterranean beach towns, the huge number of summer holidaymakers and summer homes brings with it tons of watersports opportunities.
In Palamos, we could sail, water ski, windsurf, jetski, kayak, SUP, hire a paddleboat, SCUBA, snorkel, or even go on a diversub.
The beach
Living just over a mile from the beach, we found ourselves walking there often, especially as the heat of summer set in.
It was more crowded than we are used to in New Zealand. Also, topless was the norm here. However, tops on, we blended in nicely with some of the other non-Spanish visitors and immigrants. While we adapt to the culture where we can, we don't always go that far out of our comfort zone.
We didn't just go to our local beach. With one coastal city after the next, we spent time exploring the other beaches.
Water sports, snorkelling and underwater play
For the most part, we just enjoyed the beach, snorkelled, and swam in the sea.
However, one day we hired a paddle boat with a slide.
In addition, our girls did a SCUBA refresher course and went for a couple of dives. The divemaster took them outside of the Palamós marina, and amongst the large number of fish they spotted, they saw a poisonous scorpionfish and some beautiful anemones.
Daily life in Spain: food
Daily life in Spain included a meal schedule that was very foreign to us at first. Kids often had chocolate with their breakfast.
The typical lunch was at about 1 pm and was the big meal of the day. Very big.
Afterwards, siesta time. Even the shops closed in the afternoon so everyone could nap and get out of the heat of the day.
We ate a snack in the early evening, and then our dinner was at 9 pm and considered early by most of our neighbours.
People stayed up loudly to all hours of the night, so I am guessing most were not awakened by the rubbish collection. Then up early for work.
Fish auction
Fish is one of the most common foods both at home and in restaurants. That's because Palamos is a major fishing port, and each day the fisherman brings their catch into an auction house.
Restaurants and retailers bid for the catch, and the fish is auctioned off. The remaining fish, and there are loads of it daily, is taken into the connecting market.
The auction itself is fascinating to observe, but bookings are required and done at the fishing museum.
Eating out
Dominated by olive oil and garlic, I love the flavours of Mediterranian Spain. As a result, every Palamós restaurant we tried was delicious.
Of course, we found our favourites, and they were not what we would have expected. One specialized in seafood, the other in huge, stuffed baked potatoes.
However, in general, tapas became our favourite, and we ate it in a variety of different places and quite often with friends. It's done on a bit of an honour system. Guests go up to the counter and select their tapas pieces. At the end of the meal, they pay based on the number of sticks on the plate.
Daily life in Spain: community
One of the many great things about being in Palamós in the summer is the community activities and nightlife.
The town centre seems just as busy at night as they are during the day, only the activity shifts from the beach to the streets.
Making friends
One of the best things about living in a community rather than a hotel is the ability to make friends.
And even better, our new friends took us out on their boat. One trip brought us to a cove with a cave, and in small groups, we rowed over to explore.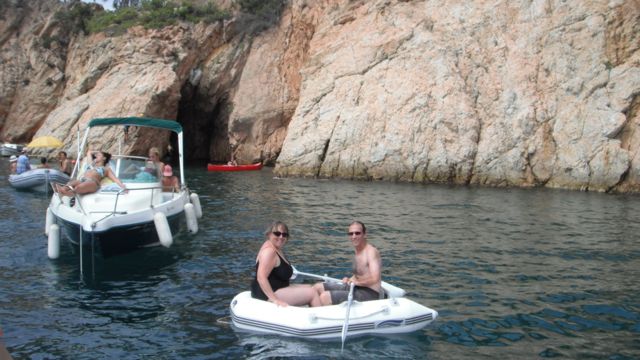 Dancing in the streets
Live music, DJs, and even dance added to our fun. It didn't take long for us to discover two weekly evening activities that we really enjoyed.
Country line dancing
Although the music had little resemblance to "country" music, the line dancing in the street was fun. In fact, we all enjoyed it, along with several new friends.
Dance of Sardana
This traditional dance of Catalonia is a welcoming group dance, and new people regularly join the various circles. We watched for a while and then gave it a go. We did okay in some circles but couldn't keep up with the more experienced dancers.
Fiesta Mayor
Fiesta Major is a huge annual multi-day, multi-faceted festival celebrating the first night of summer. It features activities for the entire family, including concerts, children's entertainment, bonfires, and a beachfront carnival.
The parade kicking off the festivities began with a human-sized chicken and dog, followed by six larger-than-life Gigantes de Palamós. First were a cat and a mouse, second an unknown (to us) couple, and finally, the spirited and dancing king and queen.
We followed the rest of the crowd and the Gigantes to a plaza near the beach. Here, speakers welcomed everyone, followed by a torch-lighting ceremony.
However, nighttime was our favourite as the cooler evenings made the carnival delightful. The live music was so loud at times, we could hear it at home, and it seemed to go on until about 4am. The event continued for days concluding with a massive fireworks display (including impressive heart-shaped fireworks).
Save on your trip with these resources
These are our go-to companies when we travel. We believe this list to be the best in each category. You can't go wrong using them on your trip too.
Flights: we use Expedia for the best and cheapest flight options.
Accommodations: we use Booking.com (hotels) or VRBO (self-contained).
Cars (gas or electric): we use RentalCars to search for deals and dealer ratings.
Campervans or Motorhomes: we use Campstar where Albom Adventures readers get a 3% discount
Private guides: we love the private guides at Tours by Locals
Travel Insurance: we start at InsureMyTrip as they are the best option to compare plans and find the right coverage for you.
Check out our travel resources page for more companies that we use when you travel.
Save for later
If you enjoyed this article, please share it on social media and save it for later on Pinterest.
Have you tried a long-term home exchange?
You might also like
Photo Credits:
All photos on this page are either shot by our team and watermarked as such or stock images from Depositphotos.