It took us only a week from the first contact to agree upon a long term home exchange with a family in Spain. We swapped our New Zealand home for a 17th century stone house in Palamós, in the Catalan region of Spain. We traded the Hauraki Gulf for the Mediterranean Sea and a glimpse into daily life in Spain. How could we pass it up?
Cars were included in our long term home exchange so all we needed was a few personal items. We probably didn't ask enough questions, but we were looking for an adventure. Now I have lots of tips to offer people considering a home exchange.
Note: Based on world conditions, we advise checking official channels including cancellation policies prior to booking. Also, with often reduced capacity, booking ahead becomes more important.
Our Daily Life in Spain – at Home
We lived in a 17th century stone house
It wasn't the romantic vision in my head. Plaster covered the stone walls of nearly every house on the street. I am guessing that the window bars were added at the same time as the plaster.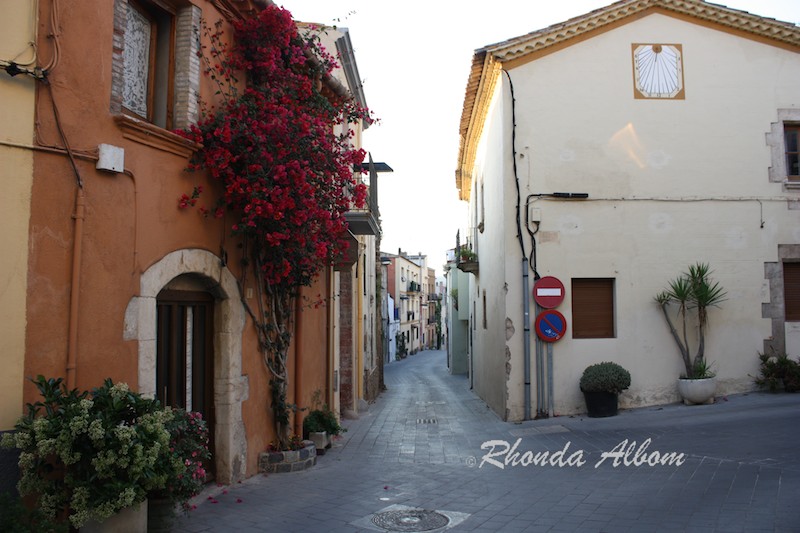 Daily Life in Spain – In the Medieval Neighbourhood
The old stone homes are located on a narrow street, barely wide enough for a car, and certainly not wide enough to park a vehicle. Therefore we had to find street parking at least three blocks from the house. Not really a problem, but often enough of an inconvenience that we walked almost anywhere we could, rather than moving the car
The narrow roads all centred around the church. Other than homes, there was a small square (meeting area), a large sports field, a playground, a bakery, and a small grocery store. For everything else we left our medieval section and went into the more modern areas of Palamos.
Church of Sant Joan
One of my favourite things in our town was the Church of Sant Joan, separated from us by only one other house. Here we found the centre of the community. It was open for mass on Sundays and the whenever the bell tolled, usually signifying either mass or a funeral.
Here we also found a youth group in a side room that was once the church's library. Daily after-school children of a similar age to our girls met to "study." In reality, it was social time, and our girls were delighted to join in. The other children stayed until about 7 pm, then went to the park to hang out four a few hours until they going home for dinner.
Rubbish Collection in Palamos – a dirty view of daily life in Spain
Adjusting to our daily life in Spain had its challenges, but who would have thought that taking out the rubbish would be so much drama. In our briefing, we had been told that the four bins just down the street are labelled for rubbish and paper recycle, and there is a larger variety of recycling bins a few blocks. Unfortunately for us, they are labelled in Catalan, the language of Costa Brava the region of Spain we now lived in. They were not in Castillian, the Spanish we can speak ("speak" being a gross exaggeration for our ability to muddle through a conversation.)
Looking into the bins, was like staring in the abyss. We could not see the bottom. At about 1 am when the rubbish bins were loudly emptied, we understood why. The big skip bins are stored underground and the entire platform is lifted to empty them. If that wasn't enough to disrupt our sleep, the recycle truck came by at about 2 am.
Our Daily Life in Spain Frequently Includes the Mediterranean Sea
The beach
Living just over a mile from the beach, we found ourselves walking there often, especially as the heat of summer set in. It was more crowded than we are used to in New Zealand, and there were a few other beach surprises. We didn't just go to our local beach. With one coastal city after the next, we spent time exploring the other beaches.
Beach fans who are staying in Barcelona can enjoy a day trip up to Costa Brava. If you don't have a car, this hidden beach tour sounds wonderful.
⇒ Check availability of the Hidden Beaches of Costa Brava Full-Day Tour from Barcelona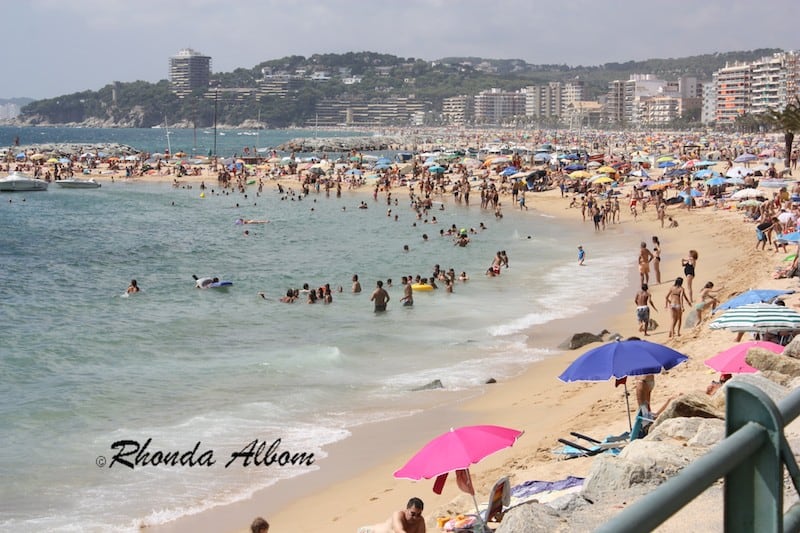 Water Sports, Snorkelling and Underwater Play
So many opportunities when you are living in the Mediterranean.
Our girls earned their open water certificates last year in Fiji and didn't pass up an opportunity to go diving in Palamós. They went outside of the Palamós marina with the divemaster Eva a dive centre in Palamós and amongst a large number of fish spotted, the saw a poisonous scorpionfish and some beautiful anemones.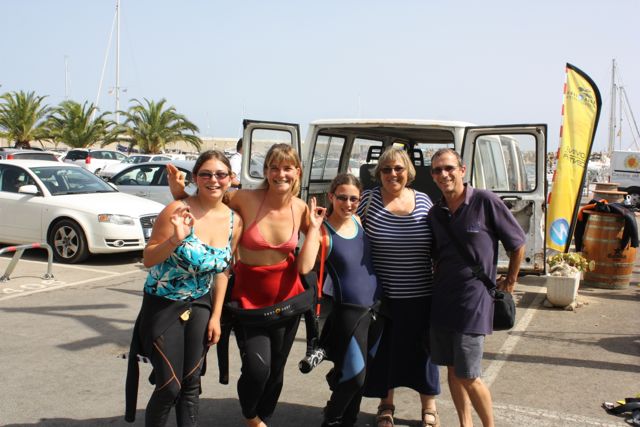 Boating in Palamos
One of the hot summer days we rented a paddleboat that had a slide, which apparently was loads of fun according to our girls. It was a great day, not even spoiled when coast guard whistled and yelled at us because we had paddled into the swimmer's area.
One of the best things about living in a community rather than a hotel is the ability to make friends. And even better, our new friends took us out on their boat. One trip brought us to a cove with a cave and in small groups, we rowed over to explore.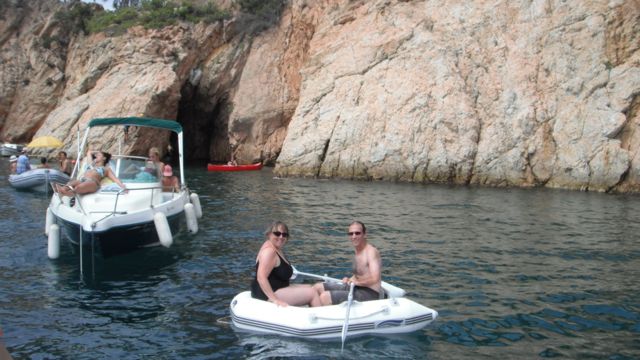 An Embarrassing Story from Market Day
Six days per week the market contains only produce, but on Tuesday, big market day in Palamos, you can get it all. The main street is blocked off and there are booths for clothes, shoes, towels, kitchen supplies, toys, music, and more.
On one particular Tuesday, I wanted a colourful and cool A-line sundress dress, something popular in the region. It was red and pink with palm trees. I slipped it over my tank top and I turned to the family for evaluation. "Does it make me look fat?"
My rocket scientist husband is smart enough not to answer, but my teen said, "Mum. . . you can't wear that dress." Quickly, the saleswoman tells me, "Está muy bonito" (It is very pretty).
I tried to say, "She says I look fat," but rather than "she" I said "he" and the shop owner did not take kindly to a man calling his wife fat. Her hand gestures made the conversation clear. One directed at hubby but in the other, she held a similar dress up to her body and explained that it will follow my curves and my "titas grandes".
I understood she was telling me that my chest protruded the dress outwards. We did leave market day without that dress. However, I found a similar one on a market day in a different town. So here is the dress that highlights my flaw – I still think it is beautiful. I know it's not the most flattering, but it's cool, comfortable, and will always remind me of our funny market day adventure.
Hiking and Adventure
We did a lot of walking, but not too much hiking, although there was plenty of opportunity in the Costa Brava region in which we lived.
Eating out In Palamos
Daily life in Spain included a meal schedule that was very foreign to us. First off kids often had chocolate with their breakfast. Then lunch was at about 1 pm and was the big meal of the day. Very big. Afterwards, siesta time. Even the shops closed in the afternoon so everyone could nap and get out of the heat of the day. We ate a snake in the early evening, and then our dinner was at 9 pm, and considered early by most of our neighbours. People stayed up to all hours of the night, so I am guessing most were not awaken by the rubbish collection. Then up early for work.
Fish Auction
Fish is one of the most common foods both at home and in restaurants. That's because Palamos is a major fishing port, and there is a fascinating daily fish auction that can be observed with a reservation.
Tapas
One of our favourite meals to eat out is tapas. We just take our plates up to the counter, take the tapas pieces we want, then they charge guests based on the number of sticks we have on our plate at the end of the meal.
Dancing in the Streets
One of the many great things about being in Palamós in the summer is the nightlife. The town centre is just as crowded at night as they are during the day, only the activity shifts from the beach to the streets.
There are activities each night, several of which revolve around dancing in the streets.
Country Dancing in the Streets
The country dancing really should have been called line dancing as the music had no resemblance to "country". However, the girls had a blast, along with their new friends.
Giants
We had no idea what to expect the night the giants were to be there. And after we left, we still had no idea why they brought the giants as they just stood there. Not even a single giant spin. The giants' presence made more sense at the Fiesta Major when the paraded down the street.
Dance of Sardana
This is a beautiful and traditional dance of Catalonia. It is a group dance and new people are continually tapping and joining in the circles. We watched for a while and then gave it a go. We did okay in some circles, but couldn't keep up with the more experienced dancers.
Home Exchange in Spain
There is no better way to understand daily life in Spain than to immerse oneself into it. And there is no faster path to immersion than a home exchange. It makes travel affordable. Are you ready to give it a try?
Click Here to check out Home Exchange
Have you tried a long term home exchange? Have you been to Spain, or to Palamós?
All photos on this page © Rhonda Albom. All rights reserved.