Although Stonehenge is probably the most famous of the world's megalithic structures, Portugal is home to several megalithic sites that are older, free to visit, less crowded, and allow visitors to walk through the grounds.
We visited two of these sites, both in close proximity to each other, just outside of Evora in the Alentejo region of eastern Portugal.
Alentejo region is well known for grape growing, winemaking, and cork. In addition to the sites, which were our destination, we are fascinated by the surrounding cork tree forest.
Aside from the ancient history, we learned a few new terms, all of which were used in the descriptions of what we saw, and knowing the definition of monolithic, megalithic and a few similar terms proved helpful.
Monolith: a single large stone block
Megalith: a large stone used to construct a monument or structure, either alone or with other stones without mortar.
Dolmen: a prehistoric tomb
Cromlech: a prehistoric circle of standing stones often surrounding a mound or dolmen.
Menhir: a tall stone standing upright, either alone or in a group.
Three main stops while looking for the megalithic sites in Portugal
Almendres Cromlech – Cromeleque dos Almendres – (a megalithic site in Portugal)
Almendres Menhir (a Monolithic Site in Portugal)
Cork tree forest
Almendres Cromlech (a megalithic site in Portugal)
Almendres Cromlech (Cromeleque dos Almendres) is the larger of the two Portugal megalithic sites we visited. Here, more than 90 huge remaining stones form two concentric rings.
Sometimes it is referred to as "Stonehenge Portugal" or "Portuguese Stonehenge".
They were strategically placed here from 4000-5000 BC making them about 2,000 years older than Stonehenge.
Carvings can be seen on some of these stone formations in Portugal, although they are difficult to spot due to erosion.
Visiting here is quite surreal. To our surprise, there are no fences. As a result, we are free to stand amongst nearly 100 monoliths. Unlike many of the crowded European venues we visited, we were alone here.
The true purpose of these stone circles is unknown. However, around 3000BC many of the stones were moved. It is believed this was to better align with the stars, moon, and sun.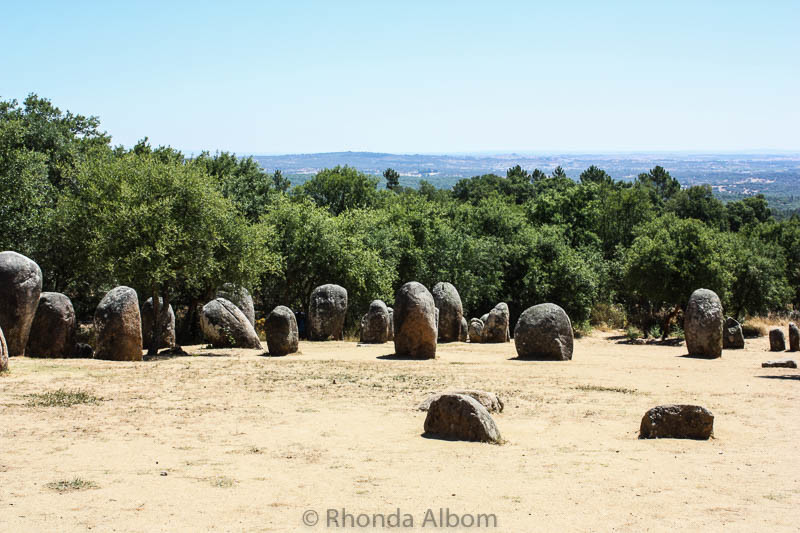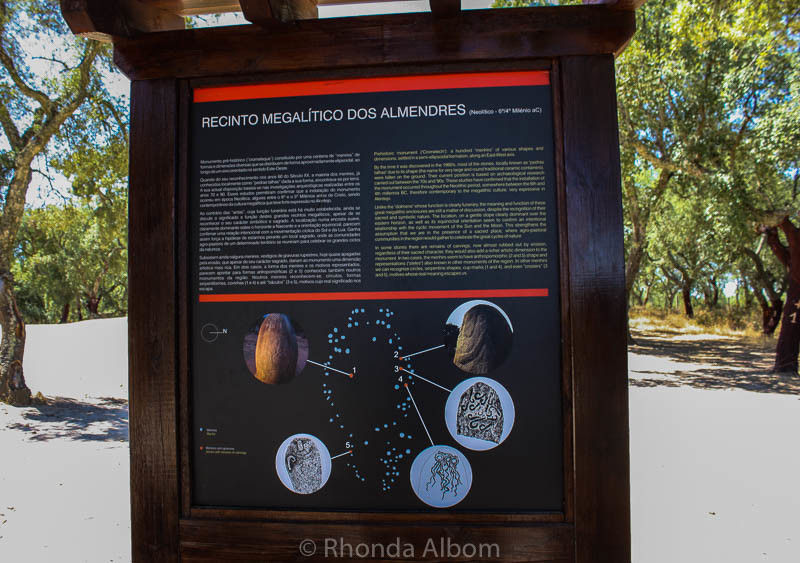 Almendres Menhir (a monolithic site in Portugal)
Nearby, we visited Almendres Menhir, a single monolith that stands four metres (13 feet) tall.
Although about a kilometre away, it aligns with Almendres Cromlech on the winter solstice sunrise.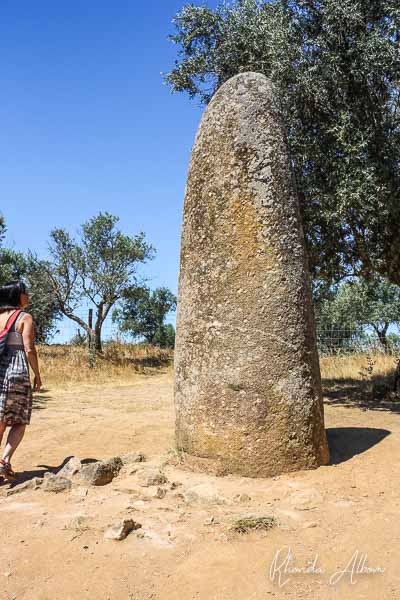 Cork trees in Portugal
Driving through the Alentejo region of eastern Portugal, we passed hundreds of cork trees lining the road. To us, this was new and exciting as I had no idea that cork grows on trees. Portugal and Spain are home to over half of the world's cork forests.
The images below are:
Jeff points at the spot separating the portion of the tree with cork from that which has already been removed.
Cork Trees in Almendres near the city of Evora in Alentejo in Portugal.
The cork is left to weather for six months after being stripped from the trees. This pile of cork oak bark is ready for processing in Portugal.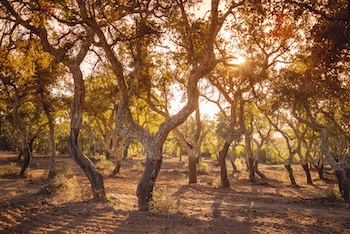 Getting to these megalithic sites in Portugal
Unfortunately, there was no public transportation to these intriguing stone formations in Portugal. The options for getting there are either to drive yourself or take a tour from Evora or Lisbon.
Driving to these Portugal megaliths
Located about 18km east of Evora, both megalithic monuments are easy to find following the signage. There is no physical address but driving directions from Evora are simple.
Directions from Evora to the megalithic sites: Head east for about 8-10 km on N114. Then, turning left onto CM1075 you will head southeast until you arrive. The second road makes many twists and turns.
Megalithic tours from Evora
If you don't want to rent a car, a tour is your best option to see these Evora monoliths. We believe these are the best options:
Cork Forest and Megalithic Temples around Evora: A small group tour that is perfect for people who want a deeper understanding of the geography, culture, and history of the region. This tour visits 3 fascinating megalithic sites and explores the cork forest. Reserve your cork forest & megalithic temples tour from Evora
Megalithic tours from Lisbon
Évora and Megaliths Full-Day Tour from Lisbon: Packing a lot into a day, this highly-rated tour is ideal for Lisbon-based travellers who want to discover Evora and the megaliths, but have limited time. Starting and ending at your Lisbon hotel, you will visit both the Almendres Cromlech and a megalithic dolmen. Plus, in Evora, you will see the Roman Temple of Diana, the cathedral, and the chapel of bones. Reserve your tour from Lisbon
Evora Megalithic Private Tour from Lisbon: This is the perfect tour for those fascinated by the megalithic sites, but have limited time. The private tour is loaded with archaeological and historical information. You will visit four megalithic /archaeological sites and have a walking tour through the key sites of Evora. Note: The final price is per tour, not per person. Reserve a private megalithic tour from Lisbon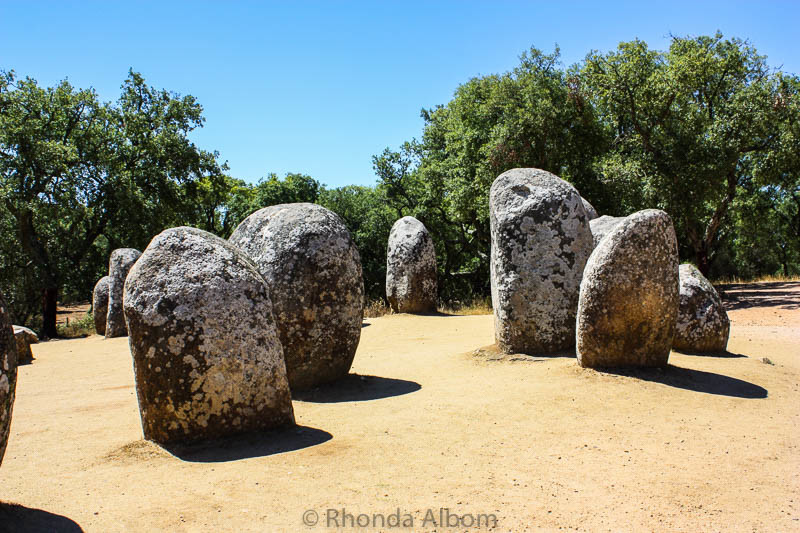 More on these megaliths in Portugal
Almendres Cromlech is the Iberian Peninsula's largest megalithic monument, as well as being one of the world's oldest.
Both Almendres Menhir and Almendres Cromlech are always open and free to visit.
Although built in the early and mid neolithic periods, Almendres Cromlech wasn't discovered again until 1964.
There are more than 10 megalithic sites in Evora district. They were built here as it is where Portugal's most important rivers (Tagus, Sado, and Guadian) converge.
Read Next: 30 free things to do in Evora Portugal
Megalithic sites around the world
The oldest megalithic sites discovered to date are from the Mesolithic period: Göbekli Tepe in Turkey (9500BC); an unnamed monolith found under the water in the Strait of Sicily (9350BC); and, Quinta da Queimada Menhir in western Algarve, Portugal (9100BC).
From the Neolithic period, the oldest megalithic sites are Atlit Yam in Israel (7000BC), followed by Almendres Cromlech. Additional countries where megalithic sites older than Stonehenge have been discovered include Belgium, Denmark, Egypt, England, France, Germany, Ireland, Italy, Malta, Russia, Scotland, Spain, Sweden, and Wales.
We have visited Newgrange in Ireland and Stonehenge in England.
Save on your trip with these resources
We use these aggregator companies to save time and money. They do the work for us by providing a list of options, prices, and reviews for anywhere we are travelling worldwide. Plus, we have personally had positive customer service experiences with all of them:
Flights: we use Expedia for the best and cheapest flight options.
Hotels: we use Booking.com as they consistently return the best rates and their reviews are from actual guests. However, for self-contained lodging, use VRBO
Cars: we use RentalCars to find the best deals and dealer ratings.
Private guides: we often hire private guides from Tours by Locals
Travel Insurance: we start at InsureMyTrip as they are the best option to compare plans and find the right coverage for you.
Before you book the rest of your trip: Check out our travel resources page for more companies that we use when you travel.
We believe this list to be the best in each category. You can't go wrong using them on your trip too.
Please share
If you enjoyed this article, please share it on social media including Pinterest: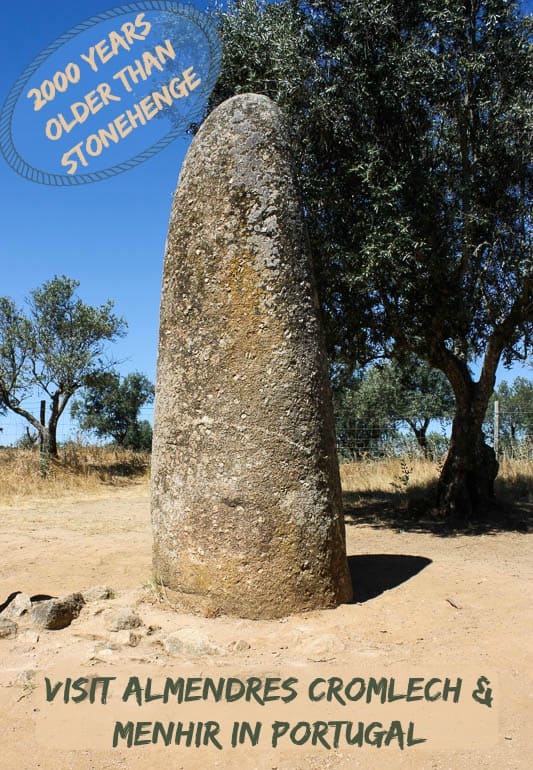 Where have you seen megalithic sites in Portugal or elsewhere?