Lugo holds the distinct honour of being the world's only remaining city surrounded by a completely intact Roman wall. It's also the oldest city in Galicia, Spain. Filled with wonder, there are pieces of ancient history scattered everywhere, and we found plenty of things to do in Lugo Spain.
The wall is clearly the highlight, and it, along with the old town inside, has attained UNESCO World Heritage status.
Encircling the city, there is a pathway along the top that is wide enough to stand several people across as they walk the perimeter. In fact, it's often where locals spend part of their day, and we encountered many dog walkers and joggers as we strolled across the top.
From the top, we viewed the city from above, and then we walked within the city.
The city holds plenty of impressive examples of ancient, gothic, and baroque architecture, including a famous cathedral, a more than 2000-year-old Roman bridge, Roman baths, and an eclectic mix of today's modern lifestyles built both over and around it all.
Lugo also has a fascinating regional museum offering insight into both old and new, sometimes from an unusually risque perspective.
We visited Lugo Spain as a day trip from La Coruña. While there are a number of things to do in Lugo, we found one day to be enough time to see the highlights.
Things to do in Lugo Spain
Roman wall
Plaza Mayor (main square)
Cathedral of Lugo
Buried Roman ruins, including a house and Roman pool
Provincial Museum
2000-year-old Roman bridge
Roman Baths
Arde Lucas Festival
Roman wall of Lugo Spain
The 3rd-century Roman Walls of Lugo are a World Heritage Site. According to UNESCO, they are "the finest example of late Roman fortifications in western Europe."
We passed through one of the 10 gates, climbed one of the four staircases up about 10 metres to the top, and walked the 2-kilometre perimeter. As we circumnavigated the city, we passed each of the 85 external towers, enjoying views both in and out of the walled city.
Built for military purposes, as a result, the stone walls are not decorated.
Plaza Mayor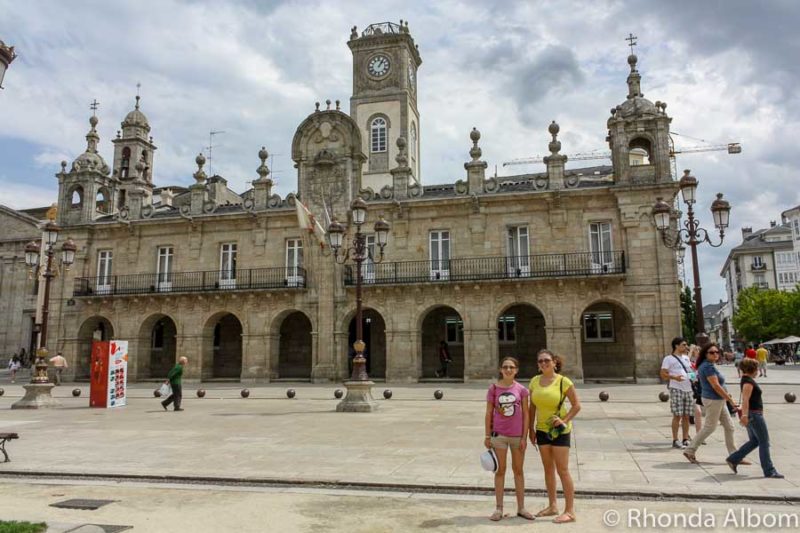 As in so many Spanish towns, the Plaza Mayor is the most important square in the city.
This is the centre of town and a must-see. An eclectic mix of architecture and history, Plaza Mayor is home to the baroque style Town Hall (1738), a beautiful church, and a statue honouring Augustus, the first Roman emperor and founder of Lugo. The statue features both Caesar Augustus and Fabius Maximus Paulo.
Cathedral of Lugo (Cathedral de Santa María)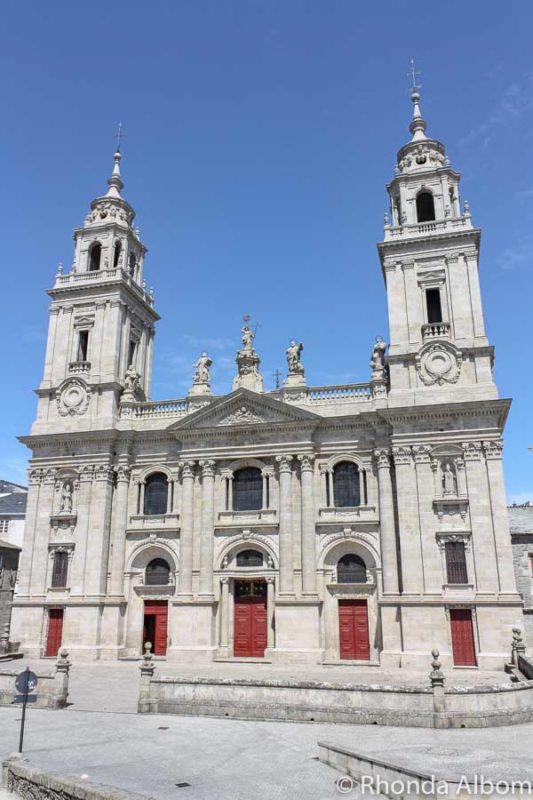 Not only is the 12th century Santa Iglesia Catedral de Lugo (Cathedral of Lugo) a masterpiece to enjoy, but it also serves as the diocese of Lugo.
It's more often referred to as the Cathedral de Santa Maria or Saint Mary's church. What makes it so interesting to look at is the mix of Romanesque architecture with gothic, baroque and neoclassical elements.
Roman pools in the Praza de Santa Maria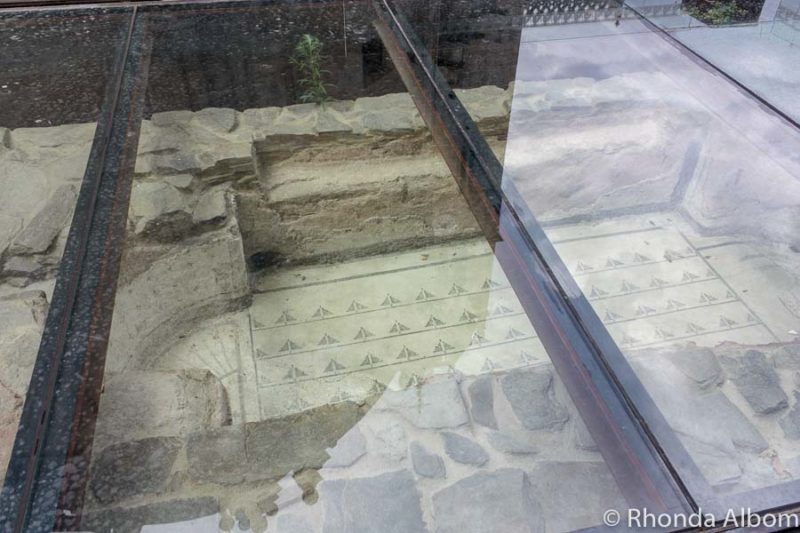 Under the Plaza de Santa María, inside a shoe shop, we can find remnants of the town's Roman ancestors. The best of these is the mosaics surrounding the Roman pools.
Be sure to head down the stairs to see more of the ruins, including the home of someone believed to have been important. Importantly, if you don't speak Spanish, you can ask, and they will play the short video in English.
Provincial Museum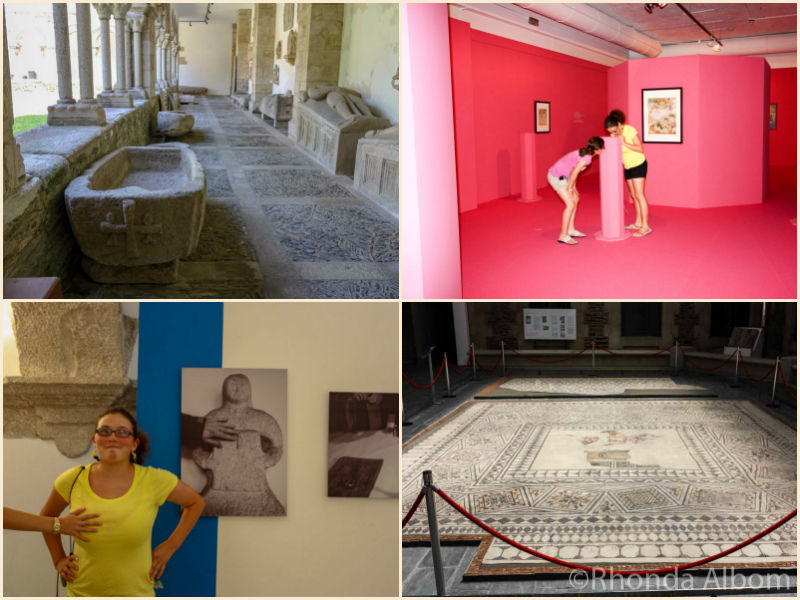 Filled with art exhibits, Roman tiles, and ancient statues, the Provincial Museum of Lugo is one of the best small town museums we have visited. Even the building itself is historical as it is the former Convent of San Francisco (plus a more modern section).
As we strolled between galleries, we discovered different aspects of regional history that tell the story of this part of Galicia.
While our favourite was the Roman artifacts, mosaics, and ceramics, it was some of the bizarre sexual innuendoes that caught our eye. Specifically, and I believe this one was only temporary, was the special art exhibit in a shockingly bright pink room. Here we found several elongated cubes in the centre of the room. They had visual access through the top.
Our girls looked first. Immediately they giggled as inside, they stared in disbelief at story miniatures complete with shiny boy bits. Subsequently, I realised that the height rendered the "lenses" young childproof.
Ponte Velle (Roman bridge)
Ponte Velle, the Roman bridge crossing the Minho River, is older than the city wall. After all, the Romans ruled this area hundreds of years prior to the building of the wall.
Both restored and strengthened, the bridge now holds traffic as well as pedestrians. While cars drove over it, we did not, as we never needed to cross the river on our way to the Balneario Hotel or to head back to La Coruña.
Roman baths
For the second time in this city, we encountered modern construction around ancient ruins. This time, it is Roman baths along a natural thermal stream, preserved underneath the Balneario Hotel.
The good news is that you don't need to stay here to see the Roman baths, arches, or changing room. Rather you can just walk up to reception, and they will direct you. And all this is free.
They were nothing like the Roman baths we saw in Bath, England, but they were interesting in their own right. They no longer have much water, as they are diverting it off into a modern spa that you can book through the hotel.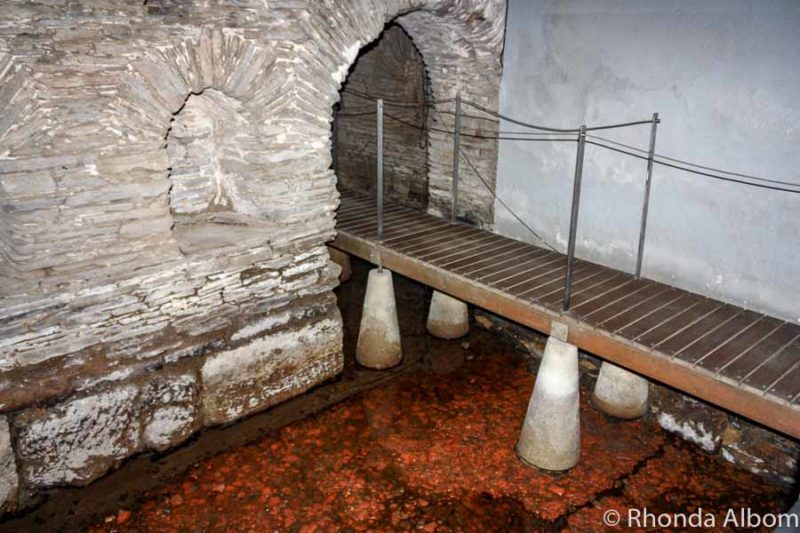 Arde Lucus festival
The Arde Lucus is a festival that takes place the last week of June and revives the Roman and Castroian past Lugo, celebrating the founding of the city. The first of these annual festivals followed the wall obtaining UNESCO World Heritage status. In 2018, it attracted nearly half a million visitors/participants. It looks like loads of fun.
Take a guided walking tour of Lugo Spain
Lugo was an easy city to explore on our own, but it's also a city filled with secrets and hidden history. In retrospect, I think it would be a great city to have a guided tour.
The tour that looks best to me is available in Spanish, English, or Portuguese and gives a great overview of the city. Plus, the price is relatively inexpensive. Reserve your guided walking tour of Lugo here
Final thoughts on visiting Lugo Spain
Lugo is located in the region of Galicia, Spain. Galicia covers the northwest corner of the country. Lugo is a one hour drive from La Coruña or a ninety-minute drive from Santiago de Compostela.
If you're in the Galicia region, Lugo is well worth a visit. At a minimum, take a walk along that Roman wall viewing the city from above and walk within the city.
Lugo is along the Camino Primitivo, which is part of the Camino de Santiago, following the path of St James to Santiago de Compostela.
From here, we took a much longer road trip across northern Spain.
Save on your trip with these resources
These are our go-to companies when we travel. We believe this list to be the best in each category. You can't go wrong using them on your trip too.
Flights: we use Expedia for the best and cheapest flight options.
Accommodations: we use Booking.com (hotels), VRBO (self-contained), or Hostelworld (budget).
Cars (gas or electric): we use RentalCars to search for deals and dealer ratings.
Campervans or Motorhomes: we use Campstar where Albom Adventures readers get a 3% discount.
Motorcycles: we have heard good things about BikesBooking.
Private guides: we love the private guides at Tours by Locals.
Travel Insurance: while not required, we always opt for travel insurance and start at InsureMyTrip to compare coverage plans.
Check out our travel resources page for more companies that we use when you travel.
What are your favourite things to do in Lugo Spain?
Photo Credits
Photos on this page are either shot by our team and watermarked as such, in the public domain, or some stock photos were supplied by DepositPhotos.