I have a love-hate relationship with Marrakesh, Morocco. Honestly, it's a fascinating city, an eclectic mix of old and new, of exciting and of sensory overload, and of fascination and disgust. Despite the mix of emotions, it's easy for me to pick out the best things to do in Marrakesh.
As one of Africa's busiest cities, Marrakesh attracts over 8 million tourists annually.
We visited twice. My memory tells me that Marrakesh is exciting, vibrant, colourful, and active. A fabulous place to spend a few days.
Yet, my journal tells a different story. Apparently, my reaction at the time was less positive. Everywhere was overcrowded. We were hassled, pinched, and given too much-unwanted attention. And there is an element of animal cruelty that I just couldn't shake.
That, however, didn't stop us from finding the best things to do in Marrakesh, both in and out of the old medina.
Best things to do in Marrakesh
In the medina
Shop in the souks
Spend time in Jemaa el Fna
Explore Bahia Palace
Walk through Dar Si Said museum
Visit Ben Youssef Madrassa
Observe a tannery
Pamper yourself at a hammam
Out of the medina
Visit the Saadian Tombs
Stroll through Jardin Majorelle
Discover the Mellah (Jewish Quarter)
And regardless of where you are, study the intricacy of the architecture and mosaic work.
Marrakesh or Marrakech (French spelling)? Like Fes, the city name is written in Arabic characters. They don't translate directly to English. Both spellings are used and considered correct.
Best things to do in Marrakesh in the medina
The medina is the old section of a North African town. In this case, a fortified walled city that was once all of Marrakesh. Today it's the bustling, crowded maze of narrow streets and a huge central square. It's a mix of locals and tourists, and where we spent the majority of our time.
Be on your guard here, as visitors are often aggressively pursued for their tourist dollars. It's a friendly but assertive cultural interaction.
We were told that pickpockets are out in force, but we had no problems. At first, we found it all fun, but after a few days, we were tired of it.
Shop in the souks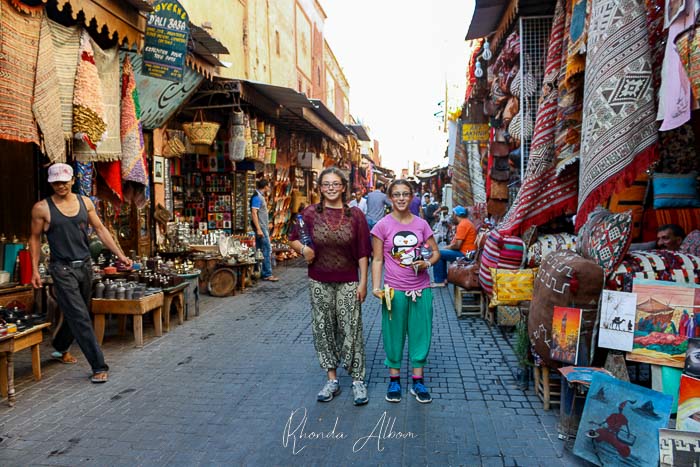 Souks are open-air street markets, a collection of small stall-like shops. They line much of the medina and finding a moment that isn't super crowded to snap my photo was rare.
Here we found just about anything we could want, from clothing and food to spices and nick-nacks. While much of it seems random, there were areas dedicated to a certain product, like the spice markets.
Spend time in Jemaa el Fna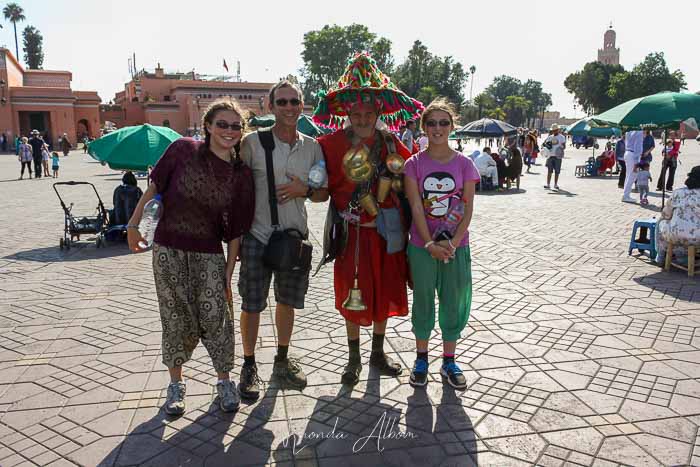 Jemaa el Fna is the heartbeat of the medina, the huge central square that serves as a gathering place for locals and a key tourist destination for visitors.
By day, it is filled with handcraft vendors, horse-drawn carriages, snake charmers, and monkeys with their human handlers (see below for my thoughts on this). There's also the water carrier, who offers (for a fee) cups of water to anyone.
At night the food stalls are put up, aromas of BBQ waft through the air, and large groups of locals gather around storytellers.
Explore El Bahia Palace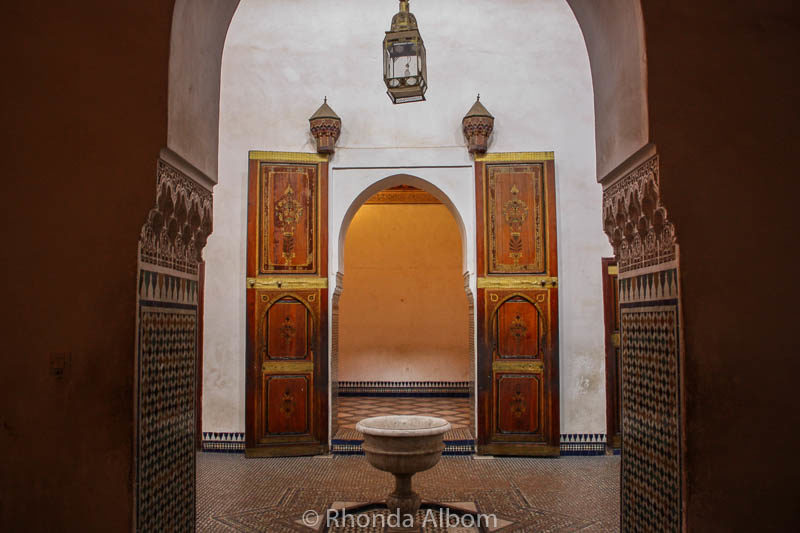 A late-19th-century masterpiece built to be the "greatest palace of its time", incorporating both Moroccan and Islamic styles. It was built by and became the home of the grand vizir to the sultan and was later a royal residence of King Hassan II.
Some of the key features of this massive complex include the 2-acre garden opening onto courtyards, plus bedrooms for his wives and his concubines. It's a stunning palace and well worth a visit.
It's located at the southern end of the medina, just inside the wall backing on the Mellah.
Dar Si Said Museum
I know it's often said that Bahia Palace is the most beautiful, but personally, it was Dar Si Said Museum that won my heart. This late 19th-century former palace is officially named the Museum of Moroccan Arts and is the oldest museum in the city.
Here we explored intricately tiled rooms, antiques, weapons, and some of the oldest objects in Marrakesh.
Visit Ben Youssef Madrassa
A madrassa is an Islamic school, also called a Koranic School. Historically they were boarding schools for children from elementary school age upwards.
Ben Youssef madrassa was founded in the 14th century, and it has over 130 rooms. At its peak, it housed over 900 students and was considered Morocco's largest and most important madrassa. It closed in 1960 and is now considered a historic site.
Observe a tannery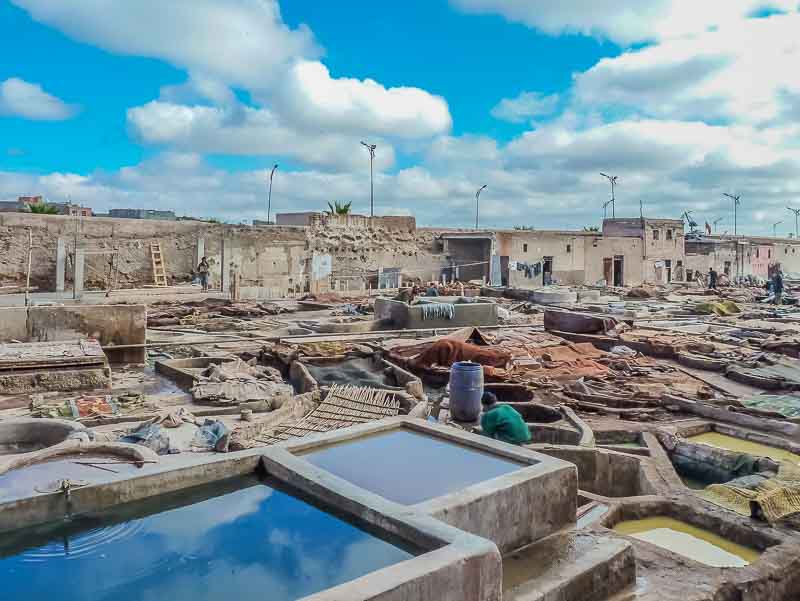 A tannery is where animal skins are tanned and made into leather. In Morocco, it is still done the traditional way, by hand.
We opted not to stop here, as we had visited Morocco's largest tannery in Fes. Be warned, if you do go, they don't smell nice.
Pamper yourself at a hammam
Hammam, simply translated, is a communal bathhouse, often referred to as a Turkish bath.
However, it is more than that. It's a bit of a family gathering place, although men and women are never allowed in at the same time. For many locals, this is their only indoor bathing option.
Today, in Morocco, many commercial spas offering massage and other relaxation opportunities call themselves "hammam." This experience is quite different from the traditional hammam we had in Fes.
If you are seeking a relaxing experience, reserve your hammam in Marrakesh here.
As would be expected, photos are not allowed inside the hammam.
Best things to do in Marrakesh outside the medina
There is a modern side to Marrakesh outside of the medina. However, we spent the vast majority of our time in the old portion of the town, the fortified medina filled with the activity that makes the city so popular among tourists.
We did venture out to visit the Saadian Tombs, Majorelle Gardens, the Mellah, and enjoyed a two-week road trip out to the coast and then inland to the Sahara.
Visit the Saadian Tombs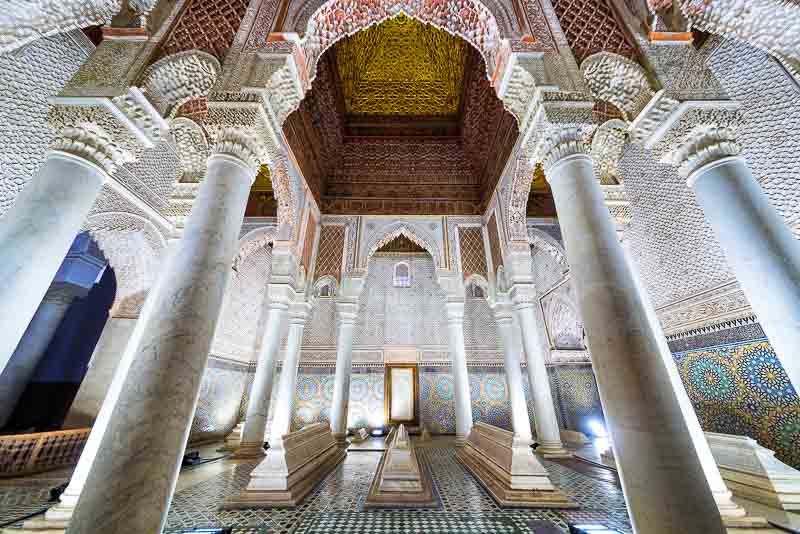 The Saadian tombs date to the 16th century, although weren't discovered until 1917. The building itself contains three rooms, including the one photographed, the room with the 12 columns, which is the most famous. In total, about 60 members of the Saadi Dynasty are entombed within the mausoleum, most encased in Italian Carrara marble.
Stroll through Majorelle Garden (Jardin Majorelle)
Sometimes referred to as the Yves Saint Laurent gardens, as it surrounds his former home, this 1-hectare botanical garden is a peaceful escape from the constant hustle of Marrakesh. Artistic in design and layout, it's a lovely place to spend a few hours.
Created initially in 1923 by French Orientalist artist Jacques Majorelle, it was purchased in 2010 by the Foundation Pierre Bergé – Yves Saint Laurent, a French not-for-profit organisation, but it is managed in Marrakesh by the Foundation Jardin Majorelle.
Mellah (Jewish Quarter)
Today, there is a small Jewish community still living in the Mellah, the Jewish quarter located just outside the medina, behind the Bahia Palace. Finding the synagogue wasn't easy. In fact, we ended up paying a guide to bring us there.
We were able to locate the caretaker and were allowed to enter the synagogue. We also explored one of the two Jewish cemeteries (the easy-to-spot one at the end of the street). In October, when we visited, we also got to see a Sukkah. Read about our experience in the Mellah here.
Study the intricacy of the architecture and mosaic work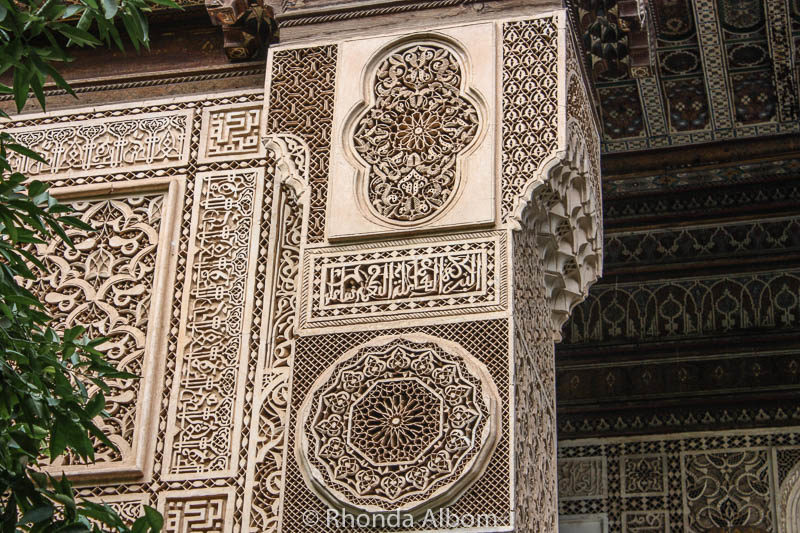 Taking a closer look at some of the intricate carvings and elaborate mosaic patterns is among the best things to do in Marrakesh. The craftsmanship that went into the construction and decor is impressive.
Moorish architecture dominated most of the sites we visited.
The two photos above are from the Bahia Palace and Dar Si Said Museum. (The second is available on Amazon).
Cultural differences
We get it, there are cultural differences that result in what's okay and what's not. Generally, we try to be open-minded when we travel and embrace these differences. And in most cases, we are successful.
However, there were a few things we encountered in Marrakesh that caught us off guard and made us feel a bit sad. First, some men's over-attention (including a pinch to the bottom) towards our then 12 and 14 year old girls. Note that our girls were respectfully dressed, always covering both knees and shoulders.
Secondly, cars and motorbikes drive seemingly recklessly through the medina, squeezing through crowds where they barely fit, despite large signs forbidding it.
Finally, for us, animal cruelty crosses a line that we can't get our heads around. It saddened us to see monkeys dragged along on chains by their handlers and similar to the cobra snakes.
Worse than that, Marrakesh is one of North Africa's largest centres of wildlife trade, despite much of it being illegal.
Save on your trip with these resources
These are our go-to companies when we travel. We believe this list to be the best in each category. You can't go wrong using them on your trip too.
Flights: we use Expedia for the best and cheapest flight options.
Accommodations: we use Booking.com (hotels) or VRBO (self-contained).
Cars (gas or electric): we use RentalCars to search for deals and dealer ratings.
Campervans or Motorhomes: we use Campstar where Albom Adventures readers get a 3% discount
Private guides: we love the private guides at Tours by Locals
Travel Insurance: we start at InsureMyTrip as they are the best option to compare plans and find the right coverage for you.
Check out our travel resources page for more companies that we use when you travel.
Save for later
If you enjoyed this article, please share it on social media and save it for later on Pinterest.
What do you think are the best things to do in Marrakesh?
Photo Credits:
All photos on this page are either shot by our team and watermarked as such or stock images from Depositphotos.