A side trip from Merzouga, we visited a Bedouin camp in the Sahara desert in Morocco. Our guide offered the invitation and we accepted; although, we had no idea what to expect. The Bedouin family greeted us with warm smiles, hot tea, and a style of hospitality that made us feel less like tourists and more like long-lost friends.
According to our guide, the Bedouins of Northern Africa and the Middle East are a nomadic society. The Bedouin tribe we visited are seasonal migrants, rather than desert nomads. They wander between their summer and winter Bedouin campsites, both in the Sahara desert. That is why some of the structures look more permanent.
Arriving at the Bedouin camp
As we drove towards the Sahara desert camp, we enjoyed the colours of the sand dunes. Then, it was flat. Through the vast nothingness, our first view of the Bedouin camp in the distance was through a hazy Moroccan Sahara landscape.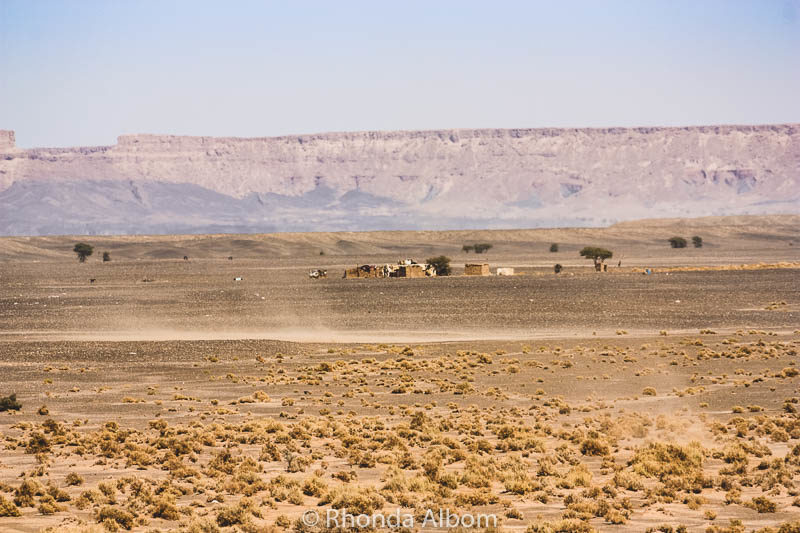 Bedouin desert camp structures
As we approached, we understood what our guide had told us. Many of the structures seemed well-established. Following tradition, I asked permission before taking photos of the people. Afterwards, I tipped a small amount to the family.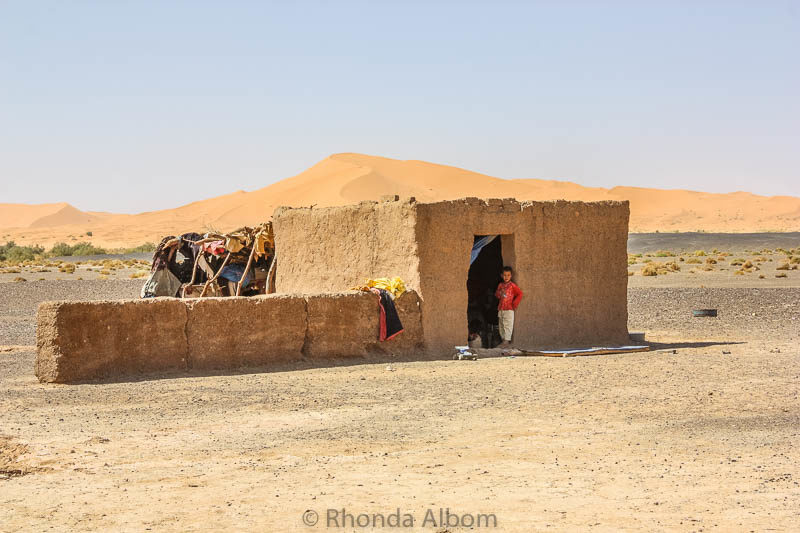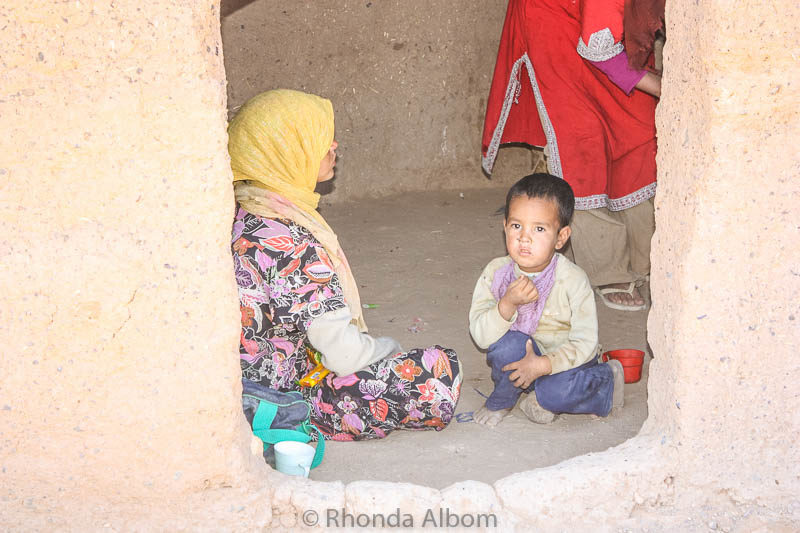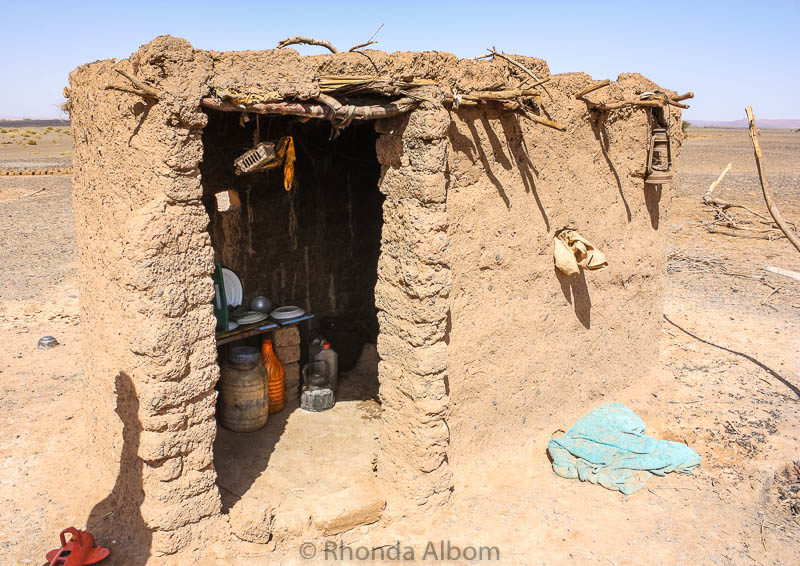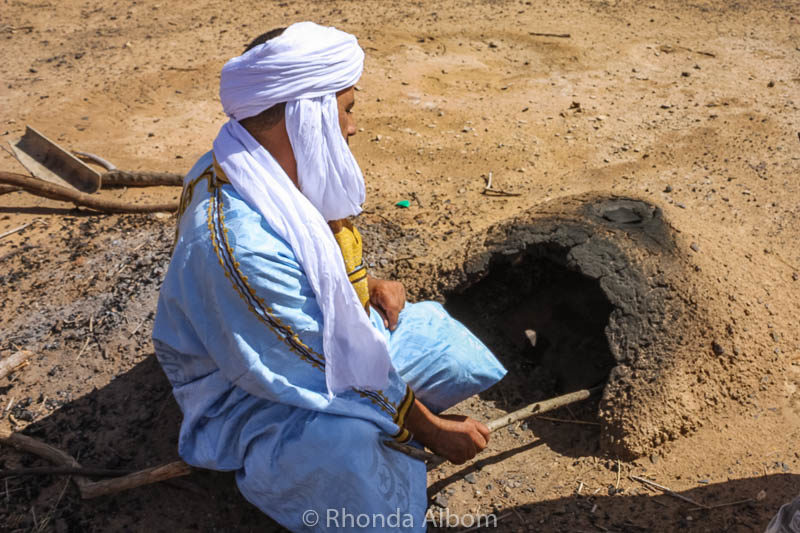 Some of the structures seemed less permanent
Sitting on several beautiful, handmade rugs, we enjoyed mint tea with the family. Fortunately, the nomadic style tent offered shade from the heat of the day.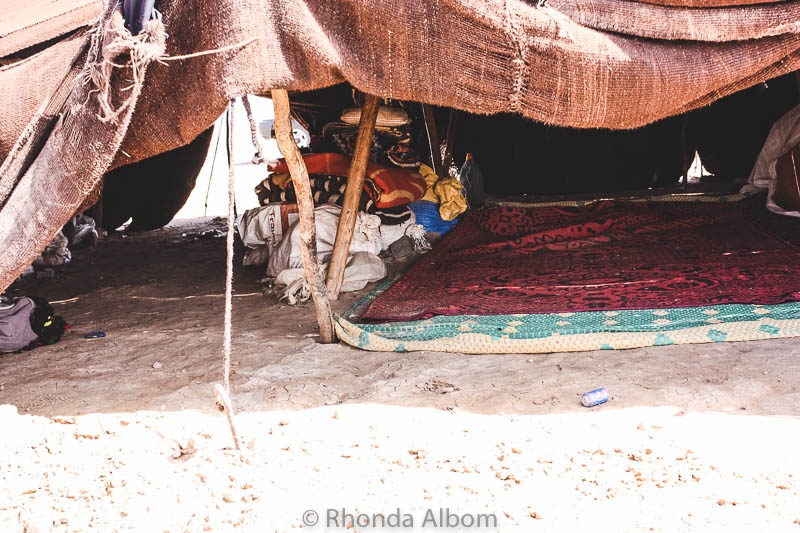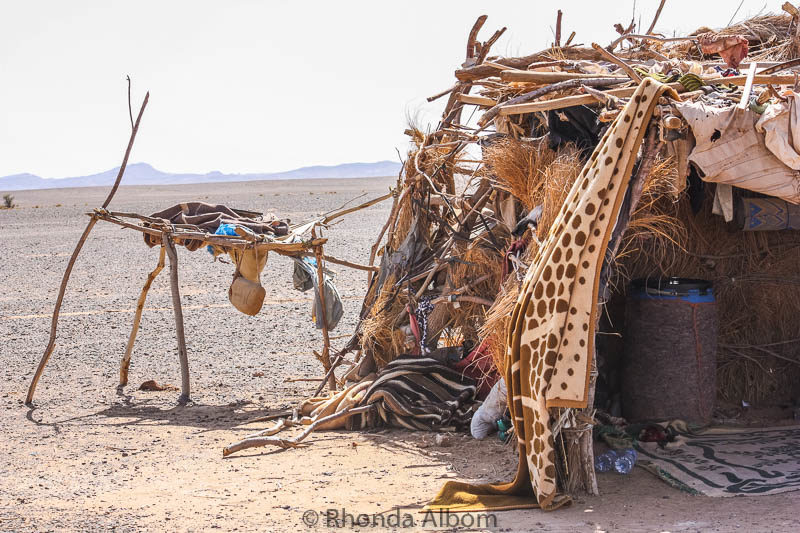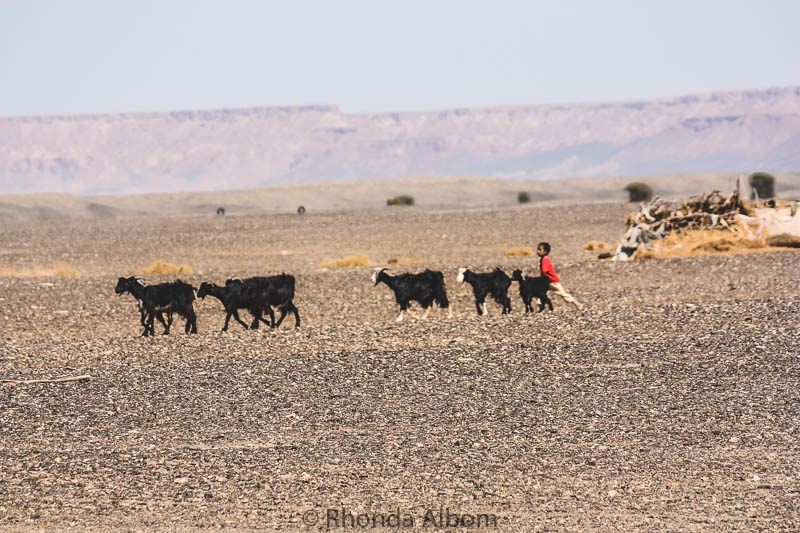 Bedouin lifestyle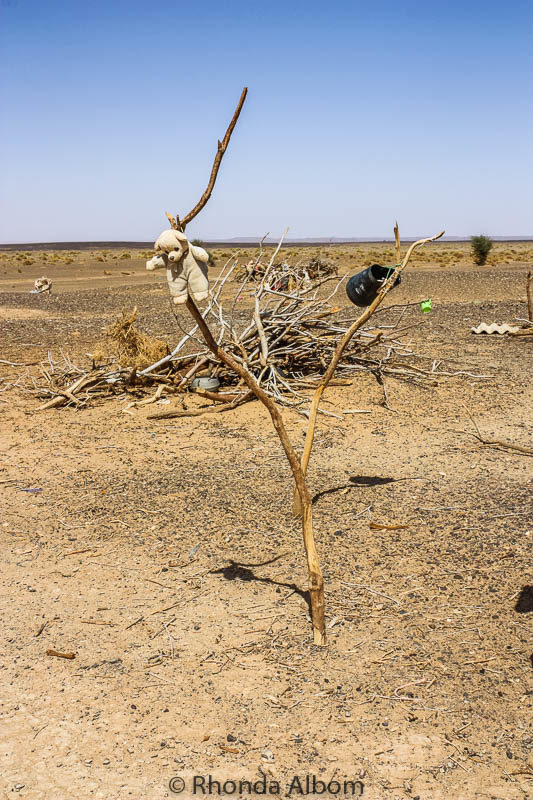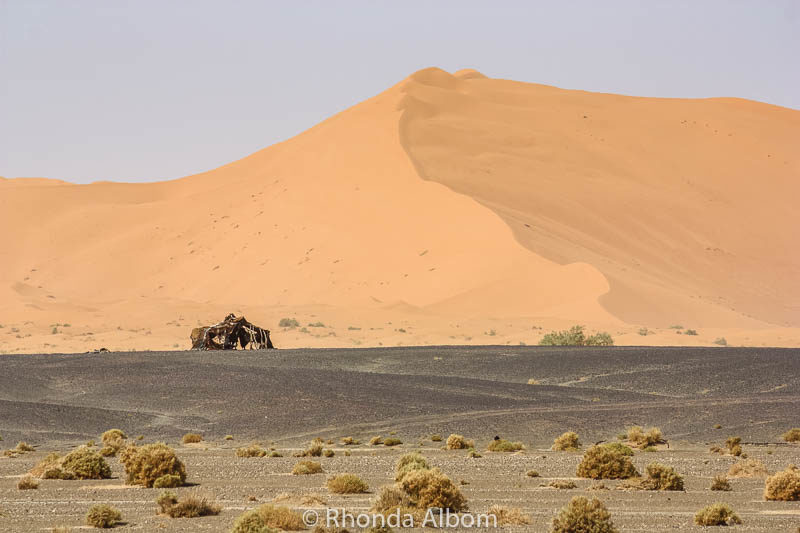 Tour a Bedouin camp
While we were driven in an SUV, the more popular way to visit the Bedouin or Berber camps is on a tour, via camel. These typically include staying in the Sahara desert at night, in a more luxurious tent than we saw. However, it is still a tent in the desert and may have no running water, toilets, or heat. At times it gets surprisingly cool overnight.
Either of these two top-rated tours seem to be good options:
One night camel trekking tour in Merzouga desert camp
This tour includes one night in the deep desert in a nomadic tent. It prides itself on delicious cuisine for both dinner and breakfast. You will arrive and depart via camel (2-hour ride) and enjoy several interesting and beautiful stops along the way. Sleep is in a private tent or choose to be under the canopy of stars; either way, you will enjoy both sunset and sunrise.
⇒ Check price and reviews
Marrakech to Merzouga 3-day desert safari
If you are starting in Marrakech, you will need more time to get out to the desert, and this three-day safari is a great option. You will travel at first in an airconditioned minibus, but don't worry, there will be a camel trek in the desert.

Your first night will be in a four-star hotel in Tinghir, and the second night at a desert camp at Erg Chebbi. It includes breakfasts and dinners, as well as private accommodations and access to toilets and showers at both locations. Both sunset and sunrise will be enjoyed in the desert.
This small group tour starts on Tuesdays, Thursdays, and Saturdays.
⇒ Check price and reviews
Or, check out one of these tours:
Bedouin Camp or Berber Camp?
Morocco's population is predominately Arabs, Berbers, and Europeans. Traditionally, Bedouins are Arabs; although, today the term often describes wanderers whether Arab or not. However, Berbers are the descendants of the pre-Arab inhabitants of North Africa. Therefore, there is some question as to whether we should have referred to our visit as a Bedouin camp or if Berber camp may have been a better name.
Our Moroccan Road Trip
We spent 32 days in Morocco travelling first by train between Fes and Marrakesh. Then, we rented a car and drove through central Morocco, first to Essaouira, then south to Agadir, and then east to the Sahara. In Merzouga, we stayed at Kasbah Azalay, and the owner was our guide to the Bedouin camp.
Save for later
If you enjoyed this article and its photos of the Bedouin camp, please share it on social media including Pinterest:
Have you visited a Bedouin camp?