As we travelled through Morocco, we visited a variety of very different Moroccan markets. While most cater to tourists as well as locals, we found the more traditional Moroccan markets to be a window into everyday life. Our favourite was the traditional market in Rissani, an eastern Moroccan city situated at the base of the Sahara Desert, within 50 km of the border with Algeria.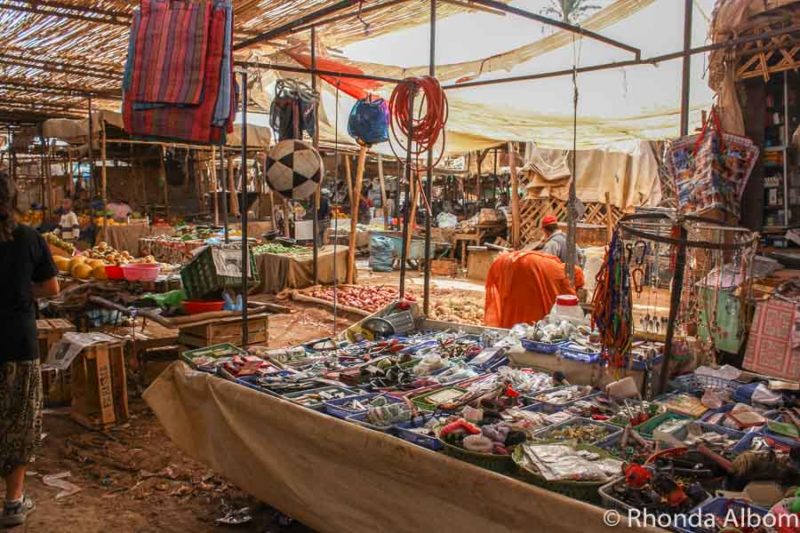 Getting to the Sahara
Earlier, we had travelled by train from Fes to Marrakesh stopping in major cities along the way (Meknes, Rabat, and Casablanca). We found much of the areas in walking distance to the train stations catered to tourists. From Marrakesh, we rented a car and drove west to Essaouira, south along the Atlantic coast. Then, as we drove east to the Sahara desert, things changed, and tradition had a tighter hold.
See our complete itinerary: Morocco Road Trip: Marrakech to the Sahara Desert
If you are apprehensive about self-driving in Morocco, there are plenty of tours available in a variety of price ranges. We prefer private tours, but know group tours are quite popular. For a range of options from companies we trust, check out:
⇒ Click here to see Moroccan desert tour options from Viator
Arriving at the Rissani Market
As we approached the Sahara, we stopped in Rissani, the largest city near Erg Chebbi, the sand dunes of Merzouga and the largest sand desert in Morocco. Rissani's traditional market is well known in the region and quite unlike the souqs, medinas, and other Moroccan markets we had visited in the bigger cities.
We could have visited the market on our own but opted to hire a registered guide so we could better understand what we saw. Of course, this meant we would be taken to a friend's shop where our guide would most likely get a commission on any transaction we made.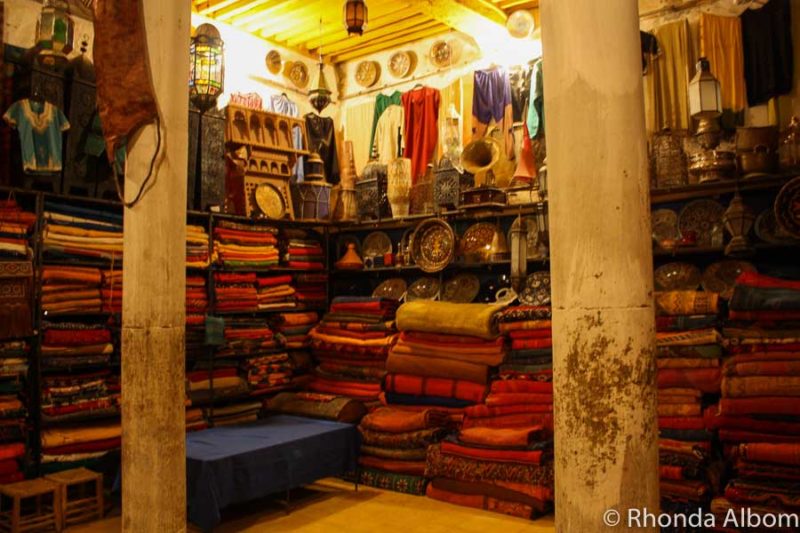 Donkey Parking Lot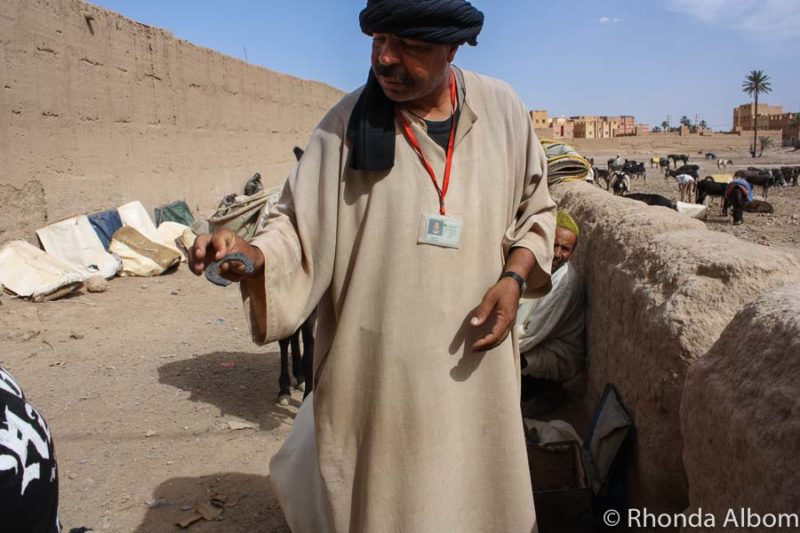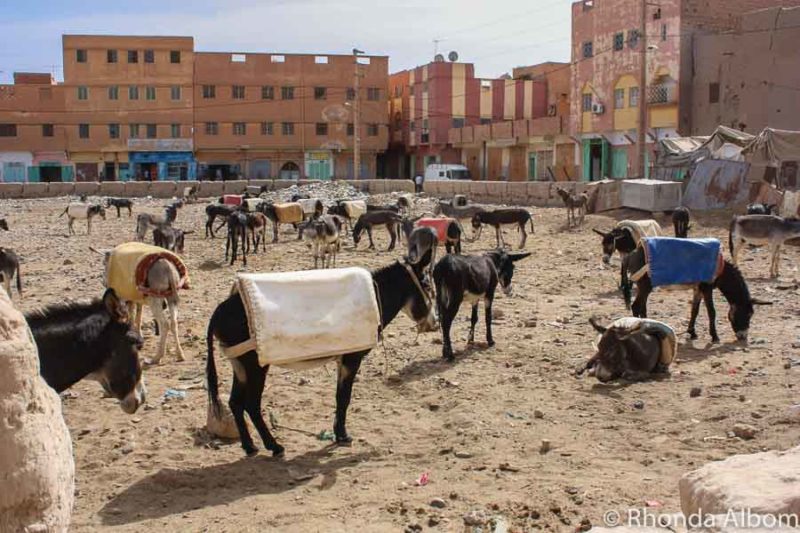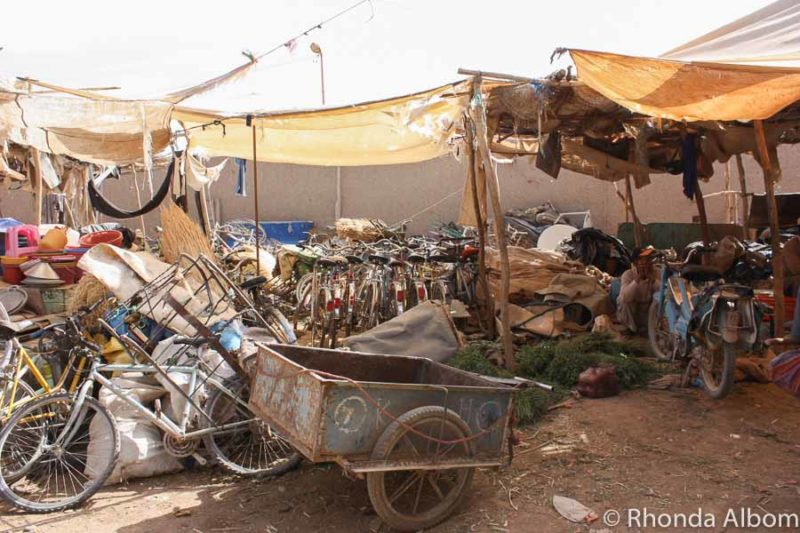 Moroccan Markets: Animals For Sale
A livestock market (cattle, goats, sheep, but no camels as they are only sold in the desert) was completely new to us, and we probably stood and stared just a bit longer than we should have. We were taken here first, as it both opens and closes earlier than the main Moroccan market. Our guide worried that we wouldn't see very many animals. And in fact, he told us the best had been picked and sold before we arrived.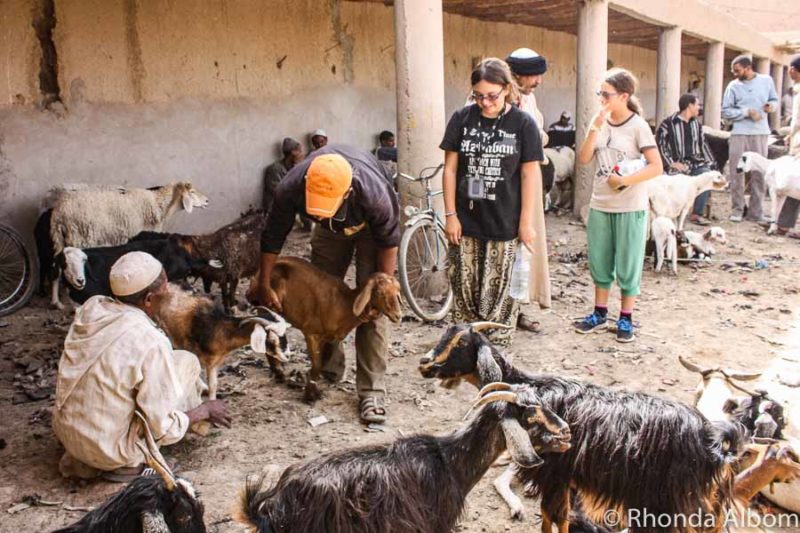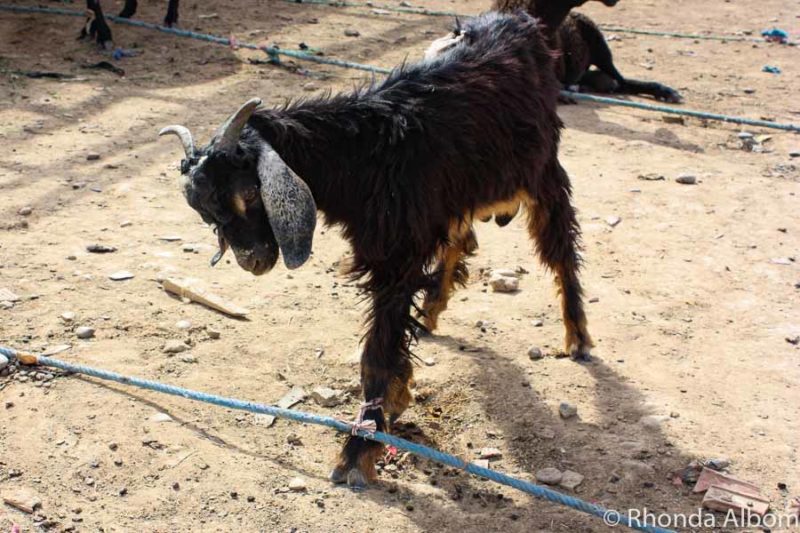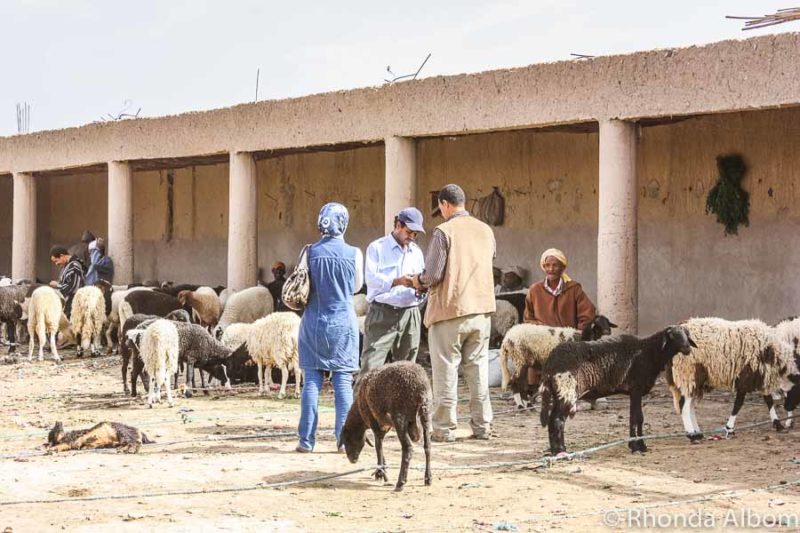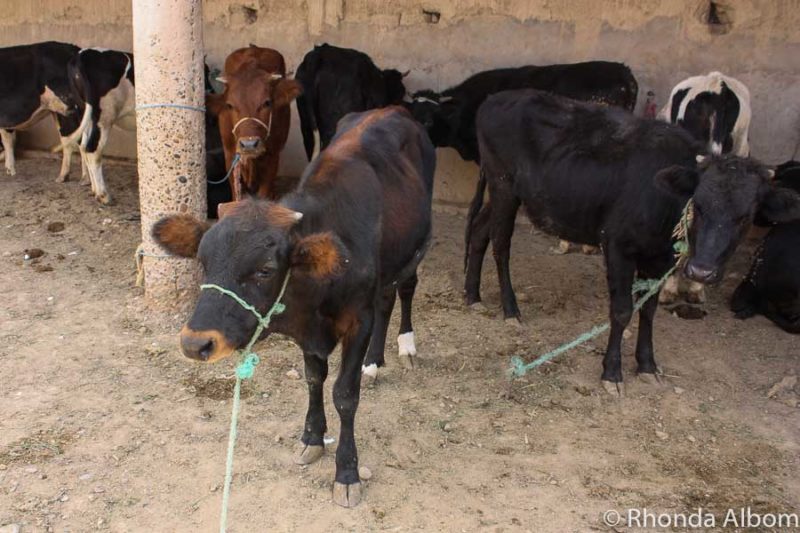 Moroccan Spices and Other Foods
Of all the Moroccan markets we encountered in the country the spice market is always my favourite. There is something alluring about the stacks of colourful powders, herbs, leaves, roots, and there is always at least one special Moroccan spice mix.
Other food for sale in the market that we noticed included fruit, vegetables, meat (including animal heads), chickens and rabbits (still alive), fish, herbs and dates. There were also cafes and small family run restaurants.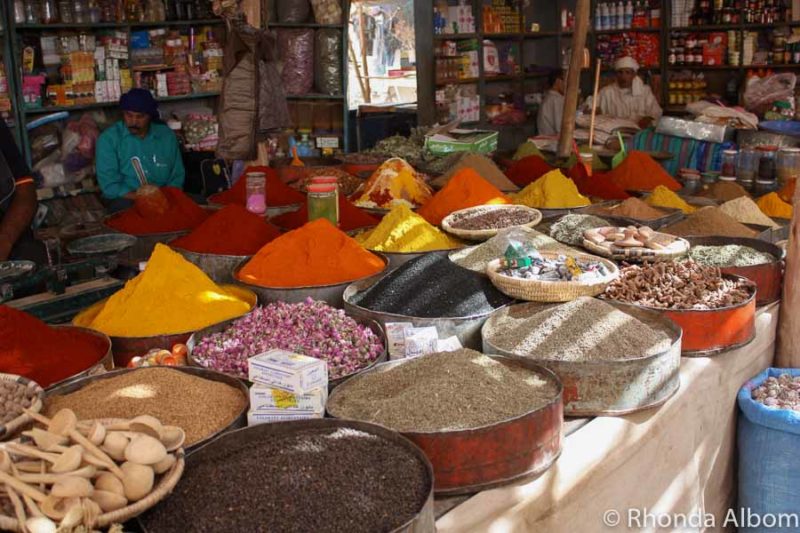 Moroccan Products and Other Goods
Aside from food and animals, there was a huge variety of items for sale. We saw few rugs shops like the one we visited, but we did see plenty of clothing (some commercially made, others sewn on the spot), utensils for kitchen or shaving, cosmetics, Moroccan jewelry, copper pots, tools, shoes, and traditional clothing. The Rissani market also has areas for carpentry and other commercial activities.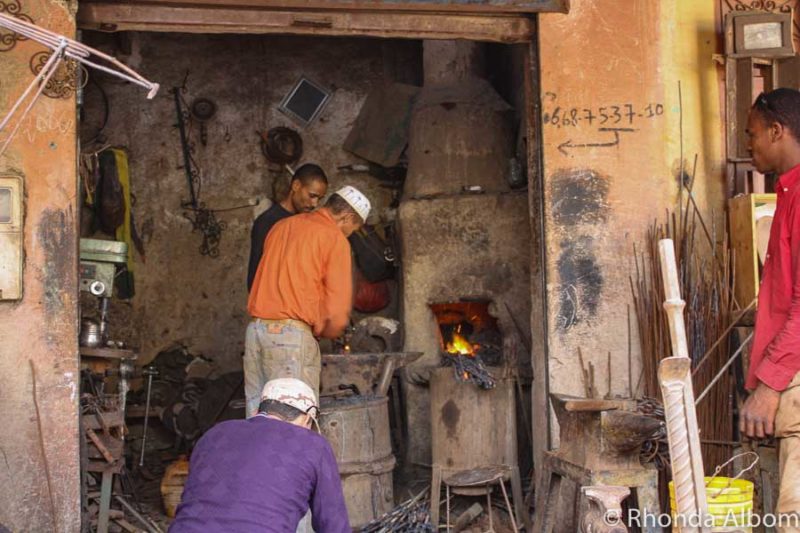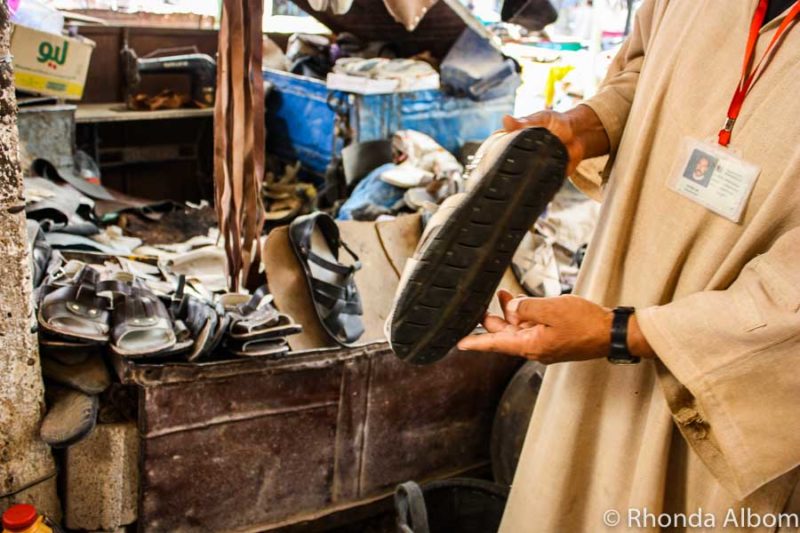 Practical Information on Visiting the Risanni Market
The Risanni market is open all day on Tuesday, Thursday, and Sunday, although the animal auctions and sales tend to happen early in the day.
This is one of the traditional Moroccan markets that also attracts overseas travellers.
Even before we had parked our car, several potential guides had targeted us. We chose one who spoke excellent English and had an official licence hanging around his neck. He turned out to be a perfect choice.
A guide is not required, but we were glad to have had one.
According to Wikitravel, the best souvenir to bring home from Rissani is "a plate made from palm tree paper by women in old ksour."
If you don't have a car, you can get to Risanni via CTM bus, with one bus per day from Marrakech and two from Fes.
A Second Traditional Moroccan Market
As we continued driving, we turned off the main road and came upon another Moroccan market. This one was only for produce.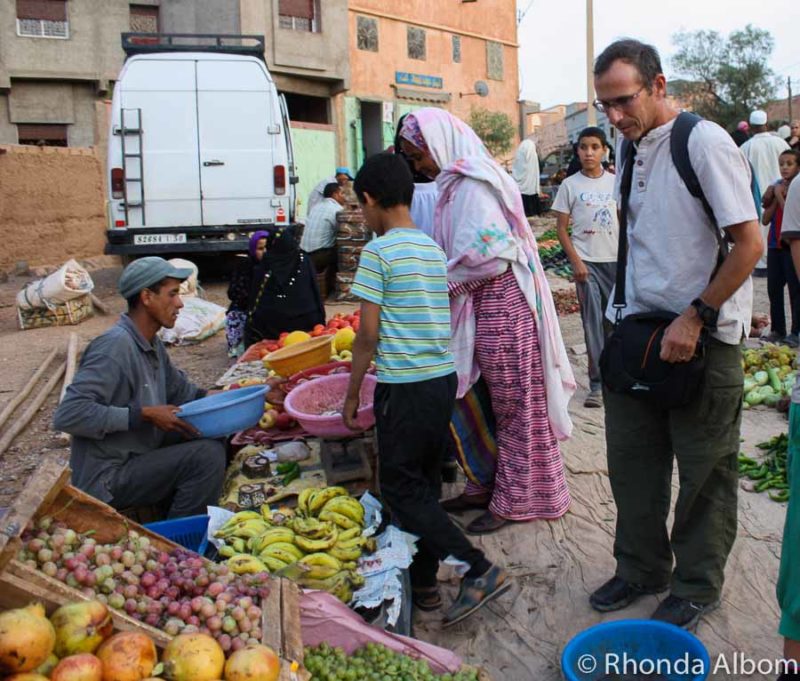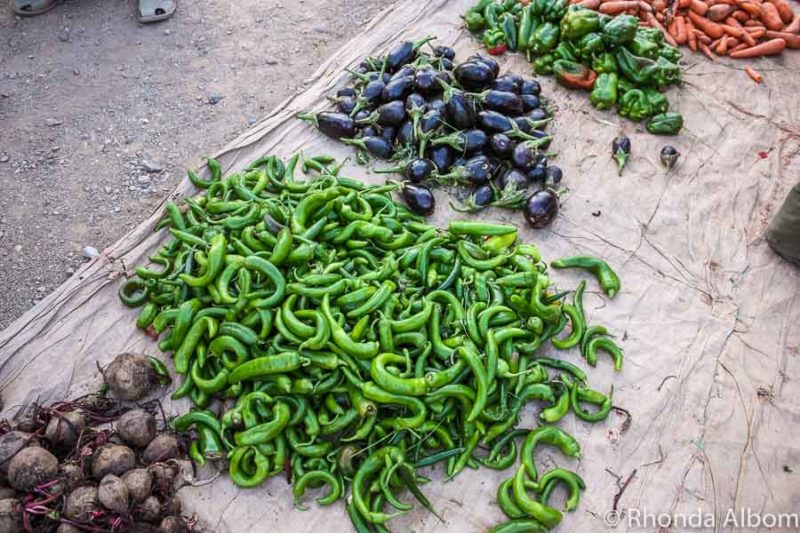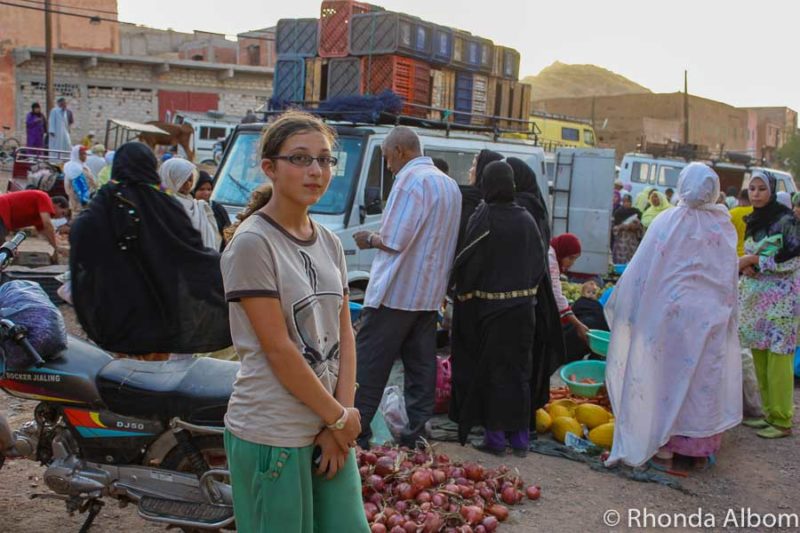 Touring the Region
We toured Morocco on our own, hiring guides on the spot at destinations. For the most part, this worked out great for us. If you prefer to have a plan, and/or take a desert tour, be sure to check out Viator, a TripAdvisor company:
⇒ Click here to see Moroccan desert tour options from Viator
If you are more of an intrepid traveller, we recently discovered the world's largest small group travel company, aptly named, Intrepid. The Best of Morocco trip covers the same places we visited on our own, but without the DIY hassle.
⇒ Click here to see the Best of Morocco Tour with Intrepid
Where to Stay in the Sahara
We stayed just outside Merzouga, at Kasbah Azalay. The proprietor and other staff members are warm, welcoming and helpful. They offered Sahara tours to interesting spots, dune bashing, sand skiing, and other options like overnight desert excursions. The food was outstanding, the toilets western, and the rooms comfortable and secure. It's where I will stay if I am every lucky enough to return to this part of the world.
⇒ Click here to check availability at Kasbah Azalay Merzouga
Of, if you prefer, there are four hotel options in Rissani and over 150 options in Merzouga.
⇒ Click here to check availability of hotels in Rissani or Click here to check availability of hotels in Merzouga
Please Share
If you enjoyed discovering Moroccan Markets with me, please share this article on social media: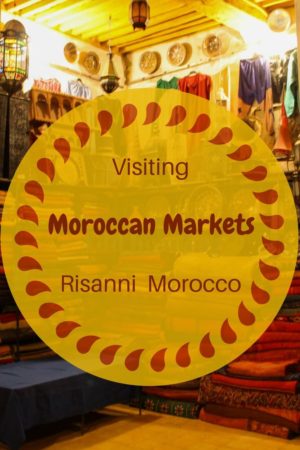 Do you prefer tourist or traditional Moroccan markets?