Travelling around Morocco was far easier than we had anticipated. In the north, we took the train. Marrakech was the end of the train line, and by this point, we were in love with the country. We had seen enough to leave us wanting more. That's when our concept of a Morocco road trip came to light.
At first, the idea of driving in Morocco seemed a bit scary, but after spending a few weeks travelling by train, the concept of having our own vehicle for a road trip Morocco-style got better and better. And driving turned to be a great choice.
Our Morocco road trip (including the portion by train)
See below for details:
Morocco road trip: Marrakech to Essaouira
The train system brought us from Fes to Marrakech. From here, we rented a car (see below for details on this) and began the self-drive portion of our Morocco adventure, heading to Essaouira on the coast, and driving on a well-paved motorway.
Essaouira is a piece of paradise that should be enjoyed by anyone visiting Morocco. Music lovers flock to Essaouira in the spring for the annual Gnaoua World Music Festival, while watersports lovers know it as a world-class windsurfing destination.
For us, it was a place to unwind and embrace the culture.
Morocco road trip: Taroudant
After nearly a week in Essaouira, we were ready to explore more of Morocco's interior. We drove south along beautifully paved roads to the coastal city of Agadir.
Here we turned inland on the way to the Sahara desert. As we approached Taroudant, we looked for a shepherd tending to goats in trees, as this is the first step to making argan oil.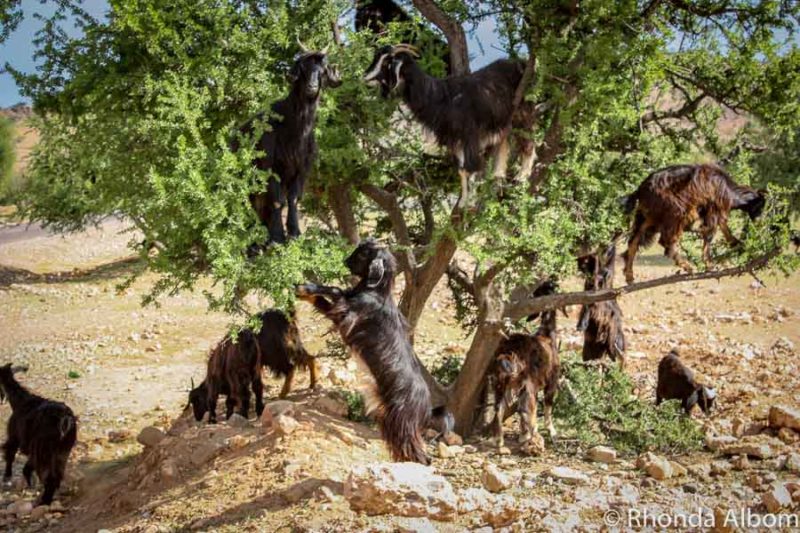 Where to stay in Taroudant
We treated ourselves to a bit of luxury in Taroudant and stayed at the Riad Jnane Ines. The classic Moroccan architecture complimented the comfortable accommodation, and the wellness centre made it a bit of paradise.
Here we enjoyed a "tourist style" hammam, which was more like a gentle massage and skin treatment than a Turkish Bath and a far cry from the amusing traditional hammam we had in Fes. Our friendly host drove with us into town and guided us through the medina.
Morocco road trip: Atlas Mountains (Agdz)
As we began to climb the Atlas Mountains, there was a bit of construction to the left and a man waving us to stop. He presented a dramatic story about bringing lunch to his construction worker son and now needing a ride back to Agdz, 45km in the direction everyone on this road is headed.
As we approached Agdz, he invited us to stop in at his home for a cup of mint tea and dates in exchange for our generosity. Here "his family" tried to sell us carpet and other Moroccan souvenirs.
We later learned that this is his "job." Each day he stands at the construction site, flags down tourists, and brings them to the house in hopes of a sale.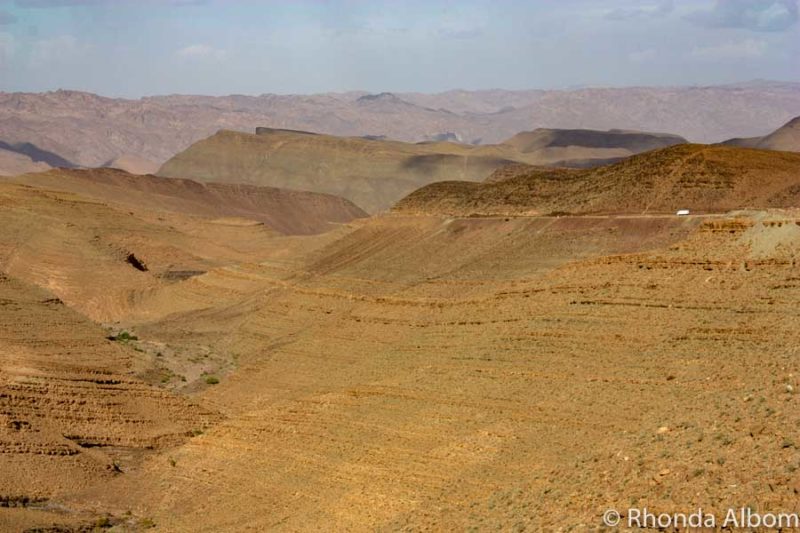 Agdz and lightning over Jbel Kissane
Once in Agdz, the street quality had noticeably deteriorated, but it was not a problem for driving. We stayed in a delightful Riad that no longer exists but didn't do much that night as there was a massive rainstorm.
Before the rain pounded down on us, we watched lightning strike just beyond Jbel Kissane, the tajine-shaped mountain in the distance. Jbel Kissane is one of five mountains that make up the Anti (or Lesser) Atlas Mountain range in south-eastern Morocco.
The storm continued for hours.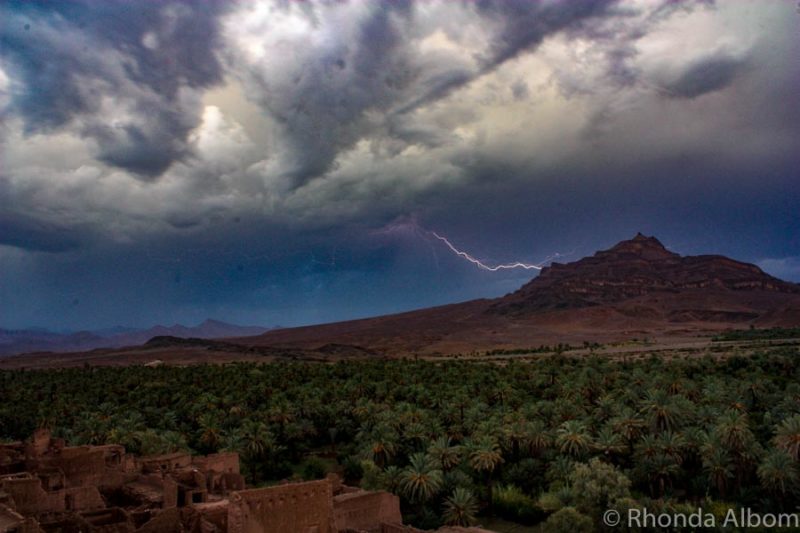 In the morning, the weather had cleared, and the proprietor took us on a guided walk through the palm date oasis and into the old Kasbah that he was restoring.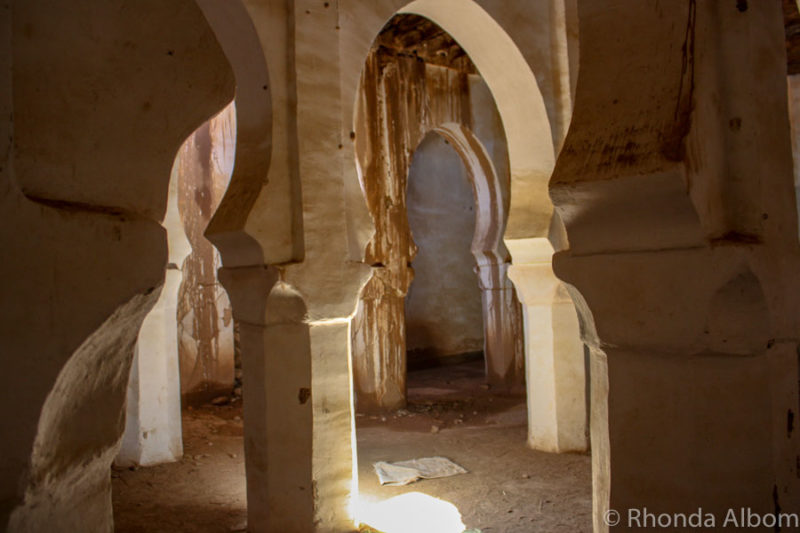 Where to stay in Agdz
If you are spending a night in Agdz, we recommend Maison d'Hôtes Kasbah Azul. While this isn't where we stayed, we drove by it several times (we were lost), and each time, we thought to ourselves, "wish I was staying here." Reading the reviews only confirmed our thoughts.
Water wells in the Morocco desert
We often made unscheduled stops and discovered some very interesting things. We stopped at these old water wells to use the toilets. The only way to do so was with a tour, so we went into these former wells with the assistance of candlelight.
Back in the day when they were used, each family was allocated a different well, but we couldn't quite understand why, as the same tunnel that once held the water ran under all of it.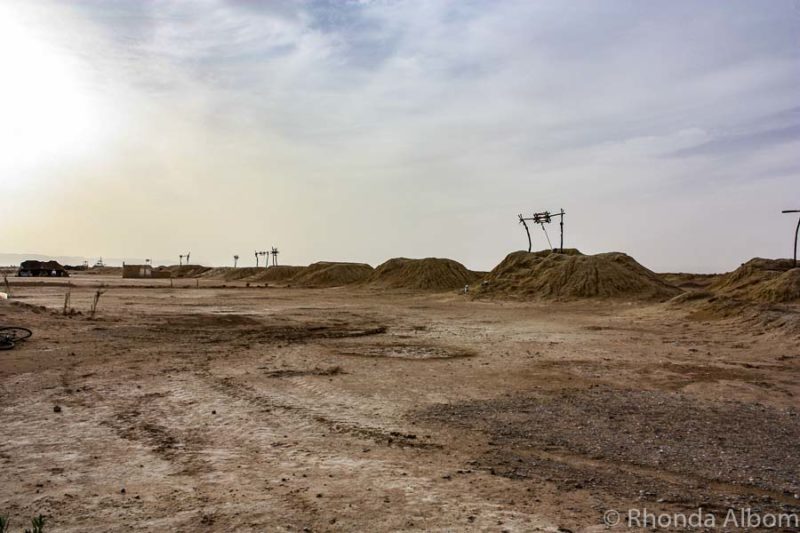 Driving in Morocco's Sahara
As we drove through the flat portion of the desert, we saw several wild camels in the Sahara on the side of the highway. We also went dunes bashing, although for this, we opted to have a driver.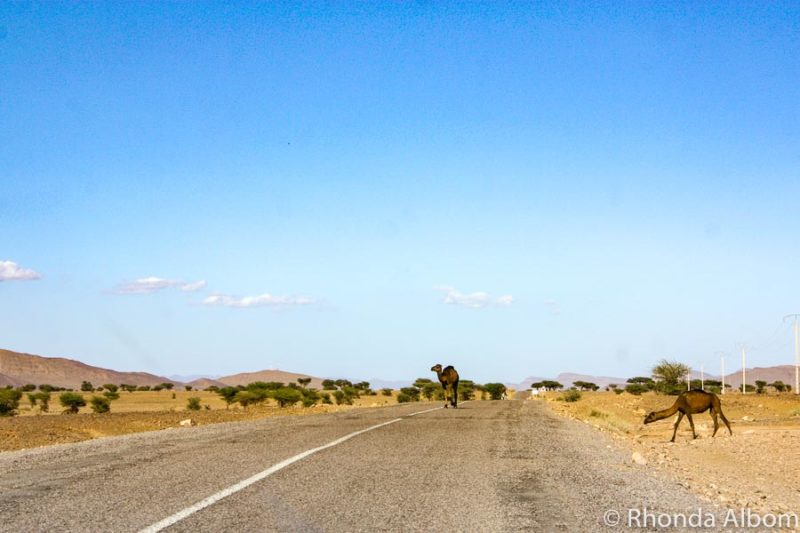 Morocco road trip: Merzouga
The Kasbah Azalay Merzouga was our farthest accommodation to the east as we travelled across Morocco, although on a day trip, we were close enough to see the Algerian border. In Merzouga, we enjoyed the eastern Sahara. Our adventure in the Sahara included sand skiing, sand dune bashing, fossils, eating dates and more.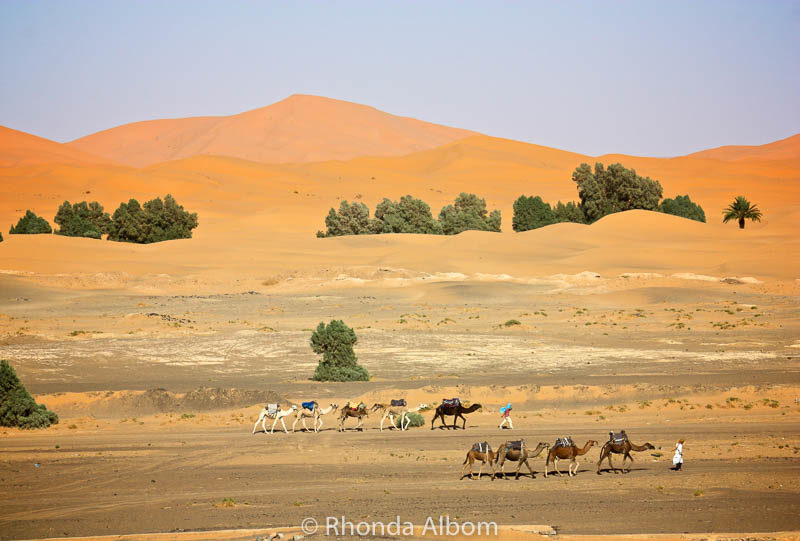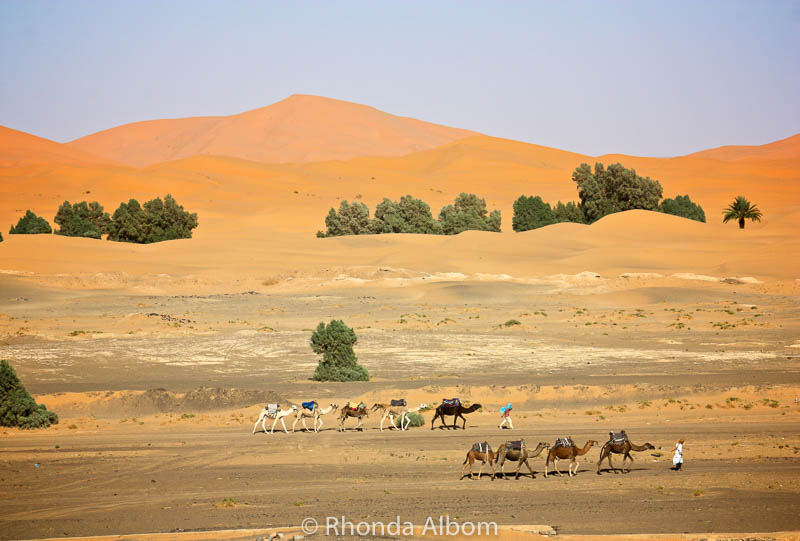 Where to stay in Merzouga
Beautifully decorated with views like the one in the photo above shot from the kasbah property, the Kasbah Azalay Merzouga has a pool for relaxing and offers a variety of activities, from a half-day Sahara desert tour to Morocco camel trekking and even sand skiing.
Morocco road trip: Rissani
As we began our journey back to visit Marrakech one more time and return the car, our first stop was in Rissani. A few hours in this traditional town allowed us time to attend a livestock market.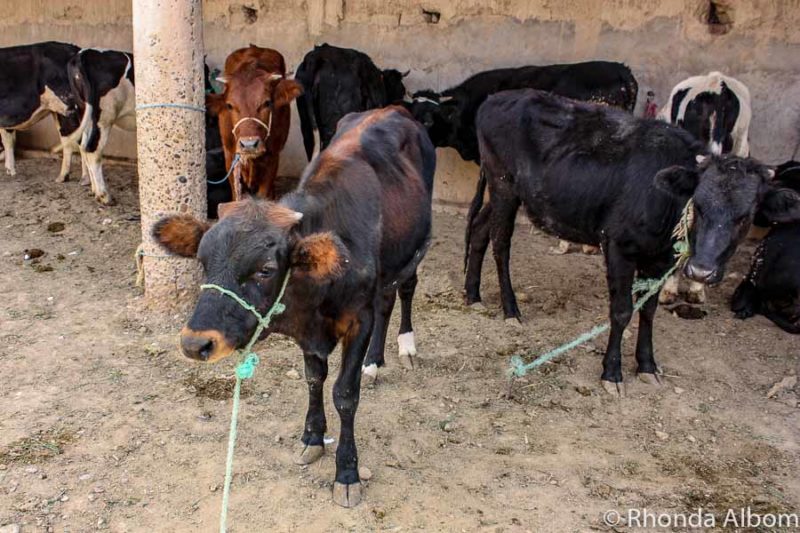 Morocco road trip: random market in Ksar Igli
Heading off the main road, we came upon a local produce market. It was different from the markets that cater to tourists for a few reasons. First, it only sold produce. Second, there were no fancy stalls or tables. Thirdly, the shoppers were all locals.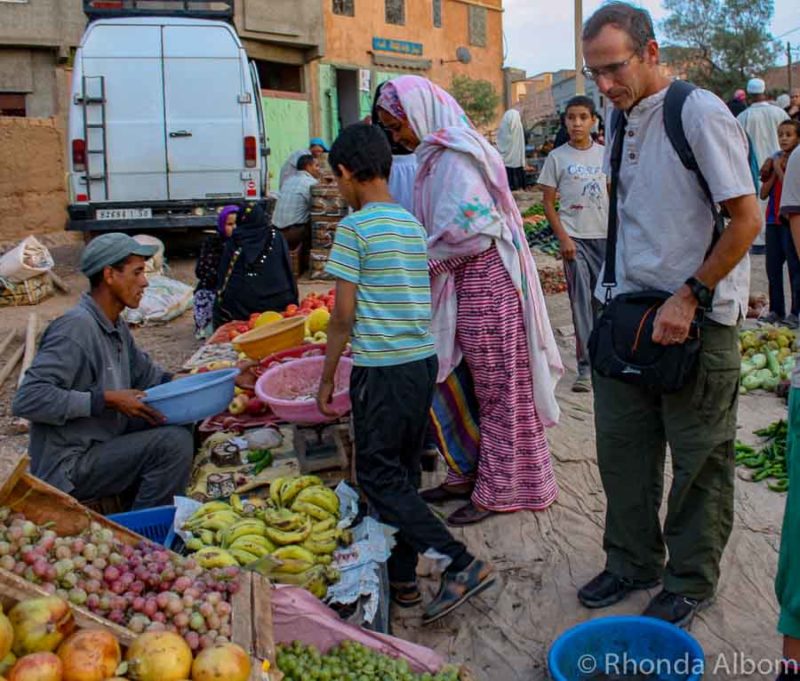 Morocco road trip: Todra Gorge and Dades Gorge
One of the more unique stretches of road we travelled through was Todra and Dades Gorge. Both are limestone canyons carved by the Dades River and wadis coming down from the High Atlas Mountains.
First, we wound our way up through the Todra Gorge. At the top is a cafe with a balcony that is the ideal place to take a photo.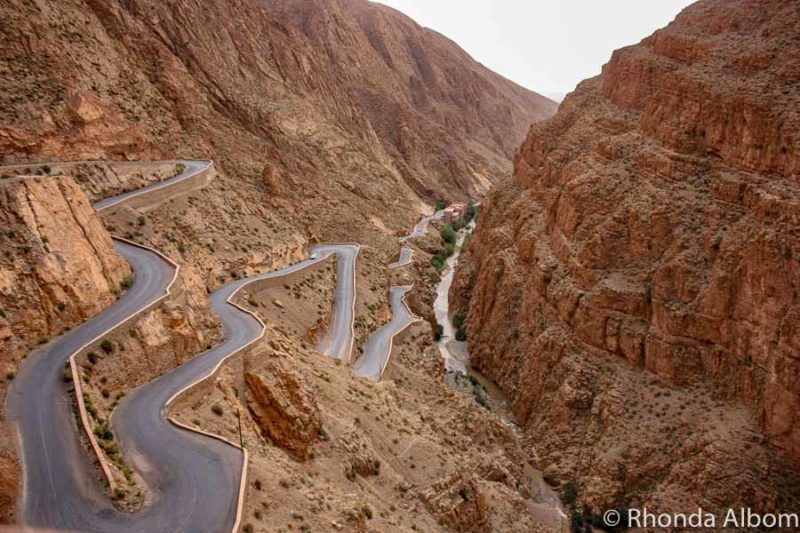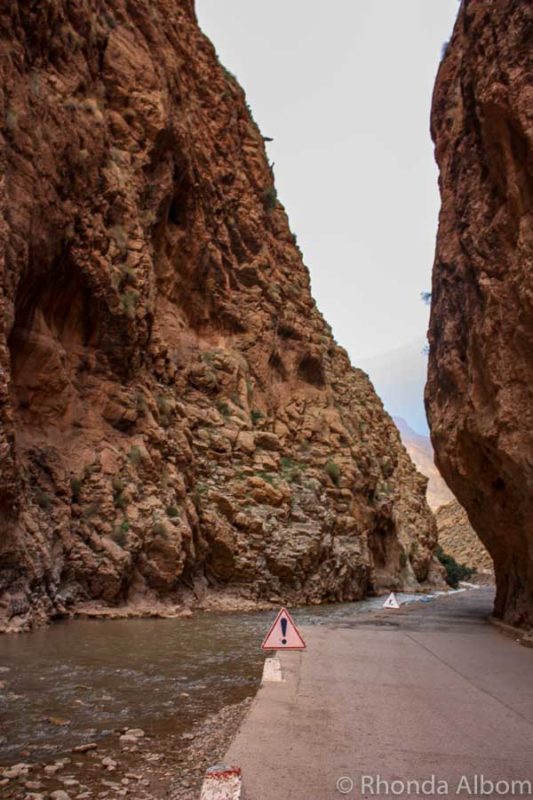 Morocco road trip: Ouarzazate
Ouarzazate is most known for the movies made here. We opted to skip the tourist movie set but did pick a restaurant from our Lonely Planet Morocco book for lunch. Overpriced and a bit touristy, I am guessing it lost some of its charms after being featured.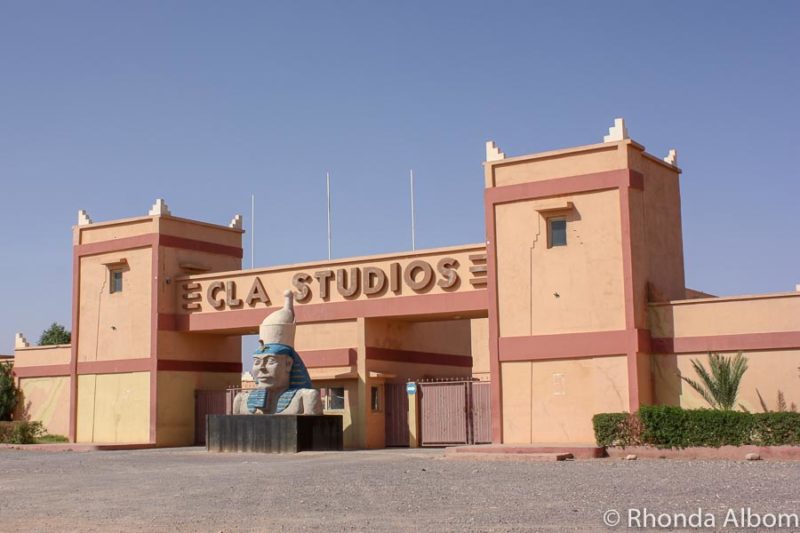 Pro Tip: If you don't want to drive, you can take a tour from Marrakesh to Ouarzazate and Ait Benhaddou.
Morocco road trip: Ait Ben Haddou
If the Ait Ben Haddou Kasbah looks familiar, it might be because you saw it in a movie. It has been used as the setting for a long list of movies, including Prince of Persia, Gladiator, Jewel of the Nile, and The Mummy, just to name a few.
Ait Ben Haddou Kasbah is a UNESCO world heritage site. People still live here, therefore it is strongly recommended to have a guide if you plan to wander through the grounds. The guides are easy to find outside the Kasbah, and the price for a tour was quite reasonable.
Our guide actually took us into his home and showed us personal items like the "weapon" he held as an extra in the movie Gladiator.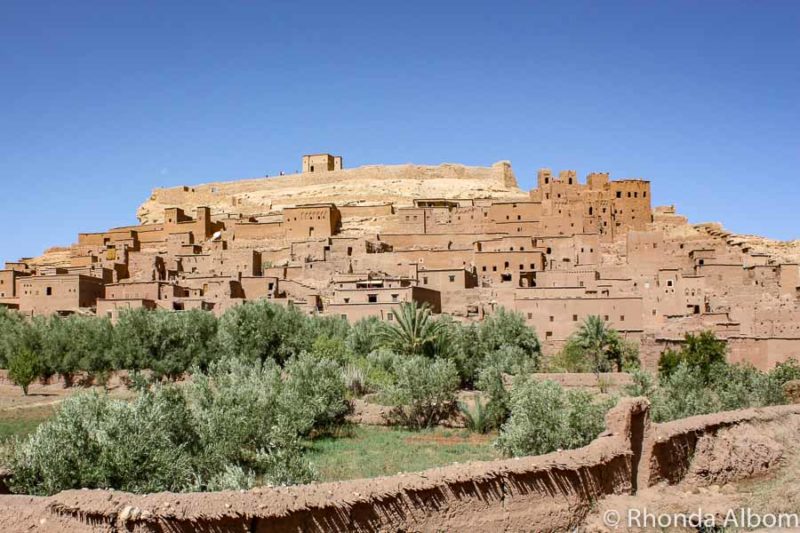 Morocco road trip: Tisselday
Today we made bread, peeled onions, chopped vegetables, and prepared dinner alongside a Berber family at the Riad Dar Isselday. The "simple life" is anything but simple.
First, we began the process of making bread. It involved mixing, kneading, rising, kneading, rising, shaping, and stacking, and then we carried the formed dough out to the wood-fired oven, which is fire-heated, and the bread is then placed directly on the coals.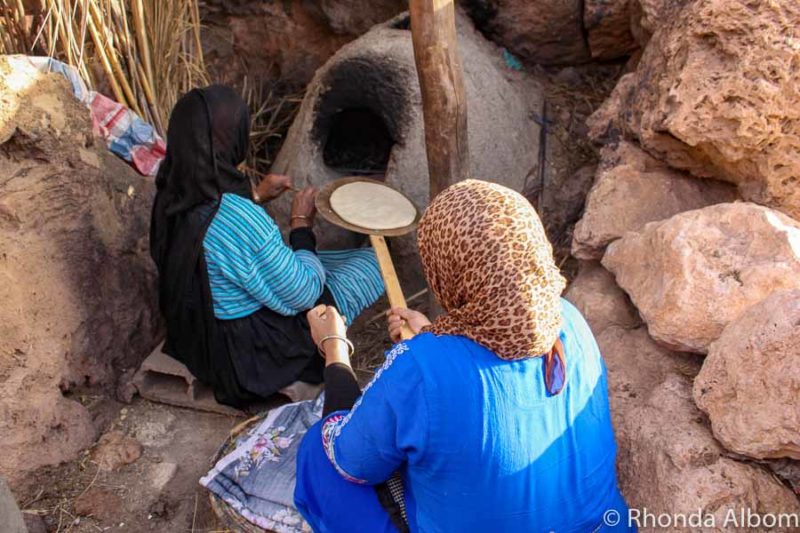 Intermixing bread making and the rest of the meal, we learned how to make the tagine, the salad and the dessert while the bread dough was rising. The Berber women don't use a cutting board but rather cut all the vegetables in their hands. She was so fast, and we were cautious and slow – and successful, no cut fingers. An hour or so of cooking and we had a fantastic dinner.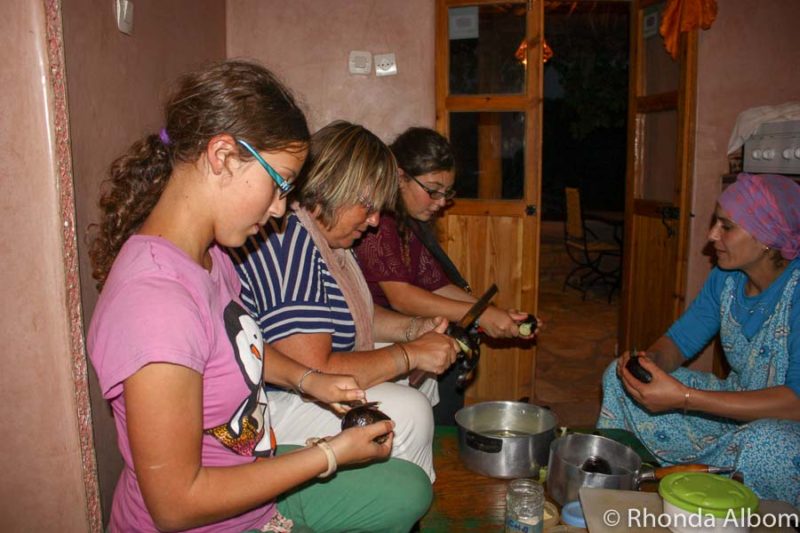 Where to stay in Tisselday
We added Tisselday as a stop purely to stay at Dar Isselday. Our neighbours had stayed here a year earlier, done the cooking lessons, and raved about it. The proprietor family that owns the place is friendly and easy to learn from and cook alongside. Directly across the street, they own a small stand with treasures found in the Atlas Mountains. Our time here was definitely one of the highlights of our travel to Morocco
Morocco road trip: Cascade D'Ouzoud
Just 150 kilometres north of Marrakesh by car is the largest waterfall in Morocco (and the highest in North Africa), a 110-metre drop waterfall called Cascade D'Ouzoud. The hills surrounding it are loaded with greedy little Barbary Macaques. They are old-world monkeys, a species of macaque found outside of Asia with a vestigial tail (different from the macaques at Batu Caves in Malaysia).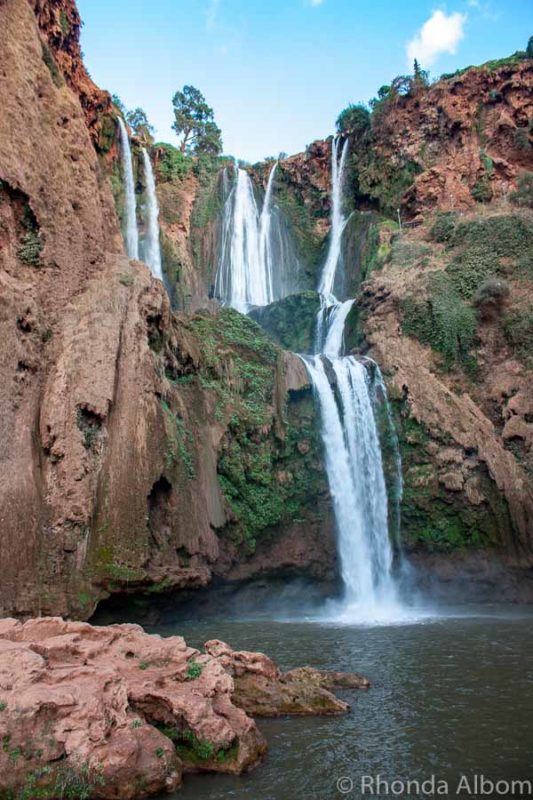 Barbary macaques, like many wild animals, are adorable but should not be touched. They can, and do, bite. Like similar species in Gibraltar, they steal things from unsuspecting tourists.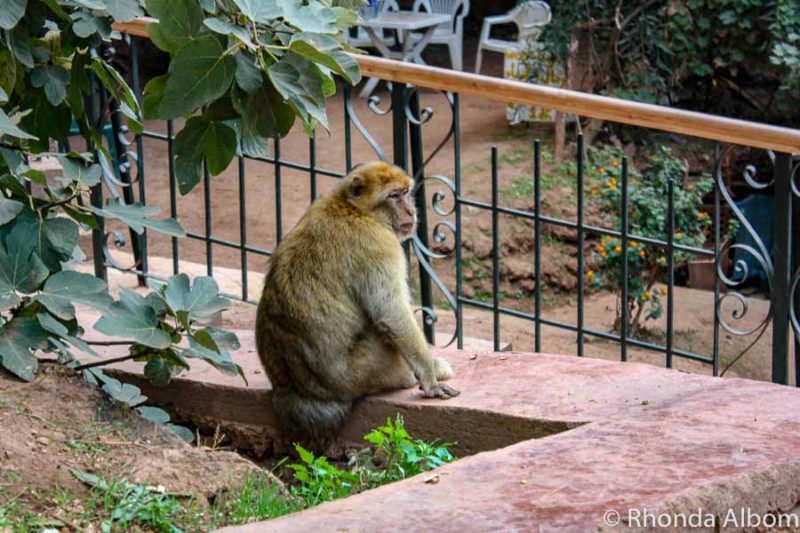 Pro Tip: Cascade D'Ouzoud is often visited as a day trip from Marrakech. If you don't have a car, you can join this tour: Ouzoud Falls Day Trip from Marrakech.
Where to stay in Ouzoud
With delightful bungalows, fabulous views of the mountains, and only a five-minute drive to the waterfall, La Kasbah d'Ouzoud is the perfect place to stay.
Our Morocco itinerary
Train travel
Fes was our entry into Morocco, and from there, we travelled via train, stopping in each city for several days or longer. In reality, we passed through Casablanca initially, as it was to be our exit city, so we saved it for our last stop. While the train is one of the best ways to travel around Morocco, it only covers a small area of the country. Our train route:
Fes → Meknes → Rabat → Casablanca → Marrakesh
The self-driving portion of our Morocco travel itinerary:
We rented a car in Marrakech and drove the route highlighted on the map. Our self-drive Morocco itinerary included the following stops, with the overnight stops in bold text.
Marrakesh → Essaouira → Agadir → Taroudant → Agdz → Merzouga → Rissani →
Todra Gorge → Dades Gorge → Ouarzazate → Ait Ben Haddou → Tisselday → Ouzoud→ Marrakesh
Renting a car in Morocco
We rented a car with a handshake deal, through a friend of the owner of Riad Lena (where we stayed in Marrakech). It turned out fine, but we were lucky. In retrospect, I think I prefer paperwork, especially if things go wrong.
Worldwide, we have been successfully using rentalcars.com. As an aggregator, they offer cars through local dealers at an equal or lower price than going direct. Rentalcars has its own customer service, therefore there is always an English-speaking person if an issue arises. To date, our problems have been minor (once our auto air conditioning stopped working and a replacement car was provided, and another time there was an overcharge which was corrected).
Driving in Morocco is easy; however, we did get pulled over twice for ridiculous things. We were advised that it is okay to offer a cash payment significantly lower than they are asking or to simply say, "That is too much, can I pay less." Don't be surprised if the money goes into a pocket and there is no paperwork to follow. If you insist on paperwork, the fine will be much higher.
Save on your trip with these resources
These are our go-to companies when we travel. We believe this list to be the best in each category. You can't go wrong using them on your trip too.
Flights: we use Expedia for the best and cheapest flight options.
Accommodations: we use Booking.com (hotels), VRBO (self-contained), or Hostelworld (budget).
Cars (gas or electric): we use RentalCars to search for deals and dealer ratings.
Campervans or Motorhomes: we use Campstar where Albom Adventures readers get a 3% discount.
Motorcycles: we have heard good things about BikesBooking.
Private guides: we love the private guides at Tours by Locals.
Travel Insurance: while not required, we always opt for travel insurance and start at InsureMyTrip to compare coverage plans.
Check out our travel resources page for more companies that we use when you travel.
Please share:
If you enjoyed this Morocco road trip, please share it on social media: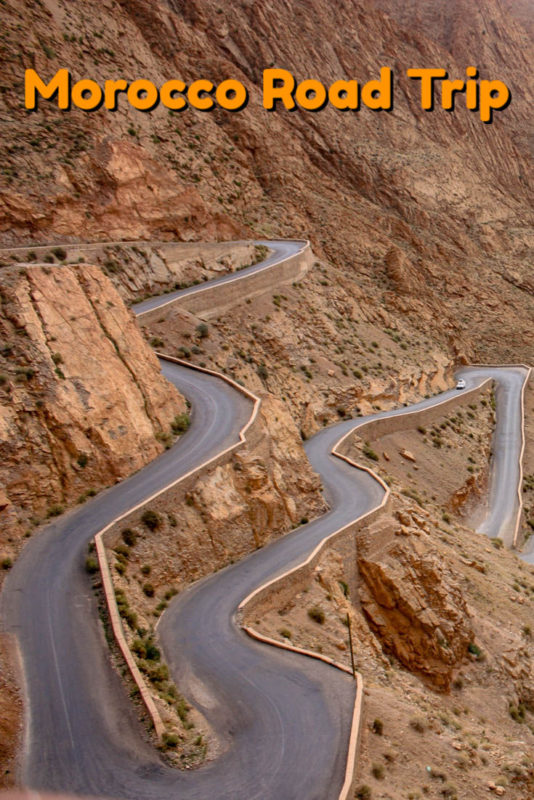 Have you enjoyed a road trip in Morocco?
Updated December 2018