Arriving at Batu Caves outside of Kuala Lumpur, my senses were immediately overloaded. At my feet are long-tailed macaques (wild monkeys) wondering whether or not I am one of those tourists who ignored the warnings and brought them food. I am sure the macaques are responsible for the less than pleasant odour that only gets worse when we enter the caves. Fighting for my attention is the nearly 43-metre tall golden statue of Lord Murugan, a sight that would be considered beautiful if not for all the rubbish strewn about the area. Behind Lord Murugan are 272 steps taunting us to climb them if we want to reach Batu Cave's entrance. Inside are three main limestone caves featuring temples and Hindu shrines.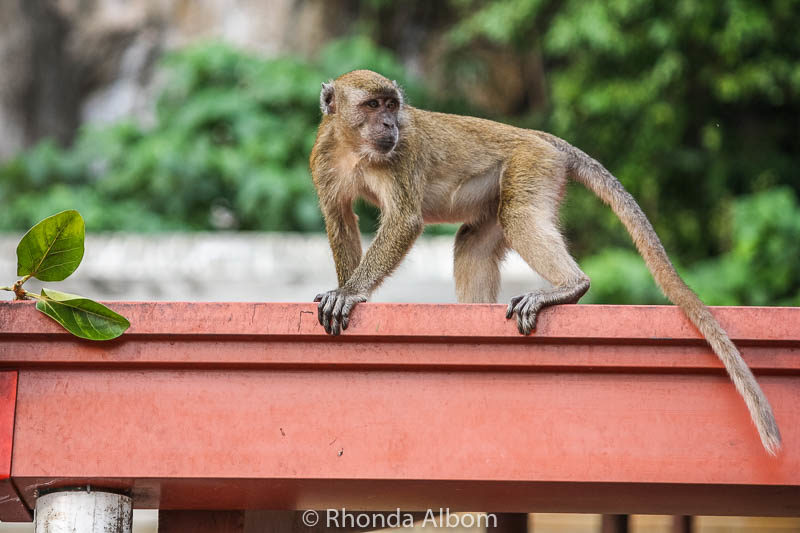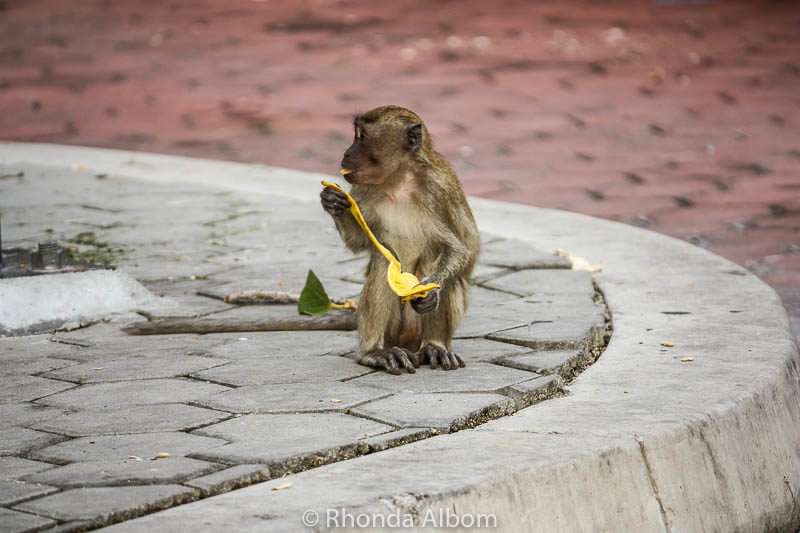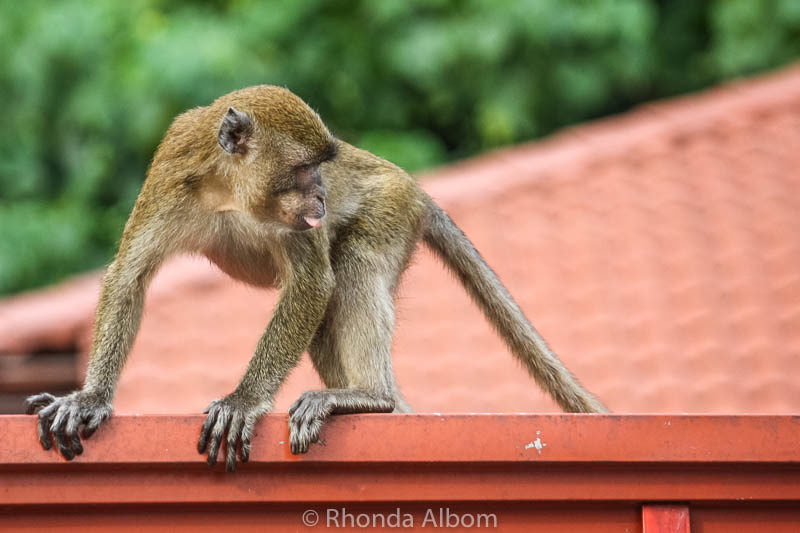 Earlier, we had debated whether or not to visit, as we had heard such mixed reviews of Batu Caves as a tourist destination. Some told us it was too crowded, while others went as far as calling it a tourist trap, a name that made no sense to me, as the main Temple Cave is free to enter. However, we didn't want to miss out on seeing one of the most popular series of Hindu temples and shrines outside of India.
Was the climb worth the effort? That's hard to say. Here is a look inside the caves: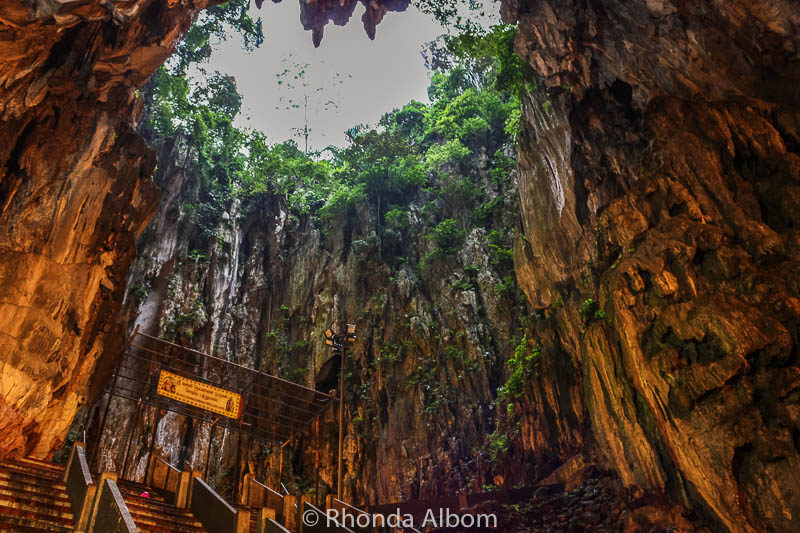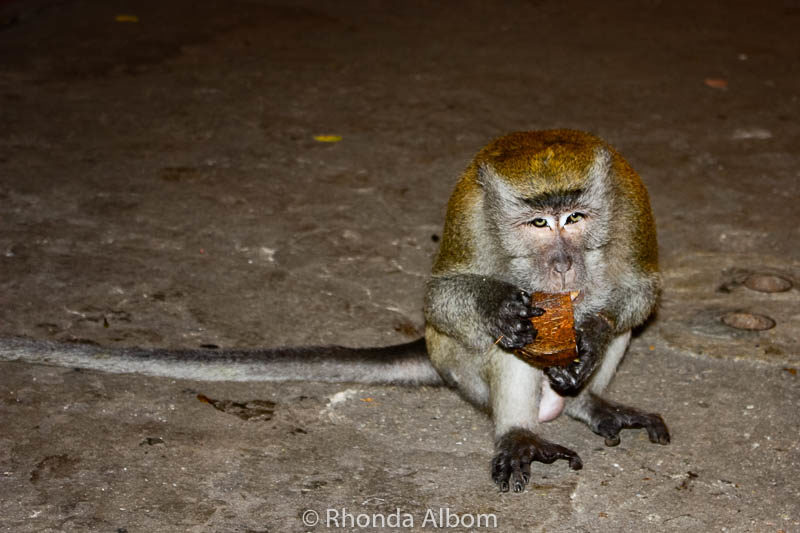 Also on the grounds: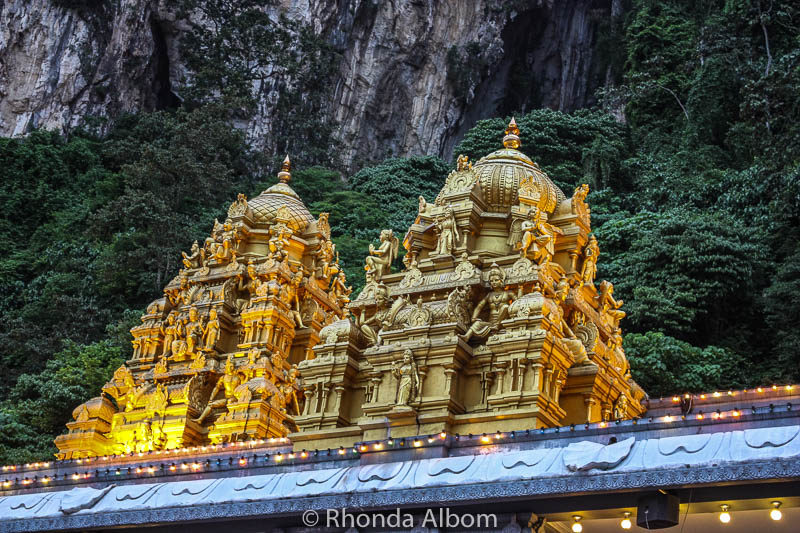 Additional Information on Batu Caves: 
Batu Caves are in Gombak, Selangor, Malaysia, just 13km north of Kuala Lumpur. It is easy to get there on the KTM Komuter train, on the bus, on the monorail (and then a bus), or with a private vehicle.
There are different prices for different areas, but entry to the main cave is free. Prayers are held at 8.30am and 4.30pm.
Batu Caves was our first exposure to wild monkeys. These long-tailed macaques are very different from the tailless Barbary macaques we saw scampering in Morocco.
Abseiling, spelunking, and rock climbing are all popular amongst the adrenaline junkie crowd. There are more than 160 climbing routes up the limestone hills. Most trails start from the northeast side of the cave complex, while the staircase we climbed faces south.
Batu Caves was discovered in 1878 by  American naturalist William Hornaday, although it had been known previously to the indigenous people. Hindu pilgrims have travelled here for more than 120 years. The caves are the focal point of the Hindu festival of Thaipusam in Malaysia.
Have you seen the wild monkeys at Batu Caves or anywhere else?
If you enjoyed this post, please pin it:

Seven ridiculously simple tips that WILL improve your photos
Whether you shoot with a phone or a DSLR, let me share my secrets.
Subscribe to Albom Adventure's Travel Tips newsletter and download our free ebook: Take Better Travel Photos By Rhonda Albom