As we stepped out of the car at Batu Caves, monkeys were the first thing to catch my eye. Just beyond a troop of long-tailed macaques (wild monkeys) stood the largest Batu Cave statue, the 43-metre tall golden figure of Lord Murugan.
Behind Lord Murugan are the Batu Caves steps leading to this Malaysian temple, just outside of Kuala Lumpur. In total, there are 272 steps, each taunting us to climb them.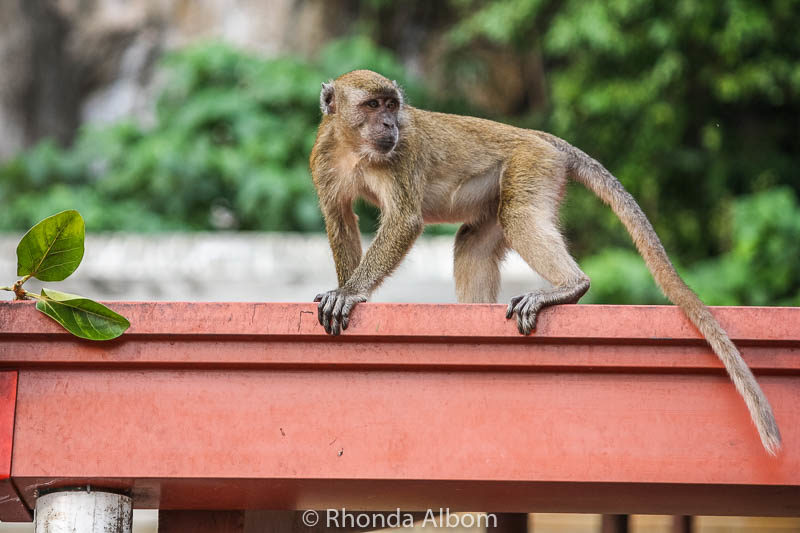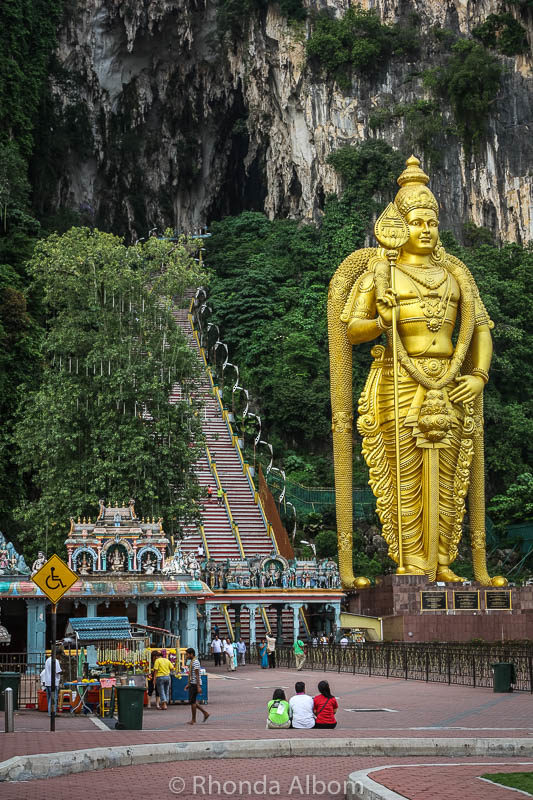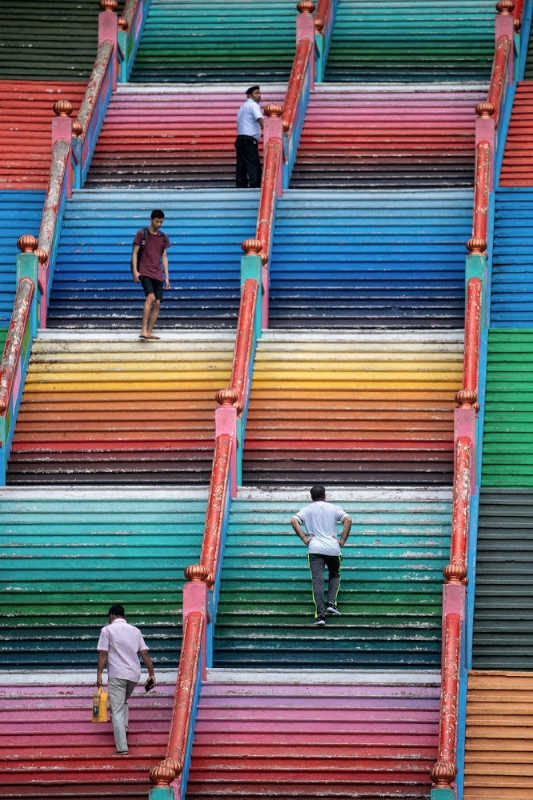 Once at the top, we enter Cathedral Cave, one of three main limestone caves featuring temples and Hindu shrines. Here, we find high ceilings with holes that illuminate the space, and several shrines and other Hindu areas. It's beautiful and instantly worth the climb to get here.
For us, walking around and taking photos was perfect. However, abseiling, spelunking, and rock climbing Batu Caves are all popular amongst the adrenaline junkie crowd. There are more than 160 climbing routes up the limestone hills. Most trails start from the northeast side of the cave complex, while the staircase we climbed faces south.
⇒ Check the price of this highly rated half-day rock climbing and Batu Caves tour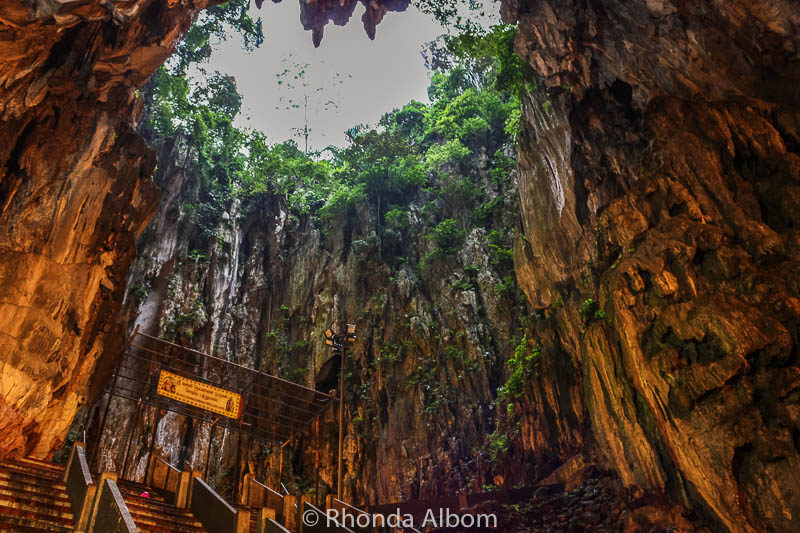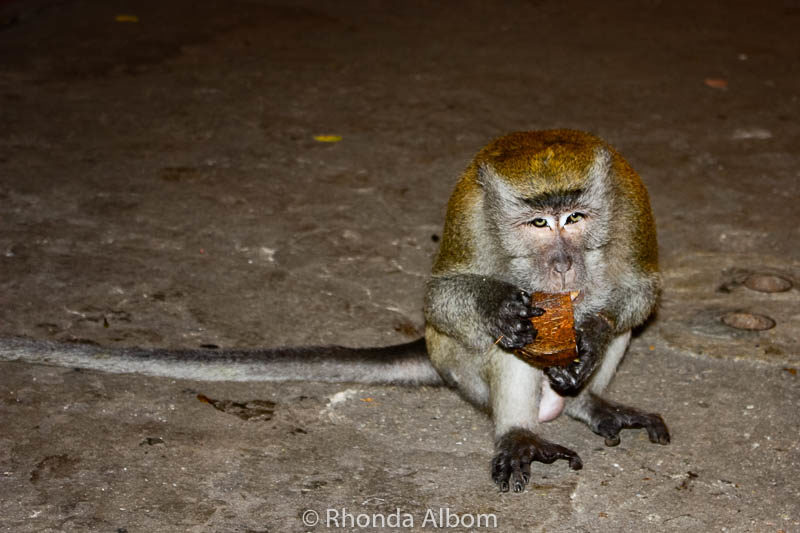 Earlier, we had debated whether or not to visit, as we had heard such mixed reviews of Batu Caves as a tourist destination. Some told us it was too crowded, while others went as far as calling it a tourist trap, a name that made no sense to me, as the main Temple Cave is free to enter. However, we didn't want to miss out on seeing one of the most popular series of Hindu temples and shrines outside of India.
We were glad we opted for a private guide for Batu Caves and found the added information he provided to be fascinating. However, plenty of people visit on their own or take group tours.
Tour Batu Caves and other sites
Tour (Click tour
name for details)
Tours visit Batu Caves
Plus these sites:
Time
Templer's Park
Templer's Park
Fireflies
Silver Leaf Monkeys
12 hrs
Batu Caves Tour
from KL
Little India
Batik Center
Royal Selangor visitor centre
3 hrs
Taman Negara Tour
Canopy Walkway or Rainforest Waterfalls
Jungle trek
Rapids boat ride
Aboriginal demonstrations
10 hrs
Cameron Highlands
Cascading Waterfalls Aboriginal Village
Tea plantation
Butterfly farm
Strawberry farm
10 hrs
Best of
Kuala Lumpur
Petronas Towers
King's Palace
Central market
National Monument
National Mosque
Old Railway Station
6 hrs
Also on the grounds: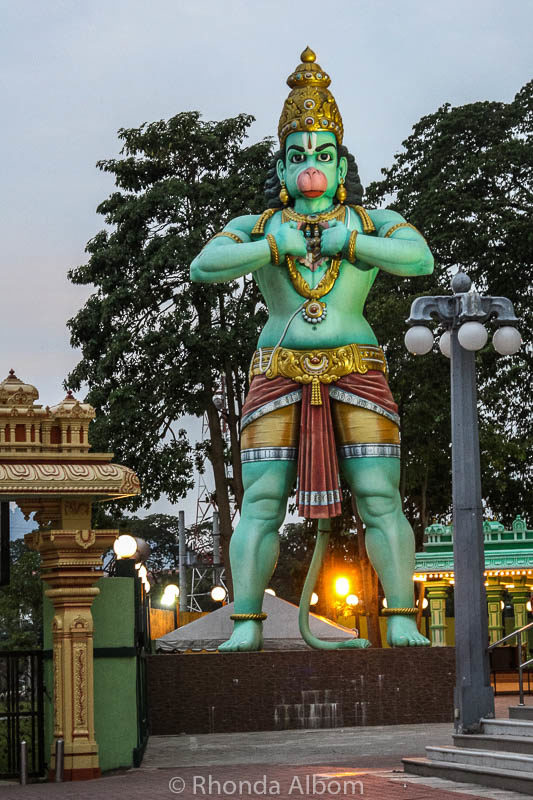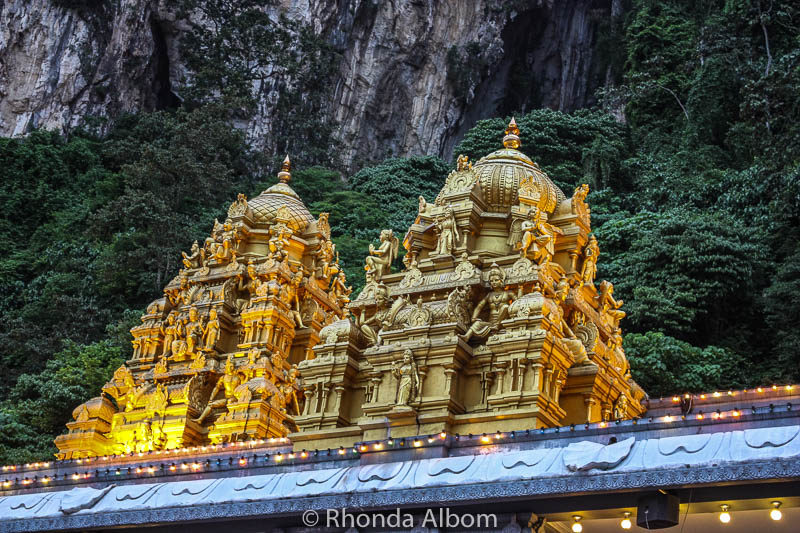 Batu Caves history
In brief: The caves were discovered in 1878 by American naturalist William Hornaday, although it had been known previously to the indigenous people. Hindu pilgrims have travelled here for more than 120 years. The caves are the focal point of the Hindu festival of Thaipusam in Malaysia.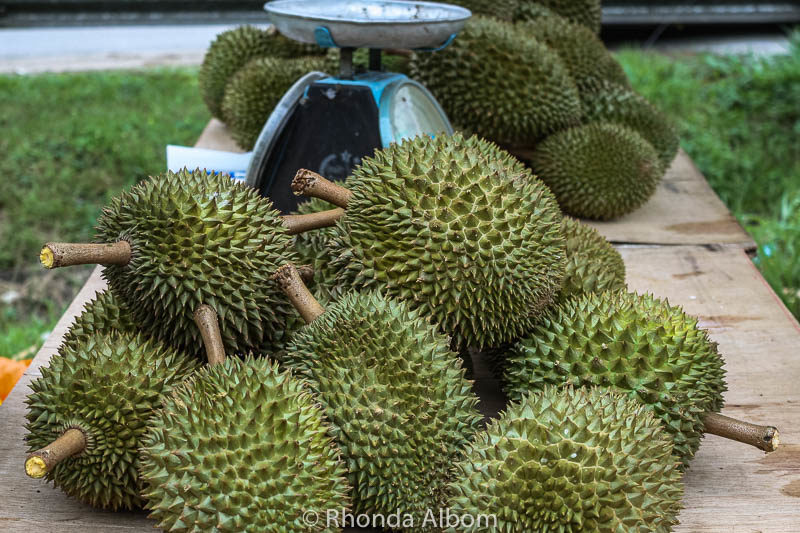 Batu Caves monkeys
Adorable as they are, it's important to remember that the Batu Caves monkeys are wild animals. While they are accustomed to having humans nearby, they are not domesticated, and therefore should not be touched. They have been known to bite, scratch, or steal from visitors.
If you are going to ignore this advice (or even if you are not), consider carrying comprehensive medical insurance, as infection from Batu Caves Monkey bites is not uncommon. We use World Nomads, as they offer full travel insurance in addition to medical. Importantly, they are one of the few companies that allow you to purchase insurance after your travel has started (although you would need the insurance in place before any incidences occur).

⇒ Click here to get a quote from World Nomads.
This was our first exposure to wild monkeys. These long-tailed macaques are very different from the tailless Barbary macaques we saw scampering in Morocco.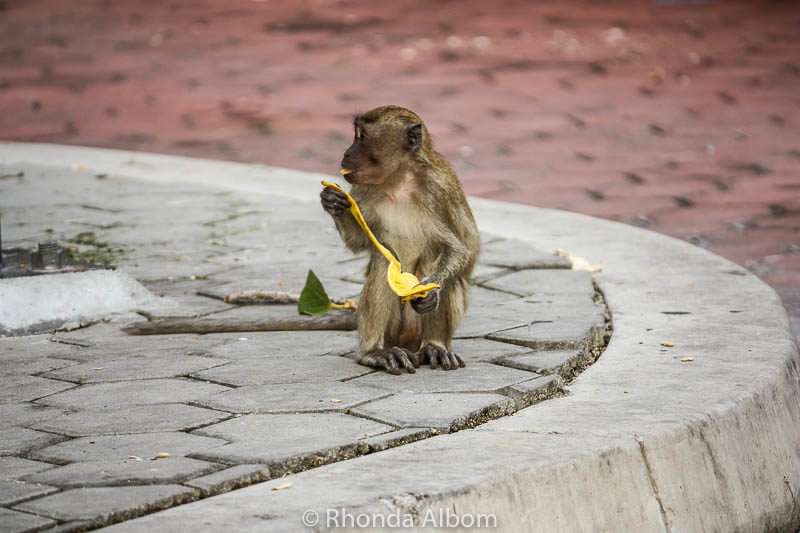 Two key safety tips for enjoying the Batu Caves monkeys
Taking any wild animal photos should always be done at a safe distance, and this does apply to Batu Caves monkeys.
Food should not be brought to the area, as its smell will encourage the monkeys.

How to Get to Batu Caves
Batu Caves are in Gombak, Selangor, Malaysia. It is just 13km to the north from Kuala Lumpur to Batu Caves.
It is easy to get there on the KTM commuter train, on the bus, on the monorail (and then a bus), or with a private vehicle.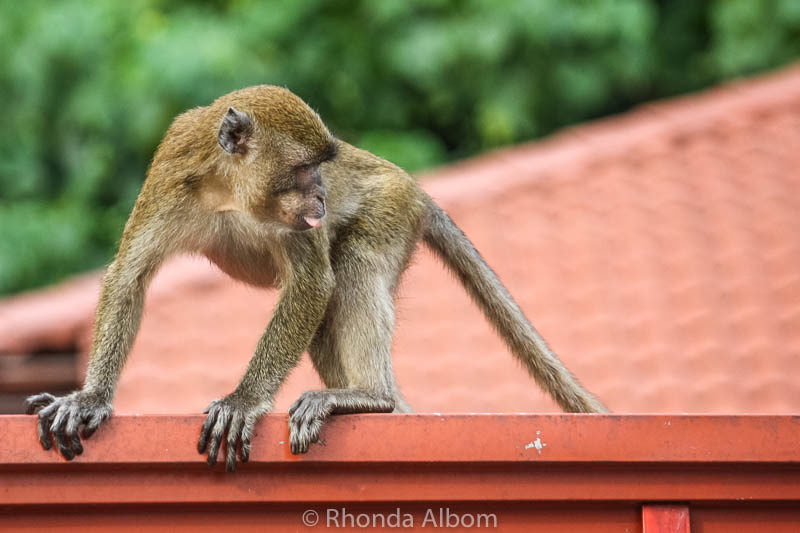 Additional Information and Tips for Visiting:
Batu Caves opening hours are from 7 am to 8 pm daily. The best time to visit Batu Caves early in the morning to avoid the heat.
Remember, you will have to climb the famous 272 Batu Caves stairs to enter. (The caves are not wheelchair accessible.)
Prayers are held at 8.30am and 4.30pm daily.
There is a different Batu Caves entrance fee in different areas, but entry to the main Cathedral Cave is free. There is a nominal charge for the car park.
Batu Caves dress code does not permit short pants or skirts above the knees.
If you are not familiar with the use of a hose in Malaysian style toilet facilities, you might want to bring your own toilet paper.
More Tour options of Batu Caves and Nearby Highlights:
Where to stay
We chose to stay at the luxurious Federal Hotel in Kuala Lumpur. It was walking distance to many things we wanted to do, had a nice pool, and was clean and well presented. The concierge service was top notch and the dim sum meal we had was outstanding. There are accommodation options closer to the caves, but we found the Federal really met all our needs.
→ Click here to check prices and availability at Federal Hotel on Booking.com
Please Share
If you enjoyed this article, please share it on social media, including Pinterest: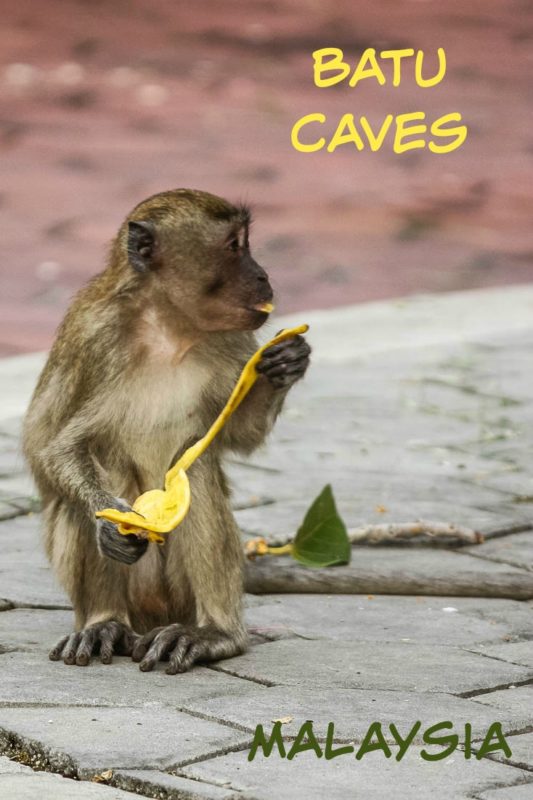 Why will you visit? Will it be to see the Batu Caves monkeys, the statues, the temples, the shrines, or for a rock climbing adventure?