Written by Rudy
Taj Mahal is the living proof of the love Shahjahan had for his wife, Mumtaz. The whole world praises the architectural excellence of this beautiful tomb, and this is why it is one of the seven wonders of the world.
Almost 8-10 million tourists from different parts of the world come to see and enjoy the beauty of this building. No one can explain the splendor of this structure as words would not be enough to explain the beauty of the elegant building.
Note: Based on world conditions, we advise checking official channels including cancellation policies prior to booking. Also, with often reduced capacity, booking ahead becomes more important.
About Taj Mahal
Taj Mahal is undoubtedly one of the many excellent Islamic artistic works in India. It took from 1631 to 1648 to build this outstanding structure. Shajahan engaged almost 20,000 workers to build this tomb.
Taj Mahal is a mausoleum built with marbles and is the resting place of Shahjahan's wife, Mumtaz Mahal. It stands on the banks of the river Yamuna, and a beautiful 70 acres garden surrounds this tomb, making it more alluring.
Before UNESCO declared this building as one of the world heritage sites, it was well recognized as the most visited place in India. This tomb is an epitome of love and Shahjahan's imaginary paradise, where he believed his beloved wife went after death.
Trending on Albom Adventures
History of Taj Mahal
The fifth Mughal emperor Shahjahan hired masons and architects from different parts of the Indian subcontinent and Persia (present-day Iran), with Ustad Ahmed Lahori as the main architect.
Shahjahan married Mumtaz Mahal when she was only 14 years old and had 14 children with her. Among his several wives, the king adored Mumtaz Mahal a lot. She died while giving birth to his 14th child, and the emperor was overwhelmed by grief due to her untimely death.
He wanted to build a heavenly tomb to commemorate the death of his wife and summoned marble from Rajasthan, Lapis lazuli from Afghanistan, jade, and crystal from Srilanka.
The monument changes its colour several times during the day. At dawn, it adorns a beautiful pink colour. In the afternoon, it turns milky white, and at dusk, it reflects the golden colour of the setting sun. At night, it adorns the attire of a beautiful fairy and appears silvery-white colour.
When this mission to construct a monument was commissioned, elephants carried all kinds of construction materials from different parts of the country. Now, the Archaeological Survey of India takes care of the monument from pollution. From time to time, the government passes many legislative measures to protect this historical monument from damage and destruction due to several human activities.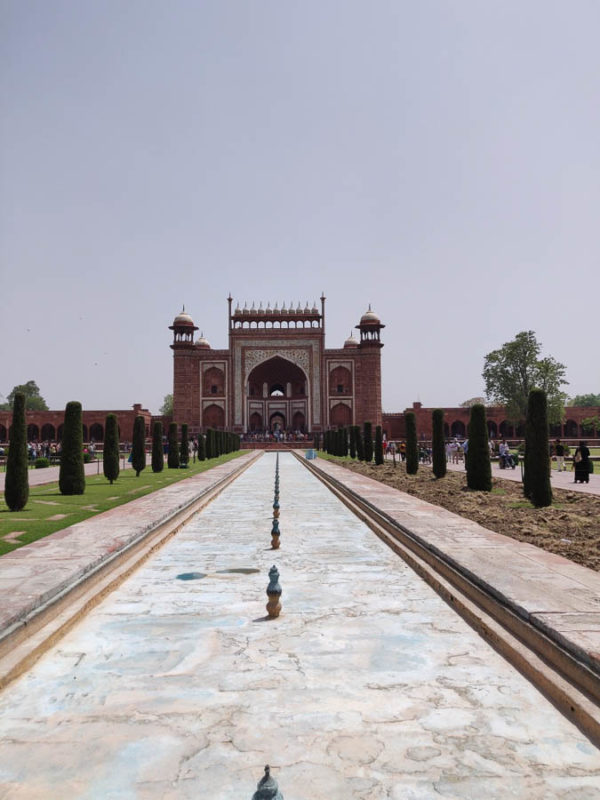 Taj Mahal architecture
The architectural style of the Taj Mahal is a combination of Persian, Turkish, and Indian styles of construction. Taj Mahal is the result of the inspiration taken from the style of construction of Timur's tomb and Jama Masjid in Delhi.
While all other constrictions during the Mughal period were using red marble, Shahjahan planned to use white marble with a combination of many semiprecious stones. To protect the structure and give strength to it, red sandstone is used. Taj Mahal consists of the cenotaphs of both Shahjahan and his beloved wife, Mumtaz Mahal. But their tombs are engrossed inside the cenotaphs and rest beneath them.
The tomb is in the centre of walls made of red marble, and one of the sides is open that leads towards the river. In addition to this main mausoleum, there are other tombs for his other wives too. The tomb inside the Taj Mahal is placed at a height of 6.6 meters with a heavy base supporting the whole structure. There are interior chambers in an octagonal shape, which is connected through multiple passages.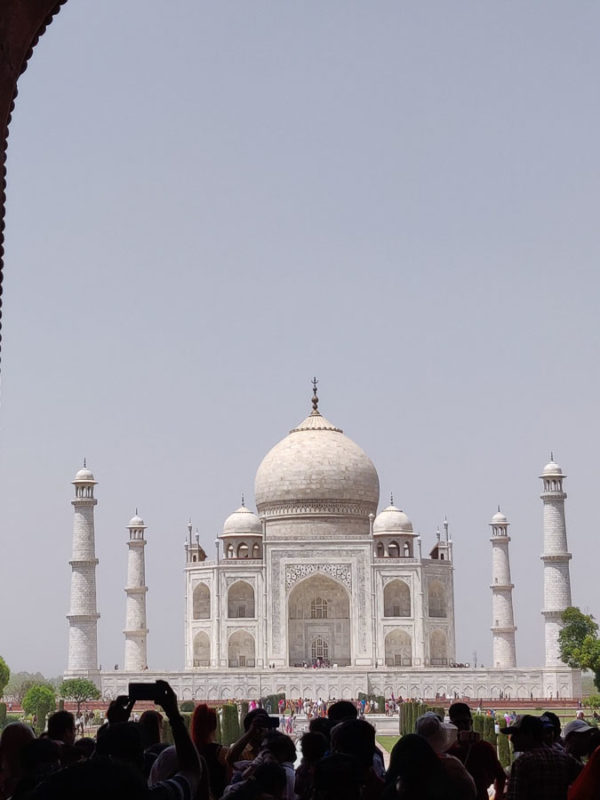 Inside the Taj Malah
Everywhere inside Taj Mahal, you can find inscriptions in Arabic calligraphy containing the 99 names of Allah, and different screens. There are four minarets similar to those found in the mosques in all the four sides of the structure. These minarets are inclined towards outside of the structure to protect the main structure from any sort of damage due to falling of the minarets in case of any destruction due to natural calamity.
The dome at the right-centre of this structure is in the shape of a lotus petal, the height of which is 56 meters. The Mughal emperor Shah Jahan spent 32 crore rupees ($4.5million USD) to construct the tomb for his beloved wife, the architectural splendour of which is discussed all over the world.
There is a masjid inside of the building and a resting place. One can't completely explain the beauty of the architectural excellence of Taj Mahal without explaining the beauty of the gardens surrounding the structure. The Mughal rulers were fond of gardens as they believed that they reflected the wealth and prosperity of the kingdom.
Tickets, entry fee, and timings to visit the Taj Mahal
We earn from qualifying purchases through partnerships or affiliate programs.
Taj Mahal is a wonderful place to visit for romantic couples and children. Taj Mahal, situated in Agra, is open on all days except on Fridays. The ticket cost for a person is Rs. 45 for Indians. For a foreign tourist, the cost is Rs.1050 ($14.70 USD).
If you want to visit the Taj Mahal, you can go at any time before half an hour before sunset, because it will be closed before the sun goes down over the horizon.
There are so many ways to get a ticket. You can book an online ticket from the website of ASI. When you log into their website, you have to submit your details like name, age, and the exact ID you will be providing them.
The maximum number of people you can book at one time is 20 adults and 10 children. It will take you the payment gateway where you can pay the total amount and confirm the slot for your visit. There are many other websites like yatra.com, to book the tickets.

Or click here for skip-the-line Taj Mahal admission (with optional other trips)
Best time to visit the Taj Mahal
You can enjoy the surreal beauty and serene environment of Taj Mahal anytime during the year. It would be advisable to visit during the winter season (November to February) to protect yourself from the scorching sun. Otherwise, it would destroy the fun of enjoying, watching this historical monument. You should avoid visiting the Taj Mahal during the monsoon season (July to Mid September) as well.
It would be fantastic to view the rising sun from the building as it appears pink in colour just after sunrise. If you want to enjoy the rising sun, get out of your resort as early as 5.30 AM. You would have to stand in a queue before you can head to the building.
How to get to the Taj Mahal, Agra
You can reach Agra via Delhi, Jaipur, or Gwalior. You can travel by road or train to get here. Many tour operators club all three places and facilitate the people to enjoy all the tourist spots in and around Gwalior, Jaipur, and Agra.
This is an excellent plan that allows you to be cost-effective. You can either take a bus or taxi to reach Agra by road. If you hire a taxi, you can ask the driver to stop at Sikandra, Mathura, to pay a running visit to these places. You can also visit Fathepur Sikri and Abneri on the way to Agra.
If you plan to travel by train, book your tickets in Shatabdi express or Taj express. There is a Khajrao express that will take you to Agra. There are regular trains that go to Agra from all these three neighbouring cities.
Places to visit near Taj Mahal
Agra Fort
This beautiful fort is the main fort where the Mughals lived during their reign. The Mughal ruler Akbar built this fort and used it for military operations. But Shahjahan made it a palace. This is another monument that is declared as the world heritage site by UNESCO. This fort retains its glory, even though the later rulers, including the British, destroyed a major portion of the fort when they used this building for military purposes.

Click here for price and reviews of a private Taj Mahal and Agra Tour by express train from Delhi.
Mehtab Bagh
The first among the Mughal emperors, Babur, built this Mehtab Bagh. He constructed 11 gardens, along the banks of the river Yamuna. The gardens in the Taj mahal stand in a straight line to the gardens in Mehtab Bagh. You can cherish the sight of the Taj Mahal mausoleum standing from Mehtab Bagh.
Fathepur Sikri
The third Mughal emperor, Akbar, built Fathepur Sikri – also called the city of victory in Urdu. This city was the capital of the Mughal empire for 13 years. He built this fort to express his happiness when the Sufi saint's words that Akbar will get a male heir to his throne became true. He built the famous mosque Jama masjid and palaces for three of his wives.
Best deals and discounts for your travel planning needs
We earn from qualifying purchases through partnerships or affiliate programs.
Flights: When it comes to flights, we always start with Expedia.

Hotels: We use Booking.com to compare and book accommodations. Don't miss Booking.com's Getaway 2022 Deals that save 15% or more on selected accommodations. (T&Cs apply)

Other accommodations: If you prefer B&B or self-contained type lodging, check out VRBO.

Vehicle hire: RentalCars is like a rental car search engine with no hidden costs, that lets us find the best deals on car rentals worldwide.

Private Tours: We are big fans of ToursByLocals, and use them for nearly all cities where we want a private guide.

Packing Tips: Get a free copy of our packing light checklist when you sign up for our mailing list. (We pack light, yet have everything we need.)
Find more money-saving resources and T&Cs on some of the above, check our Travel Resources page.
Looking for help planning a New Zealand adventure? We invite you to join Explore New Zealand Facebook Group to ask questions or share photos, stories, or anything about New Zealand.
Save for later
If you enjoyed this article, please share it on social media and save it on Pinterest for when you are ready to visit the Taj Mahal. It is one of 18 most inspiring destinations.
When will you visit the Taj Mahal?
About the author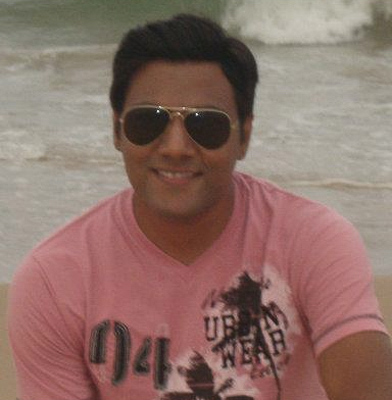 Rudy is an avid traveller and writer who blogs about travel tips and guides to some of the best destinations in India at Travel India Travel He has travelled extensively across all the major states in India. He loves to walk around cities, spend time in museums, explore forests and try out new vegetarian cuisines wherever he travels.
Photo credits
Banner image by Kyle Hasegawa
All other images on this page are copyright Rudy of Travel India Travel, the page author.