A stunning coastal city surrounded by dense forest and lush green hills, there are plenty of fabulous things to do in Da Nang, Vietnam.
For me, it was the beaches and unusual bridges that initially attracted me. After all, where else can you find a fire-breathing dragon bridge or one held up by giant hands?
But as I learned more about the history and culture, I became intrigued by places like Marble Mountian, the Cham Museum, the Lady Buddha, and Monkey Mountain.
Those are just a small sample of some of the things to do in Da Nang that were on my list when we arrived. It's a city that needs several days minimum to explore, but we only had one, as we were arriving via cruise ship.
It was an extremely long port day, and we crammed in as many of the top things to do in Da Nang as we could. Once back on the ship and exhausted, we compared notes with other passengers, allowing us to share a more complete picture on this page, all gathered from personal experiences.
Whether we had chosen a relaxing day at the beach or one filled with culture and history, there is no shortage of things to do in Da Nang.
Below are the must-dos when visiting this incredible Vietnamese city.
Top 10 things to do in Da Nang Vietnam
Head to one of the stunning beaches
Explore the Son Tra Peninsula
Visit the Ling Ung Pagoda
Discover Marble Mountain
Admire the Da Nang Cathedral
Shop at the Cho Han Market
Learn something at Cham Museum
Be mesmerized by the Dragon Bridge
Get a massage
Or take a day trip to Cham Islands, Hai Van Pass,

Ba Na Hills

(Golden Bridge) or the ancient city of Hoi An
Be inspired by the region …
Map of the best things to do in Da Nang
Click the expand / collapse icon in the upper left corner of the map for the details. Red indicates locations in Da Nang, whereas orange requires extra driving.
Head to My Khe Beach (China Beach)
I love the beach and had to at least find time to stick my feet in the water. Although, I will admit that I wish had more time to enjoy the gentle waves, especially on the day we visited. With overcast skies and a gentle breeze, the still hot and humid day seemed to beg for a full swim.
We started at the famous China Beach, or at least that's what I had heard it called long before I ever dreamed of visiting this stunning Vietnamese city.
My Khe beach is a 32 km (20-mile) stretch of gentle to moderate waves breaking against a picturesque sandy beach. It was nicknamed China Beach by the American troops that came here for relaxation during the Vietnam war.
From April to September, when the summer heat tops 37°C, the beach is busy, yet there is space for everyone. According to our guide, locals often swim before dawn, and by 7 am, the women return home to cook and the men go to work.
While they say it's also a popular surfing beach, the day we visited seemed a bit too calm for a surf.
Explore Son Tra Peninsula
Here find beautiful beaches, Monkey Mountain, and the Lady Buddha at Linh Ung Pagoda.
Standing on China Beach (section above), we could see across the bay to Son Tra Peninsula, one of many beautiful destinations in Vietnam. While the Lady Buddha statue is prominent, it's the hill that fascinated me.
How can I pass up discovering somewhere called Monkey Mountain (named by American troops)? Our guide quickly told us that hiking there offers panoramic views of the surrounding area and its rich biodiversity, but my question was, are there monkeys?
And there are. In fact, there is plenty of wildlife, like long-tailed macaques, rhesus macaques, red-shanked douc langurs, and pygmy slow loris.
More traditionally, the Son Tra Peninsula is known for both the hiking and its beautiful beaches. While you can snorkel or scuba here, if you have limited time, you might want to save it for Cham Islands (see below).
See the Lady Buddha at Linh Ung Pagoda
The pagoda is home to Lady Buddha, a 67-metre (220-foot) tall statue standing proudly overlooking the city. This breathtaking sculpture brings together both elegance and power and is a symbol of the importance of Buddhism in Vietnamese culture.
The pagoda itself is filled with intricate carvings and decorations, showing off the skill of the local artisans. There are also several sculptures depicting various scenes from Buddhist mythology, making it an exciting place to explore.
Discover Marble Mountain
Like a phoenix rising from the town, Marble Mountain is hard to miss. But more than that, it's fascinating from the top. Here we saw colourful Buddhist temples, marble statues, caves, elaborate tunnels, and impressive city views.
We went to the top of Thuy Son, more commonly called Marble Mountain. It is one of five marble and limestone peaks in central Vietnam, each named for one of the five elements of ancient Chinese philosophy: metal (Kim), water (Thuy), wood (Moc), fire (Hoa), and earth (Tho).
While we opted to ride the elevator up, we walked down the 156 uneven steps. Even that was an effort in the stifling heat, but one that was well worth it. In fact, we loved it so much that we wrote a separate article highlighting Marble Mountain here.
Once back at the bottom, we window-shopped for marble sculptures.
At the base of Marble Mountain, the street is lined with shops featuring huge, hand-carved marble sculptures. The impressive craftsmanship makes the stop worthwhile, even if you have no intentions of making a purchase.
However, we found the encouragement to buy pretty strong. Especially as the masterpieces can be shipped all around the world for a surprisingly low fee.
We are not collectors of big things, but we did bring home a Buddha that stands only a few centimetres tall.
Dragon Bridge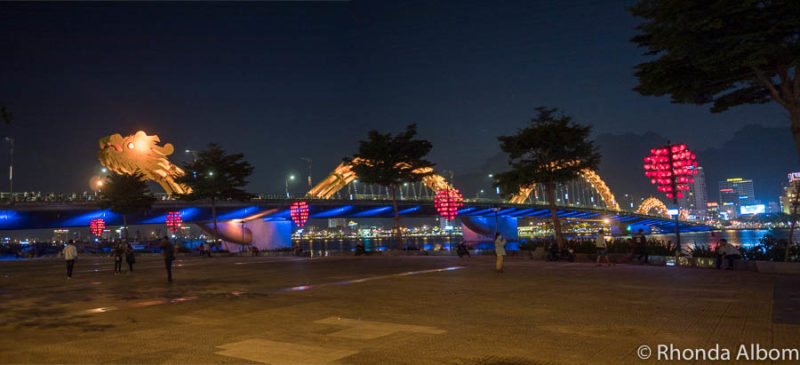 Honestly, I think the fire-breathing and spitting dragon bridge is one of the coolest things in this city. It's certainly one of the most unique bridges we have seen worldwide!
Our timing didn't work out the way I would have wanted if I arrived any other way than via cruise ship, as the dragon breathes fire only on Saturday or Sunday nights at 9pm.
Of course, it's a fake tourist attraction, but the very idea of it grabs my attention.
We saved it for the last thing we did before returning to our ship for the night, and I am pleased we got to see it lit up in the dark.
It is beautiful and a perfect end of our day, although it only half ticked off an item on our things to do in Da Nang wishlist.
Here is what we missed:
Go snorkelling at Cham Islands
The Cham Islands, located off the coast of Da Nang, are an ideal destination for those looking to get out of the city. Unfortunately, we didn't have time to take the short boat ride out to the islands, which are reported to offer some of the most stunning views in all of Vietnam.
The numerous beaches provide plenty of opportunities for sunbathing and swimming in clear blue waters. With its golden sand and coral reefs, it is also a great spot for snorkelling and diving.
There is also a range of outdoor activities available such as fishing, kayaking and stand-up paddleboarding. There are also plenty of shops and restaurants offering local delicacies and souvenirs.
Cross the Golden Bridge and explore Sun World at Ba Na Hills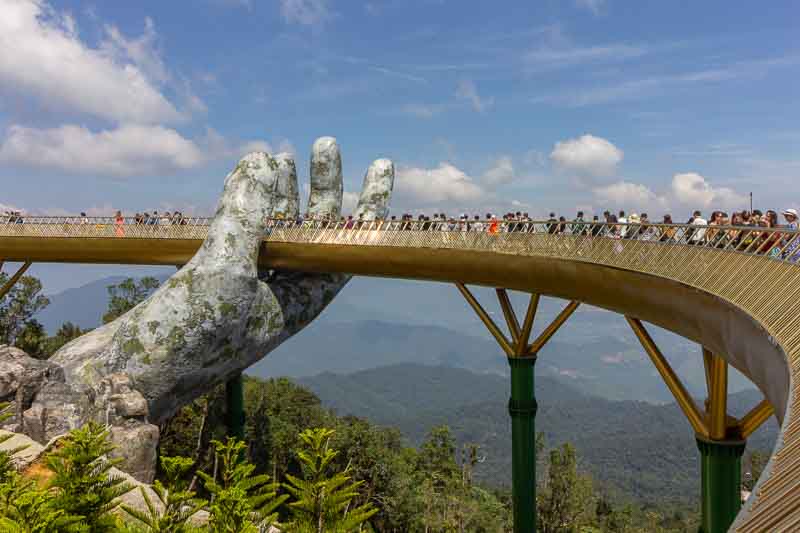 Up in the Ba Na Hills is the awe-inspiring 150 meters long Golden Bridge which appears as if it's held up by two giant hands. It's part of Sun World, an amusement park complex experience, although many people come just for the bridge.
Visitors take a cable car ride to the top of the hills to get a bird's eye view of the area and to enter the pedestrian-only bridge.
Sun World also features a wax museum, an alpine coaster, a fantasy park, a recreated French village, and a heart-pumping drop tower ride inside a cavern, shops, and cafes.
It's about a one-hour drive from Danang, but the best way to get here is to reserve this tour with transportation, cable car and bridge entrance, guide, and lunch.
Note that we opted not to do this as we had limited time in Da Nang and have been told the bridge is always crowded, even as early as 8 am and the queues are always long.
Enjoy the views at the Hai Van Pass
Located on the border between Da Nang and Thua Thien-Hue, Hai Van Pass' hairpin turns offer varied and stunning views of the ocean, mountains and nearby cities.
Once just a beautiful road, it's now a tourist attraction in the Da Nang region, offering breathtaking vistas. Adventure seekers will want to join this scooter tour of the pass.
Day trip to the ancient city of Hoi An
Everything about our day trip was fantastic, starting with the beautiful drive from Da Nang to Hoi An.
The ancient city is fascinating and considered to be one of the most beautiful places in Vietnam. It's a seamless mix of traditional and modern Vietnam. Situated alongside the Thu Bon River, the colourful village is surrounded by countryside.
Hoi An is a UNESCO World Heritage Site. And while we enjoyed seeing many of the historic temples, it was the basket boat that was my true highlight. It's a trip best done with a guide or a small group tour like this one that includes the basket boat ride.
A few more fun things to do in Da Nang
Massage at World Spa
Knowing I had a Thai massage in Bangkok coming up in a few days, I wanted to be able to compare it with a Vietnamese massage. Our guide discouraged me from trying a backroom place, bringing me to World Spa instead. His commission was worth it, and I floated away on happy feet.
Discover something new at the Cham Museum
The Da Nang Museum of Cham Sculpture houses the most comprehensive collection of Cham sculptures and artifacts from the ancient kingdom of Champa. Visitors can learn about the historical background and cultural significance of these artifacts and admire the unique architecture of the museum, a French colonial embodiment of a Champa temple.
Da Nang Cathedral
Da Nang Cathedral's gothic-style pink exterior and its spires reaching up to the sky caught my eye. Although only 100 years old, this beautiful historic monument is one of the oldest churches in the city. Standing since 1923, it was built during Da Nang's French colonial period. We didn't have time to venture inside, but others told us that the ornate stained glass windows allow light into the interior of the church. The cathedral serves as the Arch Diocese in Da Nang.
Cho Han Market
While the market is a place to get souvenirs, it's also a great spot to get a feel for local culture. Locals shop here for food and household items. It's a market known for its excellent prices.
Final thoughts on visiting Da Nang
This coastal Vietnamese city is an amazing destination. With only a day at a cruise port, we had to limit our choices, but we believe we picked the best of the things to do in Da Nang.
Our biggest conclusion, Da Nang needs way more than a day. We balanced exploring the city's rich history, sampling local cuisine, and taking part in some exciting outdoor activities.
From touring the historical sites and temples of the ancient Cham kingdom to visiting one of the many colourful markets or simply relaxing on the beach as the sun sets over the South China Sea, it would be easy to spend a week in Da Nang.
With its stunning landscapes, friendly locals and vibrant culture, Da Nang is an attractive destination year round!
Save on your trip with these resources
These are our go-to companies when we travel. We believe this list to be the best in each category. You can't go wrong using them on your trip too.
Flights: we use Expedia for the best and cheapest flight options.
Accommodations: we use Booking.com (hotels) or VRBO (self-contained).
Cars (gas or electric): we use RentalCars to search for deals and dealer ratings.
Campervans or Motorhomes: we use Campstar where Albom Adventures readers get a 3% discount
Private guides: we love the private guides at Tours by Locals
Travel Insurance: we start at InsureMyTrip as they are the best option to compare plans and find the right coverage for you.
Check out our travel resources page for more companies that we use when you travel.
Save for later
If you enjoyed this article, please share it on social media and save it for later on Pinterest.
Which of the things to do in Da Nang will you do?
You might also like:
Photo Credits:
All photos on this page are either shot by our team and watermarked as such or stock images from Depositphotos.