Vietnam's ancient city of Hoi An is a seamless mix of traditional and modern Vietnam. A happy place, it is a quaint, colourful village nestled beside the Thu Bon River and surrounded by countryside. Hoi An is a UNESCO World Heritage Site that is thought of as one of Vietnam's most beautiful cities. Today, a stroll past the ancient temples or a ride in a bamboo basket boat bookended the range of things to do in Hoi An.
A former trading port home to nearly 800 historic buildings, Hoi An is a popular destination in its own right. It's also a key day trip from Da Nang. While there are more than enough things to do in Hoi An to keep you busy, if you are arriving (in Da Nang) via cruise ship, you'll want to visit a few fascinating destinations between Da Nang and Hoi An, plus a couple of quick photo stops in Da Nang before returning to your ship.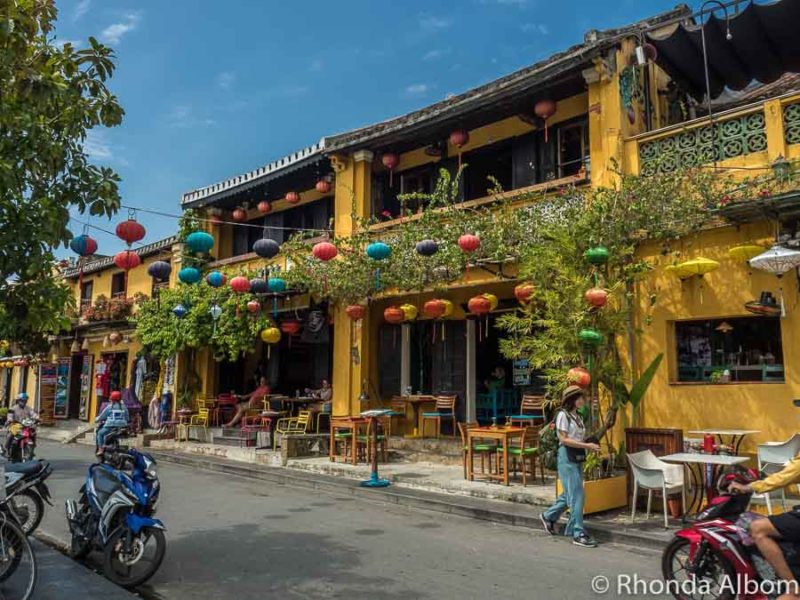 First, check out these highlights of our Southeast Asia exploration …
Things to do in Hoi An Vietnam
Basket boat in the countryside of Cam Thanh
Explore ancient Hoi An
Discover some of the many temples in Hoi An
Learn how silk is made and visit a custom tailor
Shop at Cho Hoi An Central Market
See the famous Japanese covered bridge
Take a cooking class
Enjoy a bicycle tour
Tempt your tastebuds with a meal
Basket boat in the countryside of Cam Thanh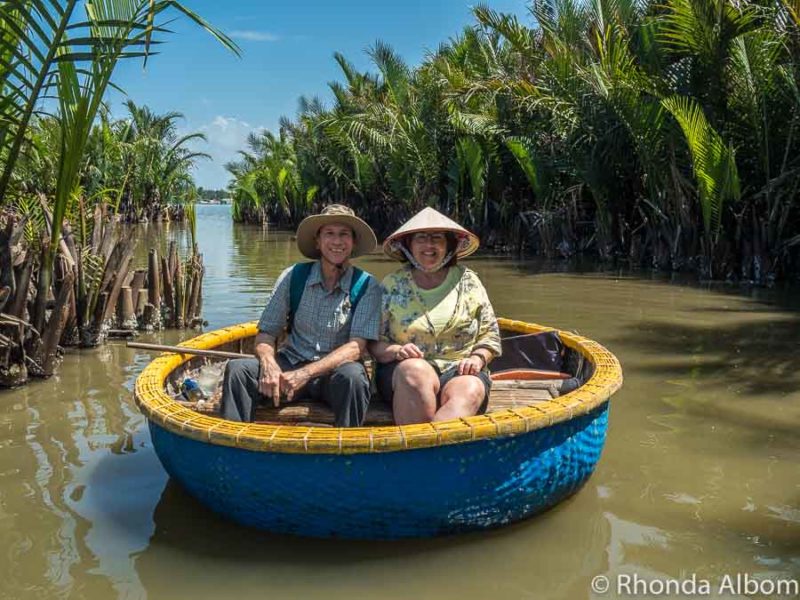 Sometimes the "tourist trap" type commercial activities actually are the most fun. The bamboo basket boat, sometimes called the coconut basket boat, is one of these opportunities. Our guide brought us right to Cua Dai River in Cam Thanh, a countryside region just outside Hoi An. Here, we boarded our boat with a local who did the paddling.
Gliding down the river, we passed a floating fishing village before paddling through coconut palms. Next, we stopped to watch a traditional fisherman throw his net. Then, Jeff caught a crab whilst fishing with a line hanging from a bamboo stick. There were a few other fun surprises along the way (see the video).
Our local guide effortlessly moved the bamboo basket boat with only one paddle, a skill that is much harder than it looks. I failed when I tried to control our round boat.
Even if you don't have a private guide, it's easy to book your own eco-tour and basket boat ride, and it can include transportation from Hoi An and a meal.
Explore ancient Hoi An
Once a trading port for wood, gold, and silk, many of the structures dating back to the 15th-century still stand. Today, the ancient city is a colourful collection of mostly Chinese and Vietnamese architecture in a quaint riverside town that managed to avoid being bombed during the war.
Temples in Hoi An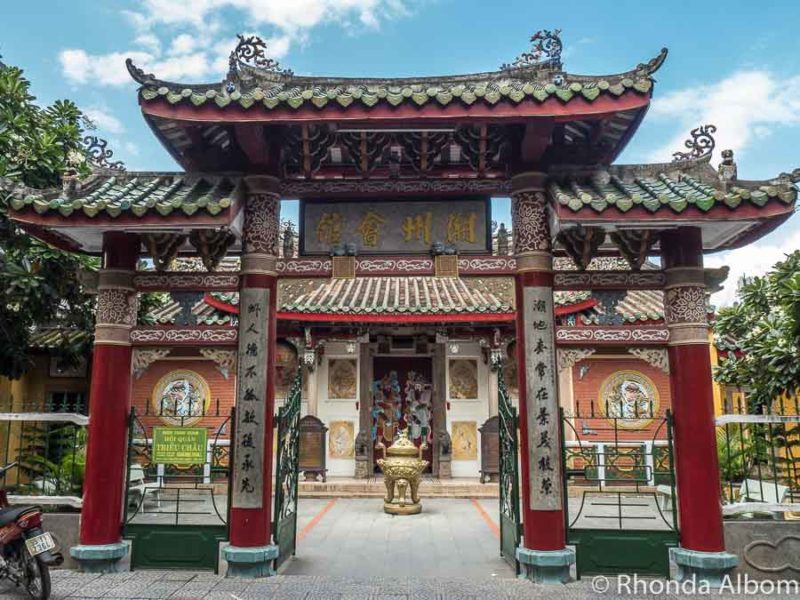 There are 22 old temples in the ancient city of Hoi An. We walked by about eight of them as we strolled through the old town. There is a fee for entry to each of the temples that we saw, and there is a pass that can be purchased to get you into five temples, museums, or old houses.
Silkworms and custom tailors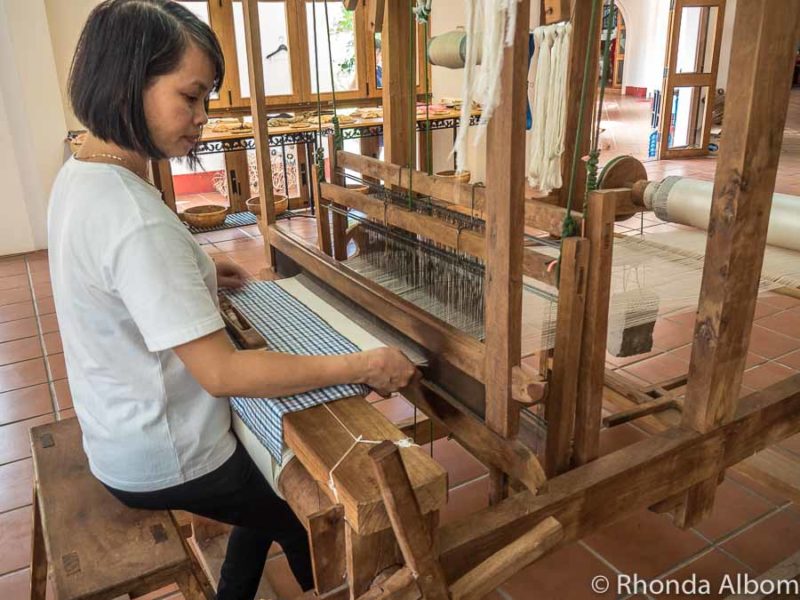 Every stage of production takes place at Yaly Couture Tailor Shop. We observed the steps from silkworm through to fabric weaving. With 300 tailors on staff, they are one of the top places to order custom items in Hoi An.
Cho Hoi An Central Market
Food, tailored clothing, trinkets, and whatever else you need can be found at the Cho Hoi An Central Market. An indoor market, there were plenty of outdoor stalls leading up to the main building.
Japanese Covered Bridge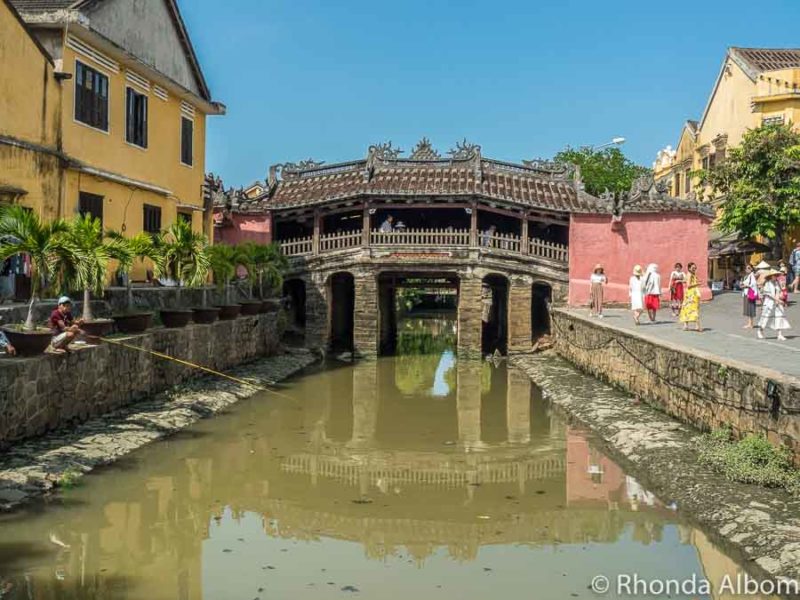 Hoi An's most romantic photo spot, the Japanese Covered Bridge, houses a Taoist temple. Architecturally, it differs from other old town structures, as it has a distinctively Japanese character as well as ornate carvings including monkeys and dogs.
Other things to do in Hoi An
While our cruise allowed for many overnight and even some three-day ports, unfortunately, Da Nang was not one of them. Therefore, we ran out of time long before we completed our list of things to do in Hoi An. Even with limited time, we are glad we made the short trip from Da Nang to Hoi An. Here are some of the things we saved for a future visit:
Order tailor-made clothing: Talented Hoi An tailors can create custom dresses in a few hours and suits in about 12 hours. If you don't have enough time, have it shipped home. My neighbour did this, and it worked out fine.
Take a cooking class: A Hoi An cooking class would have topped our list had we had more time, as we enjoy learning about a culture through food. We have taken cooking classes in Chile and in Singapore.
Explore on a bicycle tour: Our shipboard friends did a Hoi An bicycle tour and loved it. Getting out into the countryside is a more traditional Vietnam experience. Cycle past rice fields, vegetable farms, and waterways. See locals building boats, fishing, weaving mats, and more as you get a glimpse into traditional Vietnam life.
Enjoy a meal: We had a delicious lunch at Dao Tien River restaurant. Our top food recommendation was to try shrimp pancakes, but somehow we forgot and ordered a fabulous chicken dish. So good, in fact, we learned how to make Vietnamese grilled chicken ourselves.
Roadside images from Da Nang to Hoi An
One of the big advantages of having a private guide is the ability to add unscheduled photo stops at completely random points along the road.
Water buffalo smoking break
When I looked out the window and saw a man taking a smoking break on the back of his water buffalo, I knew instantly this was a once-in-a-lifetime photo opportunity.
Getting from Da Nang to Hoi An
As we cruised into the port of Da Nang, we had a plan. Our goal was to negotiate and hire a private driver and guide at the port to take us from Da Nang to Hoi An. While this often works out well, this time, the guide we negotiated with switched with another guide as we got in the car. While the replacement guide was okay, we felt a bit tricked.
Another option is this top-rated small-group excursion from Viator, which visited nearly all the places we recommend above. It starts and ends at Da Nang's cruise port, provides an English-speaking guide, and is limited to 10 participants.
Final thoughts Da Nang and Hoi An
The distance from Chan May Port in Da Nang to Hoi An is about 30 kilometres (18 miles), although it takes about 40 to 50 minutes by car. As you can see above, there are interesting things to see along the way.
The population of Da Nang is 1.134 million people, plus 6.6 million visitors annually. There are plenty of amazing things to do in Da Nang, like visiting China Beach, Marble Mountain, and seeing the fire-breathing dragon bridge. (It is one of the most unique bridges we have seen worldwide.)
Hoi An's population is 120k, drawing 3.2 million annual visitors.
While in Vietnam, we also enjoyed Ho Chi Minh City and Halong Bay.
Save on your trip with these resources
These are our go-to companies when we travel. We believe this list to be the best in each category. You can't go wrong using them on your trip too.
Flights: we use Expedia for the best and cheapest flight options.
Accommodations: we use Booking.com (hotels) or VRBO (self-contained).
Cars (gas or electric): we use RentalCars to search for deals and dealer ratings.
Campervans or Motorhomes: we use Campstar where Albom Adventures readers get a 3% discount
Private guides: we love the private guides at Tours by Locals
Travel Insurance: we start at InsureMyTrip as they are the best option to compare plans and find the right coverage for you.
Check out our travel resources page for more companies that we use when you travel.
Save for later
If you enjoyed this article, please share it on social media and save it for later on Pinterest.
Are you up for these things to do in Hoi An and Da Nang?