Standing tall and overlooking Da Nang, Marble Mountain is one of five marble and limestone peaks in central Vietnam. Each is named for one of the five elements of ancient Chinese philosophy: metal (Kim), water (Thuy), wood (Moc), fire (Hoa), and earth (Tho). We went to the top of Thuy Son, the one most often referred to simply as Marble Mountain, Da Nang.
Colourful Buddhist temples, marble statues, caves, and elaborate tunnels entice thousands of tourists to climb the 156 steep and uneven steps to the top.
Getting to the top
Access to the mountain had a fee of 40,000 VND ($2 USD), regardless of how you got to the top. The options were walking or taking an elevator for a nominal additional fee of 15,000 VND ($0.65 USD) in each direction.
To walk, there are 156 steps that were built during the 1600s. It may not sound difficult, but the uneven and often steep 156 steps in the sweltering heat and extreme humidity felt like quite a bit.
We did it the lazy way, taking the elevator up and walking back down. Despite my complaining at the time, I do believe this is the best way to see Marble Mountain.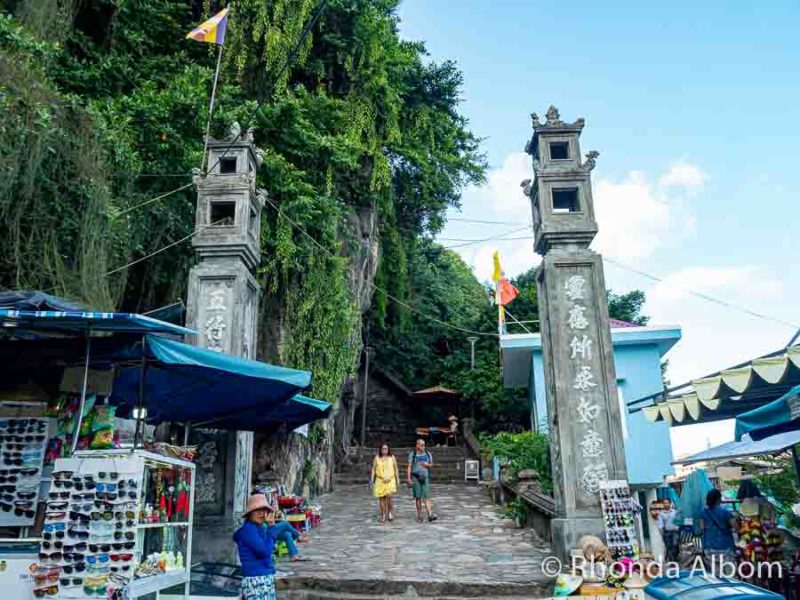 On Marble Mountain Da Nang
The glass elevator showed off the fabulous views as we rose to the top. From here, we stopped to overlook the growing city and Non Nuoc Beach, before we explored the historical sites we came to see.
Two pagodas were amongst the many religious structures that greeted us at the top.
Linh Ung Pagoda
The Linh Ung Pagoda, a Buddhist temple, also stands at the top, with ornate decor both inside the temple and in the surrounding area. A larger-than-life marble Buddha sits off to the right.
Linh Ung Pagoda is a national historical and cultural site, designated by the Vietnam Ministry of Culture, Sports, and Tourism. It's the oldest of three pagodas in Da Nang with the same name.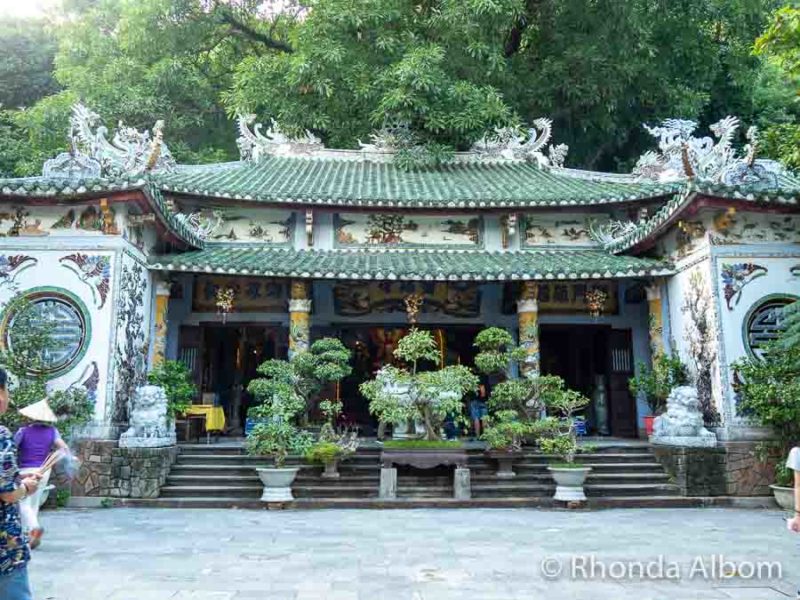 Into the Marble Mountain caves
We went into two of the caves at the top. The first was near our starting point, while we climbed many more steps to get to the second cave.
Featured below, the first two images are from the second cave, which was larger and darker than the first. According to our guide, the large holes in the roof are caused by the American bombing of the Viet Cong, who used the cave during the war.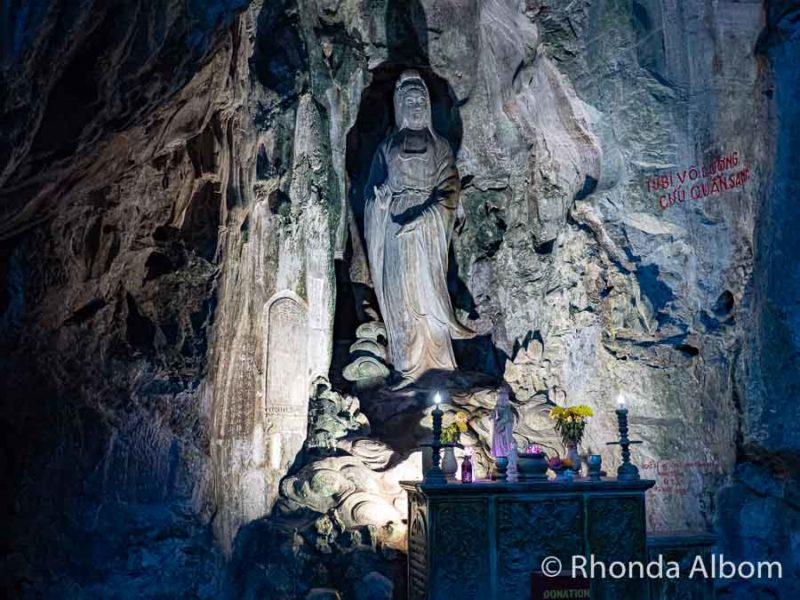 Marble Mountain tour
We arrived in Da Nang via cruise ship. While the ship offered excursion options that included Marble Mountain, we opted to hire a random driver at the port. Although we successfully use this method often, it didn't work out as well for us here as it has in other cities.
With the advantage of hindsight, we would have pre-booked an official guide or at least verified that we had one. What we lost were history and stories. With that knowledge gained, and after reading the reviews, we recommend the following options:
Discover Marble Mountain and Hoi An Ancient Town From Danang
This seems like the ideal day trip from Danang to Marble Mountain. You will travel in an air-conditioned vehicle (I promise, you will want this in Vietnam) and explore both Marble Mountain and the charming and ancient town of Hoi An. Here, you will visit the market, some of the ancient houses, and the Japanese covered bridge.

This tour will include a lot of walking at both locations, so be prepared. It also includes lunch in Hoi An.
⇒ Reserve your Marble Mountain and Hoi An tour from Danang here.
From Hoi An: Marble Mountain and Sculpture Village tour
This extremely affordable and top-rated tour from Hoi An visits both Marble Mountain and stops at the sculpture village for a bit of shopping or just looking. ⇒ Reserve your Marble Mountain tour from Hoi An here.
Marble sculpture and artwork
Non Nuoc Jewel village, the area at the base of Marble Mountain, is well known as a crafter's village and the place to purchase stone and marble sculptures. Here, the traditional methods have been passed down for 400 years. Although the stone used today is from quarries, as law changes have prevented extraction from the marble mountains.
They ship heavy artwork all over the world. One shop owner told us they can charge $100 USD per cubic meter for shipping worldwide, regardless of weight. They do this by filling shipping containers. However, you might have to wait a while for the container to fill.
Where is Marble Mountain?
We visited Da Nang via a cruise ship sailing from Hong Kong to Singapore. While this port's visit to Marble Mountain as part of our exploration of Da Nang, we also visited nearby Hoi An was a highlight, my favourite Vietnam port activity was a day cruise on Halong Bay.
More on Marble Mountain Da Nang
The mountain's Vietnamese name is Ngũ Hành Sơn, which literally translates to five elements mountains.
It is open to tourists daily from 7:00 am – 5:30 pm.
Be sure you have plenty of water, both for the climb up and for the walk back down. Although, on the day we visited, bottled water was available for purchase at both the bottom and top.
It is a popular and somewhat crowded tourist destination, but well worth the visit.
Stone carving shops along the street guarantee quality, but small vendors at the base of the mountain do not. Keep this in mind when you are purchasing souvenirs.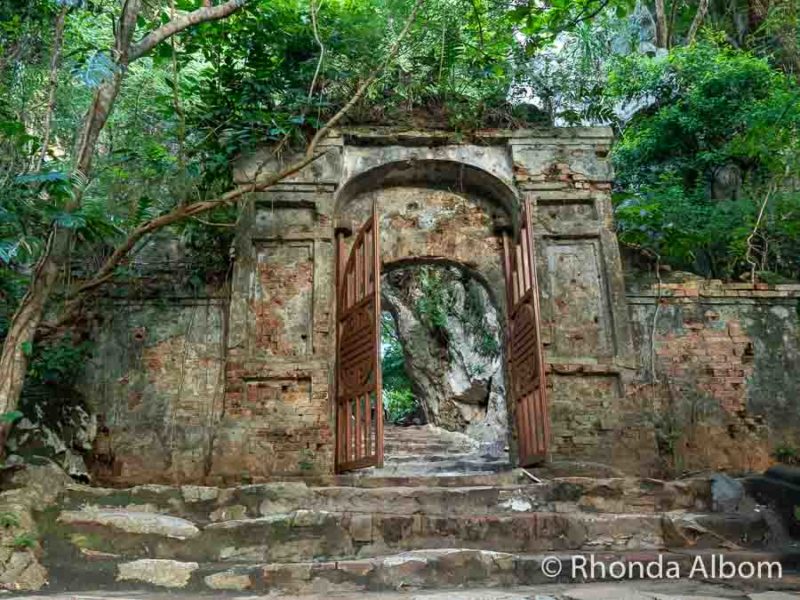 Health and safety
Don't forget to check with your travel doctor well before you start your travel to be sure you have all the necessary vaccines and medicines you might need in Vietnam. Also, there were active mosquito-borne illnesses in some of the areas where we travelled.
After experiencing dengue fever first-hand less than a year earlier, I was sure to carry insect repellent with 30% DEET for this trip, as well as treating some of our clothes with Sawyer Permethrin Clothing Insect Repellent before we packed.
We also carry a fully-stocked first aid kit that we make ourselves. However, if you prefer a pre-made one, this small first aid kit looks complete for minor injuries.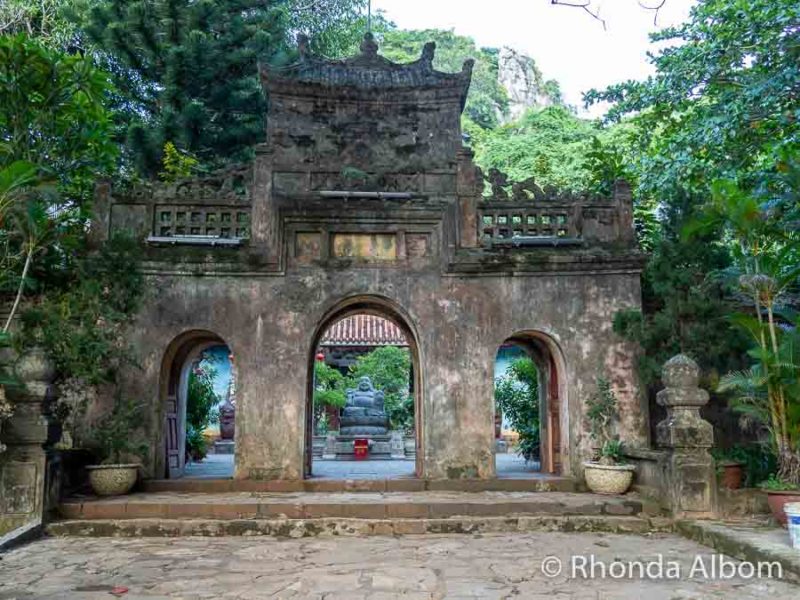 Save on your trip with these resources
These are our go-to companies when we travel. We believe this list to be the best in each category. You can't go wrong using them on your trip too.
Flights: we use Expedia for the best and cheapest flight options.
Accommodations: we use Booking.com (hotels) or VRBO (self-contained).
Cars (gas or electric): we use RentalCars to search for deals and dealer ratings.
Campervans or Motorhomes: we use Campstar where Albom Adventures readers get a 3% discount
Private guides: we love the private guides at Tours by Locals
Travel Insurance: we start at InsureMyTrip as they are the best option to compare plans and find the right coverage for you.
Check out our travel resources page for more companies that we use when you travel.
Save for later
If you enjoyed this article, please share it on social media and save it for later on Pinterest.
How will you get to the top of Marble Mountain?