If you are looking for a pristine paradise, you won't want to miss the stunning beaches in Palawan Philippines. But even in paradise, there are a few places that stand out more than others, so below are the five best Palawan beaches. Don't just take our word for it, these were pulled together for us by a former editor of "Let's Palawan." (see bio information below)
Palawan, an island region west of the Philippine archipelago, is a popular travel destination for many reasons. One of the things that set this island from all other tropical spots, though, is how it is filled with so many beautiful shorelines and stunning Palawan beaches.
The island is said to have more than 50 pristine beaches, all featuring distinct tropical settings. Long stretches of white sand, blue-green crystalline waters, and shade-giving palm trees line up on the coastline; these are just a few of the things that make Palawan beaches amazing locations to unwind.
With the number of beaches in Palawan, you might be in a dilemma upon choosing which one to go to first.
Let me help you in that department: here is your guide to 5 of the best beaches in Palawan, Philippines.
Note: Based on world conditions, we advise checking official channels including cancellation policies prior to booking. Also, with often reduced capacity, booking ahead becomes more important.
Best beaches in Palawan Philippines
Ipil Beach, El Nido
Banana Island, Coron
Marimegmeg Beach, Corong Corong
Corong Corong Beach
El Nido
We earn from qualifying purchases through partnerships or affiliate programs.
Ipil Beach, El Nido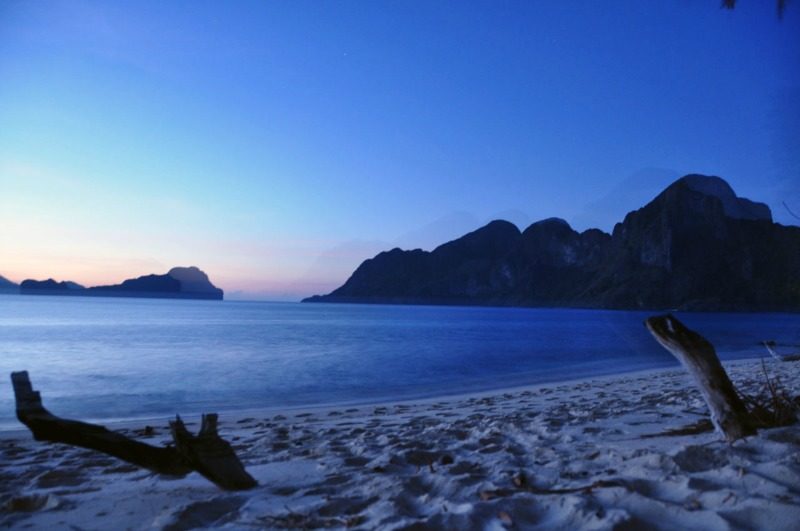 Ipil Beach in El Nido, Palawan is one of those secluded beach paradises. The place is quite serene, and the exceptional beauty of nature showcased by its stunning coastline stands out clearly.
The waters are crystal clear and the location offers a beautiful island vista. Coupled with those tall shadowy palm trees and the remarkable coral reef formations, Ipil Beach is your little paradise.

Check El Nido hotel availability
Banana Island, Coron
Among the gorgeous coastlines of Coron, Banana Island is one of those favoured Palawan beach spots. It has a white sand beach with excellent coral reefs perfect for snorkelling adventures. Its fine sand is hemmed in by turquoise waters.
Similar to other beaches in Palawan, Banana Island also offers a beautiful island panorama of the open sea.

Check Coron hotel availability
Marimegmeg Beach, Corong Corong
An incredibly beautiful beach is located at Corong Corong, in El Nido. The beach exhibits a long stretch of fine sand and blue-green waters.
The place is a top choice for tourists who want to have a peaceful beach experience during their stay. Marimegmeg Beach is one of those unspoiled beach gems on the island.
Corong Corong Beach
Corong Corong Beach will also give you a pacifying beach experience, making it a first-rate destination for those peaceful retreats.
Also, by late afternoon, most of the people there love to spend time on the shore and wait for that beautiful glow of the sunset, which I suggest you do, as well.
Corong Corong Beach offers the best sunset-watching session in El Nido.
El Nido
The island has its list of spectacular coastline destinations. Out of these places, El Nido is one of the ideal spots to enjoy these lovely beaches.
Whether it's the active beach escape you're after or a private beach getaway, El Nido has it. If you wish to have the best beach adventure during your Palawan travel, you can never go wrong with El Nido.
Things to do in Palawan (aside from enjoying the beautiful Palawan beaches
See more beautiful beaches in the Philippines and great cruise ports around the world.
Final thoughts on beaches in Palawan Philippines
Indeed, this island paradise in the Philippines has an abundance of captivating postcard-like beach destinations. Undeniably, the island is filled with so many inviting coastlines.
One more good thing about Palawan, though? It always has more under its sleeves.
So, if you have gone through all the Palawan beaches on the list, you can still explore the island and find more alluring coastlines!
Best deals and discounts for your travel planning needs
We earn from qualifying purchases through partnerships or affiliate programs.
Flights: When it comes to flights, we always start with Expedia.

Hotels: We use Booking.com to compare and book accommodations. Don't miss Booking.com's Getaway 2022 Deals that save 15% or more on selected accommodations. (T&Cs apply)

Other accommodations: If you prefer B&B or self-contained type lodging, check out VRBO.

Vehicle hire: RentalCars is like a rental car search engine with no hidden costs, that lets us find the best deals on car rentals worldwide.

Private Tours: We are big fans of ToursByLocals, and use them for nearly all cities where we want a private guide.

Packing Tips: Get a free copy of our packing light checklist when you sign up for our mailing list. (We pack light, yet have everything we need.)
Find more money-saving resources and T&Cs on some of the above, check our Travel Resources page.
Save for later
If you enjoyed this article, please share it on social media and save it for later on Pinterest.
Which of these beaches in Palawan Philippines will you visit?