A morning filled with learning, chopping, grinding, mixing, and eating, Food Playground offered us an immersive opportunity to touch upon Singapore's integrating culture through food. It's much more than just a hands-on cooking class in Singapore. Food Playground is an experience. And it's the kind of opportunity we love, as it lets us absorb a piece of the culture, something we too often miss if just visiting the sites.
Equally important, Food Playground is as fun as the name suggests. There is a healthy, relaxed, and friendly vibe to Food Playground that encourages participants to feel comfortable. It all starts with founder Daniel Tan and the social mission he strives for with Food Playground.
Food Playground's social mission
A community supporter, Food Playground employs stay-at-home mothers and active seniors rather than professional chefs. By offering flexible hours, they provide an opportunity for people who often find returning to work difficult. As a bonus to us, the participants, these women bring a repertoire of tried and true family recipes that have been passed down through the generations.
Impressively, Food Playground even goes a step further in their empowerment of these women by offering structured training both as instructors and public speakers. As a result, our instructor was confident, capable, happy, and made learning and cooking fun.
Our cooking class in Singapore
After relaxing with a welcome tea, meeting our classmates, donning our apron and hat, and learning a bit about Singapore culture as well as the Peranakan lifestyle, we were ready to cook with our new friends.
What's on the menu?
We opted for a Thursday class, mostly because that was the day we disembarked our cruise ship in Singapore. Plus, the menu included dessert, and it was adaptable to my gluten, dairy, onion, and garlic-free diet. The three dishes on our menu included:
Chicken satay (grilled chicken on skewers) with a home-made peanut sauce
Char Kway Teow (stir-fried flat rice noodles)
Gula Melaka Sago Pudding (sago with coconut sugar)
Not only did we learn how to prepare each of those scrumptious dishes, but we also ate them and walked away with recipes that we could understand and reproduce.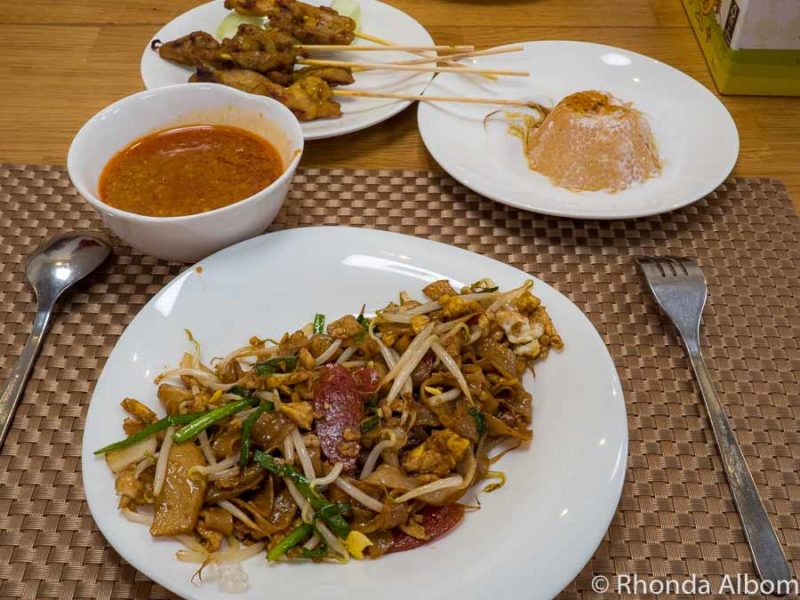 Heading to Singapore? Reserve your Food Playground cooking class here.
Our meal in more detail
If we hadn't already understood why Food Playground consistently rates number one on Trip Advisor (Cooking Class/Workshop in Singapore), one taste of our creations would have convinced us. The local flavours are delicate and delicious, and even without the onions or garlic (my food allergies), my food was wonderful. I had special ingredient trays, so Jeff prepared the full recipes.
Chicken satay with peanut sauce
I'll admit, having a familiar dish first was reassuring. However, any apprehension about the other food quickly melted away with the first bites. I love that we brought home a fabulous recipe for both the satay and peanut sauce, which we will put to good use.
Char Kway Teow
For me, three things made the Char Kway Teow so special. First, it was a new dish for me and I am pretty brave around new foods. Secondly, it's a noodle dish that's not too spicy, and third, but probably most important, it's a family recipe handed down from our instructor Teresa's grandma.
This is the magic of Food Playground. It's not just a cooking class in Singapore but rather a cultural experience. If you are wondering what else is in our Char Kway Teow, it includes rice noodles, egg, garlic (not for me), fish cake slices, prawns, chives, bean sprouts, fish sauce, and a special sweet sauce. The flavours blend together, creating a treat for the senses.
Char Kway Teow is the clear favourite of travel blogger Vanessa Workman, who recommended Food Playground to us and wrote about her Thursday experience at The Island Drum.
Gula Melaka sago pudding
Then, there was the dessert. If you haven't tried Gula Melaka sago pudding, take my recommendation and order some next time you are in a Singaporean (or South East Asian) restaurant. Or, better still, make your own.
If I can do it, you know it's not too difficult. In its simplest form, it is: shave, boil, drain, scoop, cool, and enjoy. Sweet and irresistible, it perfectly complemented the meal.
Optional Food Playground menus
Food Playground cooking classes in Singapore are offered every day of the week, with the current menu as follows:
Mondays: Nasi lemak (Malay coconut rice with condiments), prawn or chicken sambal, and kueh dadar (coconut crepes)
Tuesdays: Chicken curry, roti jala (Malay net pancakes), and kueh ubi kayu (tapioca cake)
Wednesdays: Nyona laksa, fried spring rolls, and Peranakan hoon kueh
Thursdays: Egg fried rice, sweet and sour chicken, and green bean soup
Fridays: Char kway teow, Nyonya popiah, and gula melaka sago pudding
Saturdays: Chicken curry, roti jala (Malay net pancakes), and kueh ubi kayu (tapioca cake)
Sundays: Nyona laksa, fried spring rolls, and Peranakan hoon kueh
Our menu was chicken satay with peanut sauce, Char Kway Teow, and Gula Melaka sago pudding
The grand finale of our cooking class in Singapore
More on Food Playground Singapore
Food Playground's cultural cooking classes in Singapore are offered every day starting at 9.30 am.
Each cultural cooking class is three hours and includes the meal.
In the afternoons, Food Playground offers corporate team-building activities.
Food Playground is one of many amazing opportunities in Singapore.
Where is Food Playground?
Food Playground is at 24A Sago Street in Singapore's Chinatown. I am embarrassed to admit that we struggled far more than necessary to find it. Perhaps we should have listened a bit closer to the directions.
It's located behind the Buddha Tooth Relic Temple in the pedestrian-only portion of Sago Street, on the second and third floors of a pre-war heritage shophouse. There is an orange Food Playground sign.
Love the idea of this class but can't get to Singapore – check out their online option
My second class with Food Playground offered all the same cultural learning and fabulous blends of Singaporean flavours but took place in my New Zealand kitchen. This time we made kaya, a sweet, buttery coconut jam that makes me wish I was actually back in Singapore.
In only 90 minutes, I converted items from my pantry into something wonderful. It's a cool concept that works great. After signing up, a shopping list is provided, but for me, I already had everything I needed. The instructor and fellow participants are virtually together on Zoom. Real-time cooking allows for assistance as needed and all the cultural benefits we found in our live Food Playground class. Check it out here.
Conclusion
Food and travel go hand in hand. Yet, Food Playground is more than just another cooking class in Singapore. It's a window into the culture, an opportunity to learn more than just a few recipes, with the bonus of a good meal. Jeff and I both loved our morning with Food Playground, and we recommend it for visitors to Singapore.
➜ Reserve your Food Playground cooking class.
Save on your trip with these resources
These are our go-to companies when we travel. We believe this list to be the best in each category. You can't go wrong using them on your trip too.
Flights: we use Expedia for the best and cheapest flight options.
Accommodations: we use Booking.com (hotels) or VRBO (self-contained).
Cars (gas or electric): we use RentalCars to search for deals and dealer ratings.
Campervans or Motorhomes: we use Campstar where Albom Adventures readers get a 3% discount
Private guides: we love the private guides at Tours by Locals
Travel Insurance: we start at InsureMyTrip as they are the best option to compare plans and find the right coverage for you.
Check out our travel resources page for more companies that we use when you travel.
Save for later
If you enjoyed this article, please share it on social media and save it for later on Pinterest.
Will you take a Food Playground cooking class in Singapore?
Disclaimer: We were guests of Food Playground to aid in the writing of Albom Adventures. However, the opinions expressed here are strictly our own.