A city steeped in history, traditional architecture, and friendly, welcoming locals, Muscat was both our entry into the Middle East and one of the highlights of our travels around the world. We stayed a week, but cruise ship passengers have only a day. Therefore, we have pulled together this list of the top places to visit in Muscat.
The capital of the Sultanate of Oman, Muscat, is an eclectic mix of modern and old-world charms. Oman is the oldest independent state in the Arab world and one of the oldest human-inhabited places on earth.
Getting around the city is easy, although it's a bit spread out, often requiring us to either drive, take a taxi, or hire a guide to get to several of the recommended places to visit in Muscat.
Importantly, we always felt safe in Oman and were glad to read that it has one of the lowest violent crime rates in the world.
Top 10 places to visit in Muscat
Sultan Qaboos Grand Mosque
Mutrah Corniche
Mutrah Souq
Al Alam Palace
Muscat Fish Market
Museums (National Museum or Bait Al Zubair)
Qurum Beach
Al Jalali and Al Mirani Forts
Royal Opera House
Walk the back roads for an insight into daily life
Sultan Qaboos Grand Mosque (topping our list of places to visit in Muscat)
Presented to the people of Oman as a gift from Sultan Qaboos in 2001, the Grand Mosque is an opulent example of modern Islamic architecture and tops our list of places to visit in Muscat.
With an area of 416,000 m², it is a vision to enjoy, even before entering. But once inside, the overall grandeur, the vibrant mosaics, and the intricate carvings are captivating.
The main prayer hall has the capacity for over 6,500 worshippers, although in total, including the outdoor courtyards, the mosque can hold 20,000 worshipers.
It is famous for its hand-loomed carpet of 1.7 billion knots that took 600 Iranian women four years to weave. At 4,263 m², it weighs 21 tonnes and is the world's second-largest hand-loomed Persian carpet, the largest being in the Grand Mosque of Abu Dhabi.
Equally impressive and measuring 14 meters, there are 600,000 shimmering Swarovski crystals in the main prayer hall's chandelier, which was the world's largest when unveiled (Since 2022, Egypt has this title).
One of a handful of mosques in the Arabian belt that allow non-Muslim visitors, the limited open hours are Sat – Thurs from 8:30 to 11:00 am. Respect is critical, and both men and women are required to dress modestly, remove shoes before entering the prayer halls, and avoid mobile phone usage, eating, or sleeping.
Pro tip: Tour buses don't arrive until 9 am, so getting there early has a big advantage as it is one of the popular places to visit in Muscat.
Mutrah Corniche
Mutrah Corniche (seaside walkway and road) extends about 3 km and is the hub of Muscat life. While slow-moving traffic dominates the road, it's not unusual to see tourists and locals (usually men) walking or gathering along the shoreside or relaxing at a cafe or restaurant on the inland side of the street.
It's the perfect spot to enjoy a sunset, catch a dhow cruise, or simply watch the boats out on the water. One of my favourites is the hand-built wooden dhow, part of the royal fleet (image above).
The corniche is also where we find the main souq, many outdoor cafes, museums, and shopping.
Mutrah Souq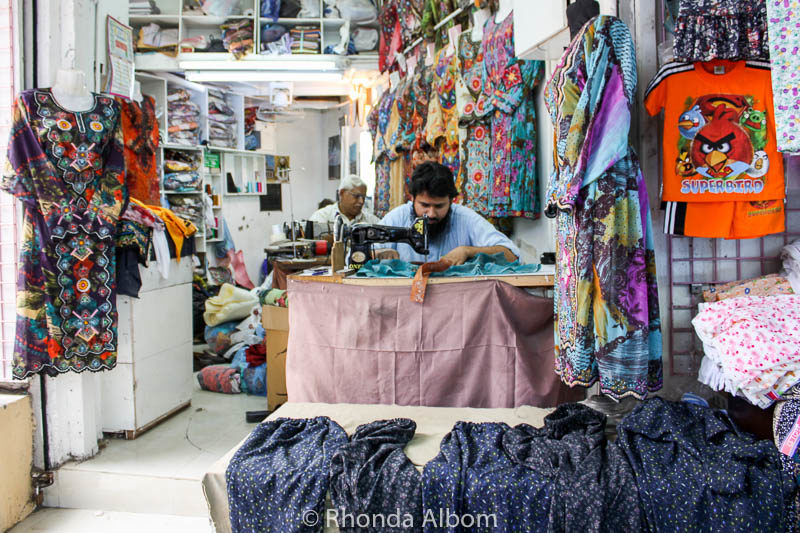 Muscat's oldest souq, the Mutrah Souq, is a classic Omani market featuring everything from handmade clothing to spices and from antiques to khanjars. It's one of the best places to visit in Muscat to get an insight into traditional life.
The main entrance is on the corniche, but once inside, navigating our way through the maze of small shops was more challenging than we expected. But isn't that half the fun?
Haggling for price is expected, but discounts are often small.
Despite the popularity and convenience of the more modern malls in Muscat, the Mutrah souq is still popular with both locals and tourists.
Al Alam Palace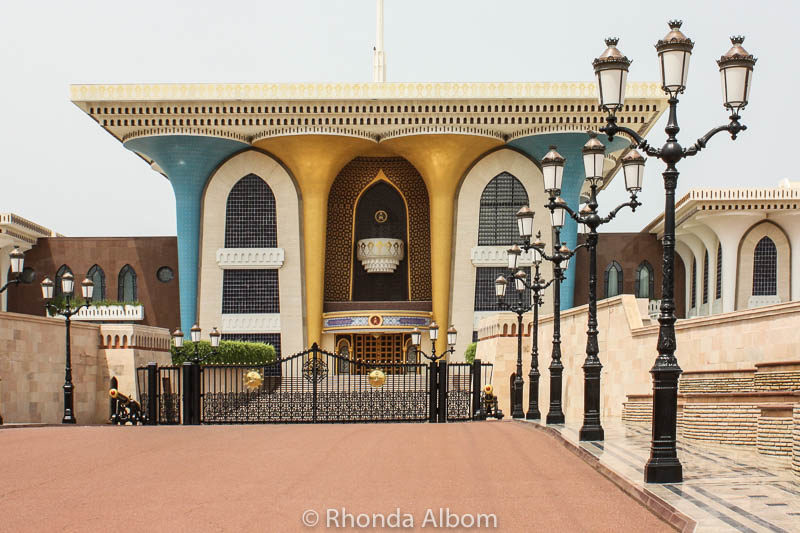 The Al Alam Royal Palace is one of the Sultan's homes. Although closed to the public, we got a glimpse (and photo) of the colourful palace through the gates.
We also took a bit of time to walk around the surrounding old Muscat neighbourhood.
When we visited, the palace was home to Sultan Qaboos Bin Said, the longest-serving ruler in the Middle East. He is considered to be the person behind the modernization of Oman. His death was announced in 2020.
Today, the royal palace is predominantly used for ceremonies as the current royal family prefer their seaside residence near Seeb.
Muscat fish market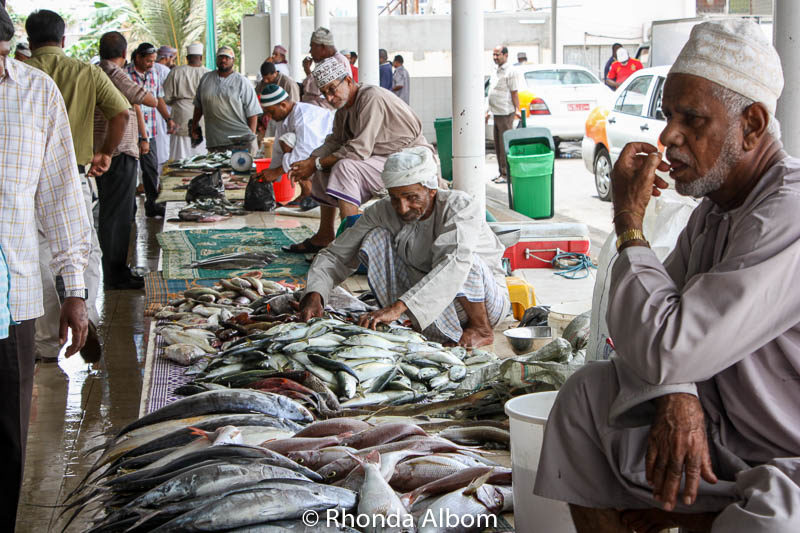 Another snapshot in time, the traditional outdoor fish market that we visited has moved indoors into a new purpose-built, almost fish-shaped, airconditioned building in the Mutrah area.
Despite the less sanitary appearance of piles of fish, without ice, displayed on blankets on the ground, I am glad we got to visit the original fish market.
Museums are among the places to visit in Muscat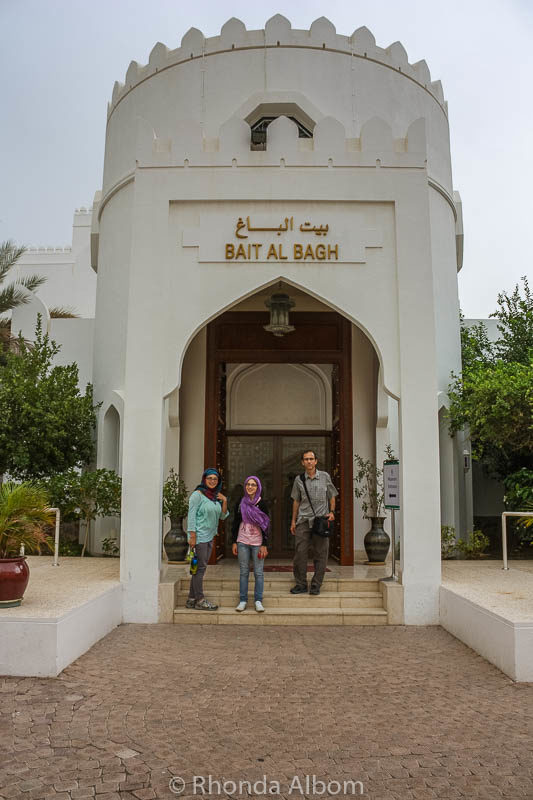 National Museum of Oman
Open to the public in 2016, the Oman National Museum highlights the Sultanate's cultural heritage from the first evidence of human settlement in Oman to the present day.
Bait Al Zubair (including Bait Al Bagh)
Bait Al Zubair is a privately funded museum that publicly opened in 1998 in the original Bait Al Bagh building. It highlights daily life in Old Oman. The museum currently displays the Zubair family's collection of Omani artefacts in 5 buildings.
Specialty museums: Ghalya's Museum of Modern Art, The National History Museum, The Currency Museum, Sultan's Armed Forces Museum, the Omani-French Museum, and the Children's Museum.
Qurum Beach
If you like to visit a beach whenever you are in a coastal town, then Qurum Beach is one of the places to visit in Muscat that needs to be on your list.
The upscale Qurum area is where you will find many embassies. The nearly 4 km beach is popular with Omanis, western expats, and tourists. While it's not unusual to see both traditionally dressed Omani women fully covered as well as others in western swimwear, western women are advised to avoid skimpy clothing.
Al Jalali and Al Mirani forts
Al Jalali and nearby Al Mirani forts were built in the harbour of Old Muscat during the 16th-century Portuguese occupation. Their purpose was to thwart attacks from the Ottoman Empire. Historically, Al Mirani fort contributed to the fall of the Portuguese in Oman.
The entrance to Al Mirani is closed to the public. In contrast, Al Jalali is now a museum of Omani heritage, although if you want to visit, you will need a permit from the Ministry of National Heritage and Culture.
Royal Opera House
An impressive example of the blending of modern Italian and Islamic architectural styles, the Royal Opera House is worth at least a photo stop. However, if time permits, get inside for either a tour or to see a show.
Oman's Royal Opera House is the first of its kind in the middle east. It can hold 1,100 guests and hosts a full range of musical events from classical to modern.
Include back roads in your places to visit in Muscat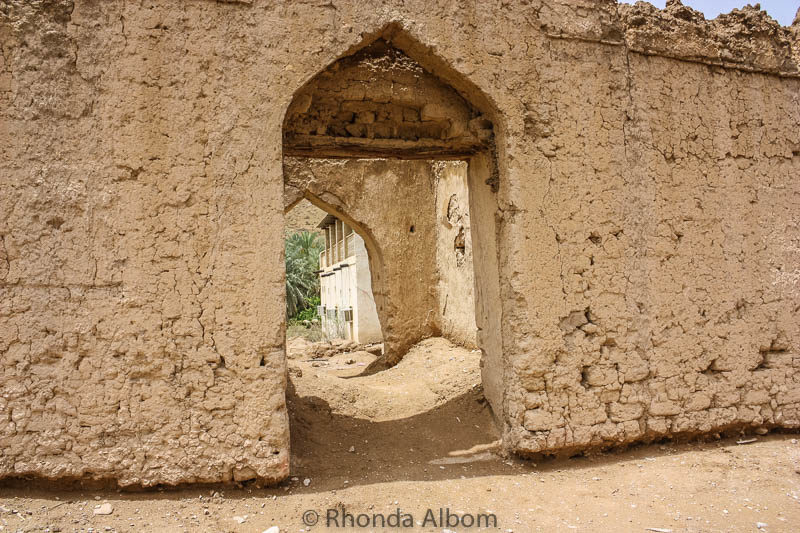 We love to step out of the tourist area and see daily life. Muscat was a huge mix of modern upscale houses and a more traditional lifestyle. The traditional is more interesting to photograph, but signs of modern life and money are everywhere, like the dune bashing vehicles and the massive yacht above.
Getting around Muscat: city tours
We are comfortable exploring most parts of the world on our own. However, in order to dive into culture and history, we frequently take city tours. Plus, in Oman, we hired a private guide when we left Muscat.
In Muscat, the two main options are either private or GrayLine tours. Your budget will dictate your choice.
For us, we like a private guide that allows us to customize in advance and make changes on the spot. We are willing to pay for this luxury.
Here are our top three picks for Muscat:
Customized private tours: We love Tours By Locals and nearly always use them as we can communicate with our specific guide in advance and customize the tour we want. We also can make changes on the spot when something just isn't as interesting as we hoped. Here's their list of private guides in the city.
Half-day Muscat city tour (preset private tour) This private tour will take you through the Grand Mosque, then on to the fish market, Mutrah Souq, Bait Al Zubair Museum, and a walk in the palace yard with views of the two forts. Reserve your half-day tour here.
Half-day Muscat city tour (GrayLine group tour) This group tour visits the Grand Mosque, fish market, Bait Al Zubair Museum, photo stops at the Al Alam Palace and Al Mirani fort, and then a visit to Mutrah Souq. Interestingly, we have noticed deals at two different tour companies and recommend you check pricing at both: Grayline tour from Get Your Guide or Grayline tour from Viator.
Muscat day trips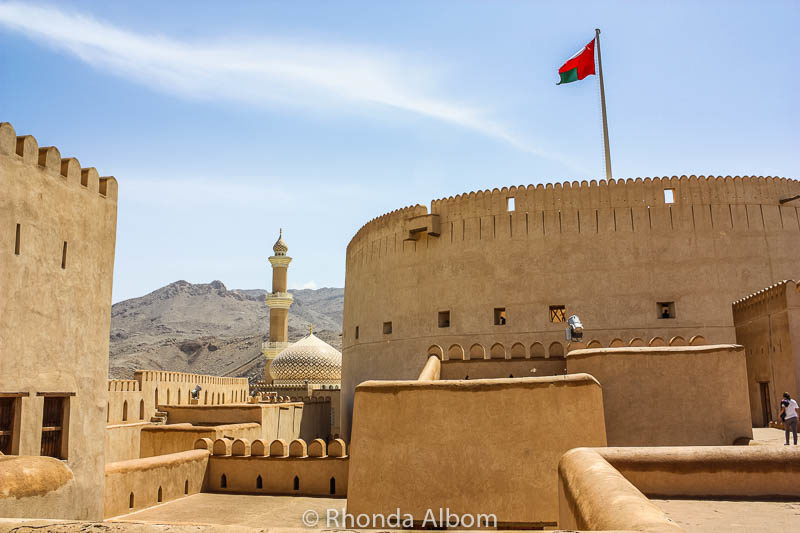 While there are plenty of places to visit in Muscat, there are even more outside the city. I am sure we barely scratched the surface. Here are a few of our highlights:
Nizwa
The former capital of Oman is located in a date palm oasis on the plains of the Al Hajar mountains. The highlights are the old souq (including the Friday livestock market), the 9th-Century Nizwa castle, and the Nizwa Fort with the largest round tower in Arabia. See our Nizwa adventure here.
Jebel Shams and the Oman Grand Canyon
Along the edge of the highest peak in Oman, Jebel Shams, the cliff drops a thousand metres, exposing dramatic scenery aptly nicknamed the Oman Grand Canyon.
Misfat Al Abreeyen
Misfat Al Abriyeen is one of Oman's oldest villages, and it's literally built into the mountainside. The people here live a more traditional lifestyle. See our Misfat photos here.
Bimmah sinkhole
A swim in this beautiful sinkhole was our first stop on our way south to see the nesting turtles. There are stairs down to the water but no other amenities here.
Wadi Shab
Rather than dry, Wadi Shab typically has water all year round. We opted to have a picnic and walk through the water to the opposite side.
Seeing the turtles is a two day trip from Muscat
Ras Al Haad
We headed here for an overnight to see turtles nest and to watch the newly hatched baby turtles crawl to the sea. Here the Omani Sea and the Indian Ocean meet, and the water is so crystal clear we could look down and see fish.
Wadi Bani Khalid
While many people hike and explore here, we came for a refreshing dip in the blue-green waters of the natural pool.
Sur
We enjoyed a walk on the beach and then headed to a Dhow shipyard and watched master craftsman at work hand building traditional Omani Dhows. These ships are custom ordered from sheiks and others of influence and will take up to five years to complete.
Driving in Oman
In general, driving appears comfortable on modern roads with few other vehicles. Even the dirt roads appear to be solidly packed and well maintained. Plus, we had a friend living in Muscat who said driving was fine.
We will probably drive ourselves to the places we have been before on our next visit. However, for new places to us, the cost of a guide is worth the added value.
For rental cars worldwide, we use Rentalcars.com. As an aggregator, they present a list of cars from multiple companies, along with ratings. Our favourite feature is the quick, easy, and effective English language customer support.
Where to stay in Muscat
Luxury option: Shangri-La Resort
If you seek the pinnacle of luxury, the Shangri-La Resort looks heavenly. Located right at the water's edge, this exclusive adults-only hotel has its own private beach. The rooms are amongst the largest and most luxurious in Oman and feature authentic Omani artworks. It is where I will stay when I return to Oman. Reserve your room at Shangri-La Resort here.
Mid-range option: Tulip Inn
We based ourselves in Muscat at the Tulip Inn. We loved the central location and the elegant mix of modern and classic. The Tulip Inn was clean, colourful and had staff that was both friendly and helpful. We recommend it as a mid-range, family-friendly option in Muscat. Reserve your room at Tulip Inn here.
Final thoughts on Oman
Oman is located in the southeastern quarter of the Arabian Peninsula on the Gulf of Oman and the Arabian Sea (with a small portion on the Persian Gulf). It borders UAE and Saudi Arabia to the west and Yemen to the south-west.
We did have a bit of drama entering the country and encountered some rare desert flooding, but beyond that, Oman was a comfortable place to be.
Albom Adventures was featured in the Times of Oman, the largest English speaking newspaper in Oman.
We loved every minute of our time in Oman, and recommend spending at least five days here, a week would be better.
Save on your trip with these resources
These are our go-to companies when we travel. We believe this list to be the best in each category. You can't go wrong using them on your trip too.
Flights: we use Expedia for the best and cheapest flight options.
Accommodations: we use Booking.com (hotels), VRBO (self-contained), or Hostelworld (budget).
Cars (gas or electric): we use RentalCars to search for deals and dealer ratings.
Campervans or Motorhomes: we use Campstar where Albom Adventures readers get a 3% discount.
Motorcycles: we have heard good things about BikesBooking.
Private guides: we love the private guides at Tours by Locals.
Travel Insurance: while not required, we always opt for travel insurance and start at InsureMyTrip to compare coverage plans.
Check out our travel resources page for more companies that we use when you travel.
Save for later
If you enjoyed this article, please share it on social media and save it for later on Pinterest.
Which are your favourite places to visit in Muscat?
The majority of photos on this page were shot by Rhonda Albom, however, stock photos from Depositphotos were used for the National Museum of Oman and the beach.