Stepping back in time, we entered Misfat Al Abriyeen, a town literally built into the mountainside. It is one of Oman's oldest villages. The Omani people here follow a more traditional lifestyle, and we found them to be warm and welcoming.
The mountain village of Misfat Al Abriyeen is a maze of alleys surrounded by traditional buildings, often tall mud structures built into and around Jebel Akhdar. In English, it is the Green Mountain, an obvious name when one looks around this desert only to discover lush date palm and banana groves. Jebel Akhdar is part of the al Hajar mountains, Oman's tallest mountain range. The peak is Jebel Shams, the location of the Oman Grand Canyon.
We visited Misfat Al Abriyeen as part of a private day trip from Muscat that also included Nizwa and the Grand Canyon Oman.
⇒ Check pricing and availability of a Private Tour for four to Misfat Al Abreyeen and Jebel Shams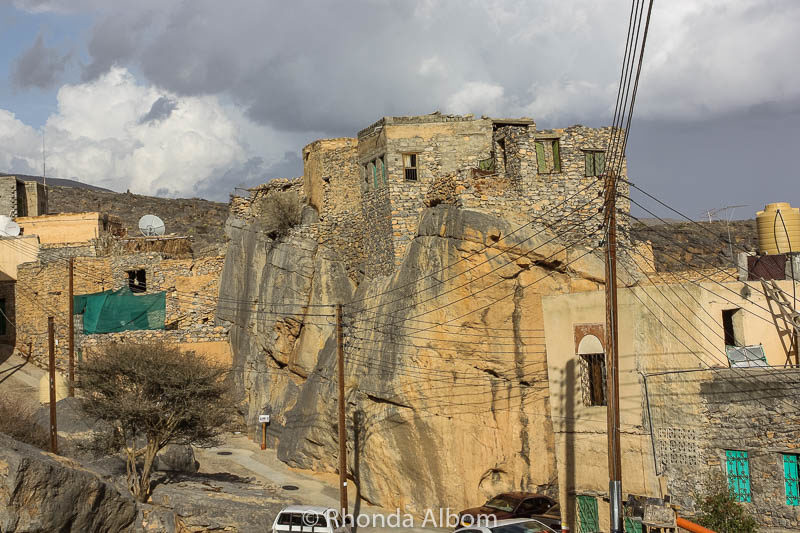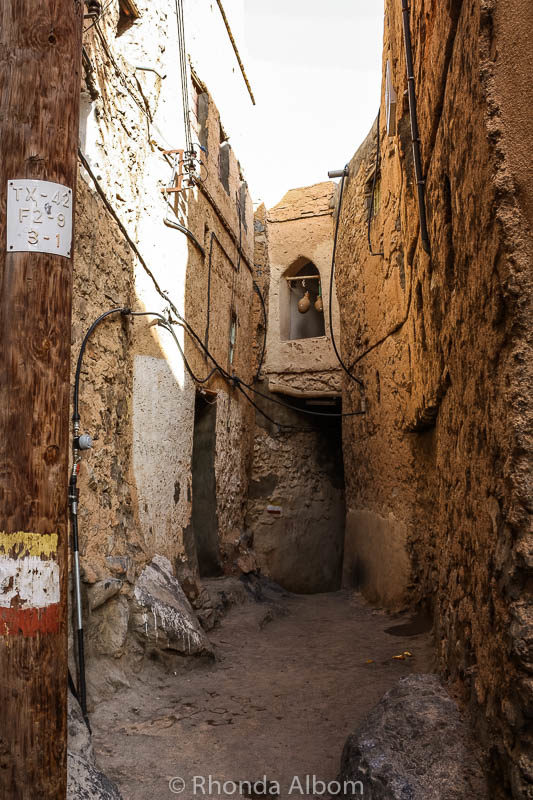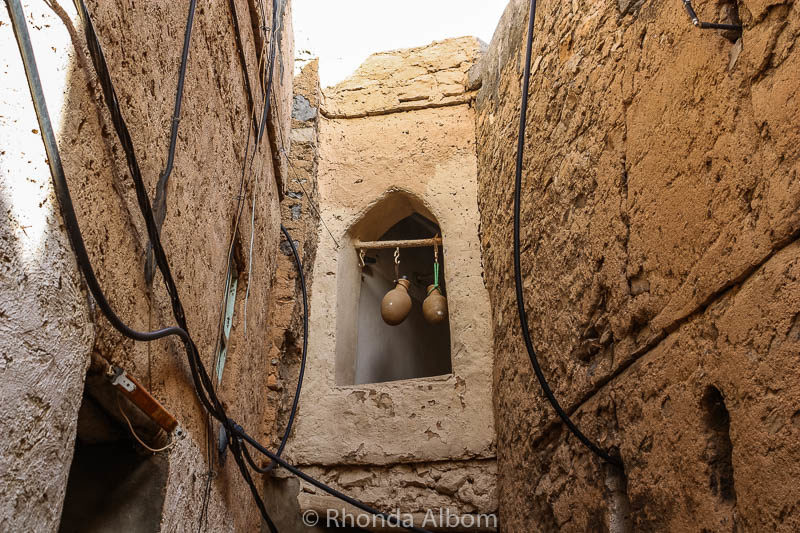 Local customs in Misfat Al Abriyeen
As Misfat increases in popularity amongst Oman tourist attractions, a sign now stands at the village entrance welcoming visitors. It points out the highlights and offers suggestions to make a visit more enjoyable for everybody. "We kindly request you to respect our customs":
Wear unrevealing clothing; cover your upper arms while shorts/skirts should cover knees.
Greet people you meet on the track.
Ask before taking photographs of local people.
Do not enter private property without an invitation, even if it appears deserted.
Keep off the grass and do not help yourself to any fruits or vegetables! This is our livelihood.
Respect the privacy of the Ladies Area that is clearly marked with No Entry signs.
Water is valuable! Do not bathe in or pollute surface water streams or falaj as remote communities rely on them for drinking water and irrigation.
Accepting hospitality is considered polite. Remove footwear before entering a house, ladies should not offer to shake hands, in traditional homes sit on the floor (oldest first), avoid showing the soles of your feet, offer and accept with your right hand, kawah (coffee) is served in very small portions – accepting three servings is also considered polite."
More Misfat Al Abriyeen images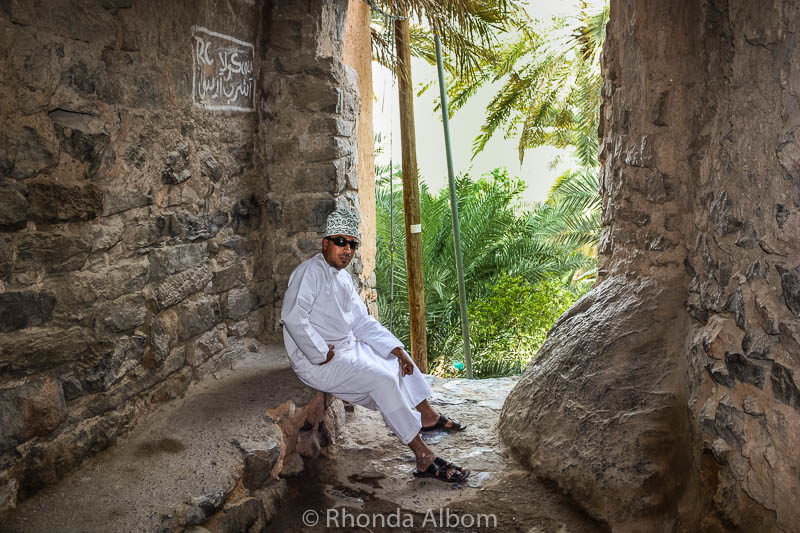 Al Hoota Cave
One place that we missed was the nearby 2 million years old Al Hoota Cave. It is the Arabian peninsula's only cave open to the public. Currently, only 5oo metres of the cave are accessible to the public, although the cave is approximately 4.5 kilometres long. There is an underground lake with rare blind fish.
Practical information on visiting Misfat Al Abriyeen
There are so many places to visit in Oman. On this long day trip from Muscat, we toured the old souq, fort, and castle of Nizwa before heading into the al Hajar Mountains. We stopped in Jabel Shams (the highest mountain in Oman) to admire the Grand Canyon Oman, then Misfat al Abriyeen.
If I were to repeat this trip, I would stay in Misfat Oman overnight, most likely at the Misfah Old House or the Al Misfah Hospitality Inn.
⇒ Check Pricing and availability on hotels in Misfat:
We based ourselves in Muscat at the Tulip Inn and hired guides to take us on day or overnight trips in Oman. We loved the central location and the elegant mix of modern and classic. The Tulip Inn was clean, colourful and had staff that was both friendly and helpful. We recommend it as a midrange option in Muscat.
⇒ Check Pricing and availability at Tulip Inn Hotel in Muscat
If you want to splurge, the Shangri-La Resort looked heavenly, as did a few other options.
⇒ Search for other hotels in Muscat at Booking.com
Driving looks comfortable on modern roads with few other vehicles. While we could have done it all on our own, we were glad to have a guide. He offered a historical and local perspective that we would have missed. Plus, I am not sure how we would have faired in the flash floods without a guide.
⇒ Check pricing and availability of a Private Tour for four to Misfat Al Abreyeen and Jebel Shams
Have you travelled to Oman? Have you been to Misfat Al Abriyeen?