Leaving Muscat, we headed inland into the desert towards Nizwa. A well-planned adventure, yet it was full of surprises. The city, a date palm forest oasis in the middle of a desert, is surrounded by natural beauty and steeped in history, tradition, and culture.
Situated on the plains of the Hajar Mountains, this former capital of Oman (sixth and seventh centuries AD) is only a two-hour drive from Muscat.
Referred to as the 'Pearl of Islam', Nizwa is currently the country's second-biggest tourist destination. And it doesn't take long to know why. The souqs and markets are vibrant and busy, the historic sites are both unique and fascinating, and the mountain backdrop is amazing.
Our busy day included castles, forts, souqs, markets, towns of mud-brick buildings, a watchtower, camels, impressive views, friendly locals, sweet dates, and the Oman Grand Canyon.
We returned to Muscat exhausted but really glad we went.
Note that Nizwa is a conservative town, and our guide recommended we adhere to the general guidelines for respectful clothing in Oman, which for women involve covering of shoulders and knees. Plus, in certain places, he recommended hair coverings.
Top 10 things to do on a Nizwa day trip
Explore the mountains
Nizwa Fort and Castle
Old Nizwa Souq
If it's Friday, don't miss the Nizwa livestock market
Jabrin Castle
Bahla Fort
Misfat Al Abrieyeen
Al Hamra
Hoota Cave
Jebel Shams and Oman Grand Canyon
Where is Nizwa?
Oman is in the Middle East, on the Arabian Sea. It sits to the east of UAE and Saudi Arabia. The current capital is Muscat. Here is the map of our Nizwa day trip:
Nizwa Fort and Castle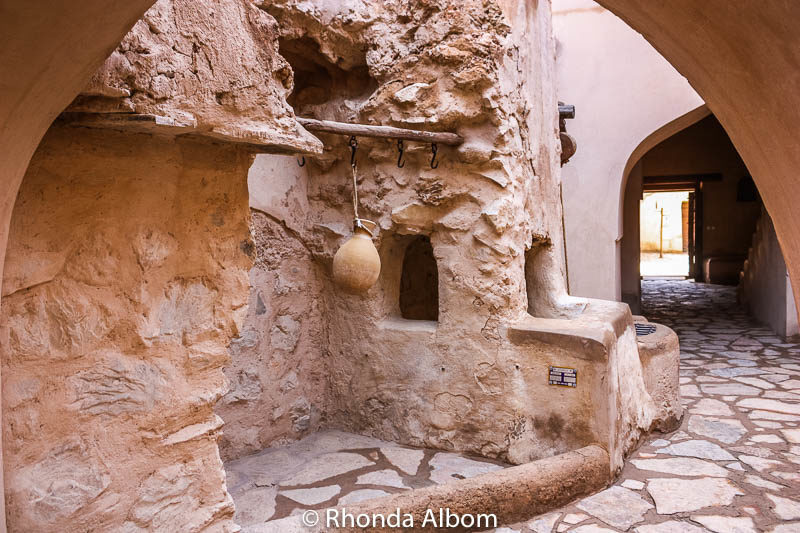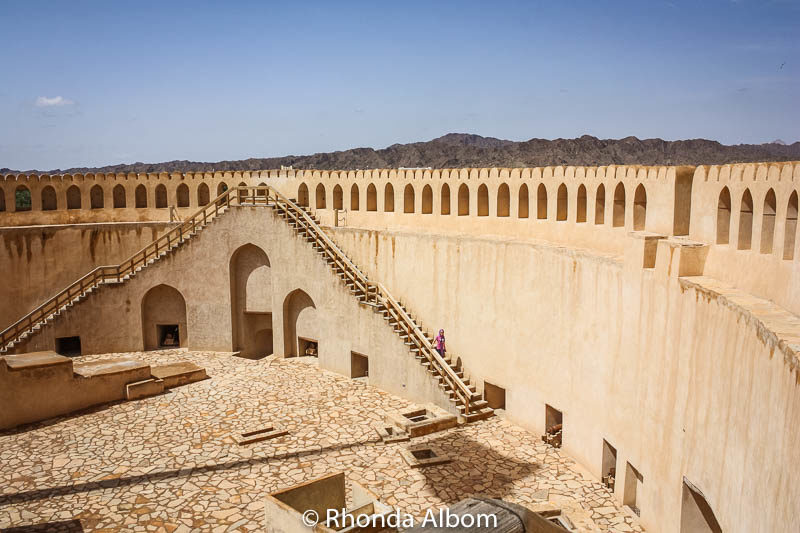 Two key and connected landmarks of this former Omani capital are the 9th-century Nizwa Castle and the Fort added during the 1650s.
The fort's tower remains the largest round tower in Arabia at 45 metres in diameter and 34 metres tall. Standing in the centre of the massive structure, it is easy to understand why this is the most visited national monument in Oman.
But I am not sure photos do it justice. To make it easier to comprehend the size, take a look at the image just above. Notice my daughter standing on the 9th stair to the bottom on the right-hand side.
Although there is clear signage in multiple languages (including English) that explains each room and area's usage, what made this visit truly special was our guide and the stories he told. He even did things like sit on floor cushions in one room to demonstrate what the sultan would do.
And he showed us plenty of secret security items like the slot you can see in both the second photo (close-up) and the final one (on the ground). This hole/slot is part of the security system. Guards poured boiling date syrup on unsuspecting intruders as they attempted to pass under.
Old Nizwa Souq
More conservative than the Mutrah Souq in Muscat, it was recommended that we covered our shoulders, knees, and hair when we visited.
In addition to a shopping area, it was also a gathering place for men. We saw groups of men sitting, talking, and often laughing amongst themselves. I was asked not to share photographs of these groups.
Nizwa livestock market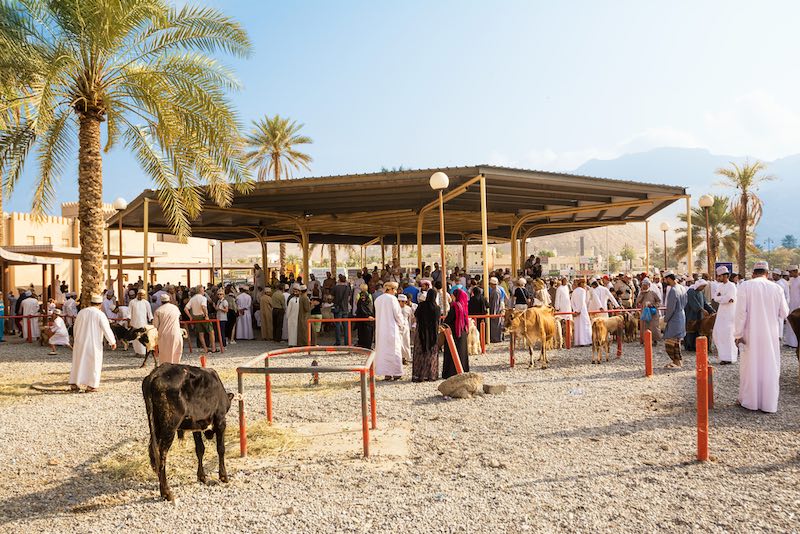 One of the best examples of tradition carried through the ages the Nizwa livestock market auctions off animals every Friday morning. Taking place at the Nizwa souq, it attracts herders and farmers far and wide.
It's an early and chaotically busy start at 6.30am, especially if you are trying to get here from Muscat for the market. If you are not early, you will miss it. By 9.30am, many locals have already gone home.
Unfortunately, we didn't plan well and missed the livestock market. On the bright side, we got to attend a livestock market in Rissani, Morocco.
Jabrin Castle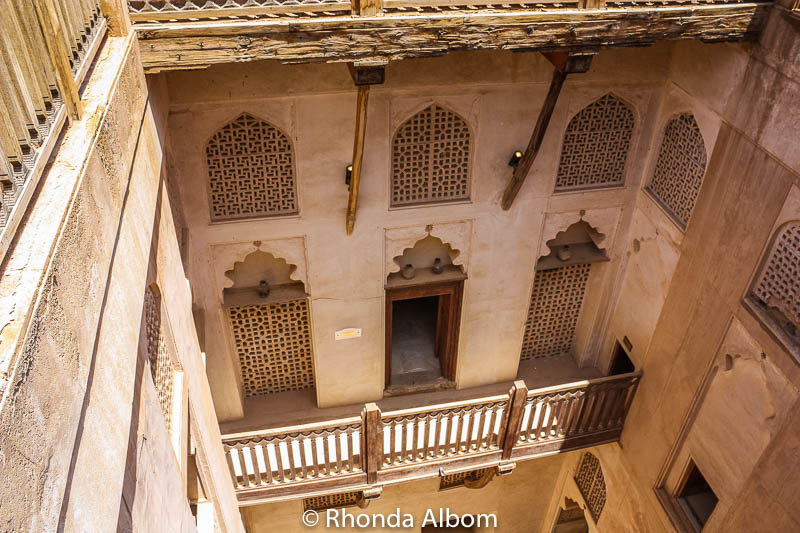 Our next stop was the more ornate Jabrin Castle, constructed in 1675 it served as a summer residence for the sultan.
It is located in the nearby town of Jabrin, also a palm desert.
Bahla Fort
The Bahla fort was built in the 13th and 14th centuries and is the only fort in Oman that has UNESCO World Heritage status.
Finding this location without a tour guide might be a bit more challenging, as it's not well sign-posted, but it is worth the effort.
Misfat Al Abriyeen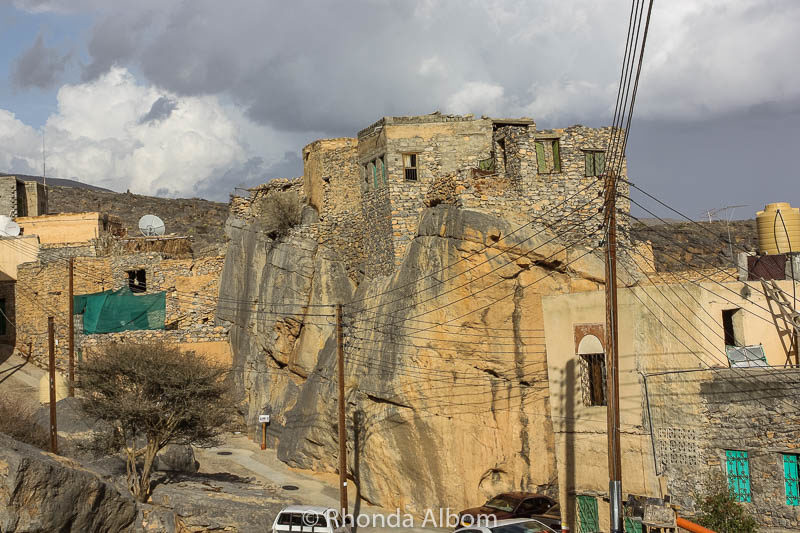 One of my favourite towns on this tour, the locals of Misfat Al Abrieyeen, follow a more traditional lifestyle complimented with some modern conveniences. However, what I found most interesting was the mud-brick homes literally built into the mountain.
In fact, I liked it so much that I wrote a separate article on Misfat Al Abrieyeen.
Al Hamra
Al Hamra sits at the foothills of the Al Hajar Mountains. It's one of the country's oldest towns and, like Misfat, features mud-brick houses.
We had an opportunity to climb the watchtower and get an interesting perspective on the town. There are two interesting sites here, in addition to the tower.
Bait Al Safah, a living museum
Local women will demonstrate home life, including bread-making, coffee grinding, and other daily tasks in what appears to be an old mud house.
Al Hoota Cave
This 2-million-year-old cave is the only cave on the Arabian peninsula that is open to the public. Currently, only a small portion of the cave is accessible, although the cave is approximately 5 kilometres long. There is an underground lake with rare blind fish.
Jebel Shams – Oman Grand Canyon
As the car reached Jebel Shams, Oman's highest peak, at just over 3km from sea level, we instantly realized that our final stop was equally as captivating as the others.
Along the edge of Jebel Shams, the cliffs drop a thousand metres, exposing dramatic scenery aptly nicknamed the Oman Grand Canyon.
The locals call this place Wadi Ghul. Whatever you call it, it is a masterpiece of nature, yet somehow still relatively unknown.
As you can see from the images, it was a lovely day, yet it was only us and two other cars in the car park.
Getting to Nizwa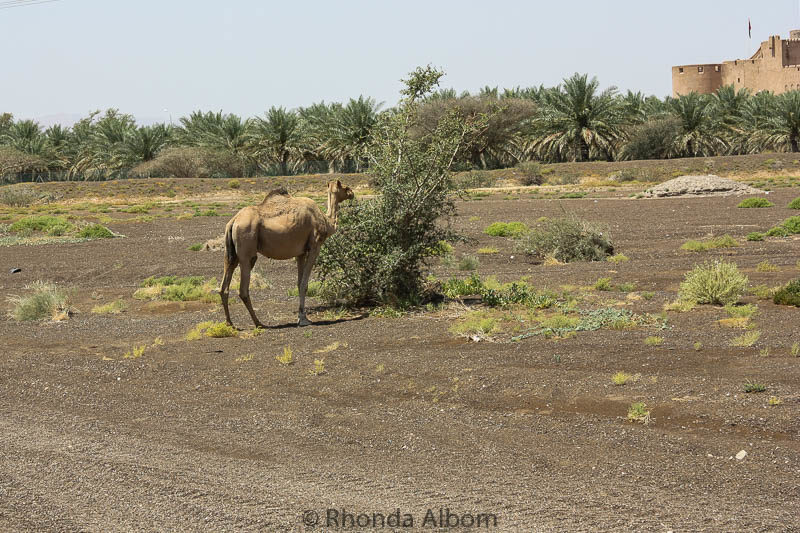 Although it is less than 90km from Muscat to Nizwa, the drive takes nearly two hours. The modern main roads are fine, but once in the mountains, the slow-going roads are often steep, narrow, and harrowing.
The main options for getting to Nizwa are to either self-drive, take a tour, or hire a private guide. Each has its own advantages and disadvantages.
If you want to rent a car…
A few things to keep in mind:
The modern highways in Oman are easy to drive on, although be aware that nearly all the signage is in Arabic. For me, the unfamiliar characters make this an even bigger challenge than simply not speaking the language.
A 4×4 vehicle is strongly recommended if you drive to the Oman Grand Canyon, especially if it has rained. While regular cars can make the trip, they risk damaging the suspensions.
Safety standards and driving practices are different to what I am comfortable with, and it often makes me nervous to see cows or groups of people standing in a pick-up bed.
There are often free-roaming camels along the road. (I just found this interesting.)
However, in saying all that, if you want to self-drive, we have successfully used Rentalcars.com in parts of the world where we don't speak the local language. Using their online system, we select our criteria (size, options, etc.) and are offered a list of cars from various local dealers.
By booking directly through RentalCars, we have never paid more than going directly, and we get excellent English-speaking support as well as additional insurance options. Reserve your rental car in Oman
If you want a guide…
Although we have driven in more than 50 countries around the world, we were glad to have a guide for our Nizwa day trip.
He offered a historical and local perspective that we would have missed. Our day was filled with anecdotes and demonstrations of how things are done. We not only saw the sights, but we gained a cultural understanding we would never have gotten without a guide.
In addition, he spoke both English and the local language, was familiar with the roads, and understood the timing needed to get from one location to the next.
Plus, I am not sure how we would have faired in the flash floods without a guide, but what we encountered was a rare and random freak storm in that part of Oman.
We always start with the guides at Tours by Locals, and for this tour, our top pick is a historical Nizwa and cool Jebel Akhdar tour from Muscat. We chose it based on sites visited and a highly-rated and experienced guide that is both fluent in English and able to customize tours to meet your needs. Plus, he offers the option of an early Friday start to include the livestock market. Reserve your private Nizwa tour
Or take a tour
Should I make a Nizwa day trip or stay overnight?
While this is a fabulous day trip, it was also an intense and exhausting one as we rushed through just about every stop. In retrospect, I wish we had spent the night.
More specifically, in hindsight, I would have made the trip with a Thursday night stay, allowing us to attend the livestock market in Nizwa early Friday morning.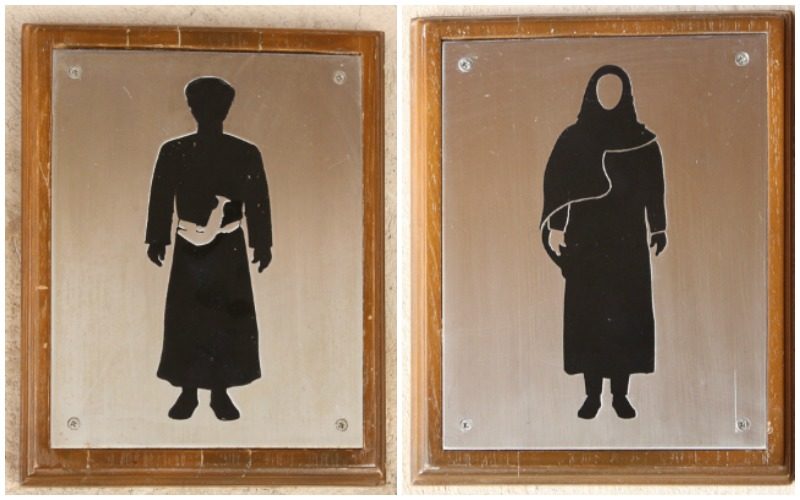 Final thoughts and tips for your Nizwa day trip
Save on your trip with these resources
These are our go-to companies when we travel. We believe this list to be the best in each category. You can't go wrong using them on your trip too.
Flights: we use Expedia for the best and cheapest flight options.
Accommodations: we use Booking.com (hotels) or VRBO (self-contained).
Cars (gas or electric): we use RentalCars to search for deals and dealer ratings.
Campervans or Motorhomes: we use Campstar where Albom Adventures readers get a 3% discount
Private guides: we love the private guides at Tours by Locals
Travel Insurance: we start at InsureMyTrip as they are the best option to compare plans and find the right coverage for you.
Check out our travel resources page for more companies that we use when you travel.
Save for later
If you enjoyed this article, please share it on social media and save it for later on Pinterest.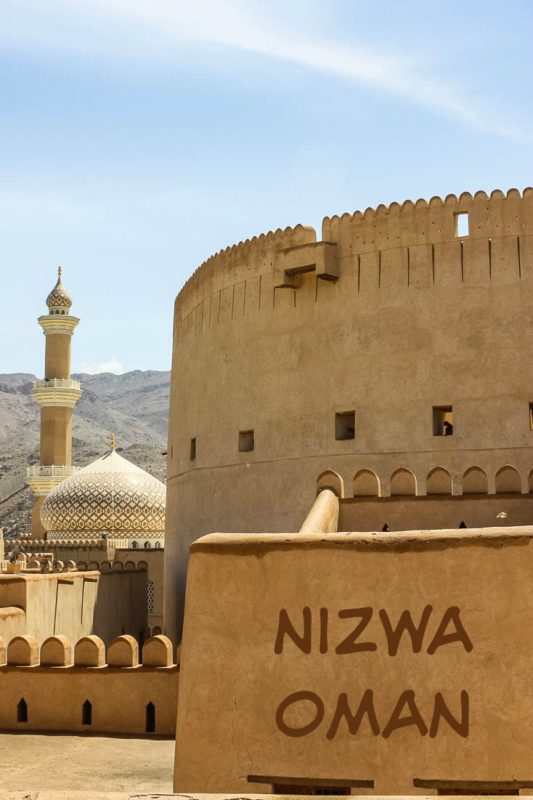 Are you most excited about Nizwa, the Oman Grand Canyon, or one of the other sites on our day trip?