Oman surprised me, and the ancient city of Nizwa was a part of the mystery. Situated on the plains of the Hajar Mountains, it is only a two-hour drive from Muscat. We enjoyed a long day trip, but in retrospect, we could have spent a Thursday night, thus allowing us to observe the Friday livestock markets in the morning.
What we did find was an oasis, a date palm forest in the middle of the desert. This former capital of Oman (sixth and seventh centuries AD) is also the home of the Nizwa Castle and Fort built in 1668. Its tower remains the largest round tower in Arabia at 45 meters in diameter. We also explored the old and new souqs (marketplace).
More Information:
It's an easy two-hour drive from Muscat to Nizwa. If we went today, I am sure we would hire a car without any hesitation. However, in 2012 when we visited Oman, we were quite new to long-term travel, and this was our first time in the Middle East. We opted to hire a guide and were thrilled with our choice of Khalfan from Sunny Day Tours.
Nizwa is a  conservative town, and Khalfan recommended we adhere to the general guidelines for respectful clothing in Oman, which for women involves a minimum covering of shoulders and knees.
Referred to as the 'Pearl of Islam', Nizwa is currently the country's second-biggest tourist destination.
Nizwa was named the Capital of Islamic Culture in 2015 in the Arab region.
Enjoy some of the sweet, succulent dates if you visit.
Other highlights of our 2012 visit to Oman included Muscat, the Omani Grand Canyon, and visiting a Bedouin Camp.
Have you been to Nizwa, or anywhere in the Middle East?
If you enjoyed learning a bit about Nizwa, please share this photo article on your social media, including Pinterest: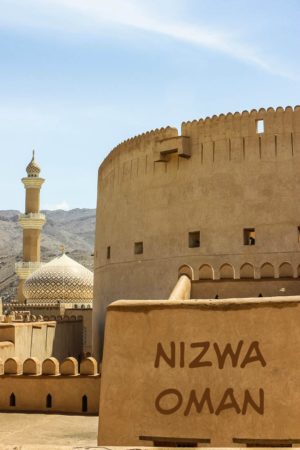 Grammarly proofread this article. (Try it for free)
Disclaimer: Nothing to disclaim. We paid full price for our private tour which included entrance to the castles and forts. The opinions expressed here are strictly my own.
Seven ridiculously simple tips that WILL improve your photos
Whether you shoot with a phone or a DSLR, let me share my secrets.
Subscribe to Albom Adventure's Travel Tips newsletter and download our free ebook: Take Better Travel Photos By Rhonda Albom