Oman surprised me, and the ancient city of Nizwa was a part of the mystery. Situated on the plains of the Hajar Mountains, it is only a two-hour drive from Muscat. We enjoyed a long day trip, but in retrospect, we could have spent a Thursday night, thus allowing us to observe the Nizwa Oman Friday livestock markets in the morning.
What we did find was an oasis, a date palm forest in the middle of the desert. This former capital of Oman (sixth and seventh centuries AD) is also the home of the Nizwa Castle and Fort built in 1668. Its tower remains the largest round tower in Arabia at 45 meters in diameter. We also explored the old and new souqs (marketplace).
This site contains affiliate links to products and/or services. We may receive a commission for purchases made through these links at no additional cost to you.
Nizwa Fort and Castle
Standing in the centre of the massive round Nizwa Fort tower it is easy to understand why this is the most visited national monument in Oman. Its tower remains the largest round tower in Arabia at 45 metres in diameter and 34 metres tall.
Nizwa Castle was built in the 9th century, and the Nizwa Fort portion added in the 17th century. There is great signage in multiple languages (including English) throughout the castle and fort that explain each room and area's usage.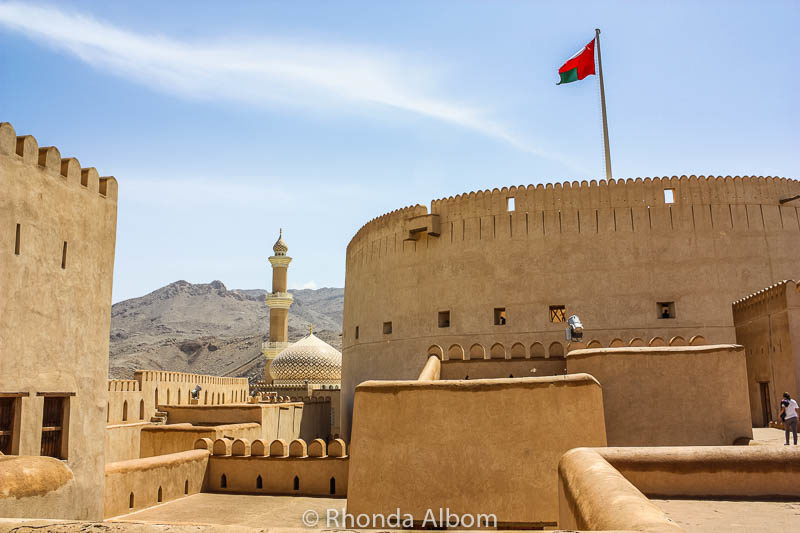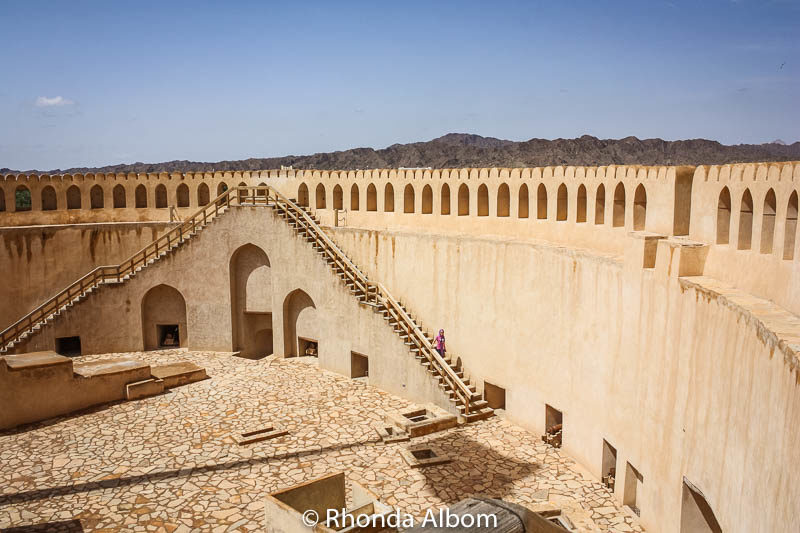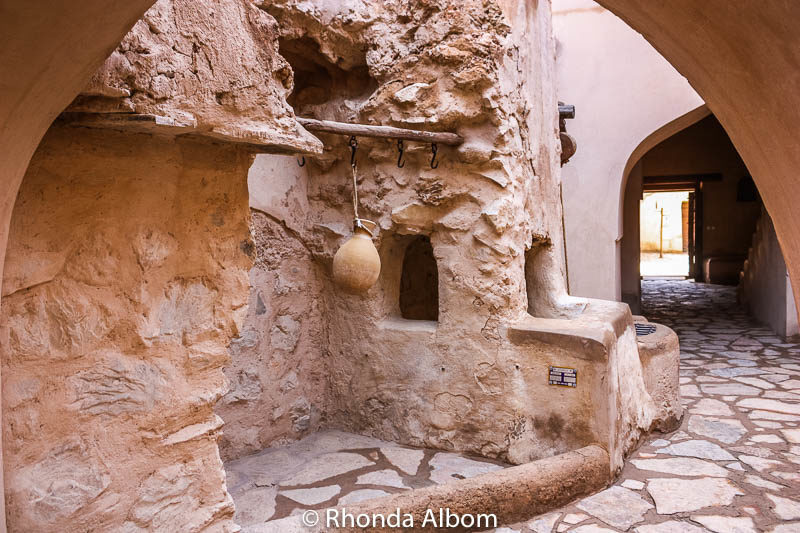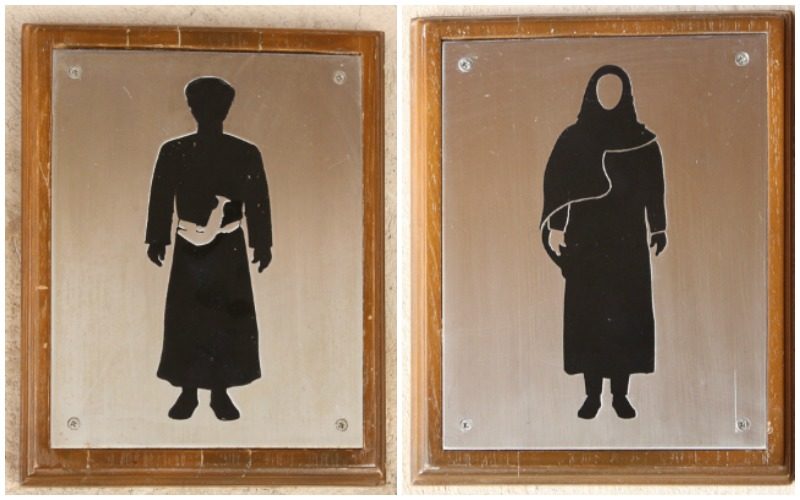 Camel on the Side of the Road
Honestly, I don't know if these camels are wild or belong to someone, but they are just wandering along the sides of the road. We don't see them everywhere, but we did see camels as we drove between the old castles in Nizwa and Jabrin.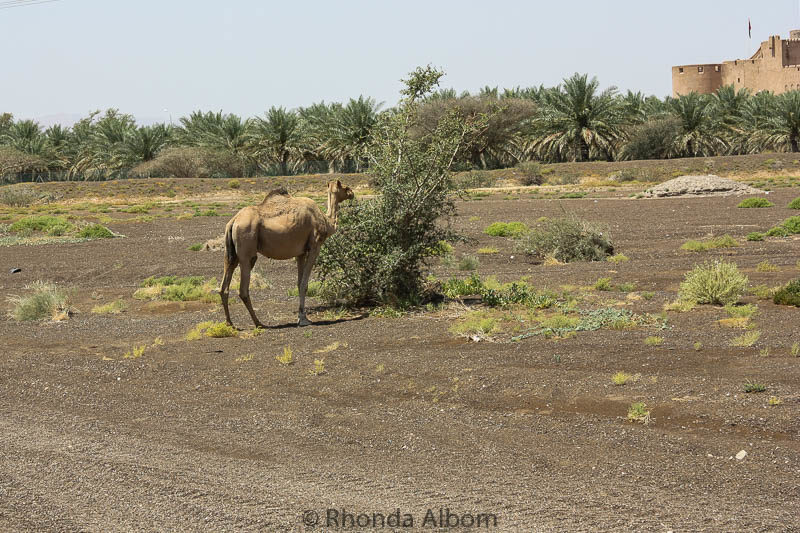 Jabrin Castle
Our next stop was the more ornate Jabrin Castle constructed in 1675 as a summer residence for the sultan. (It is located in the nearby town of Jabrin.)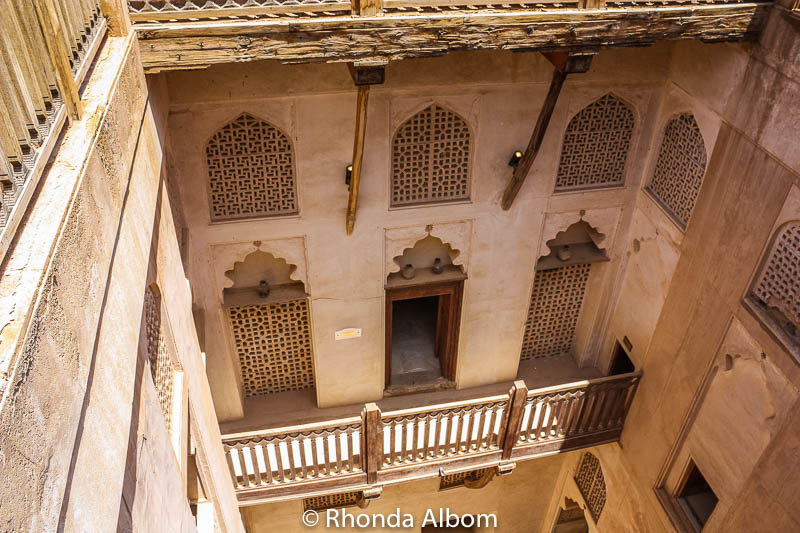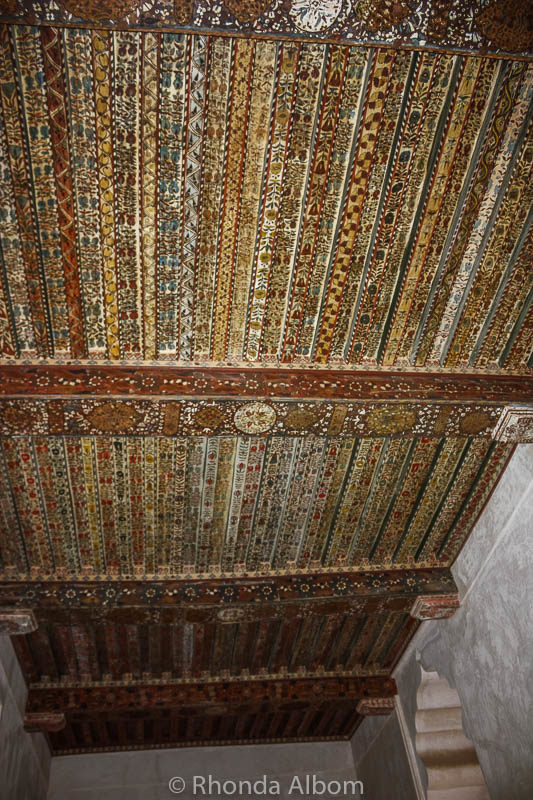 Bahla Fort
Bahla fort was built in the 13th and 14th centuries and is the only fort in Oman that has UNESCO World Heritage status. Finding Bahla Fort is a bit more challenging, as it's not well sign-posted, but it is worth the effort.
Old Nizwa Souq
More conservative than the Mutrah Souq in Muscat, it was recommended that we cover our shoulders, knees, and hair when we visited. In addition to a shopping area, it was also a gathering place for men. We saw groups of men sitting, talking, and often laughing amongst themselves. I was asked not to share photographs of these groups.
Getting to Nizwa
It's an easy two-hour drive from Muscat to Nizwa. If we went today, I am sure we would rent a car without any hesitation. However, when we visited Oman, we were new to long-term travel, and this was our first time in the Middle East. We opted to hire a guide.
We have successfully used Rentalcars.com in other parts of the world where we didn't speak the local language. Using their online system, we select our criteria (size, options, etc) and are offered a list of cars from various local dealers. By booking directly through rentalcars.com, we have never paid more than going directly, we have great customer support, additional insurance options, and English speakers should we need assistance.
⇒ Click here to check the availability of rental cars in Oman
Tips for Visiting Nizwa
Nizwa is a conservative town, and our guide recommended we adhere to the general guidelines for respectful clothing in Oman, which for women involves a minimum coverage of shoulders and knees.
Referred to as the 'Pearl of Islam', Nizwa is currently the country's second-biggest tourist destination.
Nizwa was named the Capital of Islamic Culture in 2015 in the Arab region.
We got caught in a rare desert storm with flooding.
Enjoy some of the sweet, succulent dates if you visit.
Next Stops: Omani Grand Canyon and Misfat Al Abriyeen
Where to Stay in Nizwa Oman
I wish we had spent the night. Our time was really rushed and would have been better spent had we slowed down a bit. I also wish we had planned to be in Nizwa on a Friday to see the livestock market, although I was glad we saw a similar livestock market in Rissani Morocco. We visited Nizwa as a day trip from Muscat where we stayed at the Tulip Inn Muscat, an accommodation that impressed us. It offered the comforts we like combined with an element of classic Omani culture. Noticing a Golden Tulip in Nizwa, that would be our first choice.
⇒ Click here to check pricing and availability at hotels in Nizwa Oman
Have you been to Nizwa, or anywhere in the Middle East?
Read more at Entering Oman.
If you enjoyed learning a bit about Nizwa, please share this photo article on your social media, including Pinterest: