An Abu Dhabi day trip from Dubai is easy, exciting, and full of wonderment.
Abu Dhabi is a city of contrasts. From the modern Palace Hotel to the traditional Sheikh Zayed Grand Mosque, it is one of the world's richest and most elegant cities.
Looking back, however, we believe our decision to hire a car and take an Abu Dhabi day trip from Dubai on the same day, was not our best choice. Below you find our highlights, recommendations of things we missed, our adventure, our mistakes, and our recommendations.
If you only have a day, it is enough time to fall in love with the capital city of the United Arab Emirates, and certainly a better choice than skipping it altogether.
First, let us tempt your wanderlust …
A few things to know before your Abu Dhabi day trip
General visa requirements for entering the Emirates and Abu Dhabi are outlined by the official airline Etihad.
Current requirements involving testing, vaccines, and masks are subject to change and should; therefore, always be checked at the official government site.
While no specific dress codes exist for most locations, respectful moderate dress is always appreciated. And there are dress codes for certain destinations. Personally, the women in our family always covered our shoulders and knees in the Emirates.
Sheikh Zayed Grand Mosque – The top thing to see on an Abu Dhabi day trip
With only one day in this stunning city, it is impossible to see it all. And, if you are adding to that day the long commute both to and from Dubai, you will need to be very selective about what you see. However, regardless of what you choose, we recommend you include the Sheikh Zayed Grand Mosque.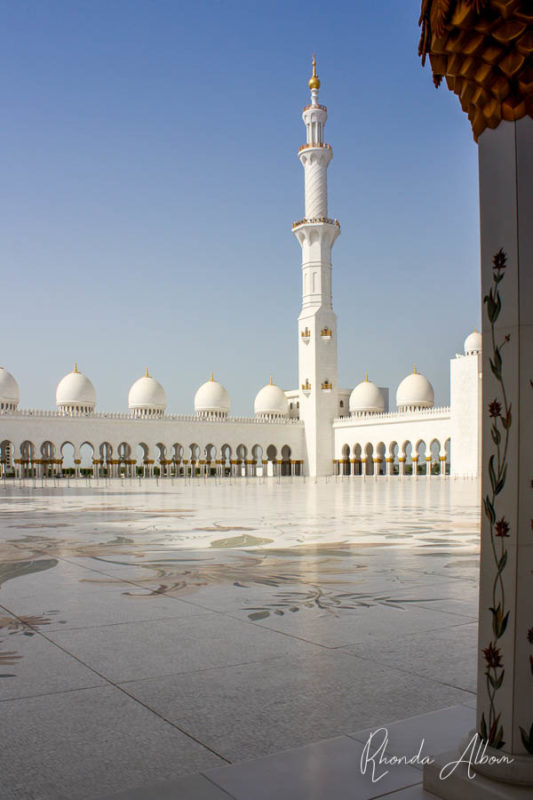 Like many visitors, Sheikh Zayed Grand Mosque was our first stop. The largest mosque in the Emirates, it's one of the world's largest, with a capacity for 40,000 worshipers. Intricate and beautiful, it is also home to the largest gem-encrusted chandelier in the world.
What you need to know before visiting the Grand Mosque
Entry for visitors is free; however, reservations are required. All visitors must be fully vaccinated.
Visiting hours for non-worshippers are from 9am to 10pm Saturday to Thursday, and 3:00pm to 10pm on Friday, with more limited hours during the holy month of Ramadan. Note: there is not visiting during prayer times.
Public cultural tours are available in both Arabic and English.
Like most active religious destinations, it is a place of respect. Here, there is a dress code. Men cannot wear shorts or tank tops. Women must cover in clothing lose and long enough to cover to the ankle. Women must also wear a head cover. We were directed to a changing room and provided with a traditional robe (abaya) and headscarf (shayla). There are a few additional rules

.
More things we did on our Abu Dhabi day trip
Below are what we believe are the highlights for you to choose from if you have only one day in Abu Dhabi, including both what we did and didn't choose.
Emirates Palace Hotel
Next stop – the elegant, self-proclaimed seven-star Emirates Palace Hotel. Impressive from the outside, it really does take your breath away when you walk in. Real gold highlights the ornate and exquisite decor, which is evocative of Arabia's rich history.
While the public area is free to explore, I want to stay here on my next visit. At a minimum, I think I will splurge and enjoy a signature 23K gold-flaked Palace Cappuccino. Or perhaps, I will simply dine in one of the 14 food options.
If you share my dream of staying here, check out the reviews at TripAdvisor or pricing at Booking.com.
Heritage Village
Then on to a bit of family-friendly culture at the UAE Heritage Village. It's a chance to experience old-world Abu Dhabi, including markets (souks), mosques, and camps. There are opportunities to watch talented craftspeople working with metals, pottery, weaving, glass blowing, and yarn spinning.
You can enhance your trip experience further by trying out the famous delicacies of Abu Dhabi, like the world's most expensive and finest Medjool dates, Arabic coffee, etc.
Walk the corniche or see the marina
Nearby at the fishing port, there were up to 100 wooden fishing boats, all rafted up one next to the other. The crew would walk from one to the next to get out to where they wanted to be.
More things to do in Abu Dhabi (that we didn't get to)
Ferrari World
What can I say about the first Ferrari-branded theme park in the world? If you are into adrenaline rush activities, this would be something not to miss. In fact, we met one family who based their entire day in Abu Dhabi around this adventure. Check reviews and get advanced tickets through Tripadvisor.
Founder's Memorial
More than just a memorial celebrating the life, legacy and values of Sheikh Zayed bin Sultan Al Nahyan (founder of the UAE), it is a stunning public space. The Constellation, its centrepiece, is one of the largest art installations of its kind in the world. Fascinating both day and night, "the celestial display evokes the timelessness of Sheikh Zayed's vision, which continues to guide the UAE along a path to progress and prosperity." (quoted from the Department of Culture and Tourism – Abu Dhabi)
Louvre Abu Dhabi
This fabulous art museum opened in 2017 and is described as the "first universal museum in the Arab World, translating and fostering the spirit of openness between cultures." It has collections from around the world, including both indoor and outdoor exhibits, spanning ancient times to the contemporary era.
Note that it is located on Saadiyat Island. Visitors are required to pre-book.
Observation Deck at 300
As we were staying in Dubai and had gone up the Burj Khalifa, the tallest building in the world, we opted not to experience the Observation Deck at 300 in the limited time provided by our Abu Dhabi day trip. However, the views are distinctively different from Dubai and reportedly outstanding.
Wahat Al Karama
This memorial honours Emirati heroes, including soldiers, police, diplomats and civilians who sacrificed their lives in service for their country. It spans 46,000 square metres and is located opposite the Sheikh Zayed Grand Mosque.
Presidential Palace (Qasr Al Watan Palace)
Public tours only became available here in 2019, so we didn't have the opportunity. Photos suggest it is lovely and worth a visit. Note the palace shares a dress code with the Grand Mosque and women must wear a head covering, as well as long loose clothing, and ensure their arms and legs are fully covered.
Abu Dhabi facts
Abu Dhabi is the largest of the seven Emirates, as well as the capital city of the UAE.
The population of the Abu Dhabi emirate is 1.6 million, including 80% expats.
Arabic is the official language.
Islam is the official religion.
Prior to oil and tourism, the economy was based on pearl diving, fishing, and date palms.
Abu Dhabi means "Father of the Gazelle" in Arabic.
Our Abu Dhabi day trip: Why driving from Dubai was not our best plan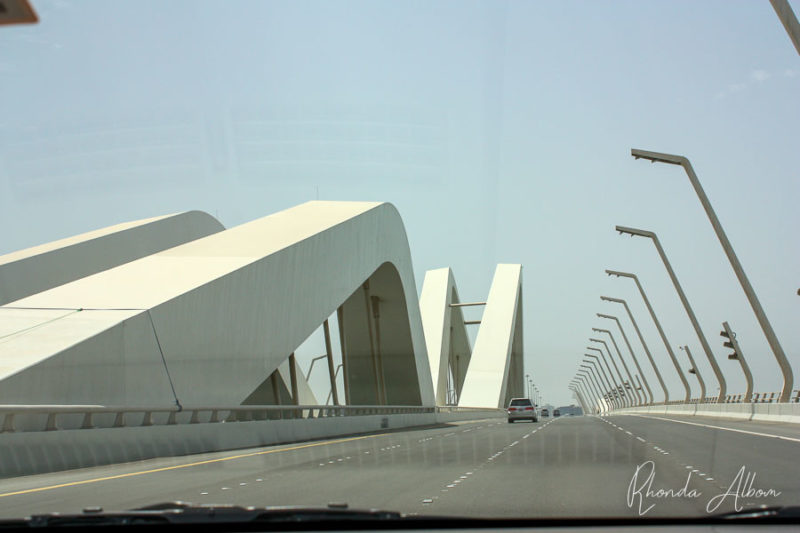 While our initial trip planning didn't include driving in the Middle East, we quickly changed our minds. The roads were beautiful. And we were not impressed by Dubai taxi divers that took us out of the way, thus increasing the fare.
The primary mistake we made was time. We needed about 90 minutes each way, already taking away three hours from our Abu Dhabi day trip from Dubai. But our big mistake was waiting until the morning we were heading out to pick up the car. This took another hour or more of our already shortened day.
In retrospect, we could have picked up the car the night before and spent at least one night in Abu Dhabi before returning to Dubai. Here are our best driving tips or lessons:
Most streets on the map don't have names, and the few that do are in Arabic.
The roads seem quite random in their placement and often have very long entrance and exit ramps that turn you around.
Did you ever see National Lampoon's European Vacation with Chevy Chase? Remember the scene where he drives in circles around the round-a-bout and can't get off . . . that is the scene that popped into my head as we tried to find the entrance to the mosque. Eventually, a heavily armed, yet friendly guard, gave us directions.
Speed limits are very high, as is the accident rate. Fortunately, we had no issues.
Other options for an Abu Dhabi day trip from Dubai
There are public buses, but we prefer a more personal approach. Therefore, had we opted for a tour, based on reviews and our personal desires, I think we would have chosen one of these tours.
Otherwise, if you get here on your own, we recommend the hop on hop off bus as a great way to get around Abu Dhabi. It stops at the major sights and gives English-speaking commentary.
Save on your trip with these resources
These are our go-to companies when we travel. We believe this list to be the best in each category. You can't go wrong using them on your trip too.
Flights: we use Expedia for the best and cheapest flight options.
Accommodations: we use Booking.com (hotels) or VRBO (self-contained).
Cars (gas or electric): we use RentalCars to search for deals and dealer ratings.
Campervans or Motorhomes: we use Campstar where Albom Adventures readers get a 3% discount
Private guides: we love the private guides at Tours by Locals
Travel Insurance: we start at InsureMyTrip as they are the best option to compare plans and find the right coverage for you.
Check out our travel resources page for more companies that we use when you travel.
Save for later
If you enjoyed this article, please share it on social media and save it for later on Pinterest.
Will you take a day trip to Abu Dhabi from Dubai, or will you spend more time in the capital city?
You might also like …