Of all the places to visit in Muscat, the Sultan Qaboos Grand Mosque Oman is the top of my recommendation list. Presented to the people of Oman as a gift from Sultan Qaboos in 2001, it is an opulent example of modern Islamic architecture. Whether you visit out of curiosity, for tranquillity, to see the world's second largest carpet and chandelier, or to enjoy the gorgeous, vibrant mosaics and intricate carvings, the Grand Mosque Oman is a must-see in Muscat.
The Sultan Qaboos Mosque is one of only a handful of mosques in the Arabian belt that allow non-Muslim visitors. Respect is critical, and both men and women are required to dress modestly, remove shoes before entering the prayer halls, and avoid mobile phone usage, eating, or sleeping.
↓ ↓ If you don't want to go on your own ↓ ↓
Check out these Muscat Tours 
Approaching the Grand Mosque Oman
With an area of 416,000 m², it is a vision to enjoy, even before entering. Always remember, this mosque is an active place of worship.
Prayer Halls
The Sultan Qaboos Grand Mosque has the capacity for 20,000 worshippers; 8000 inside and another 12,000 in the courtyard. Like most mosques, furniture is limited as prayer is done on prayer rugs on the ground. Children under age ten are not permitted in the prayer halls.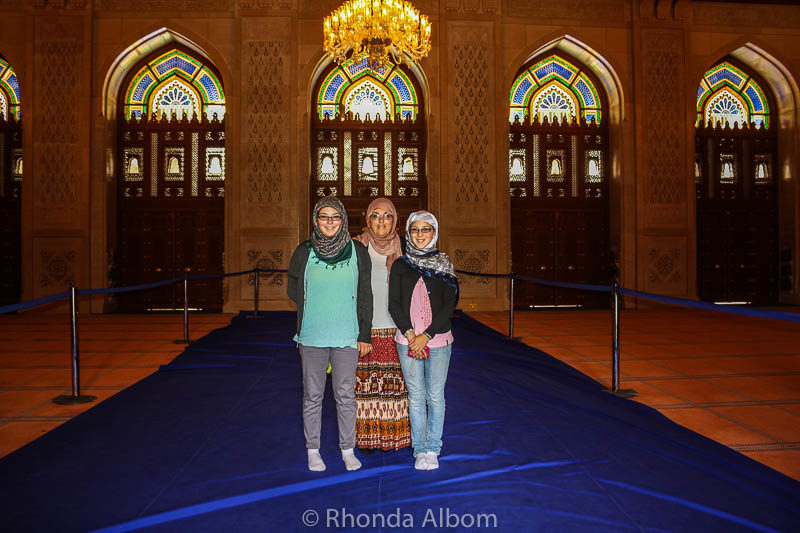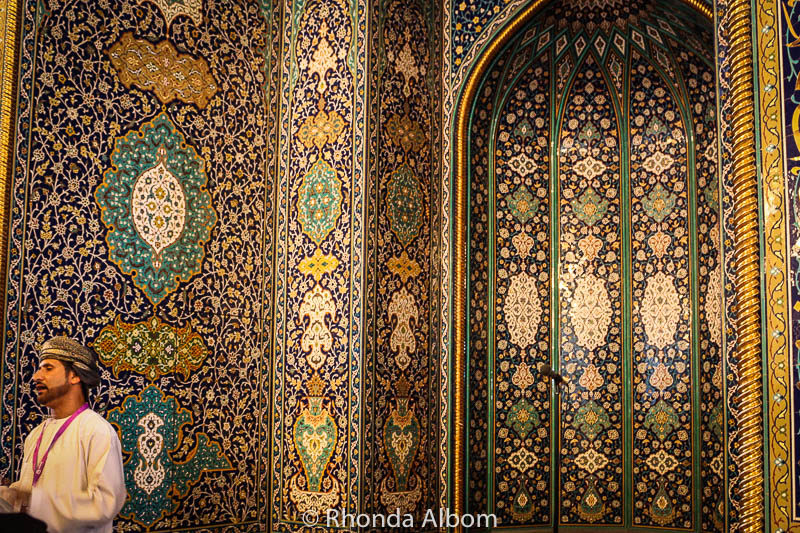 Courtyards of the Grand Mosque Oman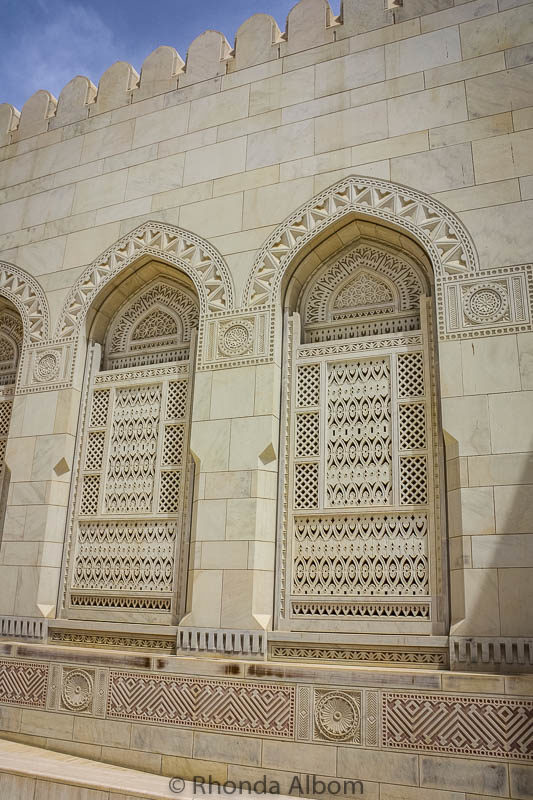 Tours of Muscat and the Grand Mosque Oman:
We visited the Grand Mosque on our own. However, we walked by several tour groups, and we realized that we missed quite a bit by not having a guide. They explained not only what we were looking at, but also the customs behind it. While we enjoyed the beauty and intricate details of the art, we certainly missed out. Viator, a TripAdvisor company, offers a variety of tours starting in Muscat, many that include the mosque. Check out these tours:
Small Group Half Day Tour: Classic Muscat Sultan Qaboos Grand Mosque: This small group tour explores the Grand Mosque, diplomatic quarter, Royal Opera House, fish market, Bait Al Baranda museum and Muttrah Souk. You will also see the Palace and, if time permits, go shopping.
⇒ Check pricing and availability of the Private Half Day Muscat City Tour
MosqueMuscat City Sightseeing Tour – A Fascinating Capital: This group tour visits the Grand Mosque and Bait Al Zubair Museum, and sees the Al Alam Palace, the forts, and more as you stroll through old town.
⇒ Check pricing and availability of the Muscat City Sightseeing Tour – A Fascinating Capital
Muscat: Half Day Highlights Tour: This private tour takes you to three of my favourite places in Muscat. Your guide will take you inside the Sultan Qaboos Grand Mosque, to the Muttrah Souq, and to the Bait Al Zubair Museum. This tour is priced by the group.
⇒ Check pricing and availability of the Muscat Half Day Highlights Tour
More Photos of Sultan Qaboos Grand Mosque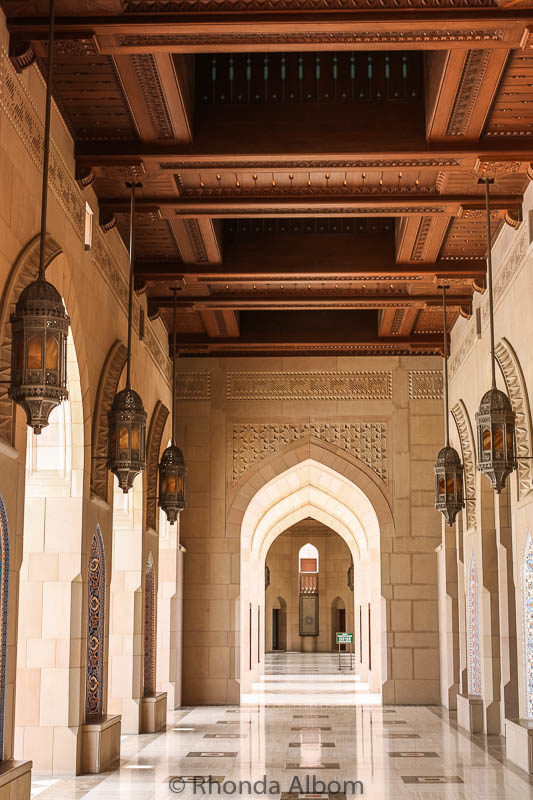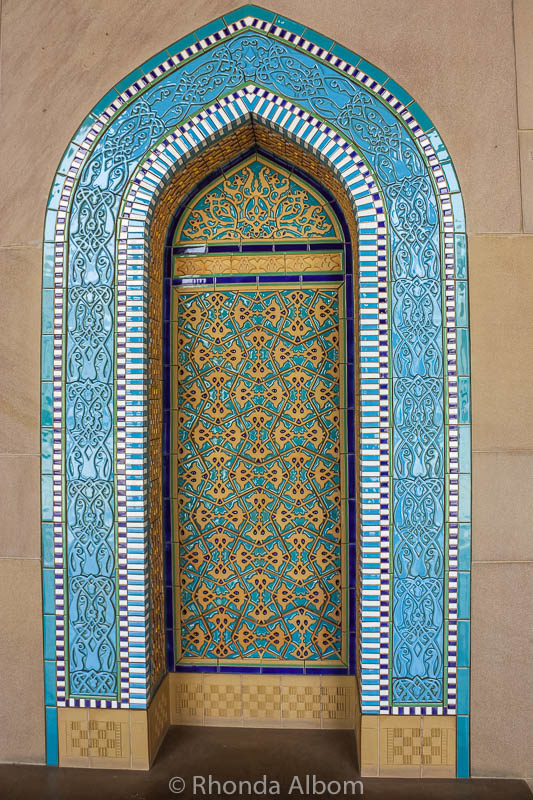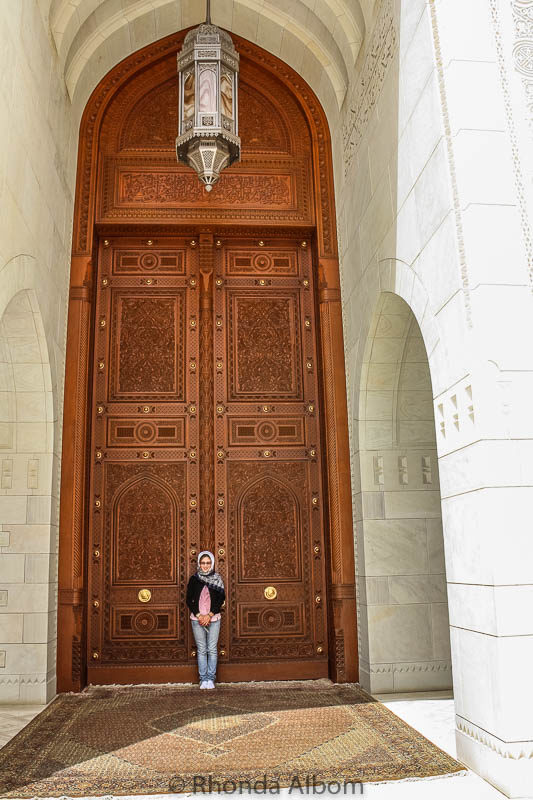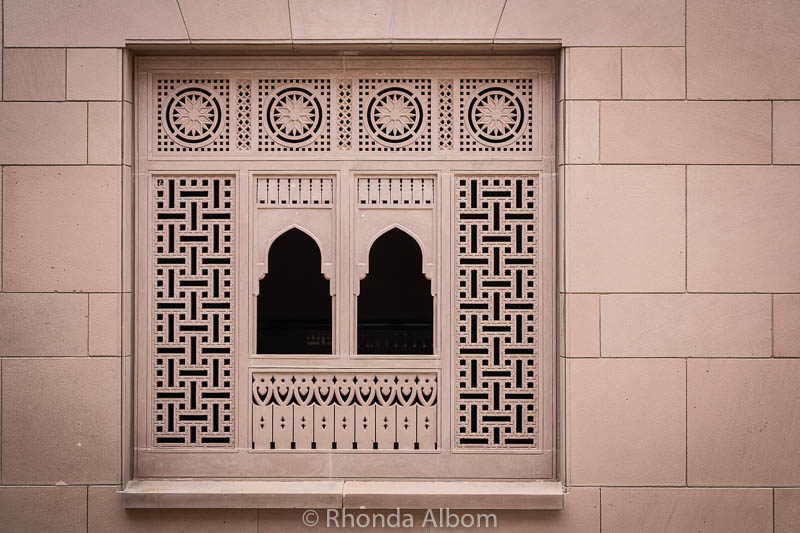 Practical information and tips on visiting the Grand Mosque Oman:
Located along a stretch of the Sultan Qaboos Highway, the Grand Mosque Oman is a key feature of Muscat's skyline.
The mosque is open daily for non-Muslim visitors from 8:00 to 11:00 am, except on Friday. Tour buses don't arrive until 9 am, so getting there early has a big advantage as it is one of the popular places to visit in Muscat.
Grand Mosque Dress Code: Modest dress is required. For men, this includes covered legs and shoulders. Women are required to cover legs, arms, and their hair. If you arrive unprepared, women can hire Abeyyas (full-length dresses) and scarves from the mosque gift shop.
The onsite Islam Centre is worth a visit. Muslim ladies will serve you free tea and dates, answering questions about the Qu'ran and the benefits of Islam.
The mosque library is also open, with over 20,000 books on display.
Shop related products on Amazon
‹
›
Where to Stay in Muscat Oman
Like all major cities around the world, there are plenty of options of where to stay. We chose and recommend that opulent Tulip Inn Muscat. Our suite was plush and lovely, with regional decor and modern conveniences. We liked it so much we stayed twice, first when we arrived in Muscat, and then we rebooked to stay again after touring the country a bit.
When visiting Oman. . .
⇒ Click here to check pricing and availability at the Tulip Inn Muscat   OR Book Now
 If you prefer to stay somewhere else, click here to see other Muscat accommodations options at Booking.com  OR Use HotelsCombined to see a price comparison across booking sites.
If you enjoyed these images of the Grand Mosque, please add one or both of these pins to Pinterest:

More Places to visit in Muscat and Oman on Albom Adventures
Oman is the first middle eastern nation we visited and remains one of my favourite countries. Aside from the Grand Mosque, we have written about some of our other Omani highlights:
* Albom Adventures was featured in the Times of Oman, the largest English speaking newspaper in Oman.
Have you been inside the Sultan Qaboos Grand Mosque Oman or any other mosque?