Bright, bold, and colourful, South American street art is as eclectic as the countries themselves. Each with a distinctive flair, we found it to be elaborate in detail and bold in its message.
Scroll down and enjoy the diverse images, and see if you agree.
We have personally only visited five countries in South America, so we asked other travel bloggers to share some of their favourite South American street art. To round out the collection we added a bit from Central America as well.
First, be inspired by one of our favourite South American countries
Example of South American street art in Chile
Long and narrow, Chile is an eclectic mix on its own. From the world's driest desert in the north to Patagonia in the south, it's a country loaded with appeal. We found the most interesting street art to be in Valparaiso.
Valparaiso, Chile
Photo contributed by Juergen of Dare2go
Valparaiso in Chile is not only famous for its unique old houses, clustered on steep hills, overlooking the port. During the last decade, the World Heritage-listed city has gained an international reputation as a hotspot for street art.
Everywhere you turn you find excellent works of colourful art on public walls; from intricate, very detailed, almost whimsical pieces to very bold graffiti covering large, previously barren walls. You can see a lot of street art when you join one of the walking tours.
Dare2go has created a self-guided street art walk, which takes the visitor past many excellent pieces along the fringe of the town centre – not covered by city tours.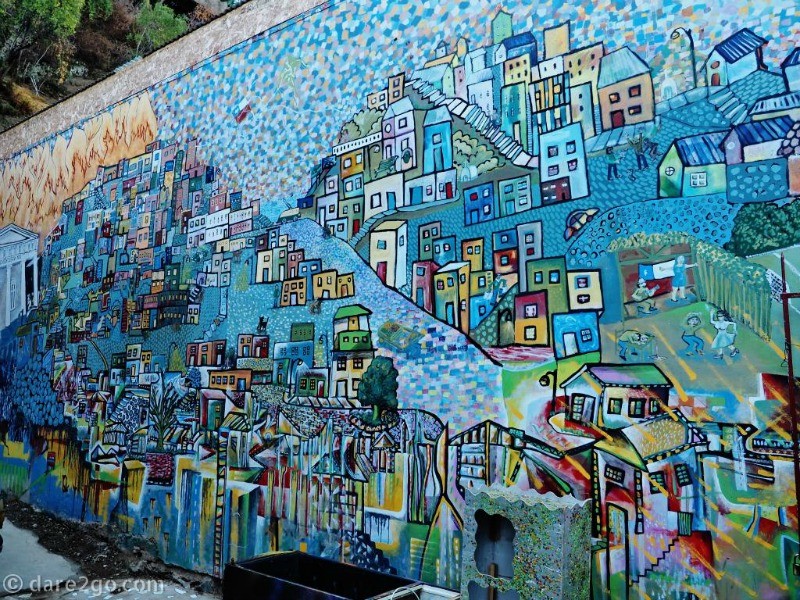 Another example from Valparaiso
This one was shot by me. While I love the street art that covers this city, it is the staircase art that really captured my attention.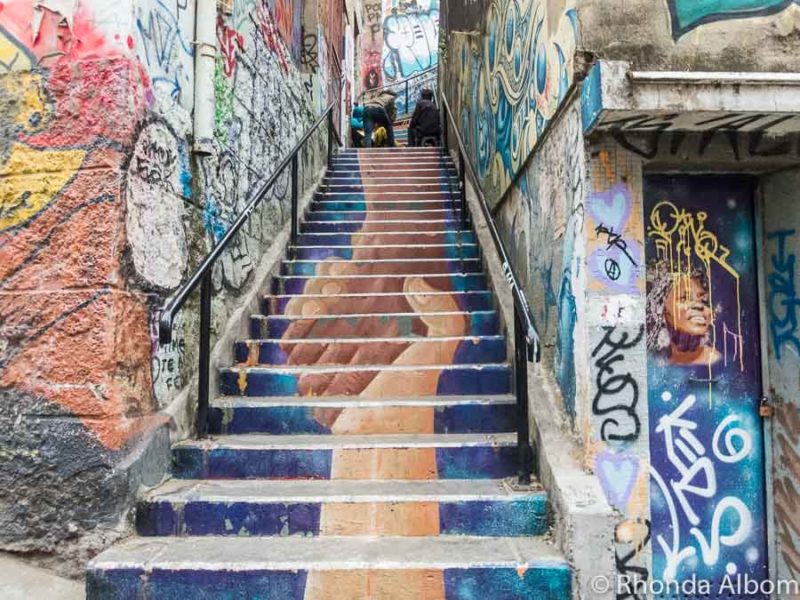 Example of South American street art in Ecuador
Otavalo, Ecuador
Photo contributed by Lance and Laura of Travel Addicts.
There's a saying, "There are no white walls in Ecuador." We found that to be particularly true in Otavalo, a traditional community known for its Saturday trading market.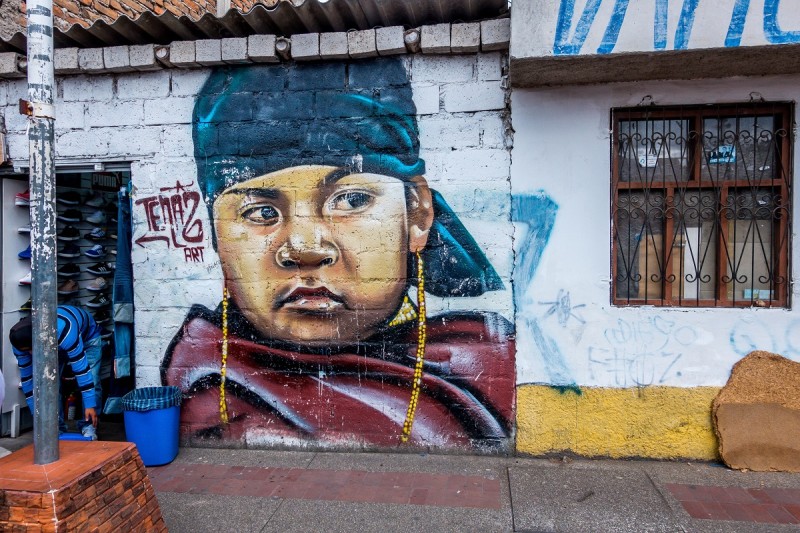 Cuenca, Ecuador
Photo contributed by Sean Boyle of Venturists.
You find incredible works of art on the streets of Cuenca, Ecuador. The city has actually commissioned many pieces and allows specific areas for street artists, so you can actually watch painters working in the middle of the day, instead of under the cover of night.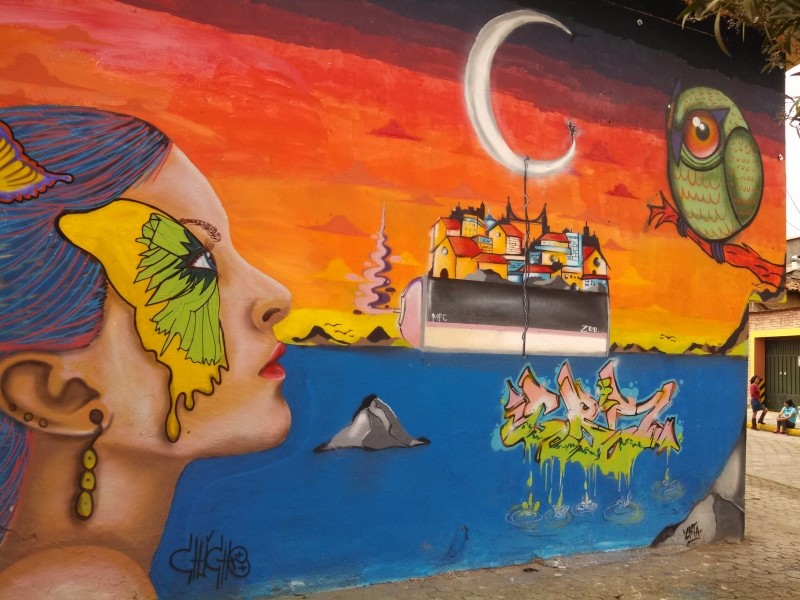 Example of South American street art in Argentina
Cordoba Argentina
Often overlooked by tourists, Cordoba is one of the country's oldest cities. A university town, it has a diverse population. One of the night hot spots is the Guemes neighbourhood, where we found this: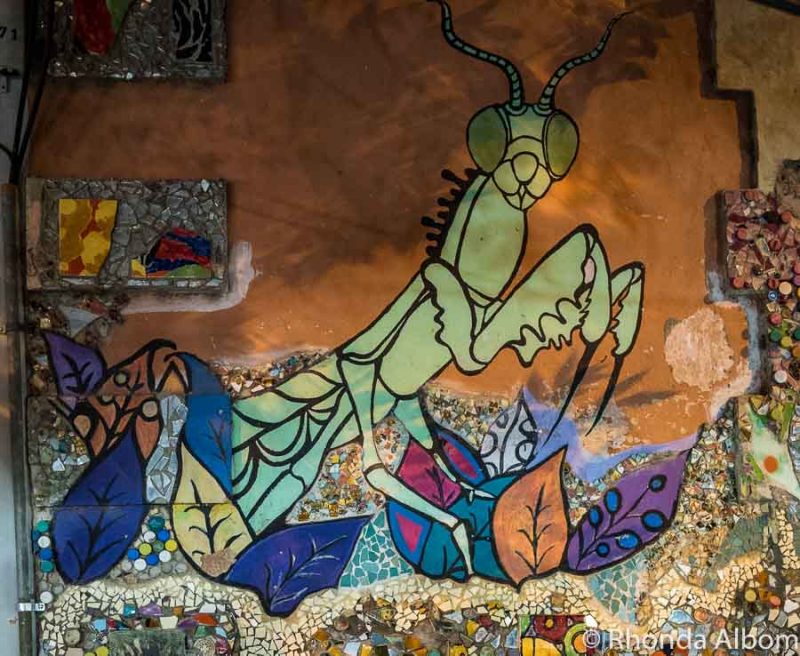 Example of South American street art in Peru
Lima, Peru
Photo contributed by Chris Backe of One Weird Globe
Go ahead, try to follow a path through it. No idea how long it took to paint this AND keep everything straight… If you're in Lima, start at the Museo de la Electricidad (Electricity Museum) in the Barranco district, then proceed to the Parque de Barranco, and along the streets Pedro de Osma, 28 de Julio, Jiron Union, and Jiron 2 de Mayo for the most graffiti-laden streets.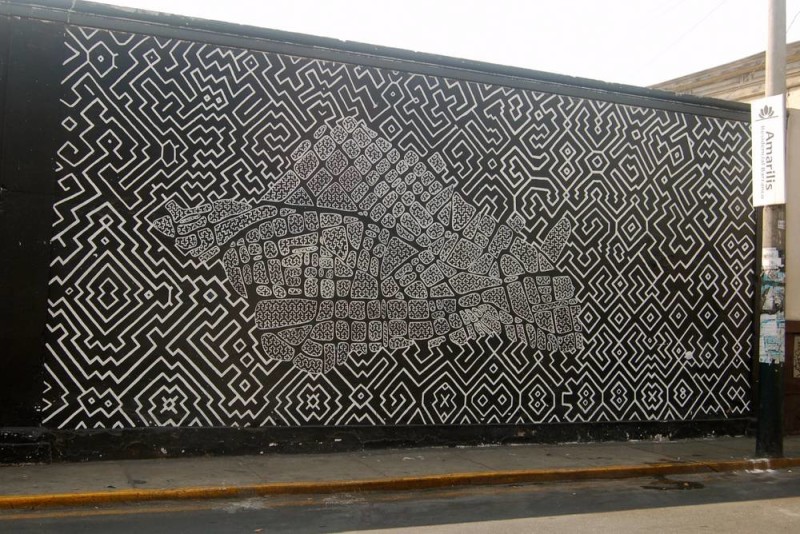 Example of South American street art in Brazil
Florinanopolis, Brazil
Photo contributed by Juergen of Dare2go.
Several internationally renowned street artists come from Brazil. The medium is well recognized as part of the design world. Hence, it comes as no surprise that, as part of the Design Biennial in Florinanopolis in 2015, a long road overpass near the airport was transformed by a group of over 30 street artists. They turned a previously unsightly grey concrete structure into an explosion of colour and styles. It's well worth a visit (or at least a stop on the way from/to the airport) if you are interested in different styles of contemporary street art in one very compact space.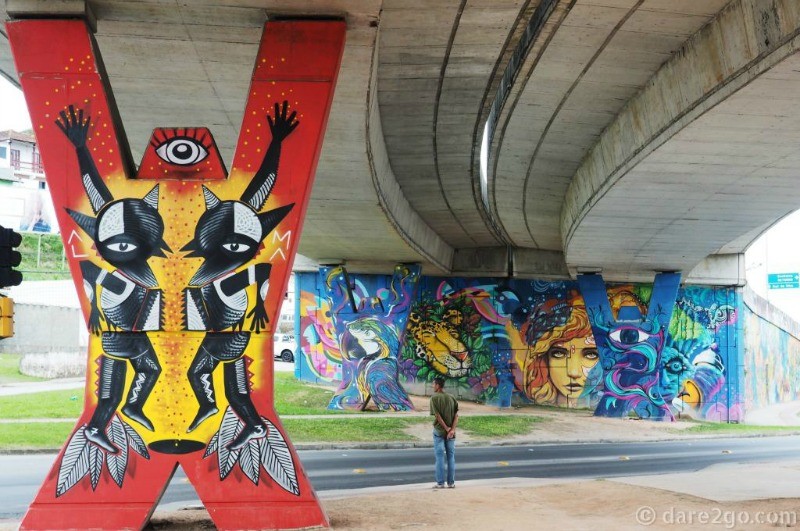 Example of South American street art in Colombia
Cartagena, Colombia
We visited Cartagena as a cruise port when we crossed the Panama Canal. We fell in love with just about everything, including the street art.
Cartagena's old town had a variety of street art, but this small section of a wall caught my eye. While normally colourful, this section was filled with mostly black and white street art. The message is religious, and effect of the lack of colour was quite powerful.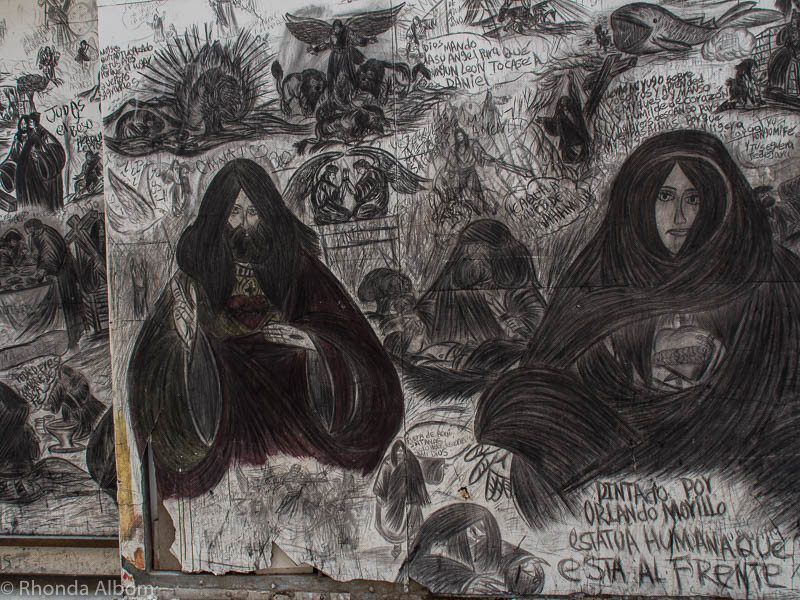 Bogota, Colombia
Photo contributed by Will Hatton of The Broke Backpacker.
Bogota has some of the world's most striking street art; this is a city where graffiti is not illegal, and artists compete with each other to fill every available space with weird and wonderful designs.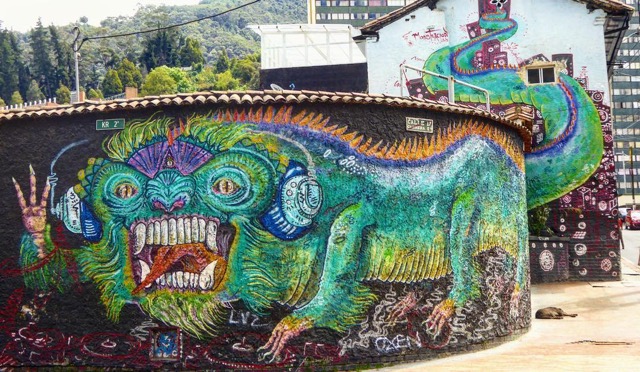 Heading to South America?
Start with this safety guide to the region, or travel one of our travel guides to either Argentina, Chile, or Uruguay.
We explored five counties in South America on our last visit.
Central American street art in Nicaragua
Leon, Nicaragua
Photo contributed by Two Scots Abroad.
Nicaragua is not the hotbed of street art in Central America, however, there is one mural that should be credited in Leon. This political street art story takes you through the passage of time displaying the main events in Nicaragua's history, concluding in utopia – children skipping into the distance with an iconic volcano in the background. We were introduced to this street art during the revolution tour. Personally, I think this tour is one of the top things to do in Leon. There is also a pretty funny rendition of London's Banksy, which we found on the backstreets of the city.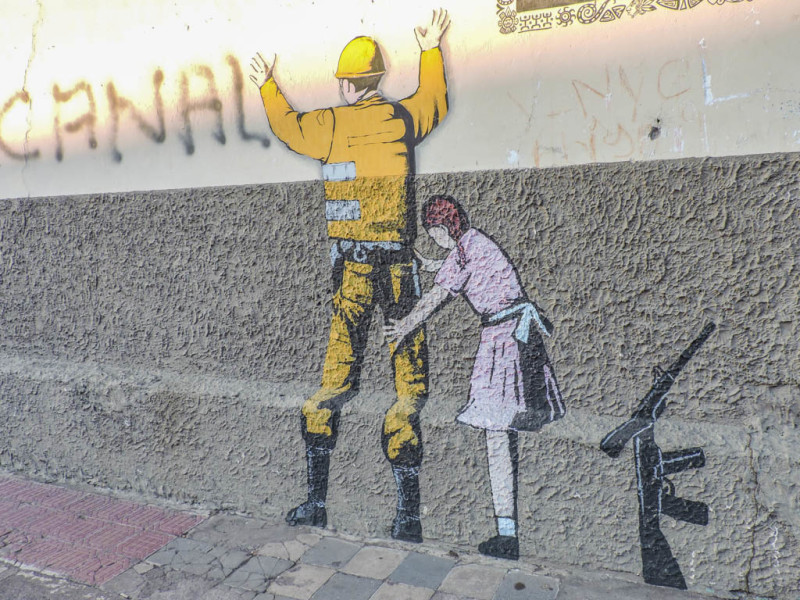 Thinking about becoming a street artist?
Often larger than life, creating street art takes a certain set of skills. If you're thinking about becoming a street artist, this "cookbook" might be useful: Street Art Cookbook: Street Art Cookbook: A Guide to Techniques and Materials.
Save on your trip with these resources
These are our go-to companies when we travel. We believe this list to be the best in each category. You can't go wrong using them on your trip too.
Check out our travel resources page for more companies that we use when you travel.
Please share and save for later:
If you enjoyed this Central and South American Street Art, please share the article on social media, including Pinterest:
Did you find this South American street art to be somewhat more elaborate than other street art you have seen?