Caluzzi Bar and Cabaret is a complete evening filled with fun, laughter, and a delicious dinner in Auckland, New Zealand. If you are like me before I went, and not really sure what to expect from a drag queen show, read on. Also note that the show changes seasonally, and the menu is subject to change. The story and photos below represent our first-time experience at Caluzzi.
From the moment we entered Caluzzi our lives were temporarily transformed into one with a bit more flamboyant energy, jubilant laughter, and energetic fun.
Restaurant, bar, and cabaret, it's all here, rolled up into one full evening of themed entertainment. The "girls" are larger than life, animated, hilarious, warm, and friendly. Drag Queens are like that, I had been told before we arrived.
The club is intimate, seating a maximum of 60 guests at large tables containing groups of friends. As a couple, we were the smallest group and had our own table. Yet, we were equally part of the interactive fun that began at the entrance, "Welcome Darlings, are you here for the show?"
First, we met our MC for the evening, a vibrant "girl" named Kola Gin, with a fiery personality and height enough to tackle an All Black.
She and the other girls kept us giggling through dinner, often with the type of humour that has the manager recommending the club for adults (16+).
Welcome to Caluzzi Bar and Cabaret
Dressed in a stunning black, strappy dress, Kola Gin started off the evening.
What to expect at Caluzzi
We felt welcomed the moment we walked in. The entire evening is an interactive experience.
They are the hosts, the entertainers, the servers, and by the end, your dancing partners and friends.
The evening starts out with drinks. Then a three-course dinner.
Between each course, some randomness, games, other entertainment, and photo ops were intermixed. Regardless, there was always hearty laughter.
This is followed by non-stop laughter and entertainment from incredibly talented drag queens.
Finally, after the show ends, the floor opens for dancing.
Plan to be here a while, as the entire evening runs from about 7pm when doors open until nearly midnight when they close.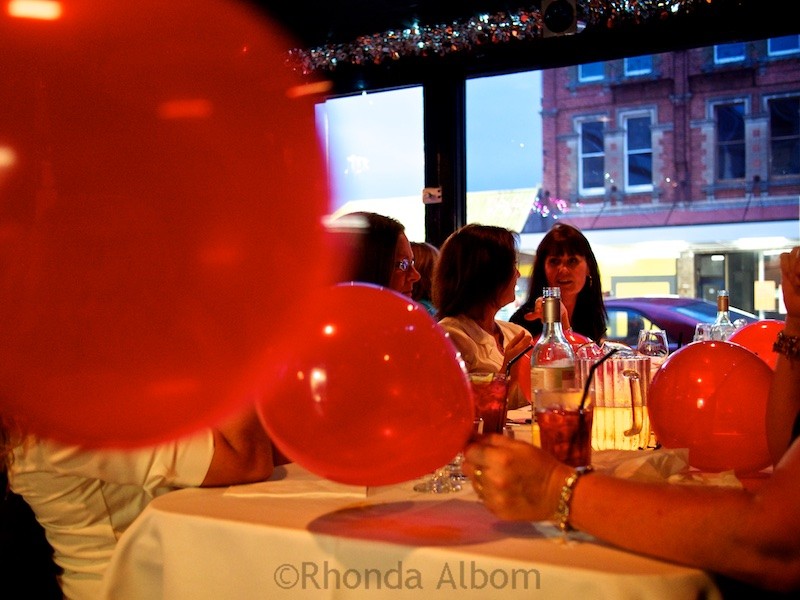 Our meal at Caluzzi
The Caluzzi experience includes a delicious 3-course dinner.
The meal started with perfectly prepared garlic bread, followed by soup. Then we each chose one of five main courses: chicken, beef, salmon, lamb, or a vegetarian option.
I had the steak and mushrooms, while Jeff chose the lamb.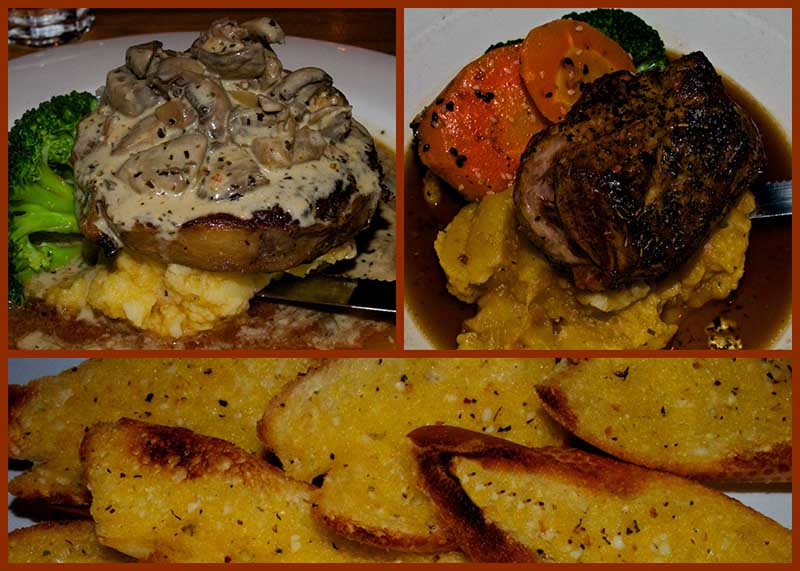 Photo highlights of the Caluzzi cabaret
After the meal, the entertainment kicked into an even higher gear. The energy level never dipped. I imagine the girls are completely exhausted by the end of each evening.
Our job was only to laugh. This was easy to accomplish.
To prevent 125 kg of dancing drag queen in stiletto heels from stepping on our feet, we were instructed to stay in our seats during the after-dinner show.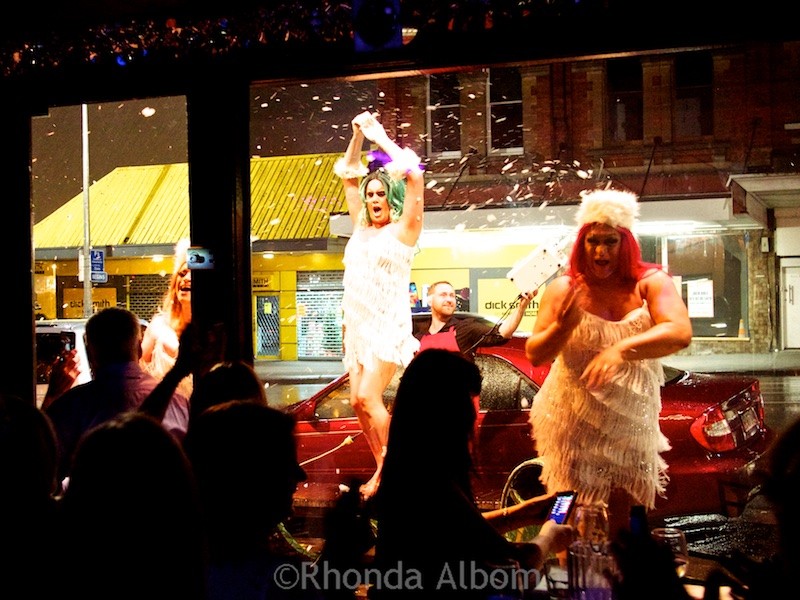 We all danced the night away after the cabaret show. The bar stayed open and the fun continued until about midnight.
What you need to know
Overall impressions and final thoughts
If you are easily offended by sexual innuendo, this might not be the show for you. However, if you can look at a carrot differently for even a moment, then be prepared to laugh.
From the moment we entered until the end of our evening, we were absorbed into a different world. We were both entertained and welcomed.
It is obvious that the "girls" love being there and that they genuinely care about each other. That warm family feeling carries through, enhancing the experience for everyone.
And the food is great too, so overall a perfect evening.
If I had to find fault, which isn't easy in this case, it would be within our choice to go as just a couple rather than with friends.
While we had a great time, I think it would have been even more fun in a larger group, which is the norm for Caluzzi. If you are going as a couple, consider asking if they have a communal table.
The bottom line for me: I haven't laughed this hard in ages. Caluzzi Bar and Cabaret is more than a dinner theatre with a drag queen show, it's just plain fun.
Save for when you are ready
If you enjoyed this article, please share it on social media and Pin it: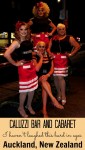 Are you ready to have some Caluzzi fun?
Looking for help planning a New Zealand adventure? We invite you to join Explore New Zealand Facebook Group to ask questions or share photos, stories, or anything about New Zealand.
Disclaimer: We were guests of Caluzzi for the evening. However, the opinions expressed here are strictly my own.