La Mezquita (Mosque-Cathedral of Córdoba) is captivating. It brings hordes of tourists to this Andalusian town annually. It is one of many interesting things to do in Cordoba Spain. If you only have one day in Cordoba, you will be busy.
Note: Based on world conditions, we advise checking official channels including cancellation policies prior to booking. Also, with often reduced capacity, booking ahead becomes more important.
La Mezquita (Mosque-Cathedral of Córdoba)
The red and white archways captivated my attention from the moment we entered. The contrast between the Moorish architecture and Catholic artefacts somehow blend seamlessly. As a result, the structure feels endless. It is a visual treat around every corner. It remains the largest structure of its kind in the western Muslim world.
La Mezquita is one of the most amazing places I have ever been. While we marvelled at everything we saw, we know we missed quite a bit by not having a guided tour. If I ever get back, I will have a guide. My top choice is a 2-hour tour of the Cordoba Mosque-Cathedral has an art historian guide and skip-the-line ticket.
⇒ Check availability on Cordoba Mosque-Cathedral: Tour with Skip-the-Line Tickets
If I were worried about time and trying to cram in all the cool things to do in Cordoba in a day or two, I might consider this shorter (and very popular) 75-minute tour:
⇒ Check availability of the 75-minute Cordoba Mosque-Cathedral Guided Tour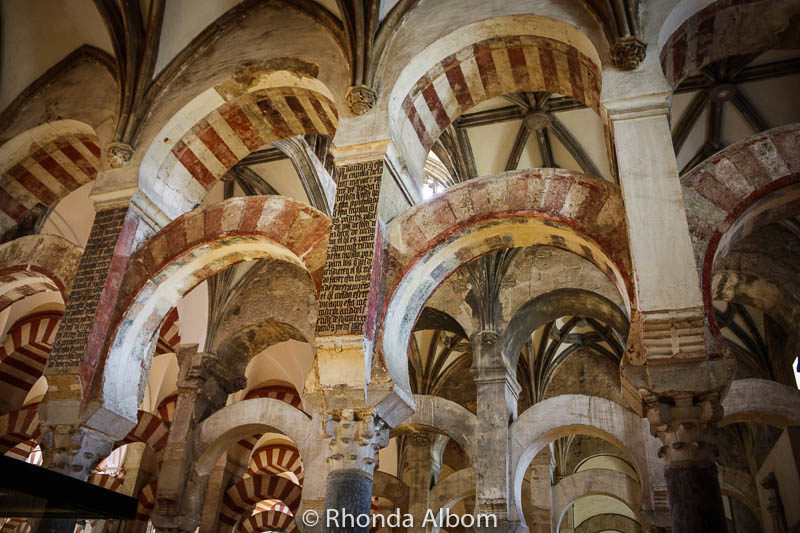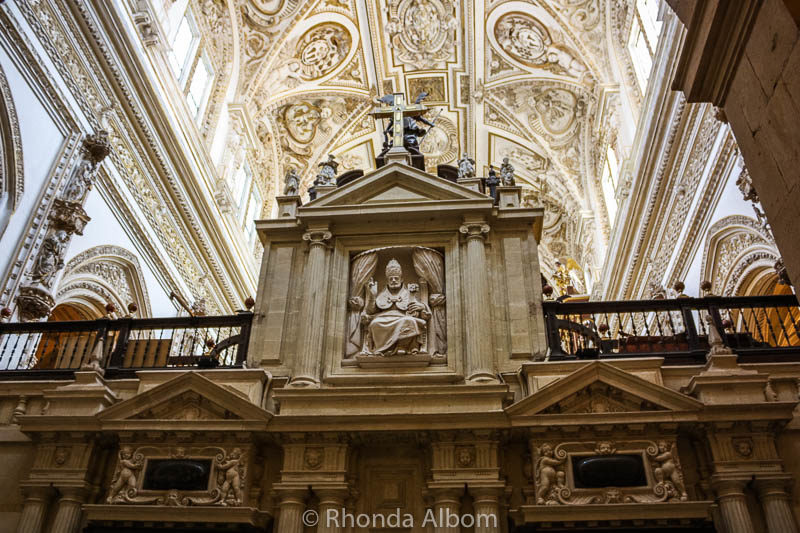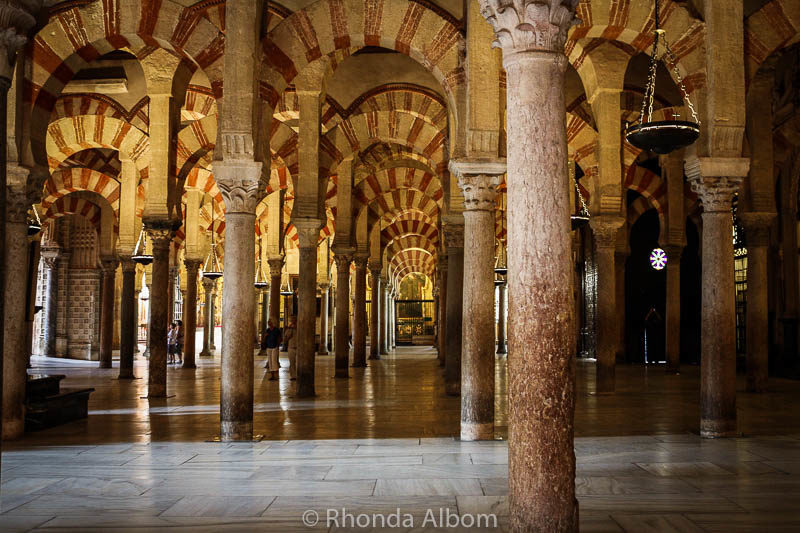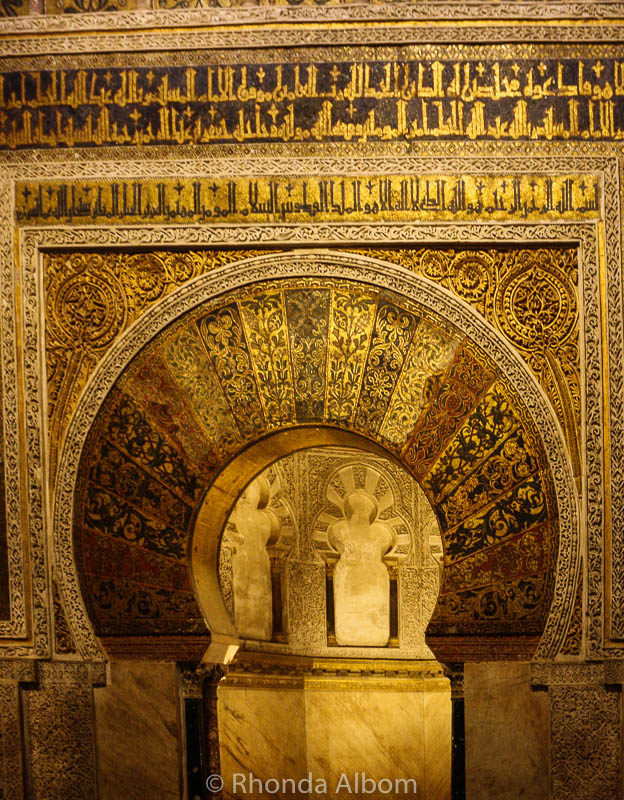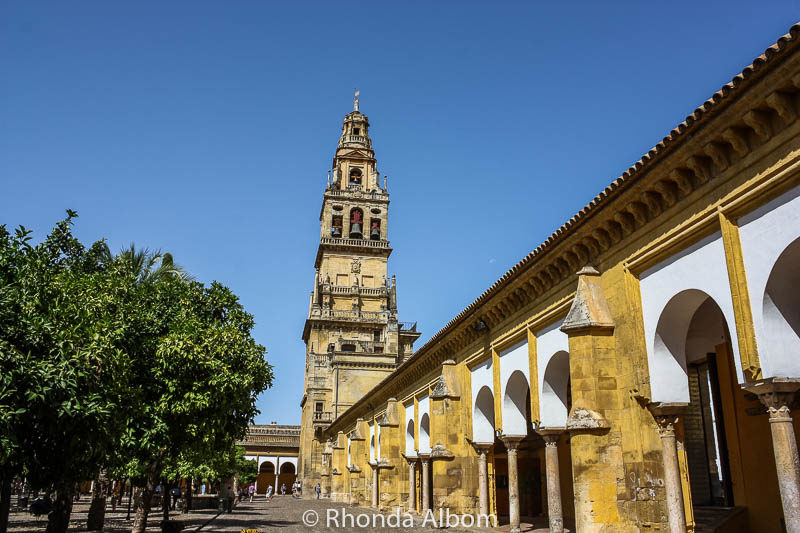 A brief history of La Mesquita (Mosque-Cathedral of Córdoba):
Initially built as the Catholic Basilica of Saint Vincent of Lérins.
In 711 AD the Muslims conquered Spain. The Christians and Muslims shared the church, each occupying half of the building.
Construction of the Grand Mosque of Córdoba began in 784 after the Christian half was purchased and demolished.
Córdoba returned to Christian rule in 1236 during the Reconquista, and the church converted to Roman Catholic.
Now it is a UNESCO World Heritage Site.
Jewish Quarter Cordoba
At the centre of the maze of narrow streets that make up the Juderia. This medieval Jewish ghetto is home to one of only three original synagogues remaining in Spain. Built in 1315 in the Mudéjar-style it was transformed into a church in the 16th century, only to later be rediscovered in the 19th century.
Roman Bridge and Torre de la Calahorra
The Puente Romano (Roman Bridge) is a 16-arched bridge spanning the Río Guadalquivir. It was originally built after Caesar's victory over Pompey the Great. With renovations and reconstructions over time, it barely resembles its Roman roots. If it looks familiar, perhaps you recognise it as the Long Bridge of Volantis from Game of Thrones: Season 5.
The tower at the south end is a fortified gate built during the late 12th century to protect the bridge. Today the tower is Museo Vivo de Al-Andalus, a museum highlighting the cultural achievements of Al-Andalus.
More Things to Do in Cordoba
Let the speed of the dancer's feet at a Flamenco show mesmerise you.
⇒ Get tickets for the famous Cordoba Flamenco Show at Tablao el Cardenal
(be sure to read the reviews on the page if you are unsure.
They will convince you this is the show to see.)
Visit the Alcázar de los Reyes Cristianos (The Alcázar of the Christian Monarchs), a former Caliphal Palace. It later became the residence of Queen Isabella I of Castile and King Ferdinand II of Aragon and the location where they met Christopher Columbus as he prepared to take his first voyage to the Americas.
Let the lush nature and fountains relax you at Jardín Botánico de Córdoba (Cordoba's Botanical Garden).
Unwind with a hammam bath (a different and much more relaxing experience than the hammam bath we had in Morocco).
Increase your understanding of Spain's controversial sport at the Bullfighting Museum.
Explore the 12 patios and fountains of Palacio de los Marqueses de Viana.
Walk Around Cordoba at Night
Lit up and golden, La Mesquita looks beautiful at night. And, we found a fabulous little ice cream shop in one of the corners. However, once again, we wish we had taken a tour. If we didn't have our girls with us, I would have opted for the one with wine and tapas. However, since we were on a family trip, I think I would have just done the walking tour:
⇒ Check details on the Cordoba Tapas Tour
OR ⇒ Check details on the Cordoba Old Town Evening Walking Tour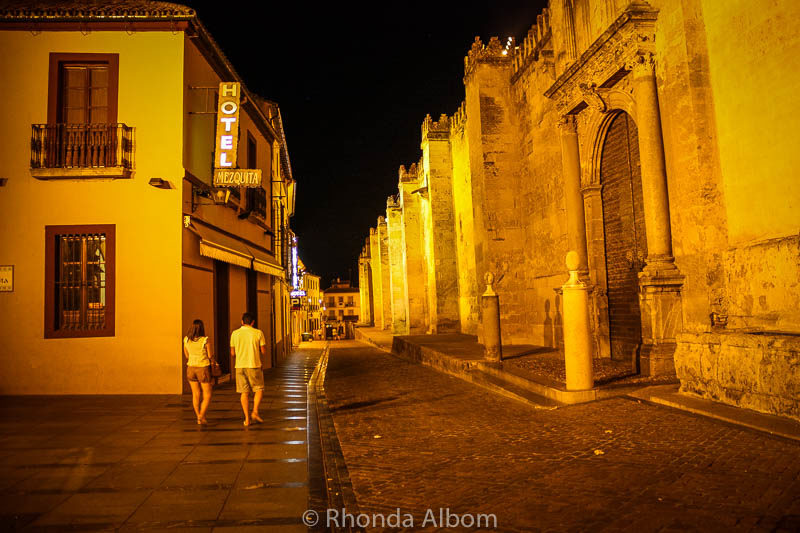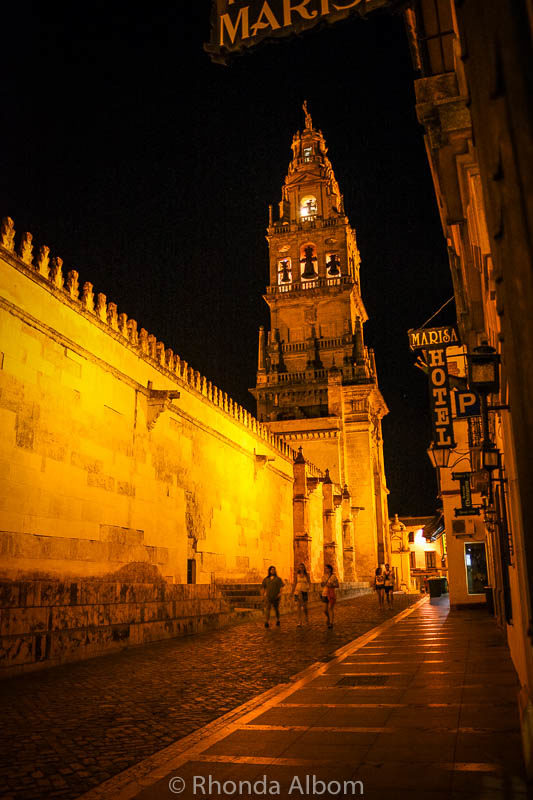 Take a Tour: Don't Miss Any of the Things to do in Cordoba Spain
If you prefer a full city tour, there are several reputable companies offering Cordoba Spain tours, as well as the option of a hop-on-hop-off bus.
Practical Information: Cordoba Travel Tips
Cordoba is in southern Spain about 150 km north-east of Seville.
La Mezquita's published opening time is 10 am, but if you arrive between 8.30 and 10 am entry is free. Other early birders have mentioned that they had to be out by 9.30. However, we had free entrance at arriving at 9.55 am, and we stayed until we were done.
We stayed at Hotel Mezquita, an affordable Andalusian house style accommodation directly across the street from La Mezquita. Surrounded by historic buildings, our hotel was clean, colourful, and had a larger than average room for our family. For us, it is the perfect place to stay.
⇒ Check prices and availability at Hotel Mezquita in Cordoba
Parking for La Mezquita and the nearby hotels (including Hotel Mezquita) is several blocks away from the entrance.
⇒ Visit Booking.com to compare other Cordoba accommodations
This article is part of a series highlighting a driving loop through Spain and Portugal that both started and ended in Costa Brava. Our key stops included Saragosa, Madrid, Segovia, Toledo, Cordoba, Granada. Then in Portugal, we visited Evora, Sintra, Obidos, and Alcobaca before returning to Spain: Vigo, La Coruna, Santillana del Mar, and San Sebastian.
If you had only one day in Cordoba, which of these would you visit?
If you enjoyed this article on things to do in Cordoba, please share it on social media, including adding this pin to Pinterest: