We stood in silent awe as we admired the massive Hubbard Glacier reaching up 350 feet in front of us (with another 250 feet below the waterline). Our Alaskan cruise ship got in close enough to see the ridges and details of the largest calving glacier in North America. In truth, we only saw a small portion of the 76-mile long Hubbard Glacier, but it was enough to captivate us.
This was our Hubbard Glacier tour, seen from the NCL Sun it is our first official destination as we cruised down the wild Alaskan coast from Anchorage (Whittier) to Vancouver Canada. We had already been on board for about 40 hours and now Hubbard Glacier glimmered before us. While some passengers watched from their cabin's balcony, others through huge windows in the lounges, we opted to be on the foredeck and to take in the full-wide expanse that nature lay before us.
Even while staring at it, the glacier itself was unimaginable. This giant hunk of blue ice in Alaska was a vivid shade of aquamarine, noticeable from some distance away. It was a much richer shade than the glaciers we have seen in either Norway or New Zealand. And much different. It is the world's longest tidewater glacier.
Hubbard Glacier Photos
Ever wonder: Why is glacial ice blue?
Rocket scientist hubby offers a simple explanation: A glacier grows from the top as large amounts of snow compact and partially melt to form a whitish granular snow called firn. Over several years, as water seeps in and the air is forced out under the weight of accumulating snow, the granules merge together forming bluish glacial ice.
Under the continual gravitational pull down the valley, the glacier slowly moves forward like a giant ice river. The ice slowly melts as it reaches the more temperate lower levels closer to sea level.
Small pieces of glacial ice floated in the water, and the ship passed through them with ease. My first thought was that it is a grim reminder of the global warming and the sad loss to these magnificent examples of mother nature. But Hubbard is a calving glacier and therefore still increasing in total mass rather than retreating with global warming.
You can read more about calving glaciers from the USGS.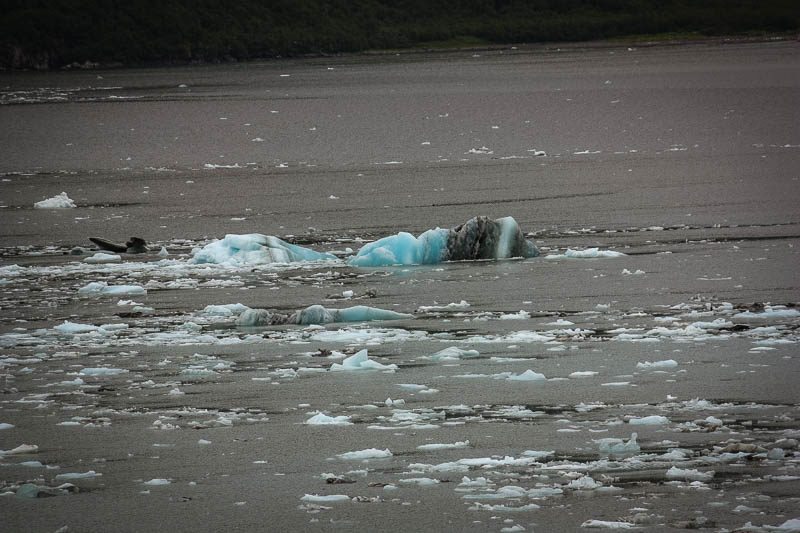 Other Alaska Cruise Port Highlights
After our onboard Hubbard glacier tour, we headed to Alaska's inside passage. Our first port was Icy Strait Point, where we exited the ship and headed to nearby Hoonah for a whale watching adventure.
Our next port was the capital of Alaska. In Juneau, I opted for more whale watching, while Jeff and one of our girls went on a kayaking adventure. Two more ports in Alaska rounded out our itinerary. First Skagway where we found over 15 free things to do, then on to Ketchikan where we enjoyed a lumberjack show amongst other things to do. Finally, we disembarked in Vancouver, Canada. Here are a few highlight photos:
The last two are from Sawyer Glacier between Juneau and Skagway.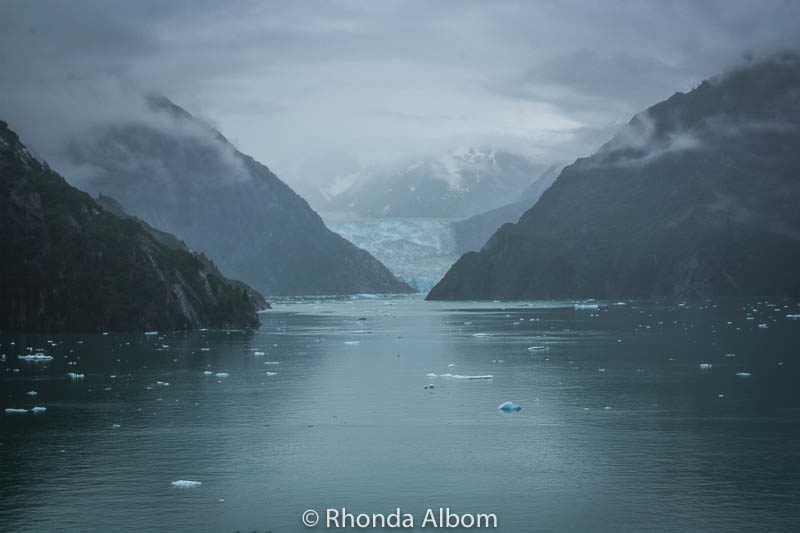 Have you seen Hubbard Glacier? Have you cruised in Alaska?
Please share this on Pinterest: