Travelling slowly from Anchorage to Whittier allowed us time to explore the region and spot some native Alaskan animals. We couldn't get enough of Alaska, and wish we had allowed ourselves more than a week in this rugged state before heading off on our Alaska cruise.
As we quickly discovered, there is not an Anchorage cruise port, despite what is says in the cruise advert. Ships leave out of either Whittier (1.5 hours to the east) or Seward (2.5 hours to the south).  The direct options are a bus, train, or the ships offer transport. Instead, we opted to enjoy our travel time from Anchorage to Whittier. We hired a private guide to show us the highlights along the way. Rather than a two-hour drive, we had a half day adventure.
⇒ Check Pricing and Availability of a Private Guide from Anchorage to Whittier or Book Now 
Here are the highlights of our stops between Anchorage and Whittier. Unless you have your own vehicle, these are missed if you take the direct transportation.
Lake Hood Seaplane Base
Anchorage Coastal Wildlife Refuge
Seen from the Highway as We Drove From Anchorage to Whittier
Wildlife Spotted as we Drove From Anchorage to Whittier
Alaska Wildlife Conservation Center
The Alaska Wildlife Conservation Center is a non-profit organisation doing great things to preserve Alaska's wildlife through conservation, education, and quality animal care. If you can't visit, you could adopt an animal.
Chugach National Forest of Alaska
Portage Glacier
Derelict Buckner Building
The abandoned Buckner Building in Whittier was our final stop before boarding the ship. One of the largest buildings in Alaska when it was built in 1953, it was used by the US Military and nicknamed "the city under one roof".  We heard something moving inside as we approached. Is it haunted? More likely it is the bears that now live there.
If you like abandoned buildings, read next: Sheraton's Cursed Derelict Buildings on Rarotonga
Enjoy the Journey with Private Transfer
We cruised out of Whittier and were thrilled with our choice of a private guide to get us from Anchorage to Whittier. This Cruise Ship Private Transfer from Viator is similar, typically stopping at Beluga Point, Bird Point State Park, Chugach Natural Forest, Alaska Wildlife Conservation Center (2 hours), Portage Glacier and then through the tunnel.
⇒ Check Pricing and Availability of a Private Guide or Book Now 
**Don't wait too long. There are a lot of cruise ship passengers, and only a few guides.  
Take a Bus from Anchorage to Whittier
Another option is to take a bus which stops at the Alaska Wildlife Conservation Center for one hour. The advantage is the lower price, but you will see a lot less.
⇒ Check Pricing and Availability of the Anchorage to Whittier Half-Day Transfer or Book Now 
Practical Information on Travelling from Anchorage to Whittier:
If you are doing this drive on your own, be aware of the one-direction-at-a-time Whittier Tunnel schedule. Officially the Anton Anderson Memorial Tunnel, it allows autos and trains to pass under Maynard Mountain. At 4,100 m (13,300 ft) long, it is the second-longest highway tunnel, and longest combined rail and highway tunnel in North America.
We split our week before cruising between Anchorage highlights like Alaska Native Heritage Center and the Anchorage Museum and a few nights in Denali National Park. The 8-hour train from Anchorage to Denali through the Alaskan wilderness is one of my life's highlights.
We stayed at the Ramada Inn in Anchorage and recommended for midrange accommodation. If you want to splurge, the Crowne Plaza looks nice. Check for current prices –> at Booking.com.
Bus or private guide, how would you get from Anchorage to Whittier?
Enjoyed these photos? Share it on Pinterest ↓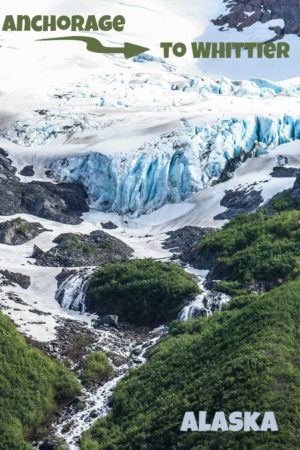 Here's the secret to packing light:
Download our free packing light checklist when you sign up for our newsletter.