Everything about our Alaska cruise adventure was filled with enchanting natural beauty, including the journey from Anchorage to Seward. Honestly, we were a bit surprised when we first learned that cruises embarking from Anchorage actually sail from over 100 miles away.
A quick attitude adjustment and we knew we wanted the journey from Anchorage to Seward (or to Whittier) to be part of the adventure.
And that's exactly what we did. We reviewed all the options and outlined them below and opted for a private guide. There are just too many spellbinding things to see, from wildlife to glaciers, from the world's largest seaplane base to a bake shop so charming you will want to stay forever.
Our next choice would have been to take the train, as the ride through some of the striking and unspoiled terrain makes it really special. There are several other options, but the guide or train are our top two recommendations.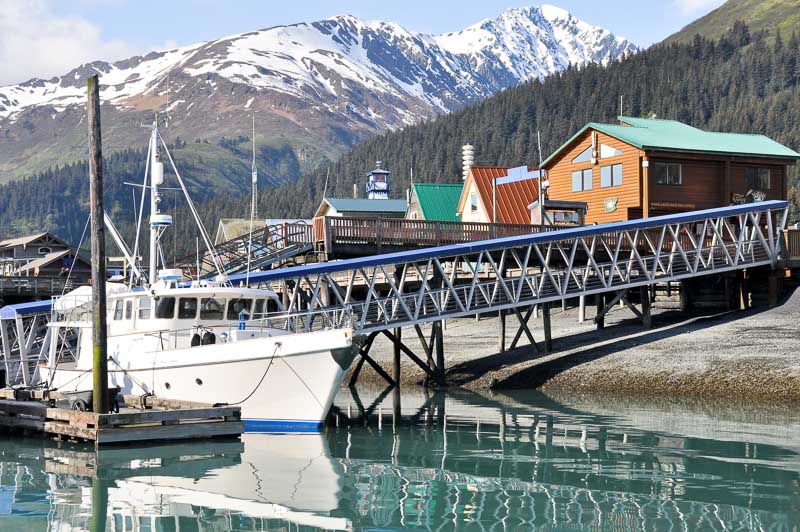 We turned what could have been a direct journey into an all-day affair to get to the port. The only thing we wish we had done differently would have been to allocate more days. This would have allowed us time to enjoy Seward, the nearby Kenai Fjords National Park, all before boarding our ship.
Below we discuss not only the transport options but also the things to see along the way. We hope this will help you to make a plan that fits your needs and budget.
Note that regardless of which of the two ports you are sailing from, there are plenty of amazing things to see along the way.
In this article, we feature the highlights from Anchorage to Seward. If you are sailing out of Whittier, don't worry; simply link over to this article for your best opinions.
How to get from Anchorage to Seward
The drive from Anchorage to Seward is 127 miles and, without stops, takes about 2.5 hours. However, there are several ways to get there, many of which take longer. We discuss each in detail below.
Tour with a private guide
Train from Anchorage to Seward
Hire a private driver
Bus to Seward from Anchorage
Shuttle from the cruise line
Drive yourself
**Regardless of which transport method you choose, plan it in advance. Nearly everyone on your ship will need to get to the same port. This could be several thousand people.
Hire a private guide and tour between Anchorage and Seward*
We hired a private guide and found it the perfect way to both maximize our limited time in Alaska and get to the port. Our day began with an Anchorage city tour, custom targeting the places that most interested us. The guide's knowledge was impressive. In the next section, we outline possible stops along the way.
Although our specific guide is no longer available, we have consistently had positive experiences with Tours by Locals. Therefore, we are comfortable recommending them. It's nice to be able to choose your own guide and even ask questions to them prior to booking. Remember to review the feedback from fellow travelers. Reserve an Anchorage-based guide from Tours by Locals here.
*If a private guide is your choice, don't wait too long to contact the guide. There are a lot of cruise ship passengers and only a few guides.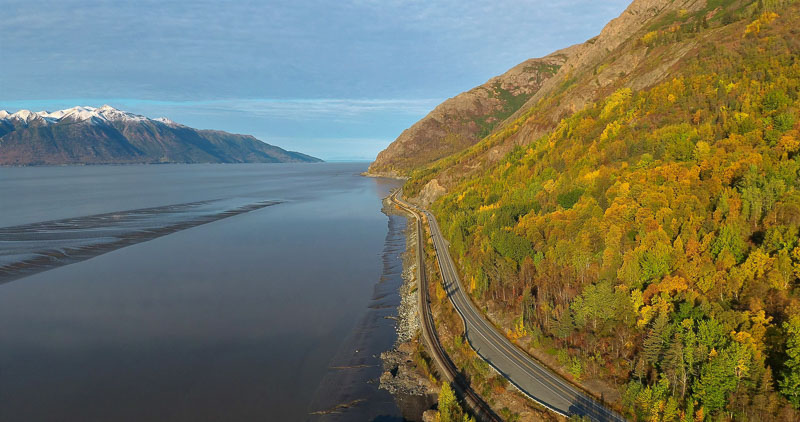 Hire a private driver for transport
Another option, offered through Viator, one of our favorite tour companies, is simply to hire a private 1-way transfer in either direction. Note that the price is for up to four travelers (with an option to add more). Reserve a private driver to get you from the city to the port here or for your return to the city after the cruise here.
Train from Anchorage to Seward
The leisurely and picturesque train journey from Anchorage to Seward runs daily during cruise season (mid-May to late Sept), with morning departures that get you there in plenty of time. It's slower than the bus, taking about 4.5 hours.
The route follows the Turnagain Arm and then traverses the Kenai Mountains. As a result, that bit of extra time is well spent as you see some impressive scenery you won't see from the car. Specifically, glaciers and alpine meadows as you pass through the mountains.
You will see stunning mountain views away from the highway and opportunities to see wildlife, like beluga whales, bald eagles, and Dall sheep. For those who love train travel, it's the ideal pick. We took the Alaska Railway to Denali and loved it.
The route between Anchorage and Seward is called the Coastal Classic and the train runs in either direction. Reserve your Coastal Classic trip to the port here or, for your return trip reserve the train back to Anchorage here.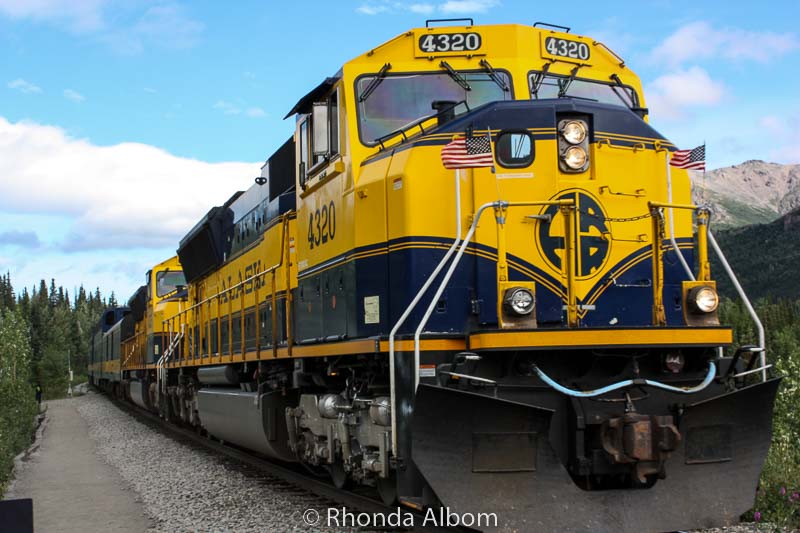 Anchorage bus to Seward
Direct Bus: The Park Connection Motorcoach offers a morning direct transfer service from Anchorage to Seward. The drive takes 2 hours and 45 minutes and will drop off at the cruise terminal on cruise days. This is one of the least expensive ways to go.
Shuttle from the cruise line
Nearly all cruises out of Anchorage offer a transport option to the port. Be sure to read the cruise literature for details, as often it's just a drive without stops.
The advantage is the ease of booking, as it is often done by the company that books the cruise. The disadvantage will be the cost, as tours from the ship generally cost more than similar options you can book on your own, like the train.
Drive yourself from Anchorage to Seward
If you own a car in Anchorage, you can drive yourself. However, if your ship sails only one direction and isn't returning to Seward, this could be a problem later.
Otherwise, the options are somewhat limited, especially as there is a rental car shortage currently in Anchorage, making the prices shockingly high. When we hire cars anywhere around the world, we always use Rental cars.com as a starting point for our search as well as our rental source. They do offer a few options that let you drop off in Seward for an additional fee.
Other transport options
If none of the above appeals to you, there are a few other options; however, all three of these will be expensive.
Private air taxis will take you there pretty quickly.
For a price, you can often pay a taxi, Uber, or Lyft driver to take you from Anchorage to your starting port.
Highlights: bests stops from Anchorage to Seward
With only two-and-a-half hours of drive time, there is plenty of time to add stops along the way and get to the ship before it sailed. However, it's not enough time to see it all. Here we listed both the stops we made and the ones we wish we had.
Lake Hood Seaplane Base
Potter Marsh Boardwalk
Girdwood (and the Alyeska Aerial Tram)
Chugach National Forest
Alaska Wildlife Conservation Center
Tern Lake
Kenai Lake
Kenai Fjords National
Seward
Lake Hood Seaplane Base
Situated near the Anchorage airport, Lake Hood, the world's busiest seaplane base greeted us as our first stop on the journey from Anchorage to Seward.
We were delighted to watch the spectacle of two planes gracefully taking off from the water and one landing in the short time we were there. The bustling activity and the sheer size of the seaplane base served as a captivating introduction to the remarkable aviation scene in Alaska.
Potter Marsh Boardwalk
Stretching for 16 miles from Point Woronzof to Potter Creek, the Anchorage Coastal Wildlife Refuge provided us with an irresistible encounter with nature. It was an opportunity to appreciate the diverse birdlife and migratory birds in the region.
Among the highlights were the delightful sightings of various bird species, including the adorable Fluffy Mew Gull chicks that melted our hearts.
According to our private guide, the Potter Marsh boardwalk is the favored viewing spot for both locals and visitors. It was also a great spot for photos. This refuge serves as a haven for wildlife enthusiasts, offering a unique opportunity to appreciate the diverse birdlife and immerse oneself in the beauty of the natural surroundings.
Girdwood (and the Alyeska Aerial Tram)
During our drive from Anchorage to Seward, our guide added a delightful stop at Grimwood to visit the renowned Bake Shop, Here we indulged in delectable treats that left our taste buds in pure bliss.
In the backdrop stood Mt. Alyeska (700 meters – 2,300 ft). Although we decided to forgo the tram at the time, looking back, we regret not taking the opportunity. Other cruise passengers raved about the tram's breathtaking journey from Hotel Alyeska to the summit of Mt. Alyeska, especially the awe-inspiring views.
The luxurious Hotel Alyeska, nestled against the majestic mountains, beckoned us with its four-star accommodations, creating a tempting retreat we wished we had experienced firsthand. ⇒ Check out the Alyeska Hotel here
Chugach National Forest of Alaska
As we can't do it all in a day, we only had time for a quick stop in the lush Chugach National Forest. Its name, chosen fittingly, reflects its historical significance as an old portage route connecting Prince William Sound and Turnagain Arm.
If you choose to explore this area in more depth, be sure to keep your eyes open for Dall sheep climbing the cliffs.
Alaska Wildlife Conservation Center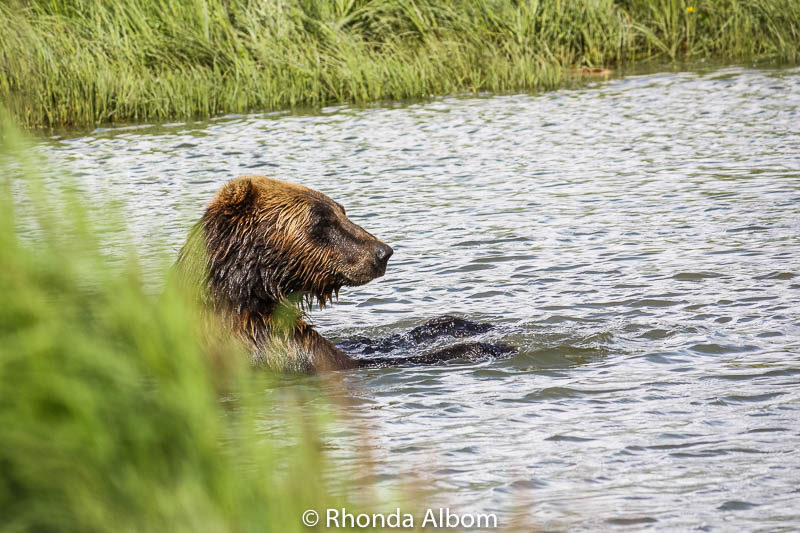 The Alaska Wildlife Conservation Center is a notable non-profit organization dedicated to the preservation of Alaska's wildlife. Through their efforts in conservation, education, and exceptional animal care, this center serves as a sanctuary for Alaska's wild mammals in their natural habitat.
Here we saw a diverse range of magnificent creatures, including elk, moose, muskox, caribou, bears, bison, and many others. According to our guide, we were really lucky to have spotted bears in the 17-acre brown bear enclosure. While it gives the animals plenty of space, it also means that many visitors don't see any bears. We saw three in total.
If your guide didn't include it in your package, we recommend getting tickets in advance, as this keeps you out of the queue. Always remember everyone on your cruise is heading to the same places. Reserve your Alaska Wildlife Conservation Center admission ticket here.
Tern Lake
As you traverse the scenic Seward Highway, make sure to include a stop at the enchanting Tern Lake. Nestled in a picturesque valley, this shimmering lake is surrounded by breathtaking mountain peaks.
The tranquil ambiance and stunning views make it a perfect spot for nature lovers and photographers alike. Keep an eye out for the diverse birdlife that frequents the area, including the namesake Arctic Tern.
Kenai Lake
Another must-visit stop is the stunning Kenai Lake. Nestled amidst towering mountains and lush forests, this pristine glacial lake offers a serene retreat.
Take a moment to soak in the tranquil beauty, admire the crystal-clear waters, and marvel at the reflections of the surrounding landscape. Whether you choose to relax on the shore, indulge in fishing or kayaking, or simply enjoy a picnic amidst nature's splendor, Kenai Lake is a picturesque oasis along your Seward Highway adventure.
Kenai Fjords National Park
Nestled in the scenic Kenai Peninsula, Kenai Fjords National Park is a captivating wilderness with dramatic glaciers and abundant wildlife that leaves visitors spellbound. Not going here is probably our biggest Alaska regret.
A highlight of the park is the magnificent Exit Glacier, a powerful river of ice that showcases the relentless force of nature. Exit Glacier has also become a climate change icon as the glacier's retreat has been marked since the 1800s.
Hiking along the trails near Exit Glacier offers an up-close encounter with its icy majesty. Others on our ship told us they could hear the crackling sounds of this ancient ice formation.
In hindsight, we would have added extra time to make all the other stops on the way from Anchorage to Seward and spend the night in Seward. Then, in the morning, head to Kenai Fjord National Park to take a boat tour to witness the majestic beauty of tidewater glaciers and the playful antics of sea otters and whales. We also want to hike to the jaw-dropping Exit Glacier. Book your Kenai Fjords cruise here
Destination: Seward
Situated at the edge of Resurrection Bay, Seward offers an array of exciting activities and attractions, making it an ideal destination for adventure seekers and nature enthusiasts, and of course, cruise passengers.
After spending the day traveling from Anchorage to Seward, we recommend spending the night to fully enjoy all that this charming coastal town has to offer before boarding your ship. If you have time, our top picks include:
Take the opportunity to walk right up to Exit Glacier. If you have no other options, there is an hourly shuttle bus to get you from Seward to the glacier.
If you have more time, take a cruise or kayak on Resurrection Bay in Kenai Fjords National Park. Book your Kenai Fjords cruise here.
Adventure seekers will want to go zip lining at Stoney Creek Canopy Adventures. With 8 ziplines, 3 sky bridges, and 2 rappels, you know this is a day you will remember forever. Reserve your zipline adventure here.
Go kayaking on Resurrection Bay. Reserve a kayak adventure here.
If none of the excursions you have planned for your cruise ports include a dog sled ride, and it's something you want to try, you can take one in Seward in a really cool way. Since it's summer, you will take a helicopter out to the glacier for the ride. Reserve your helicopter and dog sled tour here.
Visit the Alaska SeaLife Center.
Go fishing.
Enjoy fresh seafood at local eateries.
Where to stay in Seward, Anchorage, and Denali
We arrived in Anchorage over a week before our cruise, giving us plenty of time to explore the highlights of Anchorage and take the train to Denali, and enjoy some of the hiking and special things to do in Denali. As Alaska is often a once-in-a-lifetime trip, we recommend seeing as much as you can.
Seward
As we haven't actually spent a night in Seward, we have no personal recommendation, but we did take the time to review what's there and believe either of these to be an excellent choice:
Sauerdough Lodging: With stunning views of Resurrection Bay, this conveniently located accommodation is an ideal base for exploring local attractions. Choose from studios or apartments with kitchens, or enjoy the convenience of an on-site cafe for a quick meal. Reserve your stay at Sauerdough Lodging here
Resurrection Lodge on the Bay: Breathtaking views of Resurrection Bay awaits. This delightful choice offers a garden, shared lounge, and terrace. It's popular with both solo travelers as well as families alike. Their rooms cover a range and include family rooms and some rooms with a kitchen. Either way, savor a delicious breakfast to start your day right. Reserve your stay at Resurrection Lodge on the Bay here
Anchorage
As a family, we found the Hotel Captain Cook an ideal place to stay in Anchorage. With its prime location in the heart of the city, this hotel offers convenience, comfort, several restaurant options, an indoor pool, and warm Alaskan hospitality that truly enhances the travel experience. Reserve your stay at The Hotel Captain Cook here
Denali
We stayed at and recommend the McKinley Chalet Resort. Its prime location is just outside the Denali National Park entrance gate. The convenience of the Denali shuttle bus ensured effortless transportation to and from the park. On-site, we indulged in delectable dining options with two restaurants to choose from. Reserve your stay at Mckinley Chalet Resort here
Read Next: Alaska Cruise Tips: Know Before You Sail

Save on your trip and cruise with these resources
These are our go-to companies when we cruise. We believe this list to be the best in each category. You can't go wrong using them on your trip too.
Cruise: We find great deals at Cruise Critic.
Flights: we use Expedia for the best and cheapest flight options.
Hotels: we use Booking.com (hotels at our end ports) or VRBO (self-contained).
Cars (gas or electric): we use RentalCars to search for deals and dealer ratings.
Set up private guides at the ports: Looking to maximize our limited time at a port, we often hire private guides from Tours by Locals.
Travel Insurance: our go-to is Insure My Trip
Check out our travel resources page for more companies that we use when you travel.
Don't miss our best cruise tips.
Enjoyed this article on the journey from Anchorage to Seward? Share it on Pinterest
How will you get from Anchorage to Seward?
More from Alaska:
Photo Credits:
All photos on this page are either shot by our team and watermarked as such or stock images from Depositphotos.