The rain beat down as our ship docked in Kauai, an island that is one of nature's most exquisite masterpieces, regardless of the weather. Armed with our list of must-see Kauai itinerary items, we were ready to see the highlights. Rather than pre-booking one of the ship's Kauai excursions, we had hired a private guide.
We were not going to let the weather slow us down.
The fourth-largest (and the oldest) of the eight main Hawaiian islands, Kauai is called the Garden Isle for a good reason.
With lush green forests and jagged cliff edges, it is paradise, even in a drizzle. Some would say we were unlucky, as it rained on our one day in Kauai, but in reality, it is this mist that keeps the island's vegetation growing so well.
Our Kauai itinerary wish list
Before we even looked at the options for Kauai excursions, we made our must-see on our one-day-in-Kauai itinerary list:
Wailua Falls
Spouting Horn
Poipu Beach
Shipwreck Point
Opaeka'a Falls
Waimea Canyon
Napali Coast (would need to give up something else)
Plus, there are plenty of other small stops listed below. These were just the key highlights, the must-sees on our Kauai itinerary.
Kauai excursions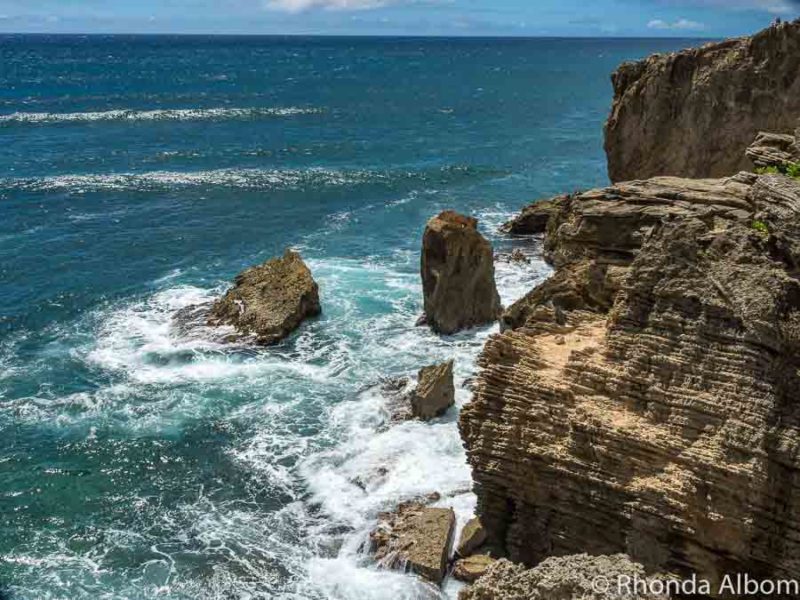 For us, Kauai was a cruise port, a one-day visit. Rather than one of the ship's Kauai excursions, we organized one on our own. We knew we had enough time to see everything on our Kauai itinerary and make it back to the ship. (When time is tight, we often opt for ship excursions).
Our options included group tours, private tours, the public bus, or renting a car.
We wanted the extra knowledge that only one who lives on the island can have. We opted for a private tour so we could be flexible as the day progressed. Therefore we used Tours By Locals, a company we have had great success with all around the world. Check out their private Kauai guides here.
For us, it was a great choice, especially as our guide immediately recommended changes to our plan based on the weather. We rebuilt our itinerary together, and off we went.
Kauai excursions booked independently generally offer tours of similar quality to the ship with smaller groups and lower costs.
Our Kauai itinerary
With so many wonderful things to do on Kauai, whatever you choose, you can't go wrong. Below are our highlights.
Wailua Falls
If you are from my generation, you will recognize these falls from the old television series Fantasy Island.
The Wailua River that they flow into is the only navigable river in the state of Hawaii. A two-mile float will bring you to a fern grotto so beautiful, it was once reserved only for Hawaiian royalty.
With a one-day Kauai itinerary that includes all the additional places below, you can't get to the grotto. However, if you are here longer, you can enjoy this six-hour adventure with a river cruise trip that includes a visit to the grotto. Reserve your tour here.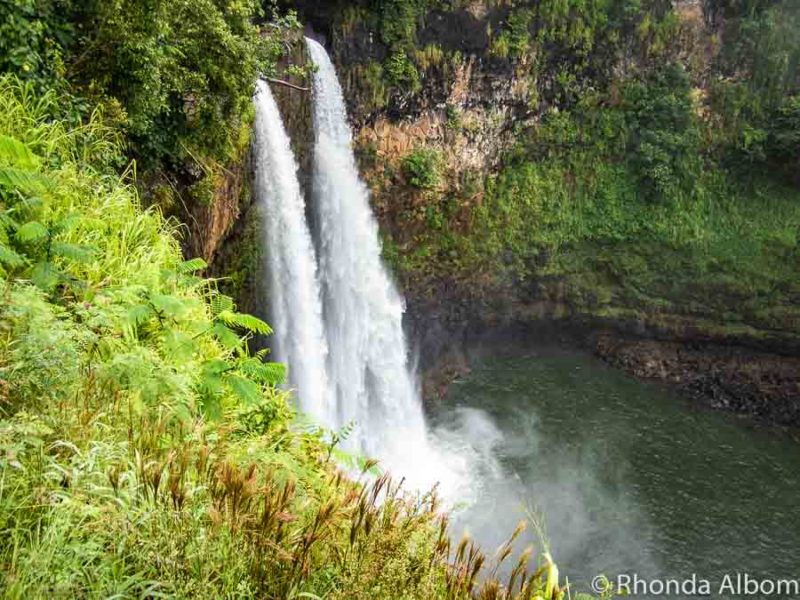 Spouting Horn
The sound of a 'dragon' caught my attention before the spout reached up to the sky. It has hit heights of up to 50 feet.
And like everywhere on the island, colourful Kauai roosters and hens are abundant in the area.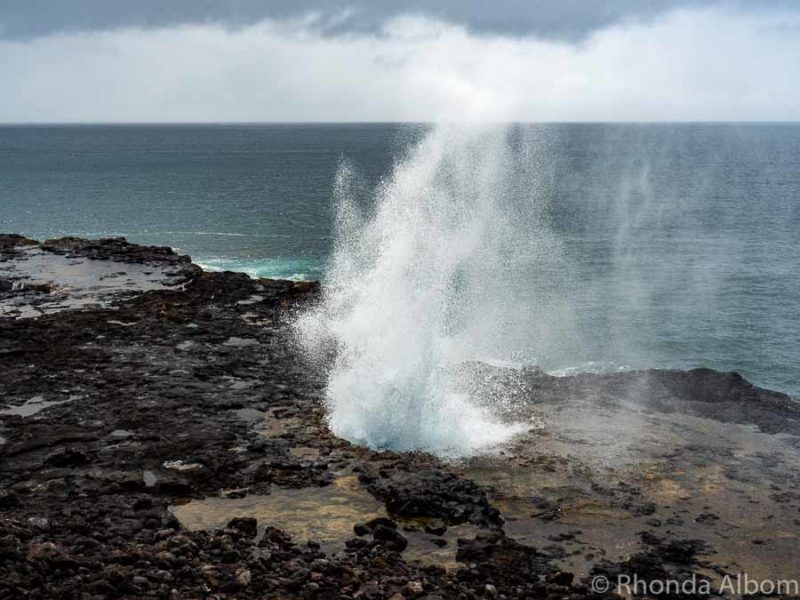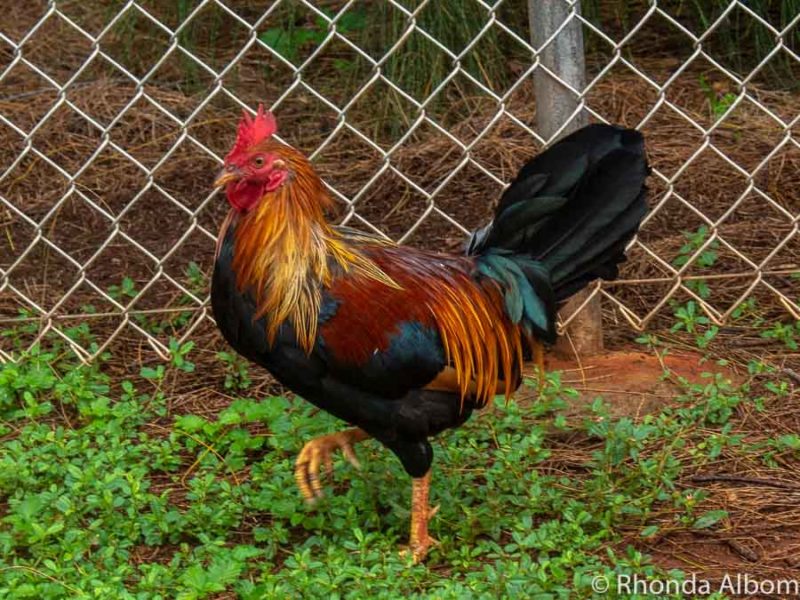 Poipu Beach
Located on the sunny south side of the island, Poipu Beach is one of the world's top beaches and was named the number one beach in the USA by The Travel Channel.
It is one of many Kauai beaches offering both a protected family swim area as well as a surf beach. In fact, nearly half of the island's 111 miles of coastline are beaches. There are several fabulous Kauai hikes near Poipu.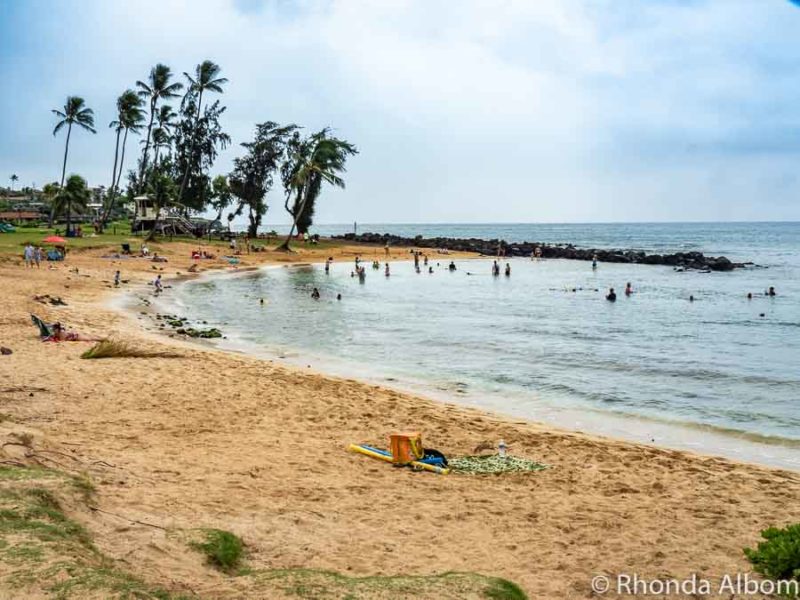 As we were driving away from here, we noticed a monk seal basking on the rocks.
Shipwreck Point and beach
The hike up to the top of Shipwreck Point is easy and takes only about 10 minutes. The views are well worth the minimal effort.
It's a scene recognizable from movies, like when the stars of Six Days Seven Nights were being chased by pirates and leaped off the cliff.
I don't know about you, but unless I was being chased, I don't think I would jump off this cliff. However, we met a group of European tourists that felt differently about it, each one taking the leap from Shipwreck Point.
Also from here, we could see the Grand Hyatt Kauai Resort. According to our guide, it was one of the filming locations of Jurassic World.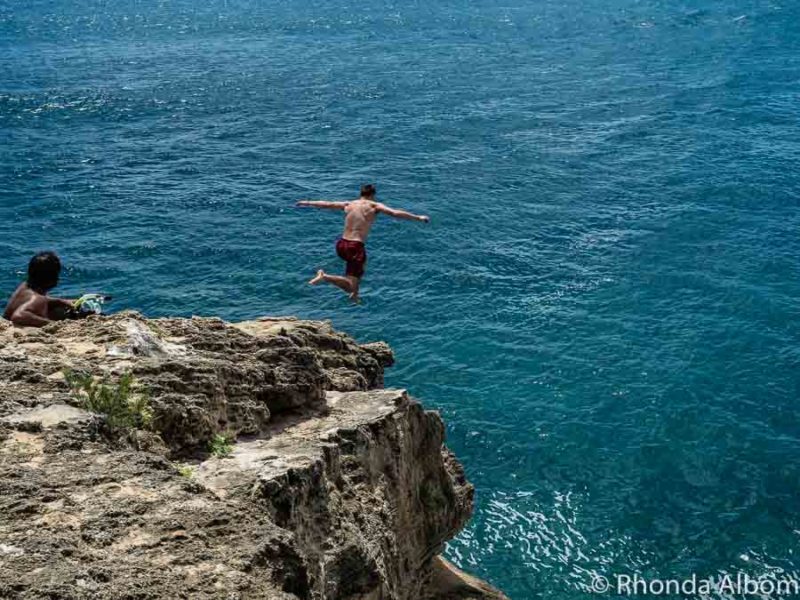 Waimea Canyon
One look at the image and you know why this 3,567-foot deep, 12-mile long canyon is nicknamed the 'Grand Canyon of the Pacific.'
Waimea Canyon was originally on our list. We opted not to visit as our driver advised that with the rainy weather came heavy fog, and she felt we would see nothing.
However, it's a popular Kauai excursion destination. Many like to hike the canyon. This popular tour will have you hike up the canyon, and also see Spouting Horn, learn about Kauai history, and cruise down Wailua River to Opaekaa Falls and Fern Grotto. Reserve your Waimea Canyon and River tour here.
If we were staying longer, however, we would have taken this highly-rated helicopter tour that flies over the Manawaiopuna Falls (Jarrasic Falls) and lands in the Olokeke canyon, as well as flying over Waimea Canyon. Reserve your helicopter adventure here.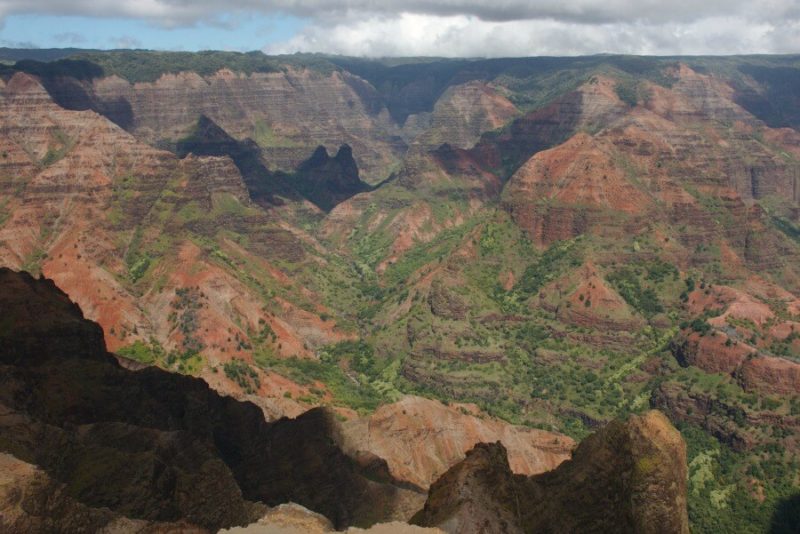 Napali Coast
Visiting Kauai is different than islands like Rarotonga, as there is no outer rim road on Kauai.
In fact, the beautiful Napali Coast can only be accessed by plane, helicopter, or boat. We didn't get here on this visit as the weather was not favorable.
If you are here for longer and want a small plane flight, we recommend this highly-rated flight-seeing tour that flies over the Napali Coast and Waimea Canyon. Reserve your flight here.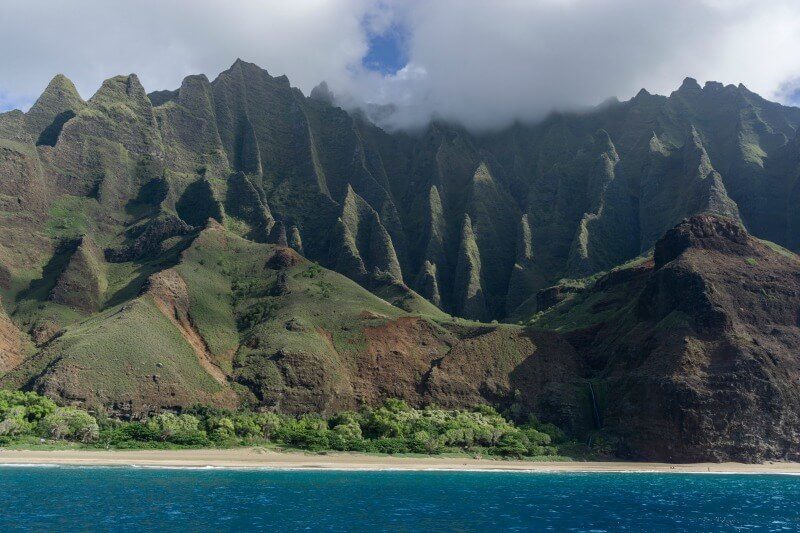 Kauai Tree Tunnel
It may not look it in the photo, but this over the 100-year-old tunnel of eucalyptus trees runs for a mile. It was originally planted next to sugar cane fields and offered a place for cattle to get some shade.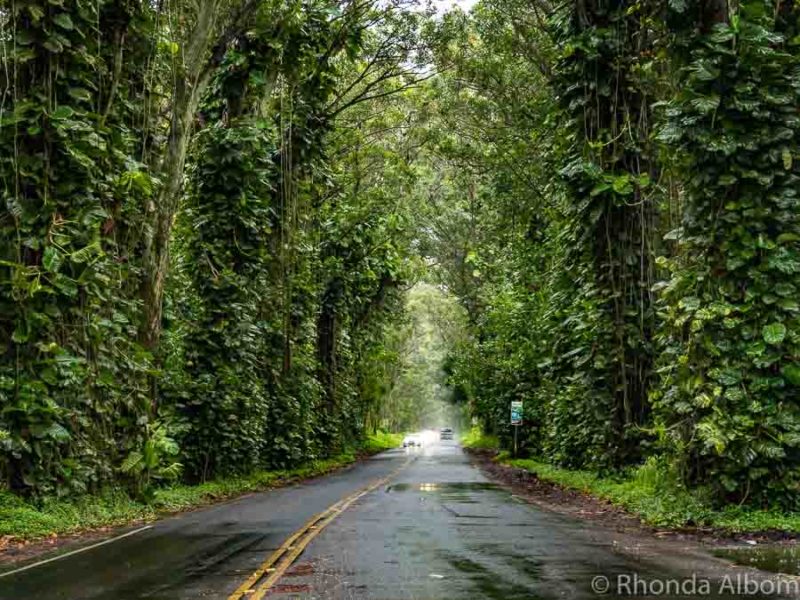 Old Ahukini Harbor and ruins of a sugarcane dock
The fog limited the normally massive views seen beyond the old Ahukini Harbor, but along with the bad weather came the bigger waves and sea spray.
A highlight of the Ahukini Harbor is the ruins of a former train dock used by the sugarcane plantations. While sugarcane isn't currently commercially grown on the island, it does have a long history dating back to 1835.
Opaeka'a Falls and the village used in the movie "Outbreak"
Viewed from a lookout point, Opeaka'a Falls is often called a rolling waterfall as the water seems to roll down rather than fall.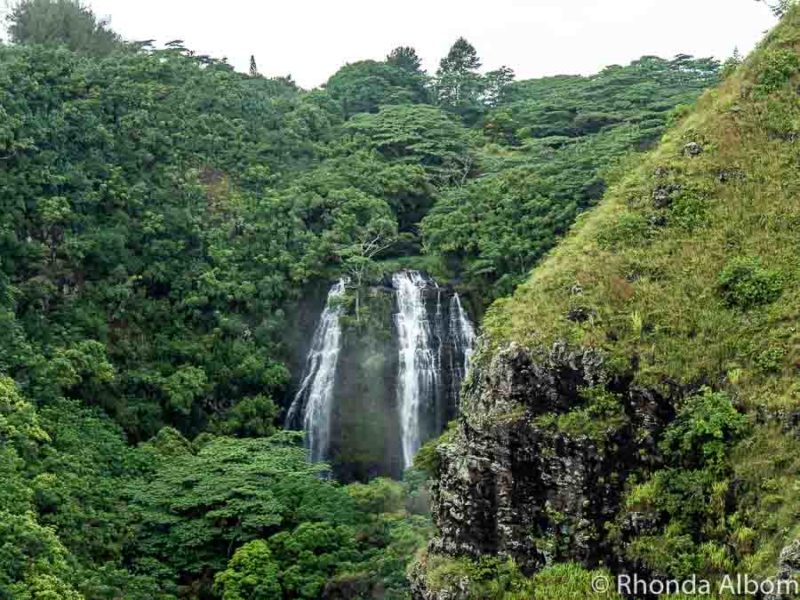 Immediately after you see Opaeka'a Falls, be sure to walk to the end of the path and cross the street. Here, we overlooked the camp where the movie "Outbreak" was filmed. If you allocate time, you can walk down to the village on one of the many Kauai hiking trails.
Outbreak is one of several movies filmed on the island including Blue Hawaii, Jurassic Park, Jurassic World, Six Days Seven Nights, Raiders of the Lost Ark, The Descendants, South Pacific, and Donovan's Reef, to name a few.
Derelict Coco Palms Resort
The once-flourishing Coco Palms Resort has over 200 coconut trees on its property and, in 1961, was the filming location of Blue Hawaii starring Elvis Presley.
Unfortunately, the property was seriously damaged by Hurricane Iniki in 1992 and has been left to become derelict, a much different story than the sordid tale of the derelict Sheraton on Rarotonga.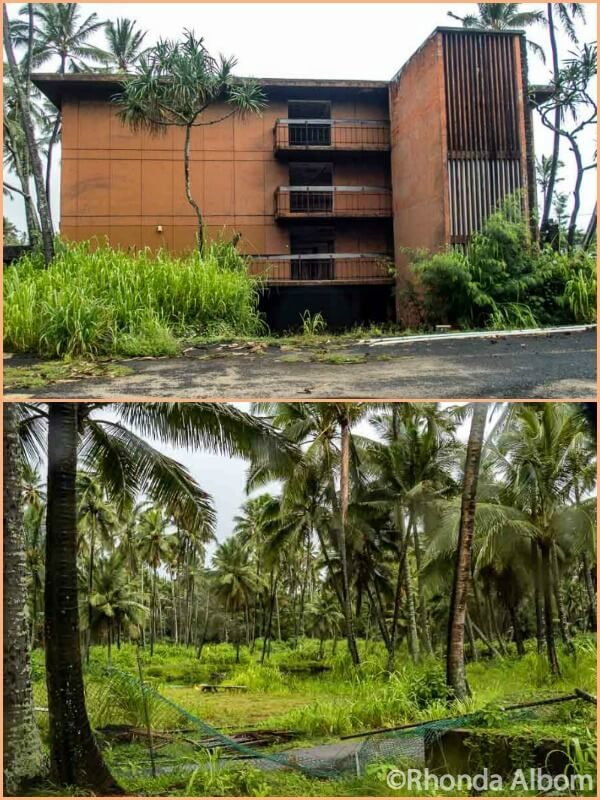 Saturday farmer's market in Lihu'e
One of the big advantages of having a private guide is the flexibility to make changes on the spot.
The Saturday morning farmer's market in Lihu'e was an unplanned stop offering us samples of a variety of Hawaiian tropical fruits like sugarloaf pineapple and Hayden papaya.
Old Koloa Town
I love stopping in old historic towns like Koloa. Here we found a tiny (one-room) museum that highlighted the former sugar cane industry that once dominated this area. There is also a fancy nut roastery, a coffee shop, and public restrooms.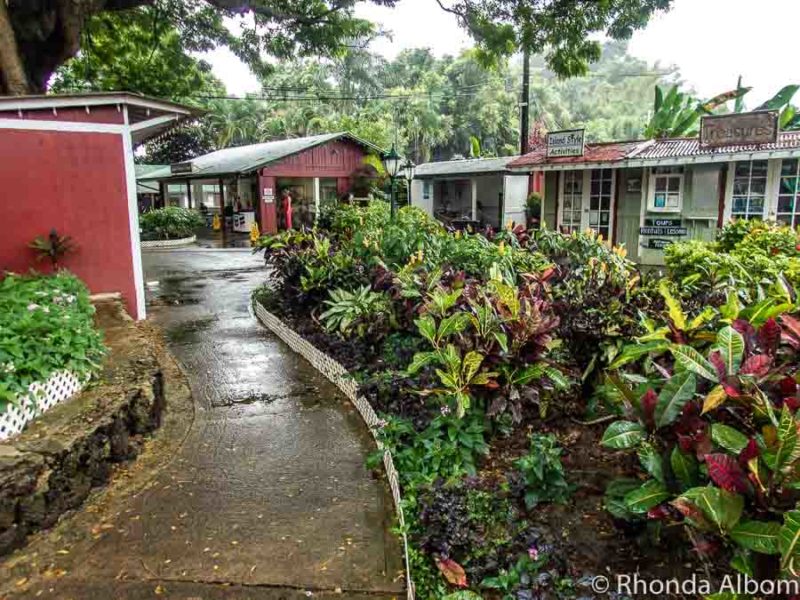 Menehune Fishpond
The Menehune are an ancient race of Kauaians, who, legend tells us settled the island hundreds of years before Captian Cook discovered it in 1778.
According to legend, they built this brick-lined fish pond in just one full-mooned night. Today, plants and pond water hide the bricks. In days gone by, the fish from the pond could only be eaten by royalty.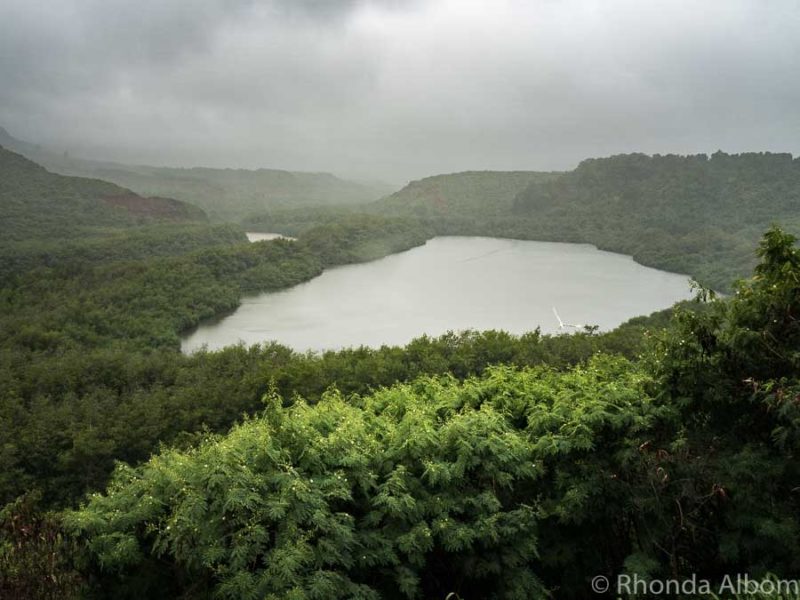 Kauai cruise port
Kauai is an easy port to visit via cruise ship, as we can walk off the ship and be in the port of Nawiliwili.
For us, it was one of only five ports as we sailed from Los Angeles in the USA to Auckland in New Zealand on the Golden Princess.
The other ports were Honolulu (Hawaii), Papeete (Tahiti), Moorea (French Polynesia), and Pago Pago (American Samoa). To be honest, we found Kauai to be one of the most beautiful islands we have visited via cruise.
Practical information and fun facts on visiting Kauai
Hawaii is part of the United States. Therefore, the currency is US Dollars. However, Hawaii is the only state to have two official languages: English and Hawaiian.
Driving in Kauai is like being in slow motion. While the speed limit through major towns like Lihue is only 35 mph (56 km), locals tend to drive even slower. According to our guide, it is only the tourists that seem to be in a hurry.
Like the rest of the United States, tipping on Kauai is typically 15% to 20%.
Hiring a taxi driver at the port to act as a tour guide will typically run $60 per hour; however, this rate is negotiable. We prefer to arrange with our guides before we arrive; therefore, we generally hire guides through Tours by Locals.
Kauai has over 300 waterfalls (up to 2,000 when it rains heavily), but most are on private land.
Kauai claims that the hula originated on the island.
If you are planning to stay longer than just a Kauai excursion from a ship, there are plenty of accommodation options. We always start our search at Booking.com for a great selection and prices.
Save on your trip with these resources
These are our go-to companies when we travel. We believe this list to be the best in each category. You can't go wrong using them on your trip too.
Flights: we use Expedia for the best and cheapest flight options.
Accommodations: we use Booking.com (hotels) or VRBO (self-contained).
Cars (gas or electric): we use RentalCars to search for deals and dealer ratings.
Campervans or Motorhomes: we use Campstar where Albom Adventures readers get a 3% discount
Private guides: we love the private guides at Tours by Locals
Travel Insurance: we start at InsureMyTrip as they are the best option to compare plans and find the right coverage for you.
Check out our travel resources page for more companies that we use when you travel.
Save for later
If you enjoyed this article, please share it on social media and save it for later on Pinterest.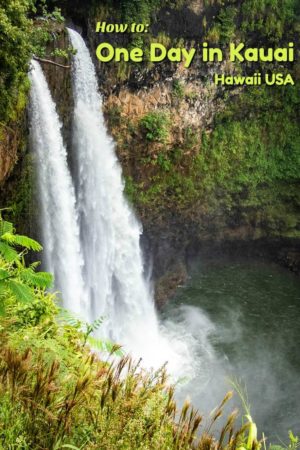 Which type of Kauai excursions interest you? What will be your highlights of Kauai?