A carefree tropical paradise in the southern Pacific Ocean, Samoa offered us an ideal mix of relaxation and adventure. There are plenty of things to do in Samoa despite it being less developed than some of its island neighbours.
Actually, it's the natural attractions in Samoa, along with the friendly Samoan people that make a visit to this island group so special.
We stayed on the main island of Upolu, which is home to the capital city of Apia. Of course, there are plenty of beaches in Samoa, it's a tropical island. But that's not all.
Some of the best and most unique things to do in Samoa include swimming into a cave, jumping into a trench, visiting a famous author's home, viewing waterfalls, shopping in markets, and hand-feeding turtles.
Listed here, in no particular order, are what we believe are the top 10 best things to do in Samoa, including a few that are well off the traditional tourist path.
Important: If you are going to drive in Samoa, be sure to read the driving tips towards the end of this article.
Things to do in Samoa
To Sua Ocean Trench
Piula Cave Pool
Malua turtle feeding pool
Robert Louis Stevenson home and gravesite
Bahai Temple Samoa
Fuipisia and other waterfalls
Apia flea market
Slide Pools
Watersports
Relax at a resort
To Sua Ocean Trench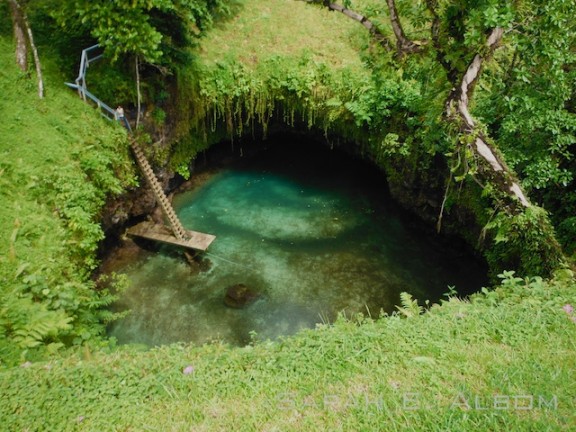 Translated to English, To Sua means giant swimming hole. It's more than that. To Sua Ocean Trench in Lotofaga village is the nation's most iconic destination, comprised of two huge sinkholes connected by an ancient lava tube cave that visitors can swim through.
The sinkhole is now a saltwater swimming hole at 30-metres deep.
Lava tubes at To Sua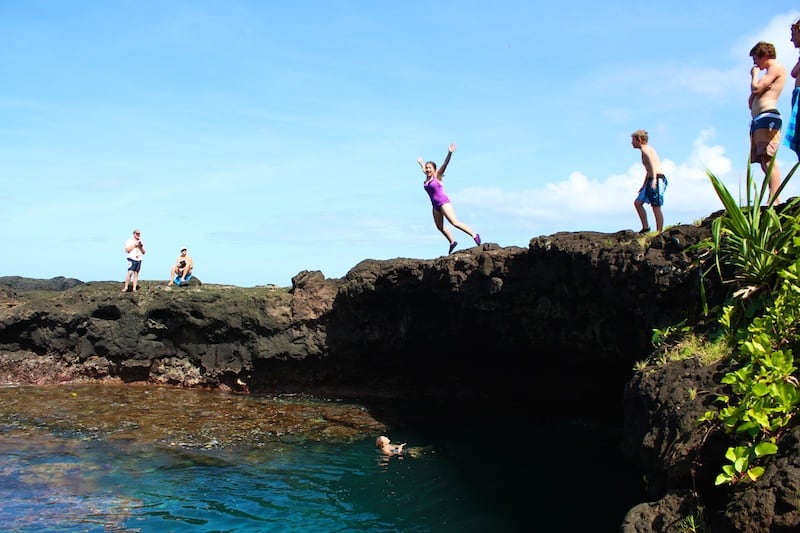 Personally, I am not a fan of jumping off of things, so I skipped this leap. In contrast, for our teens, jumping into the lava caves at To Sua Ocean Trench is one of their Samoa highlights. Look at my daughter, she is fearless, like the rest of her group.
Part of the adventure was swimming under the trench out into the sea. They also swam in the vivid turquoise waters at the lava caves.
Piula Cave Pool
These freshwater pools are loaded with colourful fish and pass under a church on the north side of Upolu. At the cost of only 5 Tala (about $2.50), it was a bargain and one of our Samoa highlights.
Take caution on entry as some of the rocks are slippery. Also, the water is much colder than we expected.
Malua turtle feeding pool
Not well signposted, a GPS will make it easier to find the Malua turtle feeding pond. It's not a commercial venue. Therefore, the turtles here are wild yet used to taking food from people. There is no entry fee, although you will need to bring food.
Samoan food is based on the tropical fruits and vegetables grown on the island, and like me, the turtles love papaya.
We stopped at a local shop along the road and picked up a papaya on the way to see the turtles. If you do the same, don't forget to bring a knife to cut it up. The turtles will eat right out of your hands. We did not see anyone swimming with turtles.
Robert Louis Stevenson's home and gravesite
Scottish writer and poet Robert Louis Stevenson spent his last five years in Samoa. His final resting place is on Mount Vaea, a short walk uphill and overlooking his restored home. The house is now a museum featuring a large collection of his original belongings.
The guided tours of the house are frequent and informative.
The rains were too heavy on the day we visited to make the hike to his gravesite.
(Stevensonis most well known for writing novels such as Treasure Island and Strange Case of Dr. Jekyll and Mr. Hyde,but he has also produced over sixty other novels, poems, and short stories. )
Bahai Temple Samoa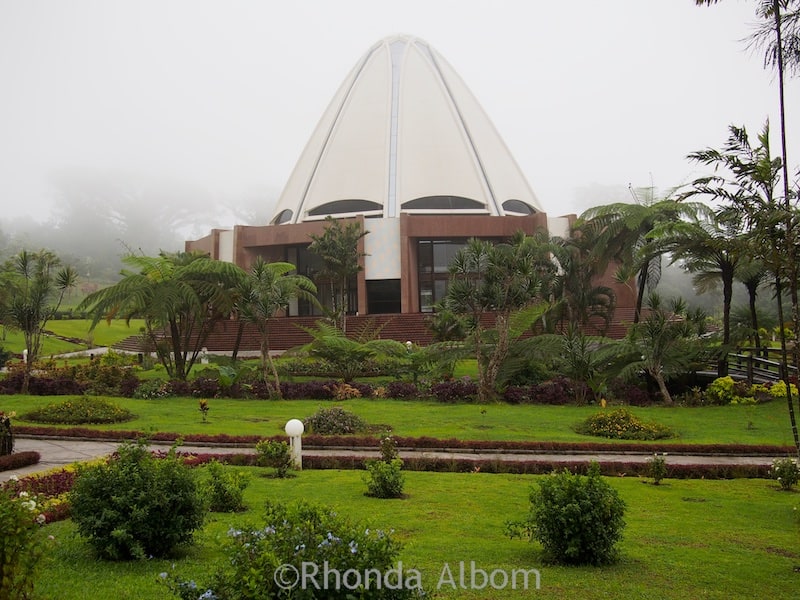 The Bahai Temple of Samoa is another interesting (and free) stop. It is worth the visit if you are driving on Cross Island Road (from Robert Louis Stevenson Museum).
Be sure to enter both the temple and the visitor centre. The grounds are well manicured and full of tropical beauty. And, as a bonus, it has clean toilets.
Samoa waterfalls
As one would expect on a beautiful tropical island, there are four primary waterfalls to see, and plenty of smaller ones too.
Fuipisia Waterfall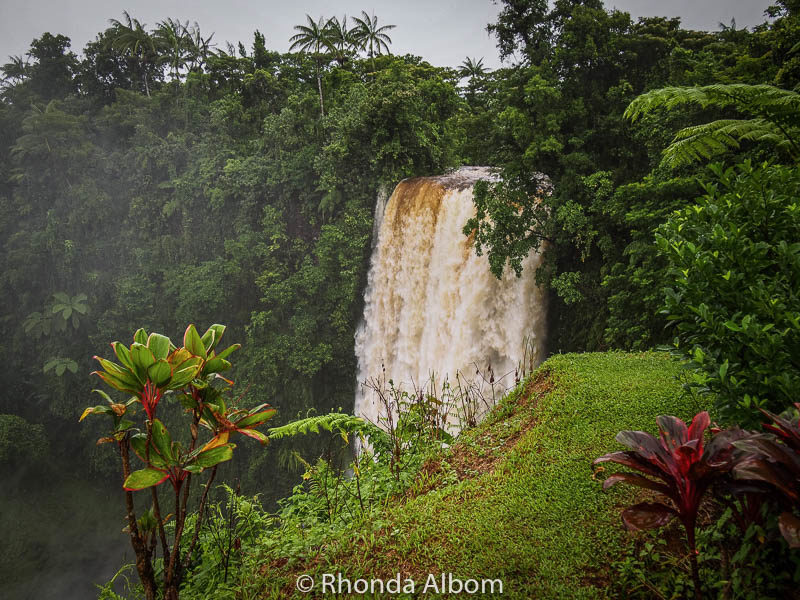 Fuipisia Falls is a hidden gem on a private family's land in the village of Lotofaga. A powerful horsetail waterfall, it cascades 56 metres (185 feet) into the Mulivaifagatola River.
To see the Fuipisia Falls, visitors pay a small fee to the family, whose children seemed as if they dropped whatever they were doing and escorted us to the falls, despite the rainy day.
While it's a short walk through the bush, the recent rains meant walking across a shallow creek. The two small boys took my hands to guide me across (not really necessary, but very kind).
Through the family, we got a glimpse into the Samoan culture and what it's like living in Samoa.
The pounding falls may have been affected by the pelting down rain, although we have read that Fuipisia Falls are intense all year long.
Other key Samoa waterfalls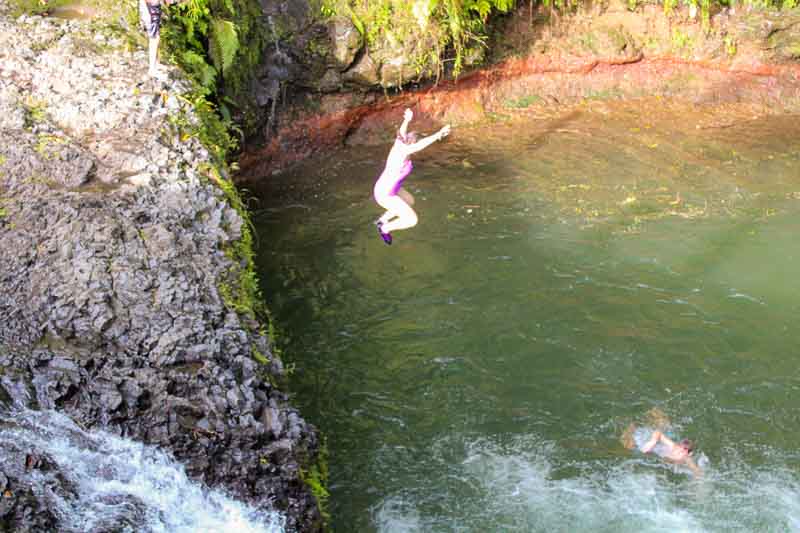 Sauniatu Waterfall is 7km off the main road and requires a 4WD vehicle to access. As a result, it is less frequently visited. However, those who do visit are rewarded with a swimming hole.
Togitogiga is a series of cascading waterfalls separated by swimming holes, and surrounded by lush gardens. In the second image, my daughter is jumping from an 8-metre (26ft) cliff.

Papapapatai Waterfall is the island's tallest waterfall at 100m seen above from the Cross Island road.
Apia flea market
**UPDATE: In Jan 2016, Apia Flea Market was engulfed in flame and destroyed. A new temporary flea market opened nearby.
Our other teen loves shopping and couldn't resist getting a dress and a few other goodies at the Apia Flea Market. This is the spot to pick up your Pacific Island souvenirs, clothing, and sarongs. It is filled with both locals and tourists and is located right across the street from the main bus stop in town. Remember to negotiate the best price.
Three more things to do in Samoa
We were only on the island of Upolu for a week, and we spent a good portion of that time relaxing and enjoying the resort life. Therefore, we couldn't do it all. Here are some of the Samoa highlights that we opted to miss, along with our reasons for skipping each one.
Slide pools

Heavy rains while we were there made the slide pools dangerous. Otherwise, we would have given it a try.

SCUBA

Although both of our girls hold Jr. PADI diver's certification, the best diving in Samoa is deeper than their certification allows.

Surfing and big game fishing in Samoa

Honestly, we were too busy relaxing.
Where to stay in Samoa
There are plenty of options of where to stay on the island of Upolu, ranging from luxury to a simple fale. We made a great choice and spent a week in a tropical paradise at Saletoga Sands Resort.
While our free-standing villa offered everything we could want including an outdoor (secure) shower, it was the grounds and staff that really made this a perfect choice. Read our review of Saletoga Sands Resort and the contrast to daily life.
Driving in Samoa
Driving is Samoa is generally easy, once you have a car. Before you hire one, check the perks at your accommodations, as our package included the car for a given number of days. Otherwise, we always recommend starting your search at RentalCars.com.
While we usually use them for the rental and have never regretted that decision, they are also a great search engine to find the options.
If you are going to drive, here are a few of our best driving in Samoa tips:
Drive on the left – back in 2009 the entire country switched sides of the road from driving on the right to the current left-hand side.
Legally, to drive on the island, you need a Samoa license which is simply a validation of your driver's license. I am not sure how many visitors actually bother to get the licence before they drive.
Allocate extra travel time; speed limits are low.
Take caution; there are frequently people, dogs, pigs, and chickens on the roads.
If possible, avoid driving at night.
Local custom when approaching a pedestrian or another vehicle you intend to pass from behind is to tap the horn once. After you pass another vehicle, tap twice to say "thanks", and the driver will typically reply with a tap.
Watch out for fords after the rain (A ford is a shallow place in a river or stream allowing one to walk or drive across.)
Save on your trip with these resources
These are our go-to companies when we travel. We believe this list to be the best in each category. You can't go wrong using them on your trip too.
Flights: we use Expedia for the best and cheapest flight options.
Accommodations: we use Booking.com (hotels), VRBO (self-contained), or Hostelworld (budget).
Cars (gas or electric): we use RentalCars to search for deals and dealer ratings.
Campervans or Motorhomes: we use Campstar where Albom Adventures readers get a 3% discount.
Motorcycles: we have heard good things about BikesBooking.
Private guides: we love the private guides at Tours by Locals.
Travel Insurance: while not required, we always opt for travel insurance and start at InsureMyTrip to compare coverage plans.
Check out our travel resources page for more companies that we use when you travel.
Save for later
If you enjoyed this article, please share it on social media and save it for later on Pinterest.
What are your favourite things to do in Samoa?