Deep red jagged rock formations with golden highlights compete for our attention as we drive from Salta to Cafayate in Argentina. Over a million years in the making, the highlight of this road trip is the 80 km section called Quebrada de las Conchas (Shell Ravine).
Here, we find northwestern Argentina's most stunning drive, a display of nature so unique and spectacular you will wonder why it isn't more popular.
Of course, the lack of crowds is part of Quebrada de las Conchas's attraction.
Uncommon geography carved out by tectonic movement, wind, and rushing water, this nature reserve is also called Quebrada de Cafayate. The area encompasses 25,784 hectares of protected landscape.
First, let Argentina inspire you …
Stunning stops along Quebrada de las Conchas
Devil's Throat (La Garganta del Diablo)
The Amphitheatre (El Anfiteatro)
Three Crosses (Tres Cruces)
Toad (El Sapo)
The Friar (El Fraile)
House of Parrots (Casa de Loros)
Yesera (La Yesera)
The Obelisk (El Obelisco)
The Windows (Las Ventanas)
The Castles (Los Castillos)
Devil's Throat (La Garganta del Diablo)
(141 km from Salta, 47 km from Cafayate)

Devil's Throat was our introduction to the massive rock formations of Quebrada de las Conchas. The rocks were eroded several million years ago by cascading water. The images are a bit of an optical illusion. Like other photos we have seen, ours appear as if we are looking down into a canyon, but the reality is that we are looking up. (We saw a vastly different "Devil's Throat" at Iguazu Falls.)
The Amphitheatre (El Anfiteatro)
(142 km from Salta, 46 km from Cafayate)

Another massive wonder of nature, the tall walls of the Amphitheatre contribute to its acoustic properties. As a local musician filled the cavern with both guitar and pan flute melodies, this quickly became my favourite stop of the day.
Three Crosses (Tres Cruces)
(147 km from Salta, 41 km from Cafayate)

Serving as a landmark, the three crosses offer a stunning view of Quebrada de las Conchas. While many people opt to hike here, we enjoyed the views from the road.
Toad (El Sapo)
(153 km from Salta, 34 km from Cafayate)
Unlike the next stop, it doesn't require much imagination to see a giant toad in this rock cluster. Situated on the roadside, it's a quick photo stop.
The Friar (El Fraile)
(155 km from Salta, 33 km from Cafayate)

Similar in theory to the toad, the Friar is a rock formation resembling something familiar to people. However, this one is both farther away and difficult to make out. In fact, even with the signage, we had trouble identifying a Franciscan priest wearing a tunic and standing with crossed arms. Therefore, I increased the Friar's highlights with Adobe Lightroom in the image below to help you see it.
House of Parrots (Casa de Loros)
(155 km from Salta, 33 km from Cafayate)

Practically across the road from the Friar, sheer cliffs dotted with small cave-like indents form ideal nests for parrots. The holes also protect the parrots from predators.
Yesera (La Yesera)
(161 km from Salta, 27 km from Cafayate)

La Yesera is an area best known for fossils and for Los Estratos, stripes created by stratigraphic plates. We were prepared for the 40-minute walk to Los Estratos but found no signage or a trailhead marker. We believe this image to be La Yesera but can't confirm it.
The Obelisk (El Obelisco)
(165 km from Salta, 23 km from Cafayate)

Standing approximately 26 meters tall (85 feet), the Obelisk is just a tall rock. A roadside feature, we almost didn't stop for a photo.
The Windows (Las Ventanas)
(168 km from Salta, 20 km from Cafayate)

While Las Ventanas was the reason we stopped, it was the full landscape with the mountains that captured my attention. Check out the colours of the backdrop.
The Castles (Los Castillos)
(168 km from Salta, 19 km from Cafayate)

Erosion created columns in the sandstone reminiscent of the towers in a castle. Heading south, this was our final stop before Cafayate.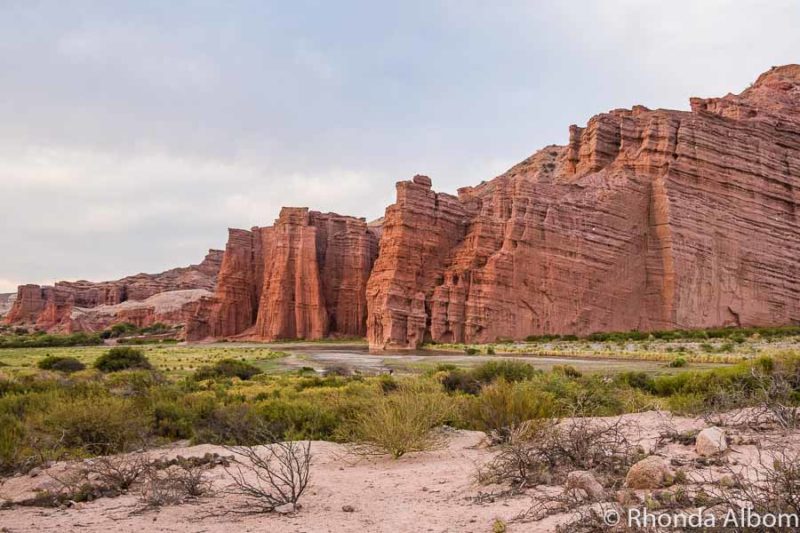 Where is Quebrada de las Conchas?
Located in Northwestern Argentina, Quebrada de las Conchas is an area south of Salta and near Cafayate. On the second map, it runs from Garganta del Diablo to Los Castillos.
How to explore Quebrada de las Conchas
Here we present four ways to see the area. We rented a car and drove ourselves, and we recommend it. However, if you are not comfortable driving in Argentina, prefer a more active option, or simply want a guide with you, we highlighted three tour options: one on bicycles and the other two a mix of driving and short walks.
Self-drive Salta to Cafayate
Whether you drive from Salta to Cafayate, as we did, or do a Cafayate excursion, you will need a vehicle. We rented ours using RentalCars.com, and we were glad we did. They are a conglomerator providing comparative pricing alongside the ratings for local and international rental companies.
Importantly, their excellent customer service is available in English. So, when our automobile's air conditioning stopped working during our drive from Salta to Cafayate, we needed to make one phone call, and a new car was on its way. Reserve your car at RentalCars.com here.
Bike tour of Quebrada de las Conchas with pick up from Cafayate
The massive rock formations make a stunning backdrop for a bicycle ride through the region. This small group tour (2-8 participants) requires a moderate level of fitness. Pick-up is from Cafayate, where you will be driven to the start and given a mountain bike and helmet.
Then, enjoy the 25 km (16 miles) cycling portion of this adventure with your guide. It will take you through the key sites featured here. Snacks and mineral water are included, as is return transport from the other end of your cycling adventure. Tour time: 5 hours. Reserve your Quebrada de las Conchas Bike Tour from Cafayate here.
Quebrada de las Conchas tour from Cafayate
This 5-hour afternoon tour will provide similar colours to what we saw. Beginning at the Cathedral in Cafayate, you will be driven along Route 68 to Quebrada del Rio de las Conchas, stopping at six key sites, many of which include short walks. Reserve your Cafayate excursion to Quebrada de las Conchas here.
Day trip from Salta (includes Quebrada de las Conchas and Cafayate wineries)
Starting and ending at your Salta hotel, this 12-hour tour will explore the highlight of Lerma Valley, Quebrada de las Conchas, and the wine region of Cafayate. A long day, it doesn't leave a lot of time for exploration. However, it hits the key sites and is perfect for anyone in Salta without a vehicle and with only one free day. Reserve your Day Trip to Cafayate from Salta here.
Where to stay to see Quebrada de las Conchas
You can stay at either end. We did, spending several days in each area. (Longer in Salta, as I landed in a hospital, but that's a story for another day). While we could give you several options in each region, we are in love with both of our choices and couldn't imagine staying anywhere else.
Where to stay in Salta
Alejandro 1º Hotel is a five-star accommodation in the heart of the city that pampered us from the moment we arrived. Highlights of our stay include a comfortable bed, beautiful city views, an impressive buffet breakfast, and delicious dinners. It was the helpful staff that outlined our journey on this page. Best of all, the price was reasonable. Reseve a room at Alejandro 1º Hotel.
Where to stay in Cafayate
Altalaluna Hotel Boutique and Spa: Located on a vineyard (need I actually say more?), Altalauna is a quiet piece of paradise. Greeted with a glass of wine, we found this the perfect place to relax by the pool or at the spa. Note that it is outside of town, so it is only ideal if you have your own vehicle. Reserve your room at Altalaluna Hotel Boutique and Spa.
Tips for driving Quebrada de las Conchas
Start by reading these travel tips for visiting Argentina – especially if you are a first-timer.
The main roads in this region are well-signposted and easy to drive.
The signage for each of the landmarks above is in Spanish. The signs are carved on freeform wood plaques. See the toad above for an example.
Trust your instincts over Google Maps. We found the app sent us down old roads far too often in Argentina and in the Atacama desert of Chile. The route on this page is all paved roads.
We found Maps.me to be more accurate than Google Maps in Argentina (and Chile), and it offers downloadable maps that work offline.
We flew from Argentina's capital city of Buenos Aires. Had we taken ground transport, it would have taken us over 17 hours.
Don't miss these general South America travel safety tips.
Quebrada de las Conchas was only one small portion of our South America itinerary.
Save on your trip with these resources
These are our go-to companies when we travel. We believe this list to be the best in each category. You can't go wrong using them on your trip too.
Flights: we use Expedia for the best and cheapest flight options.
Accommodations: we use Booking.com (hotels), VRBO (self-contained), or Hostelworld (budget).
Cars (gas or electric): we use RentalCars to search for deals and dealer ratings.
Campervans or Motorhomes: we use Campstar where Albom Adventures readers get a 3% discount.
Motorcycles: we have heard good things about BikesBooking.
Private guides: we love the private guides at Tours by Locals.
Travel Insurance: while not required, we always opt for travel insurance and start at InsureMyTrip to compare coverage plans.
Check out our travel resources page for more companies that we use when you travel.
Please Share
If you enjoyed this virtual tour of Quebrada de las Conchas, please share this article on social media, including Pinterest.
Will you drive from Salta to Cafayate?