Visiting Iguazu Falls, we saw hundreds of cascades tumbling along a 2.7-kilometre stretch of the Iguazu River. Comprising the world's largest waterfall system, they are on the border between Argentina and Brazil. The official count is 275 falls, but that figure changes based on rains.
The numbers are almost incomprehensible, and standing in front of any portion of this massive waterfall between Brazil and Argentina, I am spellbound. Visiting Iguazu Falls is worth the effort it takes to get there. To date, it is one of the most spectacular sights we have ever seen.
Recently, someone asked me, "Why do you like world travel so much?" Standing in front of Iguazu Falls, one of the seven wonders of nature, I know exactly why. As a travel photographer, I can capture the grandeur but not the power. There is nothing quite like standing at the top of the cascade called the Devil's Throat. Here, I can feel the strength of the water in every fibre of my being.
Random Fact: Iguazu means "Big Water" in Paraguayan Guaraní, an indigenous South American language and one of the two official languages of Paraguay.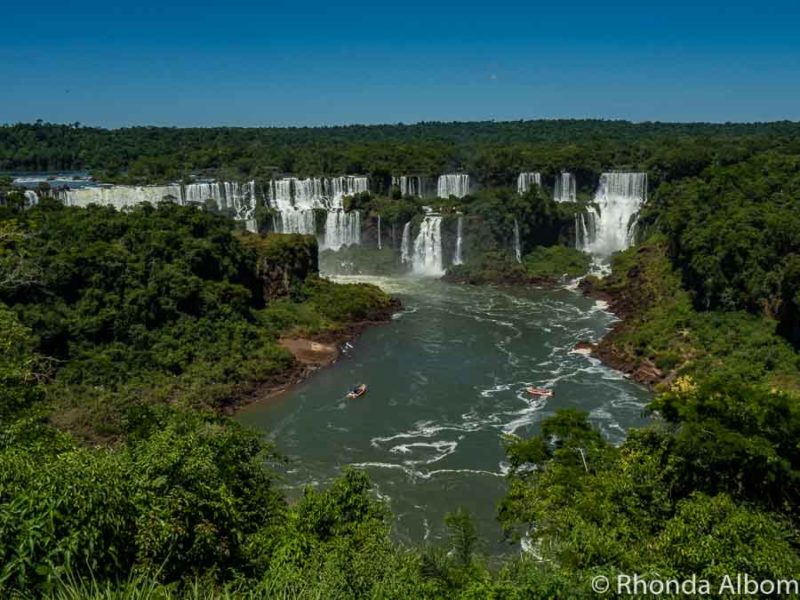 First, be inspired by Argentina…
Before visiting Iguazu Falls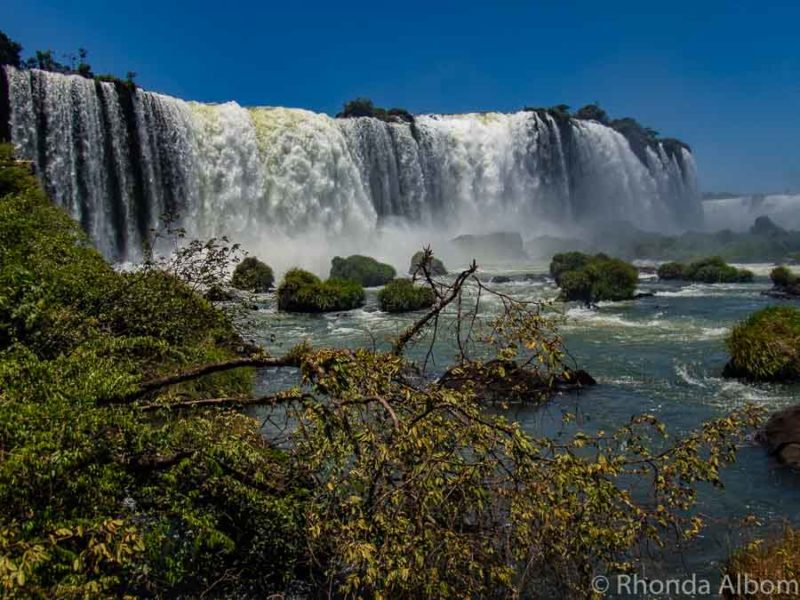 Like any great adventure, planning ahead avoids disappointment. In the case of Iguazu, a lack of planning might prevent you from seeing all you want.
Travelling on a New Zealand passport, we did not need visas for Argentina or Brazil. That is not the case for everyone. Travellers from Canada, the USA, Australia, and Japan need to purchase visas for Brazil in advance of their travel. See the official Brazilian Ministry of Foreign Affairs page for details.
Bring a rain jacket or poncho if you don't want to get wet from the mist of the falls. For me, it was hot outside, and I welcomed the mist.
Bring and use a good mosquito repellent with Deet. Despite the warnings, I used an all-natural product instead of one with Deet, and I contracted dengue fever. You don't want this.
CDC and WHO recommend Yellow Fever vaccines. I can assure you that having my immunization records reduced the number of days I was in isolation when I got sick.
Seeing the falls with a private guide
While you can easily see the falls on your own with the tips below, we opted for all the added benefits that come with a guide. We chose Marcelo from Tours by Locals, and he was knowledgeable, reliable, flexible, friendly, and spoke perfect English.
We have used a variety of Tours by Locals guides worldwide, and so far, they have all been great. We believe part of the reason is that we communicate via email with our guide before hiring.
In the case of visiting Iguazu Falls, we opted for a 2+ day adventure. Marcelo picked us up from the airport on arrival. The next two days were spent with one in Brazil and the other in Argentina. We talked in advance and custom-created a tour based on his suggestions that met our needs and budget.
Marcelo's knowledge of borders, entrances, and viewing points made everything easy. He had tips for the best views, and his flora and fauna knowledge, as well as his bird-spotting skills, are really impressive. Reserve your private tour with Marcelo here.
Visiting Iguazu Falls – Brazil side
We visited the Brazilian side of Iguazu Falls first. Although more of the cascades are physically located in Argentina, it is Brazil that is most often thought to have better views. See if you agree. Iguazu National Park Brazil (Iguaçu National Park) was founded in 1939 and spans 185,000 hectares. It is a UNESCO World Heritage Site.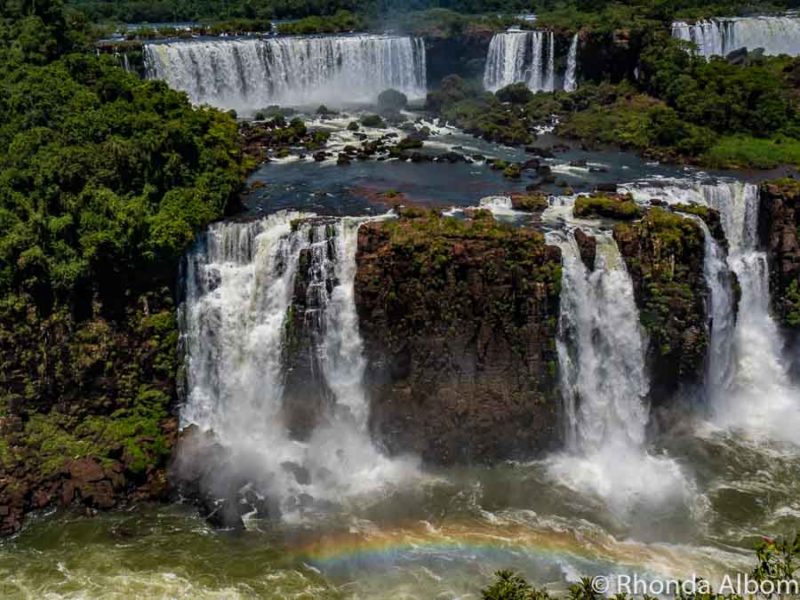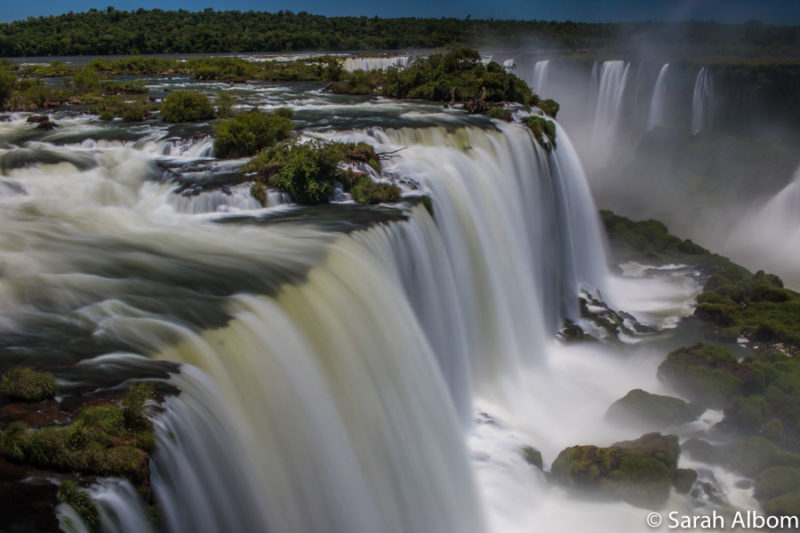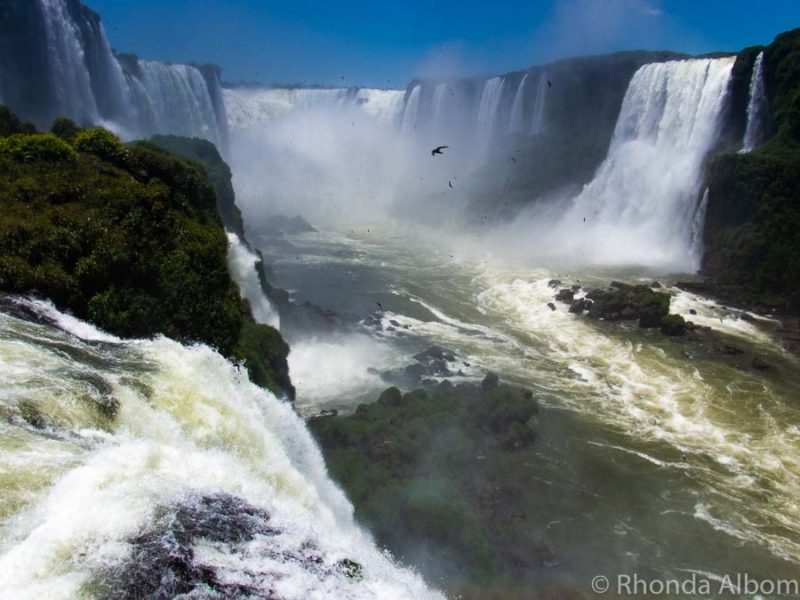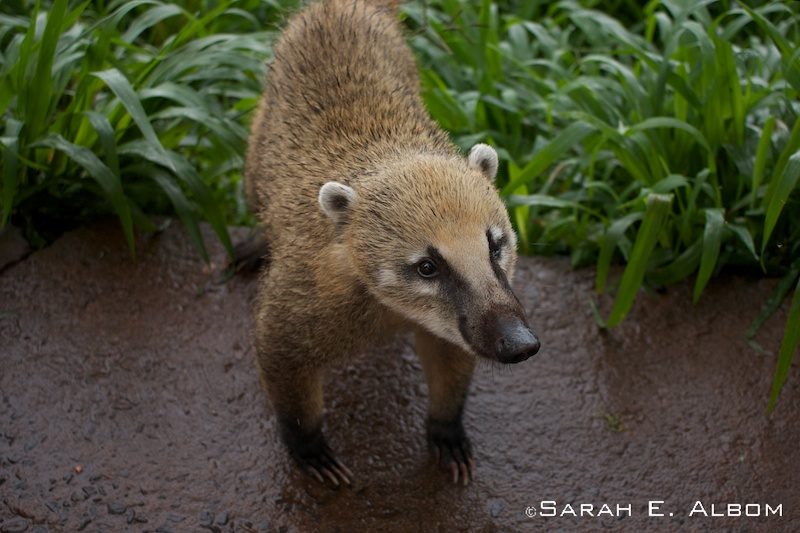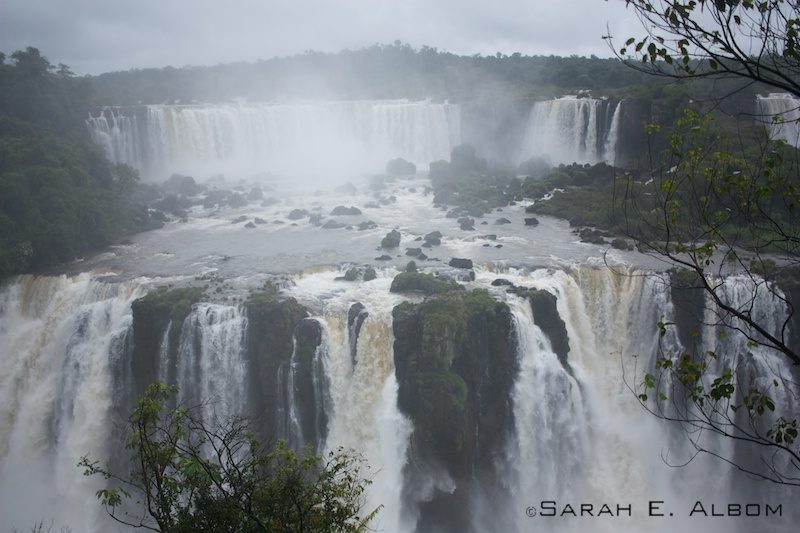 Specific tips for visiting Iguazu Falls – Brazil side
In Portuguese, the falls are spelt: Iguaçu Falls
If you are staying in Argentina, get an early start as you will need to allow time to cross the border. You can remain in your vehicle as you exit Argentina – simply show your passport to the gate agent. However, you will need to park the vehicle and walk into the customs office to get your clearance to enter Brazil (it will be the same on the return at the end of the day).
We had a fabulous private guide. There's more about Marcelo from Tours by Locals above, or reserve your day with Marcelo here. He was The other options (see below) include a group tour, a bus, or renting a car.
If you are also visiting Parque das Aves (we do recommend that you do this) on the same day, go to the bird park first. The birds are more active in the morning, and the park will be less crowded. Purchasing tickets to Iguazu Falls Park in Brazil is easy, and they will take Brazilian reals or credit cards. (They do not accept Argentinean pesos or US dollars.)
Ticket in hand, you will need to travel about 11 km into the park before you see the falls, either on a bus or with a guide). Unauthorized private vehicles are not allowed to make the drive.
The walk through the park is downhill. At the end of the trail, there is an elevator that brings 30 people back up to the top every two minutes.
There are a few snacks available at the bottom of the falls before entering the elevator area. Importantly, there are a few cafes offering a large selection of meals once back up at the top.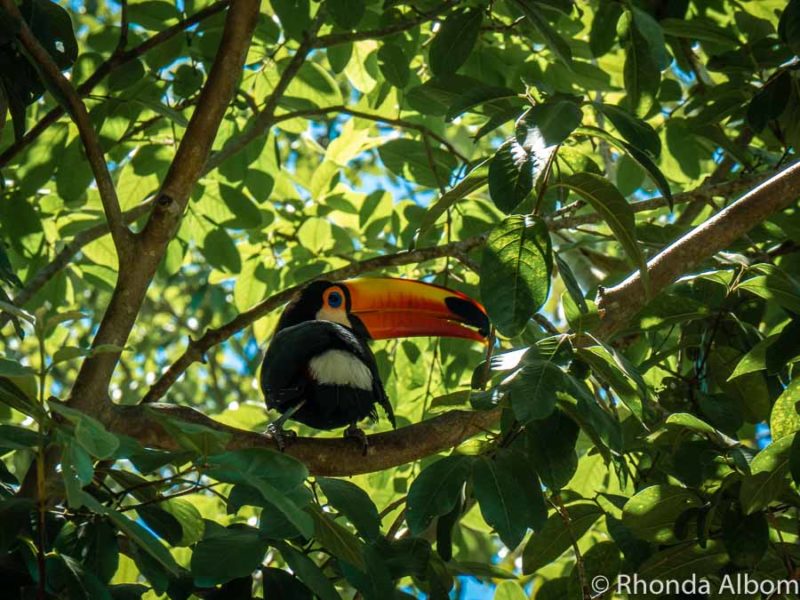 Brazil hotels in the National Park
We opted to stay on the Argentina side in Puerto Iguazu (see below) and were very happy with our choice as we speak some Spanish (the official language in Argentina) and no Portuguese (the official language in Brazil). However, I will admit we were tempted by the Belmond Hotel das Cataratas, a luxurious five-star hotel inside the national park in Brazil. Reserve your stay at Belmond Hotel das Cataratas here
If it is not available (or you want to spend a bit less), there are plenty of other nearby hotels here.
Other key sites in Foz do Iguaçu, (Iguazu Brazil)
Two other activities not to miss in Foz do Iguaçu:
• Frontier Bridge to Paraguay: One can either drive or walk across the Frontier Bridge from Foz do Iguaçu, Brazil, to Cuidad del Este, Paraguay. Here, you will find a roughly ten-block shopping district, often with much lower prices than one can get in Brazil. (More on our adventure coming soon).
• Bird Park (Parque de Aves): Not too far from the entrance to Iguazu National Park Brazil is Parque de Aves, a privately owned bird sanctuary zoo filled with colourful species. In addition to being home to some rare or endangered birds, it has a conservation and breeding programme.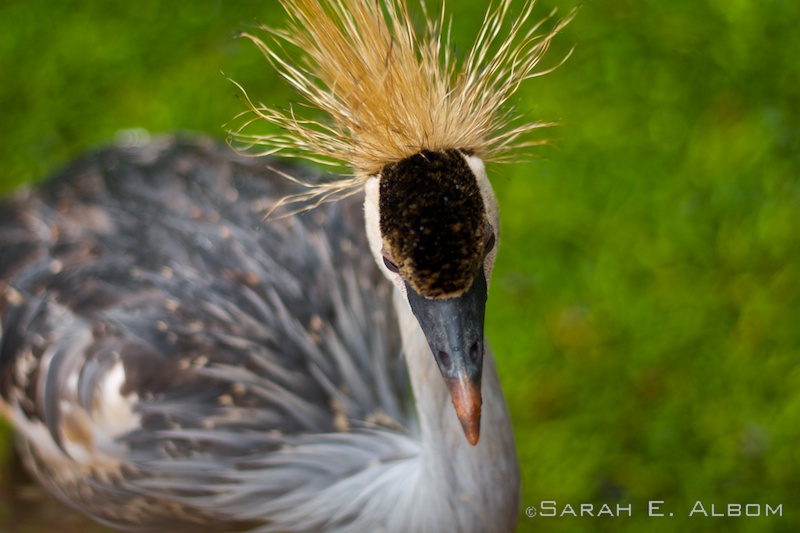 Read Next: Parque das Aves in Brazil
Visiting Iguazu Falls – Argentina side
Honestly, visiting Iguazu Falls on the Argentina side was just as thrilling as the Brazilian side. They are both different, yet both dramatic. We dedicated the better part of a day to each, leaving little time for other activities. Iguazu National Park Argentina was founded in 1934, five years ahead of the Brazilian park, It spans 67,000 hectares. The Argentina side is also a UNESCO World Heritage Site.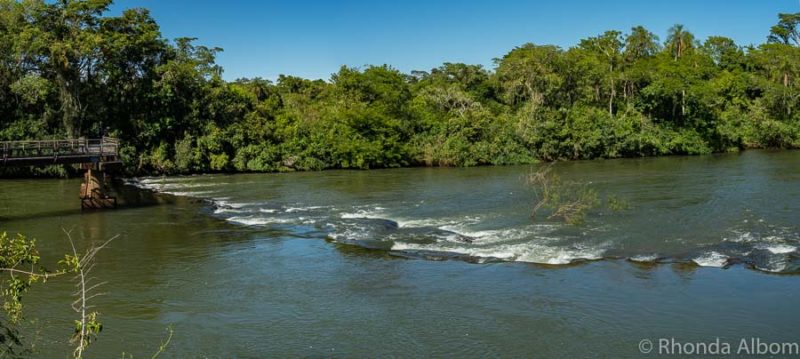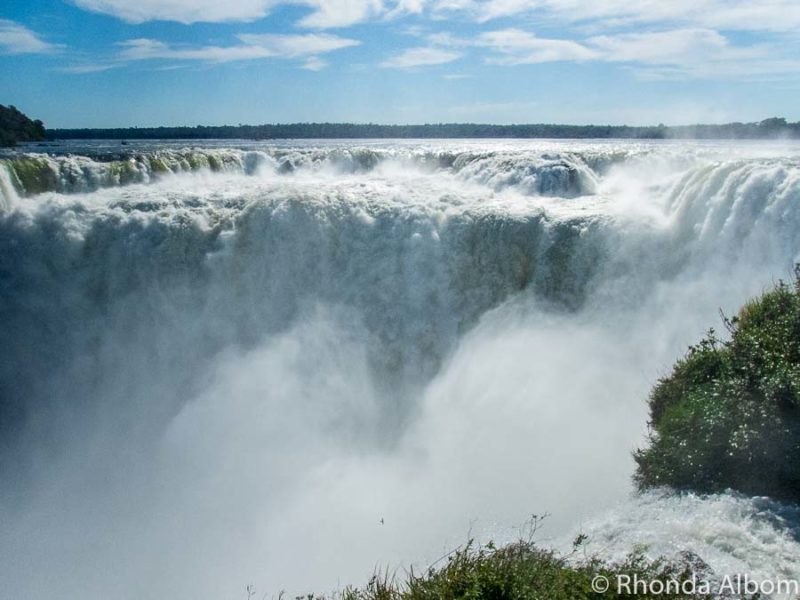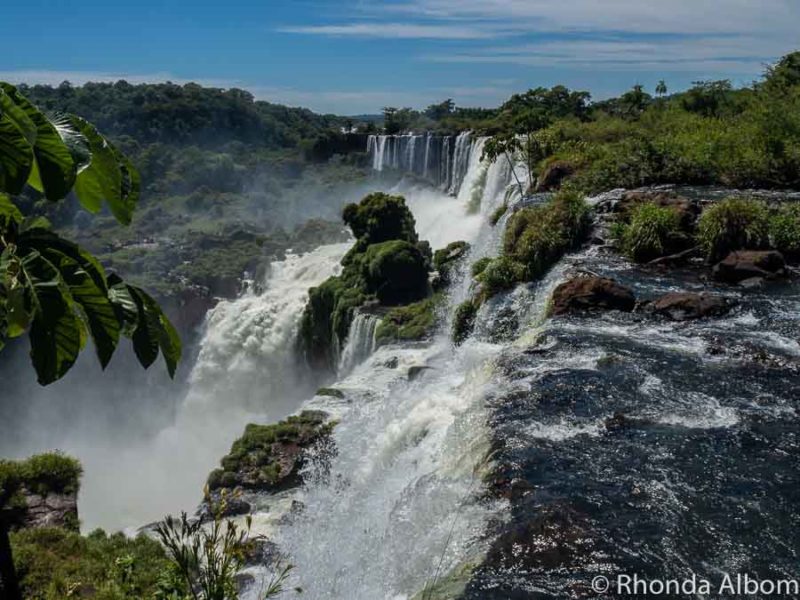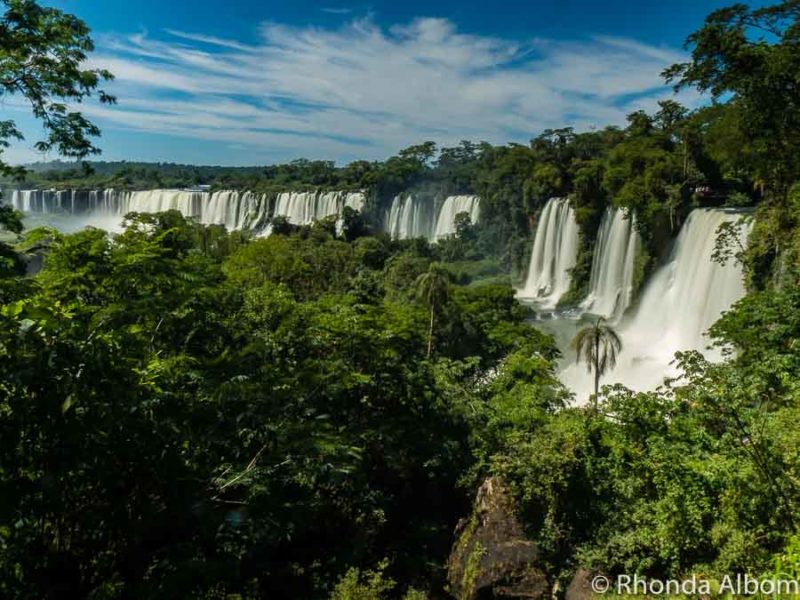 Specific tips for visiting Iguazu Falls – Argentina side
Start early. Be there before the park opens (we arrived at 7.45 am) and get on the first train to the Devil's Throat. The best way to do this is to have one member of your party get the tickets while the others hold a place in the entry queue.
There are multiple queues to get tickets – be sure you are in the proper one for your nationality (South American or all others).
Do the upper circuit first before the day gets too hot. The lower circuit is mostly in the shade.
The best place to get a map of the park is from the people selling the boat tour.
If it's your first visit to Argentina, you will want to start with this travel guide.
Nearby Argentina hotels
We stayed in the town of Puerto Iguazu, Argentina at the Hotel Saint George. With four-star luxury, comfortable beds, a spa with a very affordable and wonderfully relaxing massage, a beautiful pool, and a great breakfast, we believe we made a perfect choice.
We could have stayed in the park, but we wanted to be in town, as we spent three nights here without a car. A town that thrives on tourism, there are plenty of restaurants, bakeries, shops, and even things to do. And best of all, from Hotel Saint George it was all within walking distance. Reserve your stay at Hotel Saint George here
If you prefer to be in the national park in Argentina, your option is the five-star Gran Meliá Iguazú. Waterfall views are available from your room, but you will pay for it. Reserve your stay at Gran Meliá Iguazú here
If neither hotel is available (or you want to spend a bit less), there are plenty of other nearby hotels. Check them out here.
Other key nearby sites in Argentina
Staying in town rather than inside the park, we could walk around and enjoy the charming, laid-back town of Puerto Iguazu. Also, here are two not to be missed sites:
• The Three Frontiers (Tres Fronteras): The Iguazu River flows over the falls separating Brazil and Argentina. The river also meets the Paraná River, creating a corner named the Tres Fronteras.
• Hummingbird Garden (El Jardín de los Picaflores): If you love hummingbirds, this is the place to visit. The family-run garden is only open for a few hours each afternoon, and to get in, you need to first stand outside the gate and clap your hands. This will alert the gatekeeper without disturbing the birds. The fee was nominal, and the birds were wild.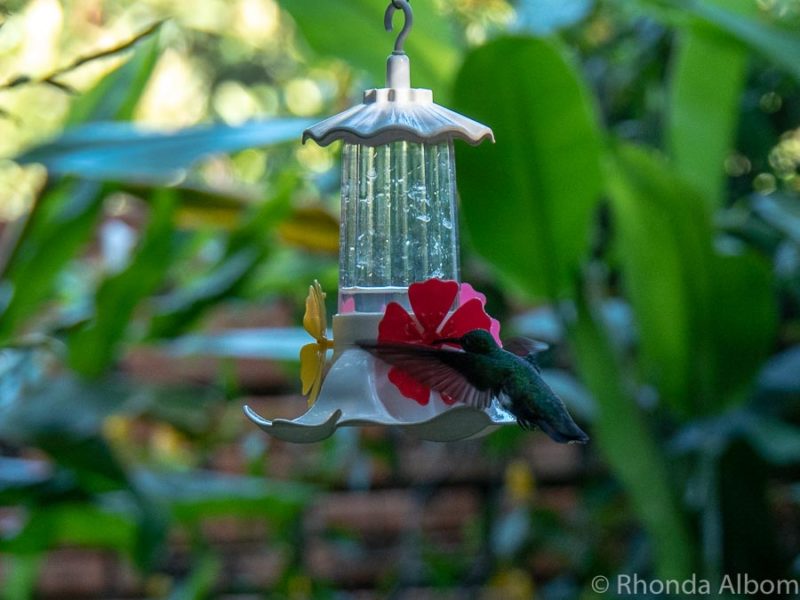 Iguazu Falls boat tour
A boat ride is one of the more popular things to do at the falls. You can do this in either Brazil or Argentina. Both will give you a poncho to cover yourself and your belongings, both will cruise mostly through calm waters, and both will give you a warning (to put away your non-waterproof camera) and then get too close to the falls thus getting everyone wet.
We were told that the main difference is that you will be given a dry bag for your belongings on the Argentinean side but not on the Brazilian side. While boat tours can be booked on the day, they often fill up. If you don't book in advance, it should be one of the first things you do on arrival to be sure to get a time slot.
Helicopter over Iguazu Falls
If your budget allows it, one of the most spectacular ways to see the falls is from above, although the flight times are short. Reserve your panoramic helicopter flight here
A few more general tips when visiting Iguazu Falls
Use sunscreen and insect repellent.
Carry plenty of water, and remember to drink it.
Drones are illegal over the falls in Argentina.
Don't pet the coatis. They may look cute, but if you touch them, they will most likely use their claws, and you will need medical attention. If you bring food into the park, remember the sound of crinkling plastic wrap will attract coatis looking for food. Try to avoid doing it.
We visited Iguazu Falls in December and had perfect weather. In contrast, Sarah also visited in December a few years earlier, and it rained the entire time she was there.
How to get to Iguazu Falls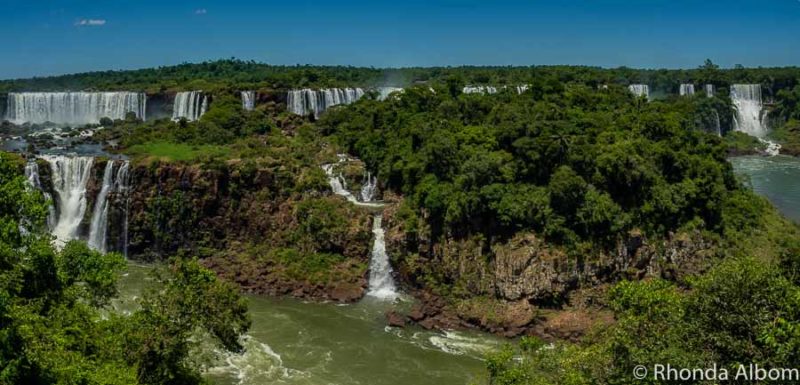 • Fly to Iguazu Falls: We opted to fly to Iguazu Falls from Buenos Aires (the capital of Argentina). The flight was less than two hours, and it was quick and easy. Multiple airlines provide daily flights from Buenos Aires, Cordoba, Mendoza, Rosario, and Salta in Argentina. The other option is to fly into Iguazu, Brazil, from Rio de Janeiro, São Paulo, or Lima (Peru). In my opinion, this is the best way to get to Iguazu Falls.
• Take a bus to Iguazu Falls: On her first visit to the falls in 2016, Sarah took a bus from Buenos Aires. The drive is 25 hours. While the buses in Argentina are world-famous for being nice, that is still a long time to be on a bus.
• Drive to Iguazu Falls: Self-driving is another way of getting to Iguazu Falls. Throughout South America, we had positive experiences renting cars with Rentalcars.com. The trip won't be any shorter than with the bus, but you have more options and can break it up over many days, perhaps even a week or two.
• Iguazu Falls day trip: At the opposite extreme of the long bus or car drive is a day trip from Buenos Aires that starts with an early morning flight, gets you out to the falls with a private tour, and brings you back the same day. With more cash than time, this can be a good option; however, you will only get to see the falls from one side. Reserve your private day trip from Buenos Aires with airfare
Save on your trip with these resources
These are our go-to companies when we travel. We believe this list to be the best in each category. You can't go wrong using them on your trip too.
Flights: we use Expedia for the best and cheapest flight options.
Accommodations: we use Booking.com (hotels) or VRBO (self-contained).
Cars (gas or electric): we use RentalCars to search for deals and dealer ratings.
Campervans or Motorhomes: we use Campstar where Albom Adventures readers get a 3% discount
Private guides: we love the private guides at Tours by Locals
Travel Insurance: we start at InsureMyTrip as they are the best option to compare plans and find the right coverage for you.
Check out our travel resources page for more companies that we use when you travel.
Please share
If you enjoyed this article, please share it on social media, including Pinterest: