The Enchanted Valley (Valle del Encanto Chile) is as mysterious and unusual as the name suggests. Filled with petroglyphs, fossils, and other signs of past inhabitants, the secluded desert ravine is just south of the Atacama desert.
It was once a walking trail for Chilean natives travelling between the Andes mountains and the coast. Today, it's a place to contemplate, discover, hike, and photograph.
An intriguing place to visit, it is the alien-looking pre-Columbian rock art that drew us here. It was a Chilean cobra that chased us out. (see photo below)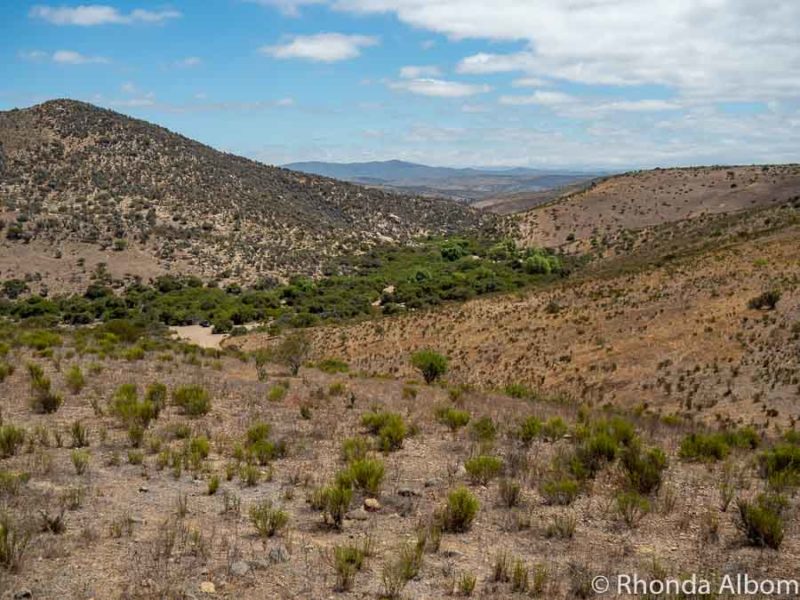 Be inspired by Chile …
Valle del Encanto
Stepping off the beaten path, we drove inland from La Serena, Chile. This brought us into a lush desert region of rolling hills topped with huge boulders and bristly scrub.
A few miles outside of Ovalle, in an outlying area called Norte Chico, is the entrance to Valle del Encanto. The street art on the outside of the ranger station seemed quite out of place in this serene environment.
A park ranger greeted us and collected the nominal entrance fee. He was an invaluable source of fascinating information.
He walked with us to the end of the only boardwalk in the valley, which is the park's only modern structure. Here, he spoke (in Spanish) of the Molle people who lived here about 2,000 years ago.
Leaving us with a map (also in Spanish), he pointed out the key stops.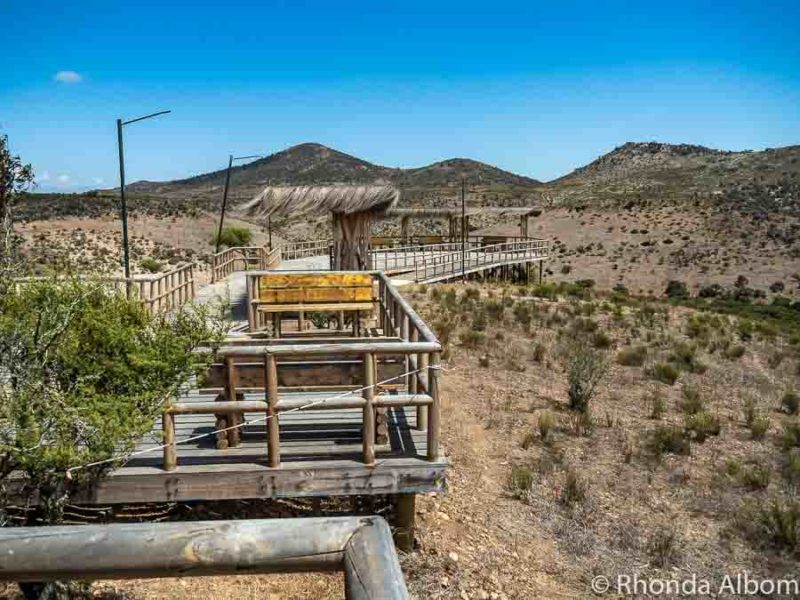 Petroglyphs in Valle del Encanto
Pre-Colombian rock art (arte rupestre) highlighting alien-looking heads with antennae left us wondering what they represent. No one knows for sure.
We also saw carvings of fish, snakes, the sun, and what looked like humans.
Photo tip: Shadows make the petroglyphs more difficult to photograph. Therefore, photography is best when the sun is high in the sky. In summer, be sure to bring plenty of water, as this is also the hottest time of day.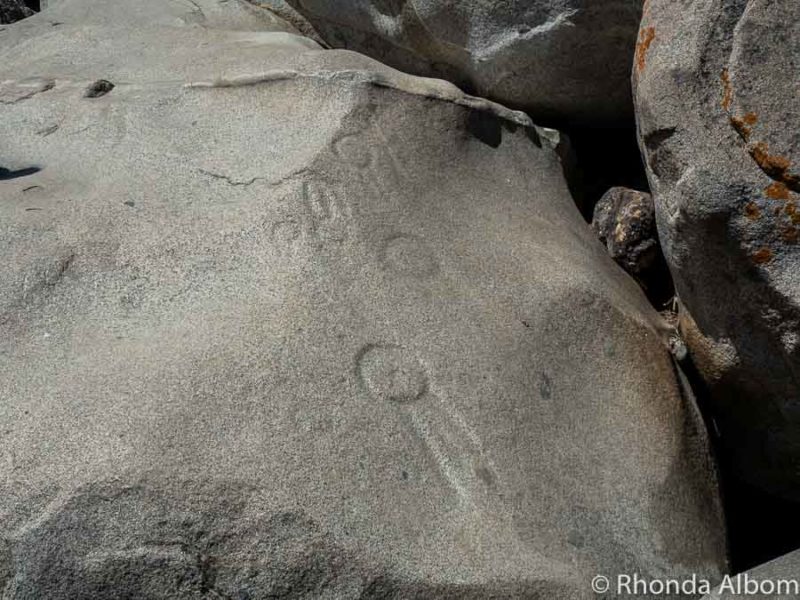 Indents in the stone (Piedras tacitas)
Deep holes, about the size of fists, are found in some of the rocks. These pre-Columbian features were used to grind corn or possibly for ceremonies.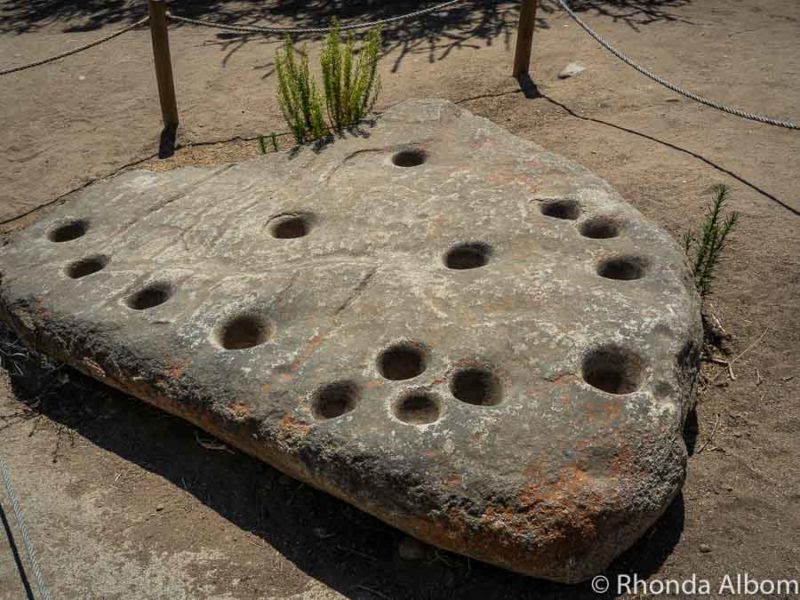 Chilean cobra
Hiking through the rocks, we enjoyed clean air and interesting formations. I came around a corner just after my daughter. As I did, I heard her calmly say, "Mum, stop . . . SNAKE."
To be honest, those words were enough to stop me in my tracks. A beautiful snake crossed my path, but fear took over. Sure, I could walk around it, but at the given moment, I had only two thoughts, take a photo and turn back. The ranger at the entrance identified the species as a Chilean cobra.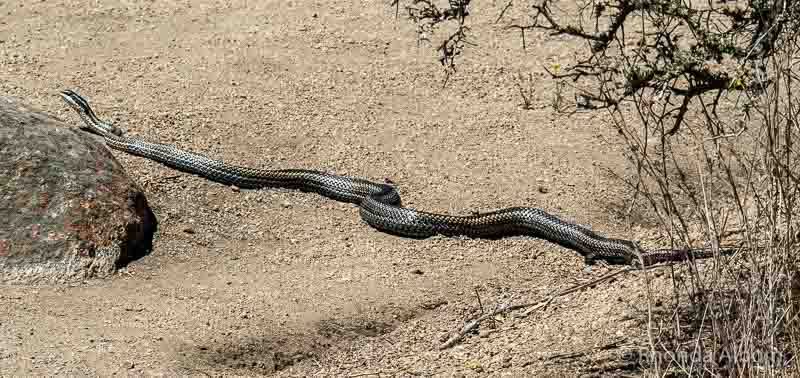 Self-driving to Valle del Encanto Chile
Valle del Encanto is about a 90-minute drive south of La Serena. It is 400 km north of Santiago. Regardless of where you start, once in Ovalle, take Route D-45 east. We use Maps.me in Chile and Argentina. We found it to be more accurate than Google Maps, which frequently put us on the old roads rather than the newer ones. Download maps.me for free.
Valle del Encanto is part of our nine-week South America adventure. After exploring the Atacama desert, we flew to La Serena and then took a slow road trip to Santiago.
Once in La Serena, we rented a car through RentalCars.com. Easy to book online, Rental Cars provides comparative prices and reviews from local vendors. Importantly, they have English-speaking customer service. It is a perfect choice for us.
Small-group tour to Valle del Encanto
If seeing the petroglyphs in this Enchanted Valley is on your bucket list, but you don't want to rent a car, a tour is your best option. We always prefer small group tours to larger ones, as it is a more personal experience. Based on tour descriptions, one stands out.
This 10-hour tour from La Serena includes hotel pick-up. It takes a maximum of ten people and splits the day between Fray Jorge Park and Valle del Encanto. At the first stop, you will drive and trek into a Valdivian forest, discovering floral species and native fauna along the way. Lunch is enjoyed in the town of Barraza, then explore the mysteries of Valle del Encanto. Reserve Fray Jorge Park and Valle del Encanto tour here.
More history on Valle del Encanto
Although discovered in 1946, Valle del Encanto didn't become a Chilean National Historic Monument until 1973. The Río Limarí (Limarí River) parallels this 3-km canyon.
Historically, several different groups occupied the area. There is evidence of hunters and gathers here for the past 4,000 years. Key groups that left specific evidence of their culture:
El Molle (various references suggest they arrived anywhere from the 2nd to 4th century A.D.)
Las Ánimas (800 to 1000 A.D.)
Incas
Spanish (from 16th Century)
Other petroglyphs in Chile
As we travelled around Northern Chile, we saw petroglyphs in several other locations. Our two favourites include:
Hierbas Buenas
Located in the Atacama Desert, Hierbas Buenas is home to 11,000-year-old petroglyphs. It's frequently spelled Yerbas Buenas.
Lasana, Chile
We spotted petroglyphs on our way to see the ruins of a 12th-century fortress located in Lasana, Chile. It is east of Calama.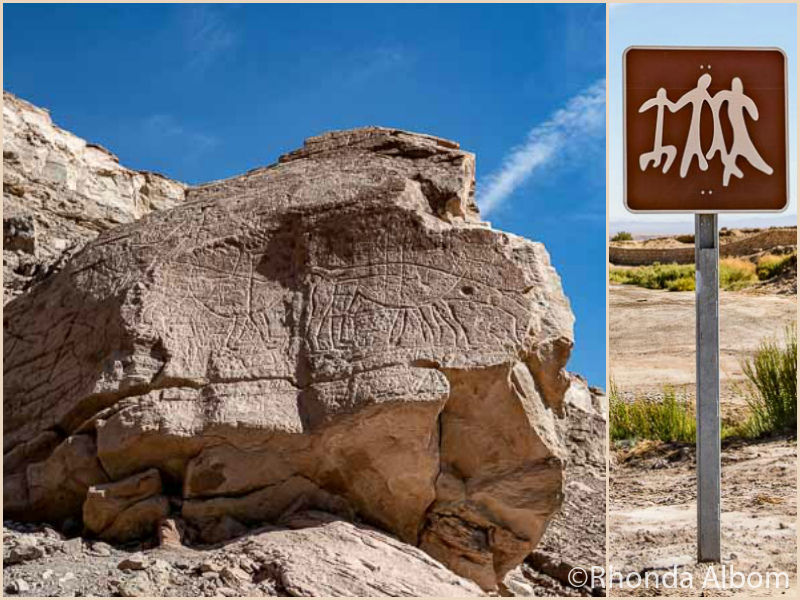 Save on your trip with these resources
These are our go-to companies when we travel. We believe this list to be the best in each category. You can't go wrong using them on your trip too.
Flights: we use Expedia for the best and cheapest flight options.
Accommodations: we use Booking.com (hotels), VRBO (self-contained), or Hostelworld (budget).
Cars (gas or electric): we use RentalCars to search for deals and dealer ratings.
Campervans or Motorhomes: we use Campstar where Albom Adventures readers get a 3% discount.
Motorcycles: we have heard good things about BikesBooking.
Private guides: we love the private guides at Tours by Locals.
Travel Insurance: while not required, we always opt for travel insurance and start at InsureMyTrip to compare coverage plans.
Check out our travel resources page for more companies that we use when you travel.
Please share
If you enjoyed this article on Valle del Encanto, please share it on social media including Pinterest.
What do you think the petroglyphs in Chile's Enchanted Valley symbolize?