Deja vu was strong as we approached San Carlos de Bariloche, a Swiss-influenced, quaint mountain town in northern Patagonia. Situated in Argentina's Lakes District, Bariloche overlooks the stunning glacial Lake Nahuel Huapi. Winter skiing and summer hiking are the top activities. Whenever you visit, you will discover a vast number of outdoor things to do in Bariloche.
Log and stone Swiss chalet-style buildings line the streets that feature chocolate shops, tour companies, exclusive boutiques, restaurants, and stunning views.
Things to do in Bariloche
Chair lift to Cerro Campanario
Hiking along the Sendero Arrayanes trail
View Lake Escondido
Mountain Cemetery
Punto Panorámico
Boat to Isla Victoria or Cruce Andino to Puerto Montt
Free walking tour
Civic Centre Square
Feria de Artesanos Market – Handcraft market
Lakefront walk
Museum of Patagonia
Sample chocolate
Cathedral de San Carlos de Bariloche
Things to do in Bariloche: Short Circuit through Llao Llao Municipal Park
Rather than taking an organized tour, we opted to do the Short Circuit with a private driver. It's a popular tourist route, although we added a hike. In order: we took a chairlift up Cerro Campanario; admired Hotel Llao Llao; hiked through the Sendero Arrayanes; and, stopped at a hidden lake, a viewpoint, a mountain cemetery, and finally at Punto Panorámico. Highlights include:
Cerro Campanario
If you have time to do only one thing in the region, enjoying the views from the top of Cerro Campanario should be it. A masterpiece of nature, the unparalleled views feature Lake Nahuel Huapi and the San Pedro Peninsula. We took the inexpensive chair lift to the top, a seemingly better option than hiking, which saved our energy for exploring the mountain.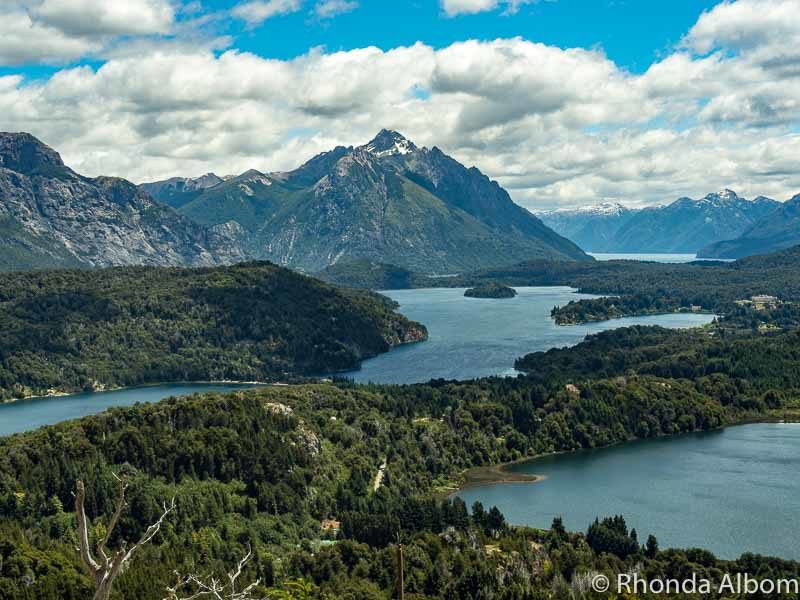 Sendero Arrayanes trail
The three-kilometre Sendero Arrayanes trail is one of many inside the Llao Llao Municipal Park. However, it isn't an option in the prescheduled tours. We enjoyed a peaceful hike through the dense forest, with the highlight being the Arrayanes trees.
Lago Escondido
Lake Escondido translates to Hidden Lake. The fifteen-minute walk brought us to a pretty lake, although this was the least impressive of the day's views. After Hidden Lake, we made a quick stop at Bahia Lopez for another similar view; only, looking straight at the sun, it wasn't ideal for photos.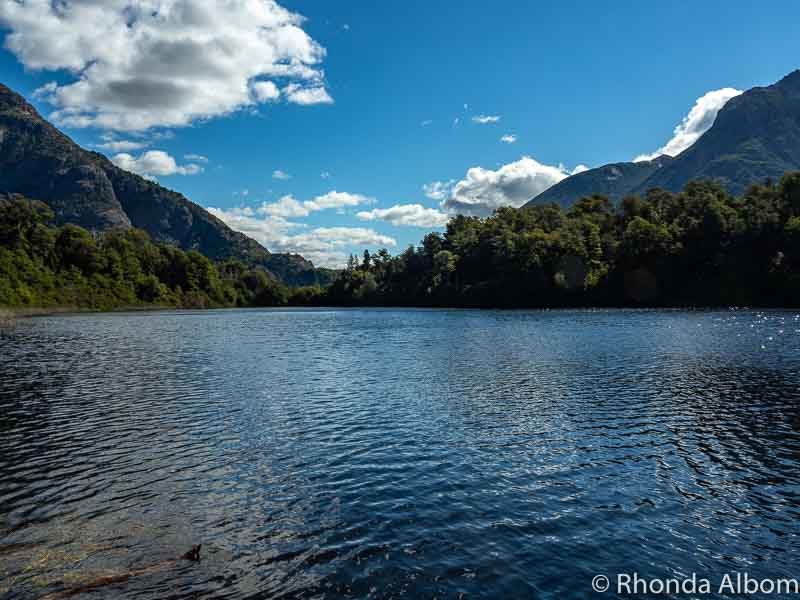 Mountain Cemetery (Cementerio del Montañes)
It's a short climb to a peaceful cemetery that is a bit overgrown in areas. This is the final resting place offered to those who lost their lives on the mountain.
Punto Panorámico
Short circuit tour
This four-hour tour is perfect for anyone who wants to enjoy the short circuit, without doing any of their own planning. Many of the tours start out in town; however, this one will pick up for the major hotels. There is time to take the optional chairlift to Cerro Campanario and enjoy the incredible views we shared above.
⇒ Check price and reviews for this short circuit tour
Things to do in Bariloche: Nahuel Huapi National Park
Boat to Isla Victoria
Half the fun of this adventure is the scenic boat ride from shore to the small island of Isla Victoria located inside Nahuel Huapi National Park. We sailed on the Modesta Victoria, a beautiful wooden boat that has served multiple world leaders.
⇒ Check prices and reviews for this boat trip to the Victoria Island
Our first stop was at Quetrihue Peninsula, home to the world's only myrtle forest, as myrtle is normally a bush, but on this peninsula, it grows to a tree.
Once on Isla Victoria, we found cave drawings from the former indigenous population that once lived here, as well as easy hiking or a beach. While other tourists swam, we found the glacial water too cold to enjoy, despite it being the height of summer.
Cruce Andino to Puerto Montt
This all-day adventure crossing the Andes is one of the highlights of our nine weeks in South America. It took us five buses and three boats, all through magnificent scenes. It's not the most economical way to cross the Andes (that would be a 5-hour bus ride), but Cruce Andino is one activity we believe to be worth the money.
Things to do in Bariloche in town
Take a free walking tour
One of the best introductions to the city is free. Four times daily, there is a free walking tour starting near the statue in Centro Cívico. Tour times are 11 am, 2 pm, 4 pm, and 6 pm.
Importantly, the tour is conducted in Spanish. Many of the guides are bilingual, and if you ask they will translate most of the tour to English. We found it to be an excellent way to discover some of the places below.
Centro Cívico
If you have travelled to Switzerland, a feeling of deja vu will be even stronger as you enter the Civic Centre Square. For us, a barrel-carrying St Bernard, used as a photographer's prop, amplified that familiar feeling.
Feria de Artesanos Market
Just around the corner from the main square is a handicraft market that is open daily from 10 am to 8 pm. It's small but loaded with interesting craft items.
Walk along the lakefront
Wear a wind jacket if you have one. Even in the height of summer, we felt a cool breeze as we walked along the waterfront. The endless views are ever-changing. If you should notice something unusual, it could be Nahuelito, the Lochness Monster of Bariloche.
Remember to look inland as well, or you might miss the Chemamules – the wooden people that serve as the protectors of the lake. They all face in the same direction.
Museum of Patagonia (Museo de la Patagonia)
A provincial museum, it took us only an hour to go through as we explored the natural and cultural history of the region including indigenous artefacts. It's an excellent introduction to the region's history. The museum is closed on Sunday and Monday.
Chocolate
For chocolate lovers, like me, Bariloche is a different kind of paradise. Despite the plethora of healthy options out there, this is the town to eat and shop for chocolate decadence. One shop after the next line the street, many offering samples to anyone who enters.
Catedral de San Carlos de Bariloche
Facing east to catch the morning sun, the beautiful Cathedral of San Carlos de Bariloche remains unfinished. Designed in 1946 by Alejandro Bustillo, it is pointy to be closer to God (according to our guide). It is a few blocks off the Centro Cívico, but worth the walk.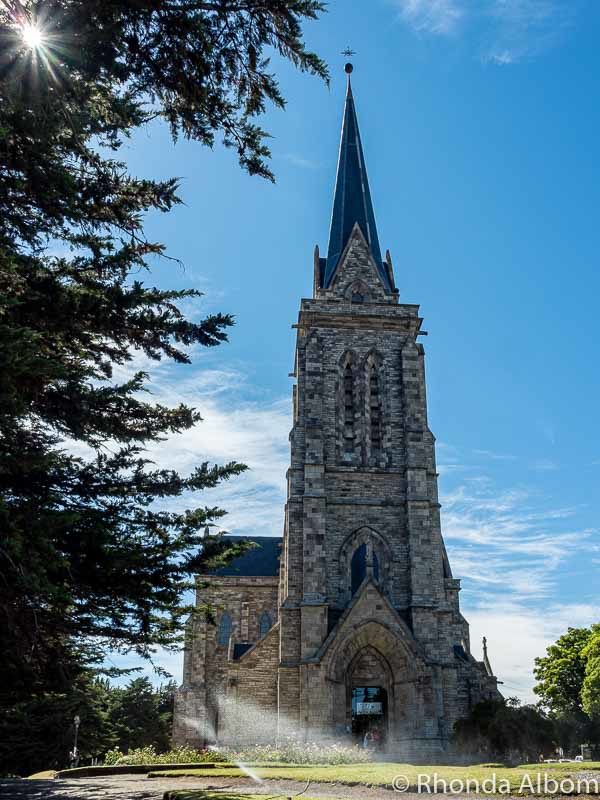 Our guide told an interesting story about the church's Virgin Mary statue:

In 1672, gifted to the then mission, the statue was renamed the Virgin of the Nahuel Huapi Mission. However, when the Mission was ransacked in 1717, the statue was stripped of its clothing and finery and left at the edge of the lake, while the Mission itself was burnt. There are conflicting stories as to what happened next. Our guide said she floated away, ending up on the island of Chiloé, where the Church of Achao was built for her. It was renamed Our Lady of Loreto and remains on Chiloé to this day. In 2004, to end the debate as to where she belongs, an exact replica was made, and that is the statue we see today in Bariloche.
Other things to do in Bariloche that we skipped
Cerro Catedral: This is the number one ski area in the winter with 38 lifts, nearly 1000 meters of verticle drop, and views of Lake Nahuel Huapi. While it offers lovely views in the summer, we were more than satisfied with what we saw from Cerro Campanario. In summer take a tour of the Cerro Catedral mountain base.
Day trip to El Bolsón: About 2 hours away is El Bolsón, a German-influenced town famous for cheese, berries, beer, organic farming, hiking, and healthy lifestyle. Explore the town with a guided tour including three lakes, an outdoor market, food and beer samples, and more.
⇒ Check price and reviews of the El Bolsón tour.
Chocolate Museum (Museo del chocolate Bariloche): we have no excuse for missing a Chocolate Museum. We simply ran out of time.
Cerro Tronador: I wasn't sure where to put this on the page, as we did see Cerro Tronador, the tallest mountain in the region, during our adventure with Cruce Andino. Tronador reaches a height of 3470 metres.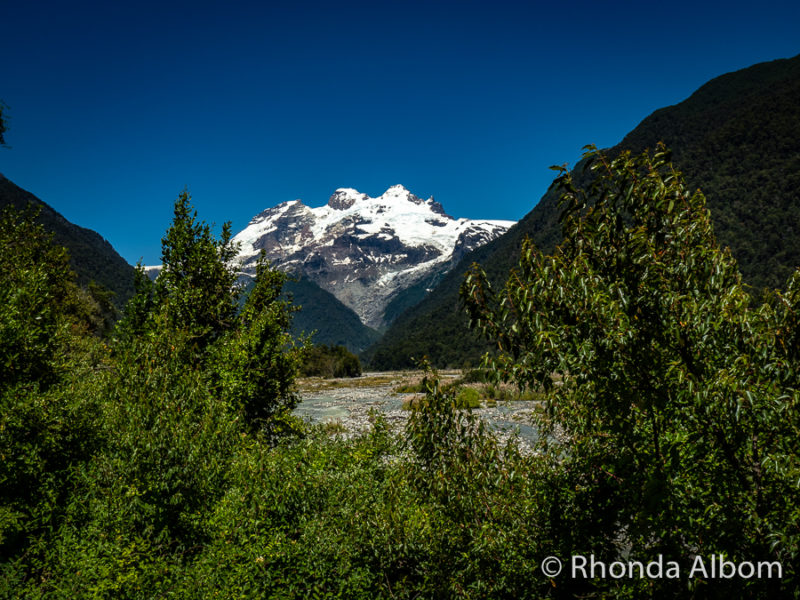 How to get to Bariloche
Fly: We flew from Buenos Aires to Bariloche. It was quick and easy. You can search for the best deals on Expedia flights.
Bus: The bus from Buenos Aires takes 24 hours. While they are nice buses, reported to be comfortable, it is too long for me.
Cruce Andino from Puerto Montt: We left taking this journey in reverse, and it was one of the highlights of our time in South America. Read the full review of our Cruce Andino adventure.
Where to stay in Bariloche
Llao Llao Resort and Golf-Spa: This is perhaps the most famous of the Bariloche hotels and has won accolades over time. Surrounded by the mountains, the views are on par with the five-star service. The only downside, which is a plus to many, is that it is away from town.
Hotel Ayres Del Nahuel: This is where we stayed, a friendly, local hotel filled with character. The location was ideal, just a block off the main road, and we could walk to everywhere we wanted to go in town.
Cacique Inacayal Lake Hotel & Spa: Also in town, this four-star lakefront option offers spectacular views and elegant accommodations.
Bariloche restaurants: Where and what to eat in Bariloche
We obviously didn't eat at every restaurant. However, we believe these are amongst the best restaurants in Bariloche:
Devour delectable chocolate: Whether it's dark or creamy, block or fancy, you can find it in Bariloche. It's a true chocolate lover's paradise. Different people have different favourites, but ours are Mamuschka for decadent chocolate or Rapa Nui for hand-dipped chocolates or ice cream.
Feast on parrilla (Argentinean barbecue): While there are many places to eat parrilla in Bariloche, we recommend El Nuevo Gaucho. It was so flavourful and reasonably priced that we ate there twice. We also heard from several people that La Marmite is an excellent choice.
Try the local trout: A delicate treat, we enjoyed it along with live accordion music at restaurant Familia Weiss.
General tips for visiting Bariloche
Locals don't swim in the lake near town, as it is contaminated for swimming (according to our city tour guide).
We visited in January, the height of the season. Crowds were thick and prices high. If we were to go back, it would be in swing season, perhaps April before it starts to get too cold.
Skiers should visit in winter.
Check out our general South America travel safety tips.
Although in Argentina, Bariloche is only 43 km from the Chilean border.
Bariloche means "people behind mountains."
If you are new to Argentina, you will want to start with this Argentina travel guide.
Save on your trip with these resources
These are our go-to companies when we travel. We believe this list to be the best in each category. You can't go wrong using them on your trip too.
Flights: we use Expedia for the best and cheapest flight options.
Accommodations: we use Booking.com (hotels), VRBO (self-contained), or Hostelworld (budget).
Cars (gas or electric): we use RentalCars to search for deals and dealer ratings.
Campervans or Motorhomes: we use Campstar where Albom Adventures readers get a 3% discount.
Motorcycles: we have heard good things about BikesBooking.
Private guides: we love the private guides at Tours by Locals.
Travel Insurance: while not required, we always opt for travel insurance and start at InsureMyTrip to compare coverage plans.
Check out our travel resources page for more companies that we use when you travel.
Save for later
If you enjoyed this article on the top things to do in Bariloche Argentina, please share it on social media, and save it for later on Pinterest: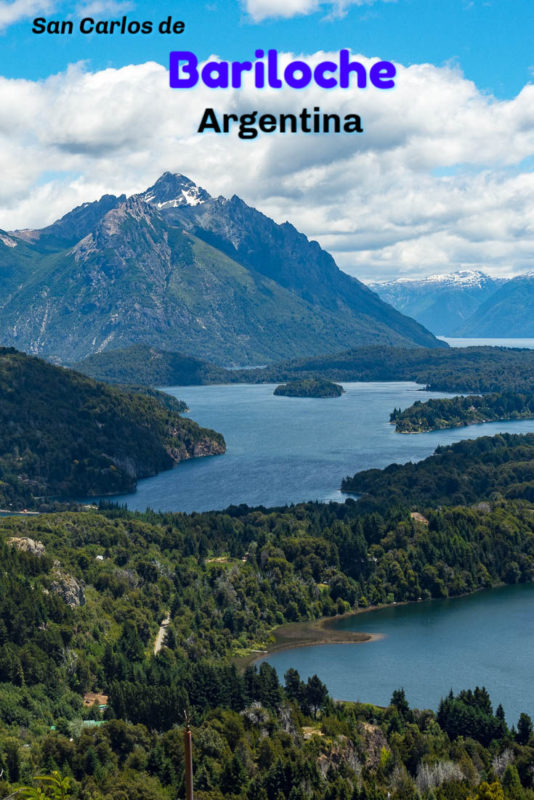 What will you do in Bariloche?
Disclaimer: While in San Carlos de Bariloche, we worked alongside Bariloche Turismo, the government-sponsored tourism board. However, the opinions expressed here are strictly our own.