Oversized and undressed statues seem to be popping up in public locations around the world. The reaction to these fun statues is entertaining.
Some giggle, others cringe and turn away, but as a photographer, I see them as photo opportunities.
And I am not the only one.
We asked travel bloggers around the world to contribute images of their favourite oversized and undressed statues. Take a look at this collection of fun statues organized below by continent.
Fun statues in Asia
South Korea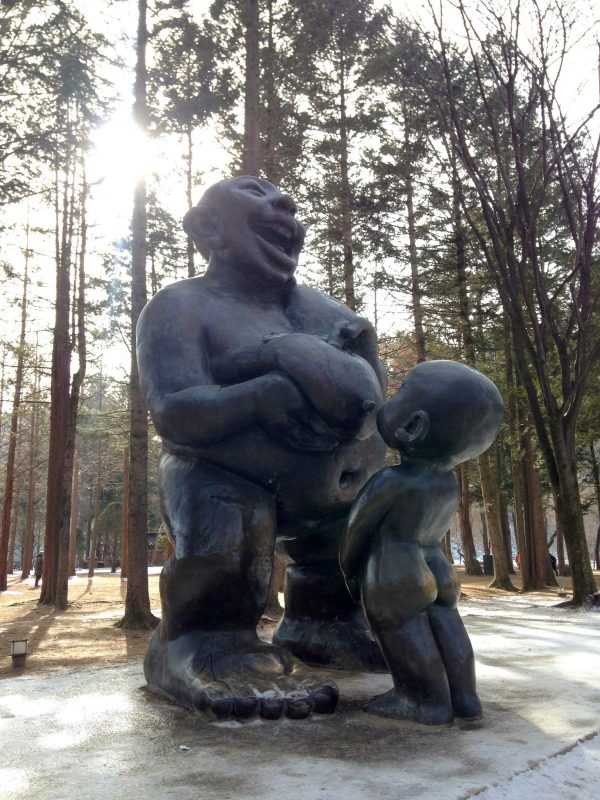 Breastfeeding Woman on Nami Island
Nami Island (Namiseom Island) is a man-made island in the Gangwon province of South Korea. It is a hot spot for tourists because of its natural beauty and as a filming location for the popular Korean drama Winter Sonata.
Among the many attractions on the island, there is one of the most interesting statues I've seen in Korea (outside of what you can see in Haesindang Park), a woman breastfeeding her child. I was unable to find a special name for the statue, but everyone had to take a picture with her!
Nami Island and the surrounding areas are worth checking out if you visit Korea!
Singapore
"Planet" at Gardens by the Bay
A floating baby sculpture in Singapore? This seven-ton bronze sculpture can be found at the popular Gardens by the Bay, behind the iconic Marina Bay Sands.
Created by renowned British artist Marc Quinn, the "Planet" is a symbol of vulnerability and a reflection of the world we live in today. Despite being huge and solid, at the end of the day, it is still a baby.
The artist also describes this as a paradox – huge and heavy, yet appearing weightless as it balances perfectly on the right hand. To me, it's kind of apt that it's found in a man-made garden surrounded by the concrete jungles of Singapore.
Read next: Things to Do in Singapore for Couples
Fun statues in South America
Colombia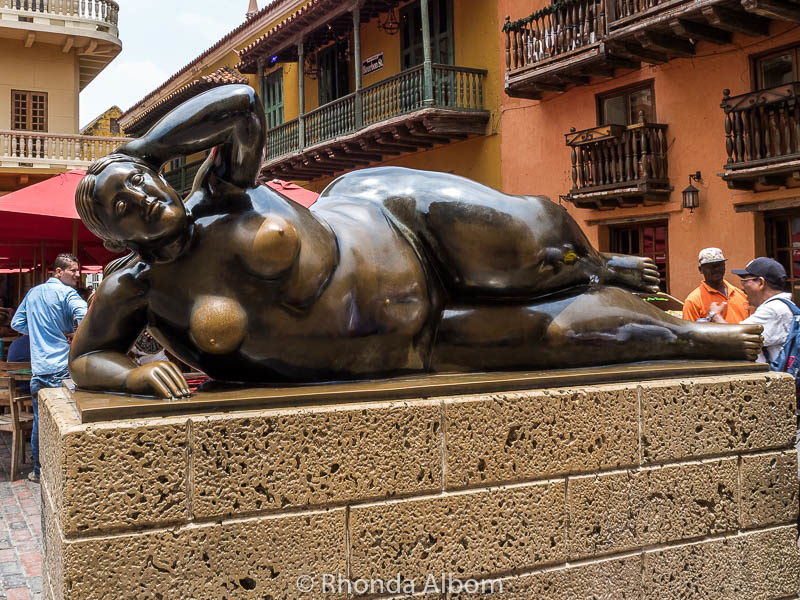 La Gorda in Cartagena
Called La Gorda, "the Fat One", this huge reclining nude was my inspiration for this page. She is a key figure in the Plaza Santo Domingo in Cartagena, Colombia, a restaurant-filled square once used for the slave trade market.
Looking at her backside, we giggled as we enjoyed our Colombian coffee. I could clearly see the exaggerated shapes that are the trademark of her creator, Colombian sculptor Fernando Botero.
Fun statues in Oceania
Australia
Sheep in Canberra
Australians are very good at laughing at themselves and very skilled at putting shit on anything. This particularly applies to the capital city of Australia, Canberra. In fact, it is an art form to make jokes about Canberra.
The site for the capital city of Australia was a hotly contested debate. Both Sydney and Melbourne were desperate to be named as the seat of power. What was decided instead was to pick a midway point, which happened to be a sheep farm. It was there that Canberra was purpose-built to be the political capital of Australia.
Of course, the jokes about Canberra being a sheep farm and the politicians being sheep, etc. started from when the city was established in 1913. I was delighted to see this statue in Canberra, as it showed that the people of Canberra are finally able to laugh at themselves.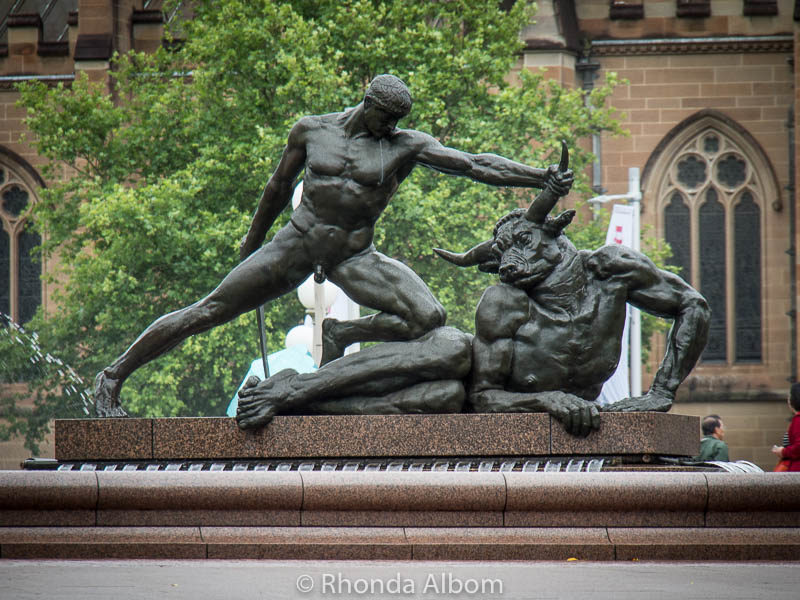 Theseus and the Minotaur in Sydney
The Theseus and the Minotaur are one of three groups of statues at Archibald Fountain in Hyde Park in Sydney. Here, Theseus conquers the minotaur, representing sacrifice for the common good. Walking around the fountain, we also found Diana, the Goddess of Purity, and then Pan, who symbolises the good things on earth.
New Zealand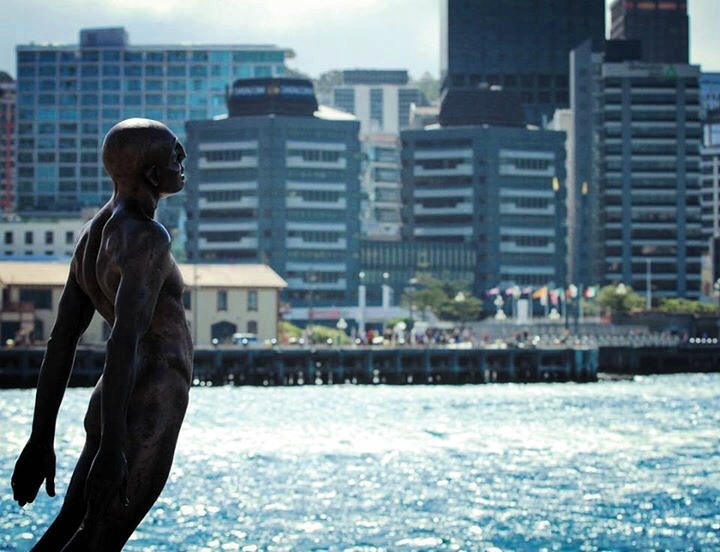 Solace of the Wind in Wellington
The Solace of the Wind sculpture is of a naked man leaning into the prevailing northerly. Anyone who knows Wellington knows it as Windy Wellington.
Locals often dress it up for all different occasions, from Santa Clause to wearing a life jacket to promote boating safety. And tourists enjoy using it as a photo companion with the Wellington waterfront as the background.
Read next: Wellington Activities: 37 Things to Do in Wellington, the Capital of NZ
Fun statues in Europe
Czech Republic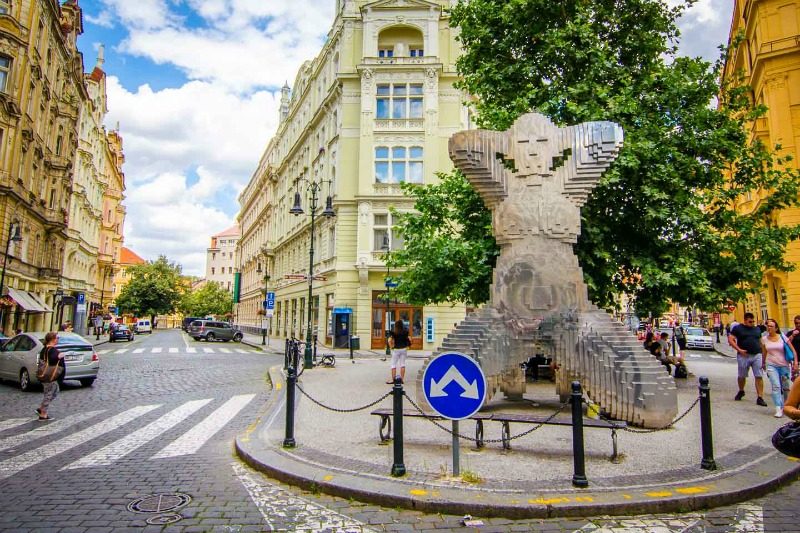 In Utero in Prague
Prague is full of unique and strange statues, many by David Černý, one of the Czech Republic's most famous sculptors. One of my favourite things to do in Prague is to wander around and get lost, which is how I found In Utero.
In Utero is a 6-meter-tall naked pregnant woman on her knees but don't be afraid to get up close. Her womb is hollow, so you can literally step inside and experience the womb. It's the most bizarre statue I've ever seen but gorgeous at the same time.
You can find In Utero not far from Old Town on Dlouha Street. There are several David Černý statues throughout the city so keep your eyes open.
Read next: 12 Fun Things to Do in Prague – a Mix of Old-world Charm and Innovation
Finland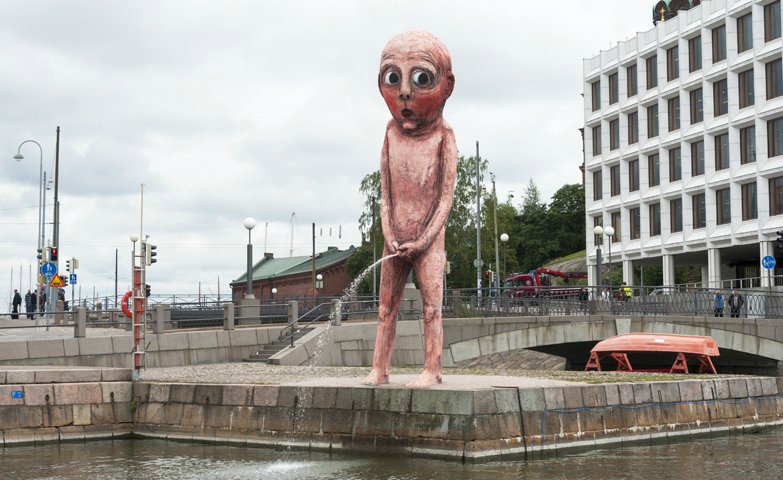 Bad Bad Boy, Helsinki
Did you think Brussels is the only city with a statue of a kid peeing? A few years ago, a new site appeared near the harbour of Helsinki – an 8.5-meter statue of a child peeing in a canal right next to the harbour.
Manneken Pis in Brussels is cute and chubby, whereas Bad Bad Boy is kind of ghostly and spooky – but makes for a pretty cool landmark. The statue was moved to the city's West Harbour recently, and it's now pissing on the sidewalk!
France
L'improvisateur in Bandol, Cote D'Azur
In Bandol, a Mediterranean town on the Cote D'Azur stands a fun little statue named L'improvisateur. Located on the promenade between the marketplace and seafront stands the cheeky, naked flute player.
As the mythical Pan plays his flute, it seems passers-by give part of his anatomy some play. Judging by the cheeky grin on his face, it's not just the views of the sea that brings him pleasure. The weathered statue, boldly baring his nakedness, has a polished pecker from all the fondling he receives.
Unlike caressing the testicles of the Charging Bull of Wall Street for strength and financial power, it is said touching Pan's tallywhacker brings good luck and fertility.
Italy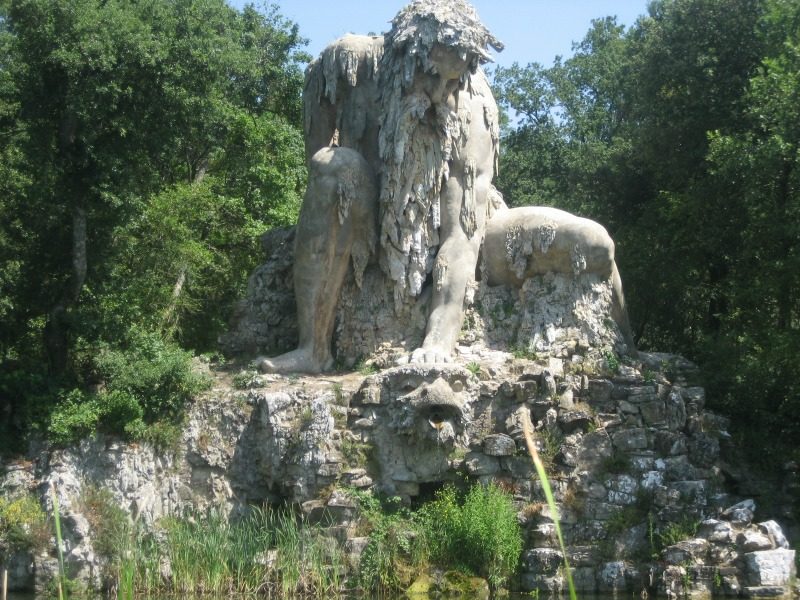 Appennine Colossus' aka 'the giant of Pratolino', Florence
The giant dates back to the XVI century and was built by Italian sculptor Giambologna as part of the decor of Villa Demidoff, a noble estate in the outskirts of Florence, Italy, now open to the public.
The Colossus is depicted in a pensive pose, and it is carved as if made of the same rocks and the aquatic life of the pond behind him. He is 35 feet tall and represents the mountain range of the Apennines, which crosses this region.
The Colossus is a statue but also a building as its inside hides a series of rooms and grottoes that, at the time of construction, would have contained water fountains, frescoes and, apparently, even space for a small orchestra!
Read next: Italy Cruise Ports: One Day in Rome, Florence, Naples, or Venice
Norway
Vigeland Park in Oslo, Norway
This woman holding a child is one of over 200 sculptures by the famed Norwegian sculptor Gustav Vigeland. Located in Oslo at Vigeland Park, his various artworks depict the full range of the human life cycle from birth to old age.
From what we saw, I believe they are all nude. Vigeland Park holds the title of the world's largest sculpture park made by a single artist.
Read next: Oslo in One Day: Ski Jump, Vikings, Artwork, and Cruise Port Options
Spain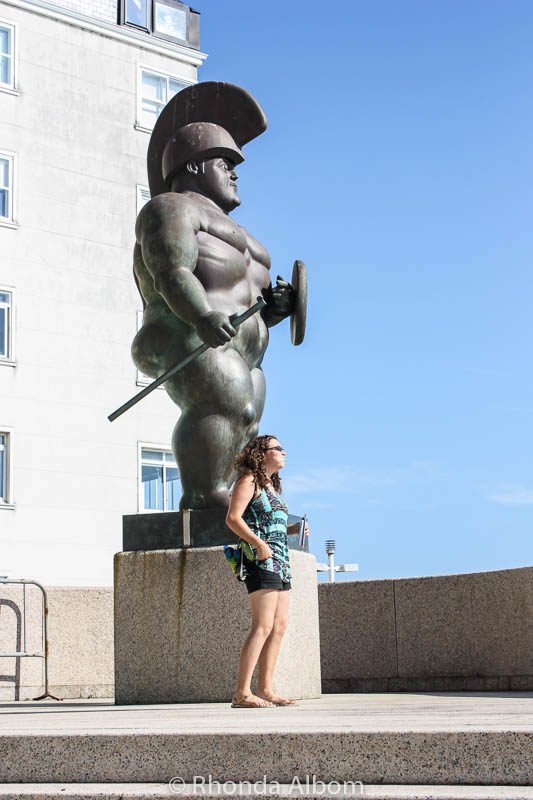 Roman Warrior in La Cornua
Another piece of sculpture by Colombian artist Fernando Botero is the Roman Warrior. It stands tall and proud outside the Human Body Museum in La Coruna, Spain. Again Botero uses exaggerated and disproportionate features; in this case, the massive upper body and rolling muscles.
El Guardian in La Coruna
I have to admit, El Guardian caught us off guard. Created by Galician sculpture Ramon Conde, it "guards" the base of the path leading to the Tower of Hercules in La Coruna, Spain.
Read next: 21 Things to do in La Coruña Spain, From beaches to historic sites
Fun statues in North America and the Caribbean
Cuba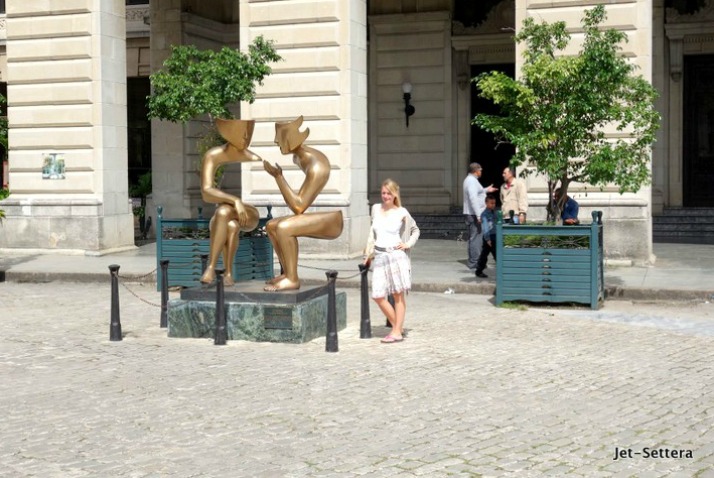 La Conversacion in Havana
La Conversacion is a bronze contemporary statue created by the French artist Etienne. It is located on Plaza San Francisco de Asis by the entrance of the Lonja del Comercio.
La Conversacion symbolizes the need for conversation in contemporary society. It is an interesting statue and a must for everyone to see, who visits Cuba.
USA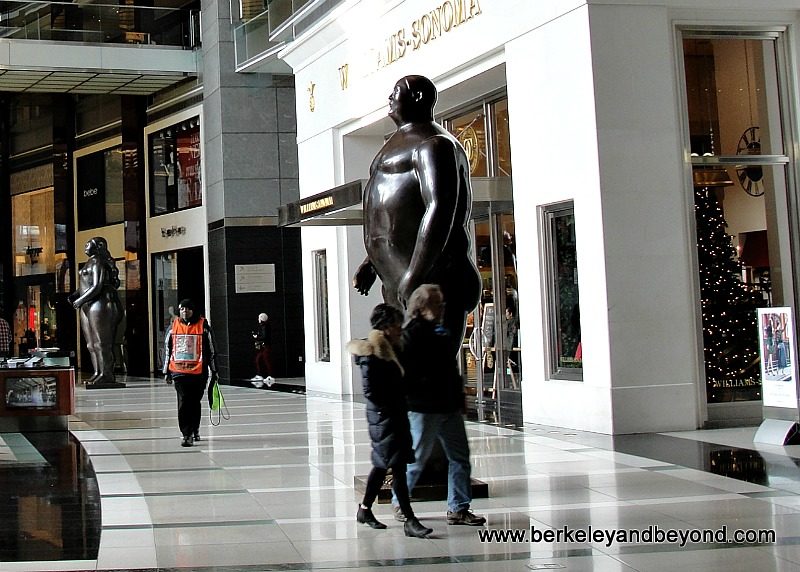 Adam and Eve, New York City
Two oversize and undressed Fernando Botero bronze statues stand inside the shops at Columbus Circle, an upscale shopping centre inside the Time Warner Center in NYC in the U.S. One is "Adam" and the other is "Eve." They are each 12 feet high.
Perhaps by enthusiastic observers who are after good luck, Adam's penis has been rubbed to the point that it is a different colour than the rest of the statue.
Read next: 8 New York City Highlights – A Must-See Two Day NYC Itinerary
Save for later on Pinterest
If you enjoyed these oversized and undressed statues, please share them on social media, including Pinterest: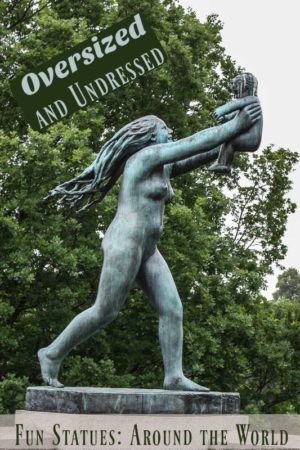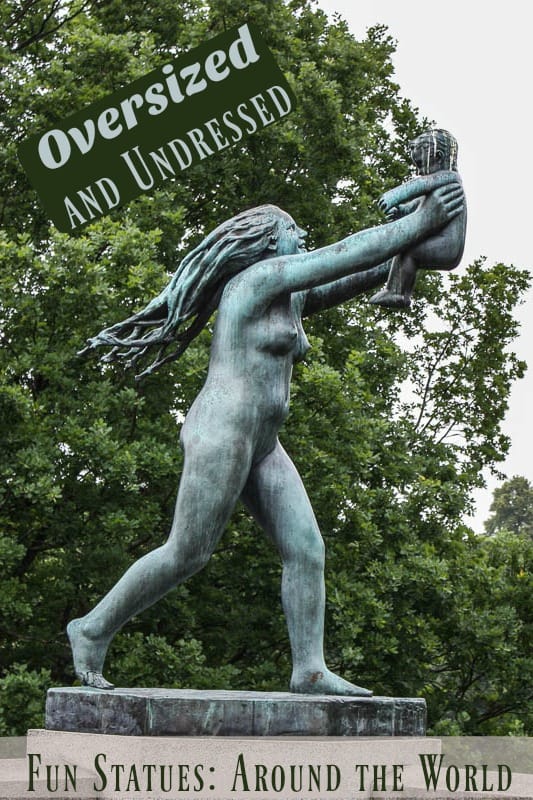 If you loved these fun statues, don't miss this:
Posing with Statues: Our Favourite Quirky and Interactive Statues
Did you laugh, cry, or cringe at these fun statues?