We had two days to see the New York City highlights, an impossible task, but we rose to the challenge. Dividing our time into two days and one night, we made the most of it:
New York City Highlights: Day 1 
We pre-booked a timed visit to the 9-11 memorial and started our day here. It's an emotional and powerful display. At the time we were there, the Freedom Tower looming, was not-yet-completed, yet still stood tall and proud behind the memorial.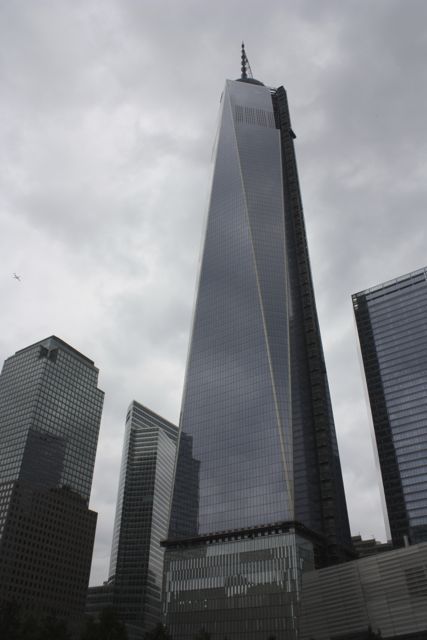 Next, we hopped on the Staten Island Ferry as this is the fastest, easiest and cheapest way to see the Statue of Liberty. I wanted to sail by the front, and this sure did it for me. The best part – It's free!
We immediately took a return ferry to Manhattan which was also free.  Our self-guided walking tour of Manhattan took us north, our first stop, Wall Street. We were a bit flustered by the crowd of people pushing to get a prized photo with the bull and unintentionally photo-bombing each other. This is the best we could get:
Next, we listened to the melodic chiming of bells of at Trinity Church. The old church stood out among the modern buildings like a star singing for us all.
We turned here, coming to the back of the Stock Exchange first, then walking around to its easily recognized front.
Finally a stop at the Empire State Building.
New York City Highlights: Evening into Night
We wanted more. We headed out into the crowd. The beauty of New York quickly faded into a blur of lights, colours, crowds, smells and really loud noises. It never stopped. They call it the city that never sleeps for a reason, but it never quiets down either. Sirens blare, music blasts, vendors shout for our attention which is overwhelmed in a sea of advertisements on huge, ever-changing LED boards . . . Everywhere you turn your head.
There was no escaping the chaos. We headed to a dinner, a few blocks off the main tourist area, but the noise didn't seem to subside. We ate at Carnegie Deli, as traditional deli foods are one of the many things I miss living in New Zealand.
All photos on this page ©Rhonda Albom 2013. All Rights Reserved.
New York City Highlights: Day 2
We headed to Central Park to see the famous park, enjoy American hot dogs from a street vendor, and visit two museums: The Metropolitan Museum of Art and  the American Museum of Natural History.
Our first stop was the information counter of the American Museum of Natural History. This museum is the magical spot where they filmed Night at the Museum, and we wanted to be sure not to miss a few of our favourite movie items.
It turns out that while the movie utilizes the museum's exterior, they built sets to emulate the interior. However, our sheet gave us the information we needed. Here are a few of my favorites: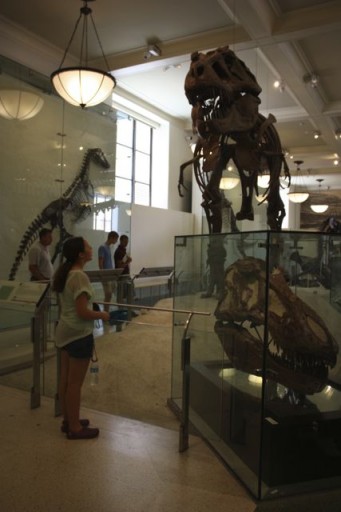 Next, a Central Park street vendor hot dog, exactly the way I remembered it.
Taking the long way through the park, enjoyed a peaceful atmosphere, in contrast to the noise of Time Square last night.  Central Park is wonderful in the summer time. Bridges, streams, trees, and street performers.
Next stop, the Metropolitan Museum of Art  (The Met) where hubby met up with an old friend. Remember the cost of entry at the American Museum of Natural History and the Metropolitan Museum of Art is only a suggestion. You can pay as little as $1 and they don't bat an eyelash if you do.
Here are a few highlights:
Our one regret: I wish I had known before our visit about the New York CityPASS:


What are your New York City Highlights? Do you prefer Times Square or Central Park?
All photos on this page ©Rhonda Albom 2013. All Rights Reserved.
If you enjoyed this article, please pin it on Pinterest:

Seven ridiculously simple tips that WILL improve your photos
Whether you shoot with a phone or a DSLR, let me share my secrets.
Subscribe to Albom Adventure's Travel Tips newsletter and download our free ebook: Take Better Travel Photos By Rhonda Albom