After a week in Oman, the Dubai Mall felt very comfortable, albeit a bit overwhelming. We visited this massive mall as it is home to the Burj Khalifa, the world's tallest building. And, our girls are at the age where shopping malls are rather attractive options.
We could practically live at the Dubai Mall, as it has it all. It was familiar, a well lit, noisy, crowded American style super mall. It's not just the over 1,200 shops and countless restaurants, there is an Olympic ice rink, an aquarium, an indoor amusement park, an underwater zoo, a giant waterfall and the Burj Khalifa – the world's tallest building (which you enter from the mall).
The highlight for me was heading up to the top of Burj Khalifa. We had nearly all day to wait as we reserved at a time about an hour before sunset, so we could see it from both day and night.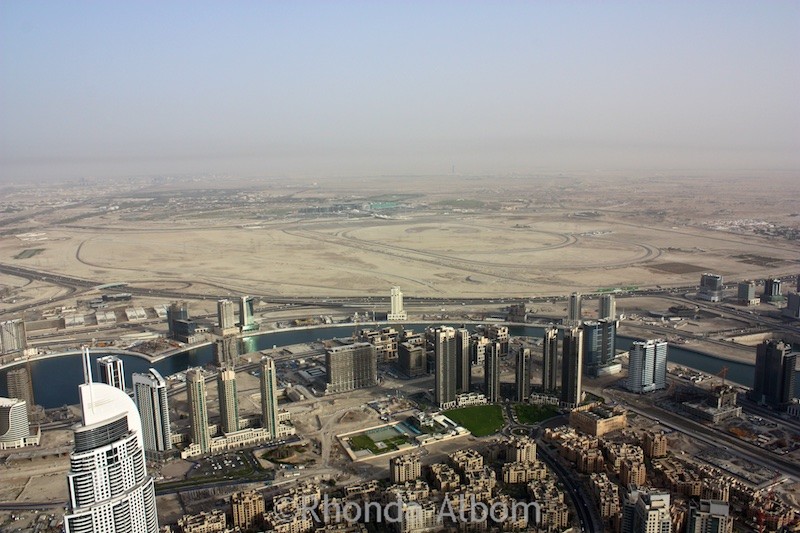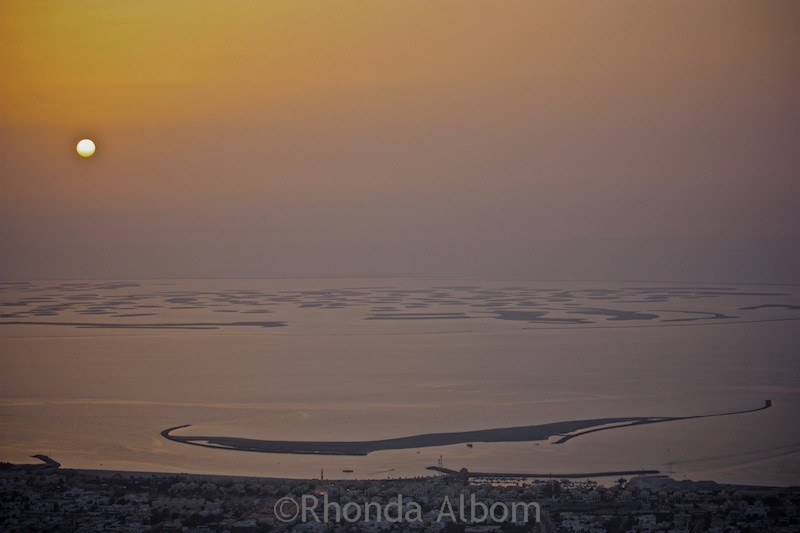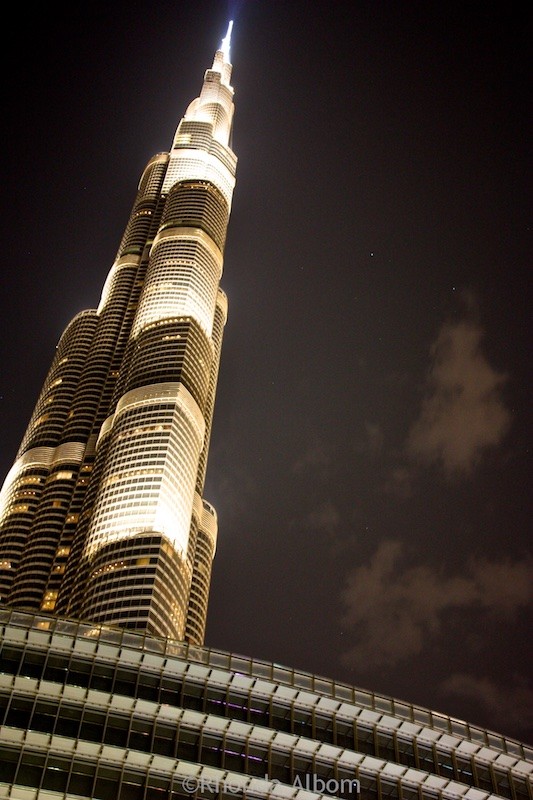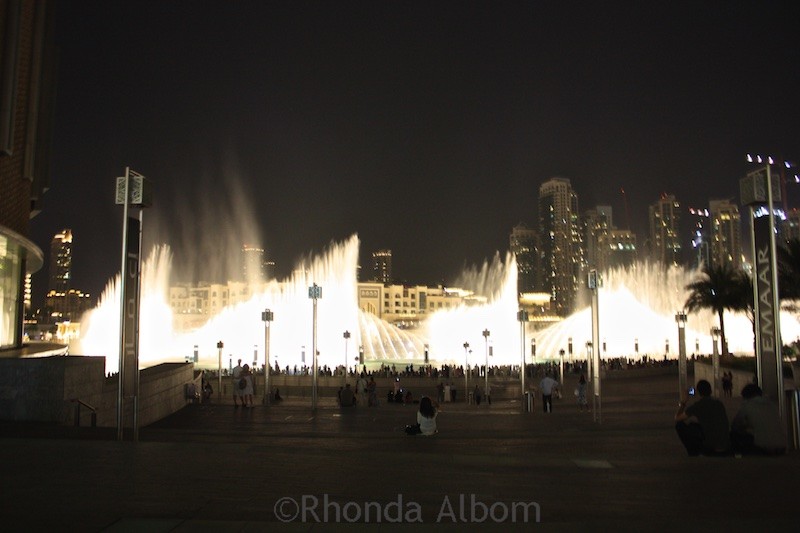 We also enjoyed the mall and found the rules interesting. To be honest, it was a bit disappointing and embarrassing to see so many western tourists blatantly ignoring the mall's rules, especially the first one (about respectful clothes) which was prominently displayed on the big screens throughout the mall.
Please wear respectful clothing. For example, shoulders and knees should be covered.
No kissing or overt displays of affections.
No smoking in the mall.
No consumption of alcohol in the mall.
No dangerous activities (for example, sports games, roller blading or skateboarding).
No pets are allowed in the mall.
Practice safe riding on escalators.
In addition, when we went up the Burj Khalifa there was an additional rule for no bad language allowed.
Some mall highlights: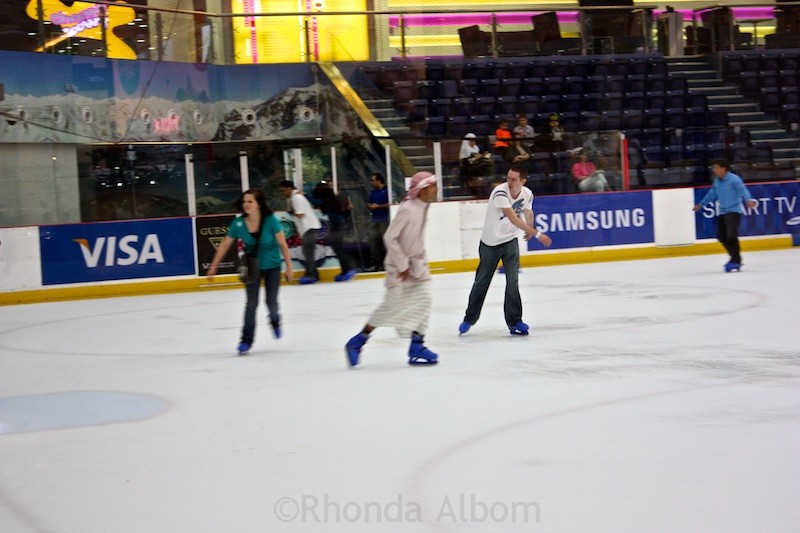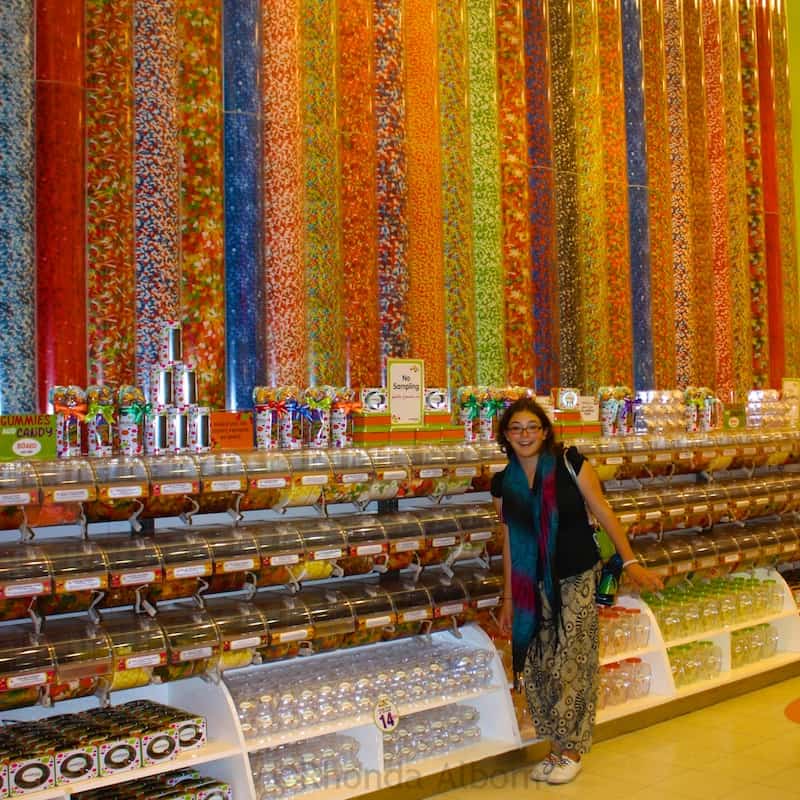 All photos on this page © Rhonda Albom 2012
Tips and Options for Visiting Dubai Mall:
Be sure to book your visit to the top of the Burj Khalifa in advance, a few weeks in advance is best, if you know your timing. The best time slots are 5.30 or 6 pm as you can see both day and night views (check sunset at time of year you will visit). Advance booking is 100Dhr per person, while the cost on the day is 400Dhr if they are available.
The public transit train's stop entitled "Burj Khalifa" is actually about a 10-minute walk. It is very hot in Dubai and dark at night. There was an option to purchase a shuttle bus ticket when you get your train ticket. If you don't take that, you might want to grab a taxi, as you we never saw one once we left the station, until we arrived at the mall all sweaty.
Be very clear with your taxi driver as to where you want to go. Don't say "metro station" be sure to say "closest metro station." We learned this one the hard way.
When shopping in the souks, or anywhere outside the malls, remember all prices are negotiable. This includes the price of taxis, tours, and river rides.
If you are looking for a bit of history and some of the traditional Arab ways, be sure to visit Bastakiya. This was our favourite spot in Dubai.
Spend an extra day in nearby Abu Dhabi.
Do you enjoy large shopping malls like the Dubai Mall? Have you been up to the top of the Burj Khalifa?
If you enjoyed this post, please share it on social media, including Pinterest: