After our visit in Segovia, we drove the 1.5 hours to Toledo, another UNESCO World Heritage Site. Toledo is a not to be missed city close enough to be a day trip from Madrid, but better spent as an overnight. (Thanks Michelle for the recommendation).
According to Wikipedia, "Toledo was declared a World Heritage Site by UNESCO in 1986 for its extensive cultural and monumental heritage as one of the former capitals of the Spanish Empire and place of coexistence of Christian, Jewish and Muslim cultures, as well as the place where harsh religious persecutions were held against the Jews by the Visigoths."
We arrived a bit later than expected and we had made a major error in our hotel booking, actually reserving two really affordable rooms for next week instead of today. Fortunately, they had a family room available, although it was double the money and the air conditioning didn't work. We focused on the great location, directly across the street from the Alcazar and ignored the musty smell.
In the morning, we had churros and chocolate for breakfast and then headed to the tourist office and followed her recommendation to start with the Old Jewish Quarter. The history and architecture in this town are amazing.
The old main synagogue is now the Sephardic Museum. While it had been converted to a Catholic Church after the inquisition, the Hebrew writing still remains on the walls.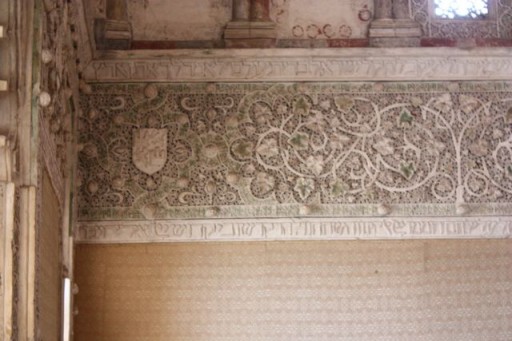 Next we visited the Santa Maria la Blanca Sinagoga, another former Jewish synagogue with strong Arab influences in the design. This was my favorite of our Toledo visits.
Also in the old Jewish Quarter, the Monastery of San Juan de los Reyes.
Our final stop in the Old Jewish Quarter was the Church of Santo Tome which houses the most important of all of El Greco's paintings (according to the women in the tourist office.), "The Burial of Count Orgaz."
I shared my tween sentiment: "Mom , did we just pay 10 euros to see that painting?"
The security around the painting was really harsh, and they were not kidding about no photos.
Finally, we left the Jewish Quarter and visited the Toledo Cathedral, stunning on both the outside and inside: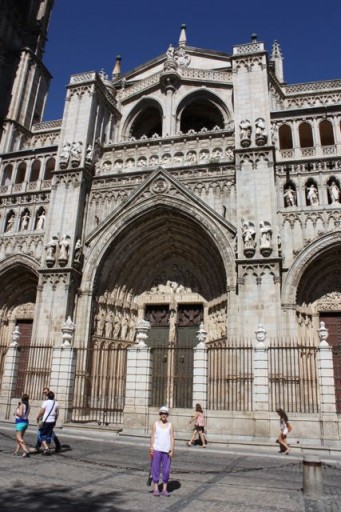 Note: Based on world conditions, we advise checking official channels including cancellation policies prior to booking. Also, with often reduced capacity, booking ahead becomes more important.
Travel Tips to Toledo:
The mayor's office offers free tours on weekdays. We were there on a Sunday and didn't get to take advantage of this.
Both the El Greco and the Sephardic Museum are free on Sunday.
I would recommend either a tour guide for the Jewish Quarter or the audio tour of the Sephardic Museum
All photos on this page © Rhonda Albom 2012